Documentary 'Talia' wins Best Local Film honors at Fort Myers Film Festival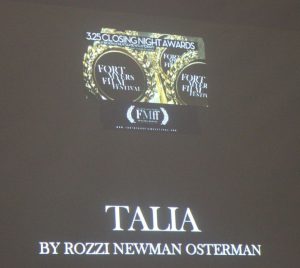 The 8th Annual Fort Myers Film Festival wrapped on March 25 at the Broadway Palm Dinner Theatre with a champagne and dessert awards ceremony, and taking top honors as Best Strictly Local Film was Talia, a 26-minute documentary by filmmaker Rozzi Newman Osterman about a young lady in Cape Coral with a form of autism who is using acting to function in society.
That young woman is Talia Anderson, although she prefers to go by Tal. At age 3, she was diagnosed with Asperger's syndrome —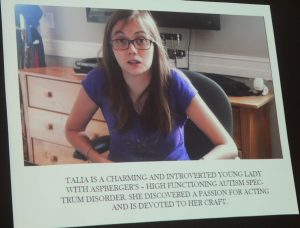 a developmental disorder on the higher-functioning end of the autism spectrum. For most of her life, Tal has found it difficult to communicate with people, especially in social situations. In fact, until she became a teen, she barely spoke. But then her adoptive mom took her to an acting class, and Tal unexpectedly discovered that acting helped her cope with these and other life situations.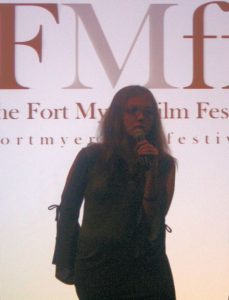 Where most actors get a role and develop their character by pulling from their personal lives, Tal uses the roles she gets to develop herself in real life. As the 26:42 minute documentary depicts, Tal has actually created a character she refers to as "acting Talia." Acting Talia is a confident, outgoing aspiring actor and her comfort in social encounters opens doors of communication for the "actual Talia."
When director/producer Rozzi Newman Osterman started working with Tal and her mother, Vickie, on the documentary, she wasn't initially sure about the point of view the documentary should express. But as she observed Tal working via Skype with her acting coaches, it was
immediately apparent to the filmmaker that Tal is a very gifted actor.
"I have a lot of actors in my family and I recognized immediately that Tal is good," Newman Osterman told the FMff audience during the Q&A following the film's screening. "She has a vulnerability. She learns her lines beautifully. She's dedicated. And as the process worn on, all the three of us learned just how important acting is for Tal [in managing her Aspbergers]."
That became the film's point of view.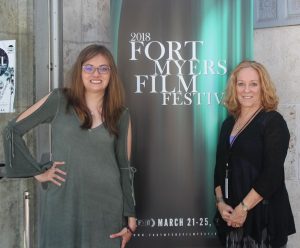 Viewers' reactions to the film are just as enlightening and rewarding for Newman Osterman, Tal and her mom. "What we've seen during screenings of the film is that people in the audience who have any degree of social anxiety or shyness think, huh, maybe I can use acting in the same way," Newman Osterman noted during the Q&A. "Maybe I need to take on a role sometimes in order to feel a little more comfortable."
Tal's story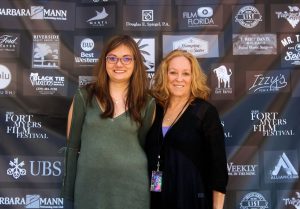 certainly invites dialogue about how we all behave in social settings. "The most introverted of viewers seem to have a moment of clarity when they understand how helpful it would be to create an alter-ego and even the most extroverted viewers examine their interactions with others," Roz expands.
Newman Osterman actually met Tal and her mother several years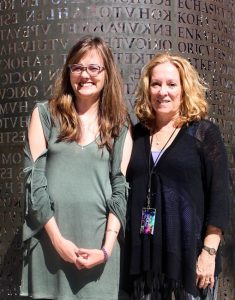 ago under much different circumstances.
"I met Talia when I started a film about a special needs cheerleading squad in Cape Coral that were national champions for many years," said Roz. "And when Vickie and I started talking about why they were national champions, we seemed to think it was because their coach expected a lot of them. She didn't treat them as special needs kids, she treated them as kids and her standards were very, very high. So when they would go to Atlanta for these national competitions, she was really one of the only coaches who demanded of these kids a lot of discipline, a lot of heart and a lot of cooperation."
But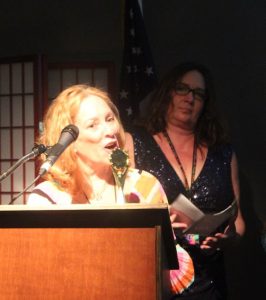 while Tal competed, cheering was by no means her favorite activity. Still, Roz had been so taken by Talia and the other cheerleaders that when Vickie called to tell her that Tal was now doing acting and invited her over for a visit, she accepted without hesitation.
Besides the documentary, Tal has starred and been an extra in a number of indie films and TV shows. She's also worked as a crew member for student-run productions. And while she intends to continue acting every chance she gets, she's a senior at Full Sail University in Orlando, where she expects to graduate with a degree in film production and editing in a couple of months.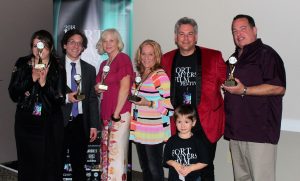 Newman Osterman has made a career of shooting documentaries. Her calling has taken her from California to Israel; her projects have highlighted everything from homelessness to people living with emotional or physical challenges. She's particularly sensitized to the latter. Her husband is a pediatric neurologist.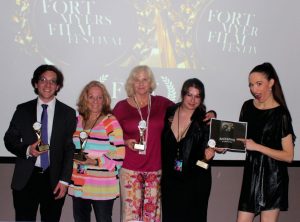 Newman Osterman filmed the footage for Talia over a span of six months in 2017. The documentary premiered last October during the Florida Films Showcase at the Naples International Film Festival (NIFF).
April 2, 2018.
RELATED POSTS.