Latest on 'Roaring Tides' as dog days of summer approach
Roaring Tides was one of the short films juried into this year's Fort Myers Film Festival. It stars and was written and directed by Aly Mang, who was named Best New Director 2018 by NYC Chain Film Festival. In addition to FMff and NYC Chain, Roaring Tides was an official selection of the Chelsea Film Festival, Hoboken International Film Festival, Long Beach International Film Festival, NY Latin Film Festival and New Filmmakers NY Festival. Roaring Tides is Mang's directorial debut.
A SAG-AFTRA actor, Aly's current projects include the psychological thriller Chronicles of a Serial Killer with rapper DMX (Ann), the horror feature Hinsdale House (Gia), and 23:27 (Dr. Nicole Brown). As for future prospects,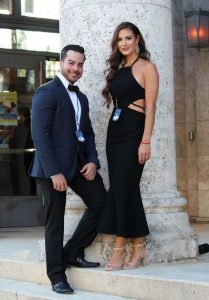 "if there is a gun or someone getting beaten or killed, you can bet I'm getting the role," posts Aly on Facebook.
July 27, 2019.
RELATED POSTS.