Though perhaps not obvious, Aly Mang's foray into filmmaking inevitable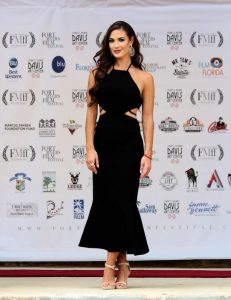 Though perhaps not obvious, Aly Mang's foray into filmmaking was apparently inevitable. From an early age, she carried a video camera everywhere she went. "I was always making skits, mini-movies and videotaping everything," Mang recalled on opening night of the 9th Annual Fort Myers Film Festival.
She actually got her start in theater – before she was even born. Her dad, and even her uncles, were stage actors on Broadway. They also toured in national shows. Aly had no choice but to tag along. She observed. She imprinted. Precocious, she soaked in theater culture through backstage osmosis. But it was her grandmother who cultivated and fostered her interest in following in her father's and her uncle's footsteps.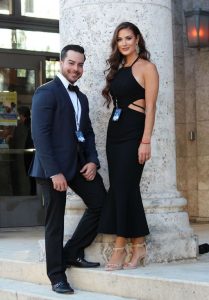 "My grandmother, their mother, was sort of a stage mom, and I was the one grandchild who showed an interest in acting. Grandma got me head shots," Mang recalled. "I was designing my own wardrobe, singing and dancing (ballet, tap, jazz and modern). She was my biggest supporter."
Aly was all of five years old.
Three years later, her dad enrolled her in classes at Weist Barron Studios and Lee Strasberg Acting Studio in New York City for stage and on-camera work.
She progressed as an actor, dancer and singer, becoming a proverbial triple threat.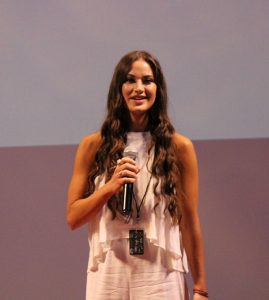 Aly was cast as a principal in several productions. She was also chosen to perform in the Paper Mill Playhouse Rising Star Awards, a statewide competition patterned after Broadway's Tony Awards that encourages and rewards exceptional accomplishments in the production of high school musical theater.
"We were all picked from different high schools," Aly recounts. "We did Lerner and Loewe (My Fair Lady, Camelot, Brigadoon) and Rodgers and Hammerstein (Oklahoma, Carousel, Sound of Music, South Pacific). It was great because those are the classics. I did Mellie Forbush from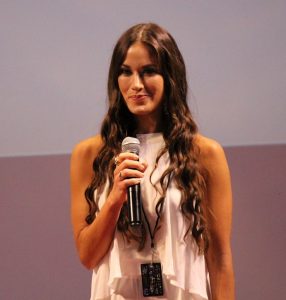 South Pacific."
With accomplishments such as these, it wasn't surprising for her high school classmates to vote Aly "Most Likely To Be On Broadway!"
But in college, she took a left turn, majoring in business, marketing and human resource management rather than theater. After graduating Boston's Northeastern University in 2008 Magna Cum Laude, she went to work as an Associate for Goldman Sachs.
Passionate about health and wellness,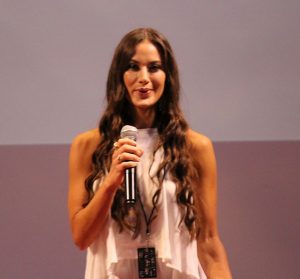 she became a Board Certified Holistic Health Coach, and ultimately left her job in Finance to start her own Holistic Health Coaching Business, incorporating The Balanced Beauty, LLC, whose mission it is to empower, encourage and inspire women to make healthy choices and follow their dreams.
It was then that she decided to take her own advice and pursue her love of acting.
She returned to her roots in theater, but quickly discovered that her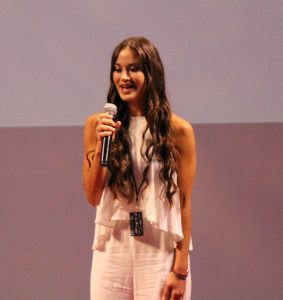 passion lay in television and film. She landed roles in the psychological thriller Chronicles of a Serial Killer (Ann), the horror feature Hinsdale House (Gia), the western thriller Deadman Standing (Violet), the thriller Don't Look There (Amy Jo), the Rock indie Lower East Asides (Terri), Horror Time (Emma/Persaphone), Grow'n (Rosa) and Tilt (Joanie). She scored featured roles in blockbuster hits like John Wick 2 (Winston's personal assistant), The Night Before (Pro Athlete Girlfriend) The Comedian (Friar's Club Girl) and Zoolander 2 (Fashion Model), among others.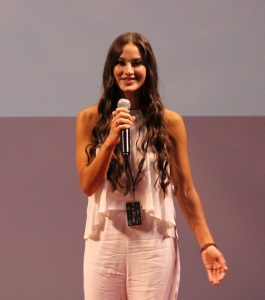 On television, she landed parts on ABC's Quantico (Sheila), Making a Scene with James Franco (recurring as Jessie Spano, the Bride and Monica during the show's Emmy-nominated season), Psychosis (series regular Anika Abishek), Saturday Night Live (recurring as the bartender and dancer), Succession (VIP Hostess), The Irishman (The Coat Check Girl), The Deuce (Tonya, in an episode directed by James Franco), The Get Down (Misha), Younger (Kelsey's bridesmaid) and Vinyl (Glam Model), among others.
But that's not to say the transition from theater to television and film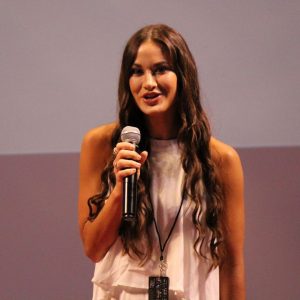 was easy.
"As a theater actor, everything is big and animated and larger than life. It's the complete opposite on camera," Aly explained as she eyed a wide array of smart, ambitious and glamorous actor/filmmakers posing for photos on the Fort Myers Film Festival red carpet under the entablature of the Sidney & Berne Davis Art Center. "[In film], you need to be small and minimalistic."
Exaggerated facial expressions were particularly problematic. While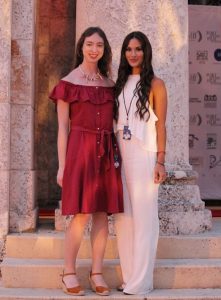 customary in theater, especially in comedies and farce, they came across on film as forced and over the top. "So I had to work on that. I went to school. I studied Meisner technique with various acting coaches and really worked on it to tone it down and be more natural. "
In a continuing effort to develop and hone her singing, dancing, acting and filmmaking skills, Aly has continued to train with the best in the business, most notably Academy Award and Golden Globe Winning Olympia Dukakis (advanced scene study/acting technique), David Van Asselt (theater), Aitor Basauri (clown/comedy) and Ted Sluberski (TV/film).
"A lot of actors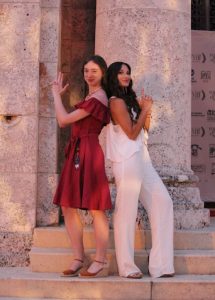 create films so we'll have footage for our reels – something to showcase the kind of roles we'd like to play for casting directors and agents." But along the way, Mang discovered she actually like making films as much, perhaps even more than she enjoyed performing in them.
"I realized I was actually pretty good at piecing a story together," said Mang animatedly. "Not a lot of people can take an idea and make it into a film. It's difficult. That's why I'm especially proud of Roaring Tides. To be selected by a film festival and be recognized is really validating that I can do it and that I have the skill set. I can even go back to school and keep growing and keep learning."
In fact,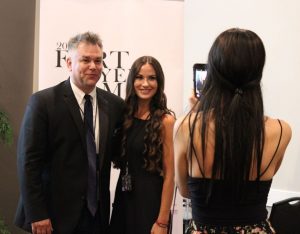 it was in a James Franco's Master Class that she first learned screenwriting and developed a feature length anthology film.
"When you think of yourself as something, then you become it," Aly adds, channeling Buddha, Napoleon Hill, radio personality Earl Nightingale and Tony Robbins, who all espoused that "you become what you think about."
"I never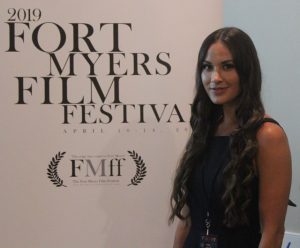 thought of myself as a filmmaker before these festivals."
But she does now.
"Instead of thinking I need to get in front of that casting director or in front of these people in order to get cast in a role I want to play, now I'm taking the approach that I'm going to make my own movies. I'm more passionate about that and the stories I want to tell – and having the control of editing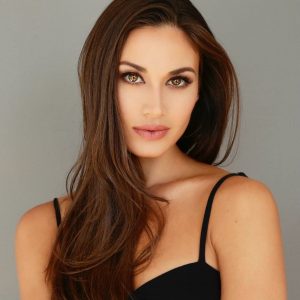 and really just being able to tell stories I want to tell is so exciting."
Roaring Tides is Mang's first step in that evolutionary process. The film is not only well conceived, beautifully scripted and expertly filmed and produced, it is beguilingly inspirational. The title is a metaphor for the deep emotional turmoil and heartrending loss all people experience at one time or another during their lives, and it's Mang herself who utters the film's most memorable line. "Don't let the roaring tides pull you under."
"The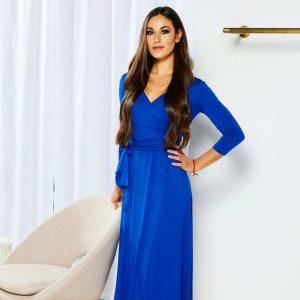 story is actually pretty personal," concedes the filmmaker, who has had to weather the deaths of her beloved grandmother, grandfather and mother as well. "The film honors the lessons they taught me. I am the woman I am today because of them. I wanted to do something special to honor that."
She also wanted to do something else rarely seen in film.
"I also wanted to show the male character as being vulnerable. I think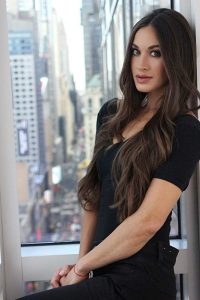 a lot of times we see heroes, especially superheroes, as strong men, but strong men can have weaknesses as well, and I wanted to create a male character who's in touch with his feelings."
Of course, that presupposed finding the right actor to play the male lead, a character by the name of Leo. That actor turned out to be someone Mang has worked with several times previously, Hansel Pacheco. And over the course of their working relationship, the duo had achieved a high degree of on-screen chemistry.
"I was inspired to capture that chemistry on film."
She succeeded to the Nth degree.
"I love the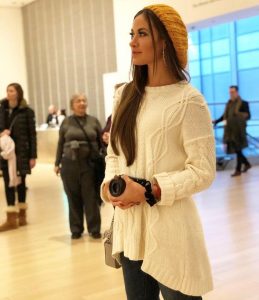 characters we built [in Roaring Tides]. I love the idea of the story. I do believe it will transform into something else. I don't know what that will be, but I definitely think it's foundation for something larger. Perhaps I'd do a prequel."
A tantalizing prospect, and not only necessarily confined to the characters' present lifetime. [You'll have to see the film if you want to know what that means.]
But even if Roarding Tides ends up being a stand-alone project, it's a film that can certainly serve as a springboard to bigger and better things.
"I'm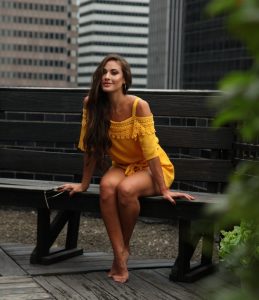 really big on giving back – and doing something that's significant and will help people. So I find that this is probably my best route to do that."
Agreed.
Though perhaps not obvious, Mang's foray into filmmaking seems destined. So look for more from this heady, driven and talented filmmaking force in transition. Maybe even at next year's Fort Myers Film Festival, which will be celebrating its 10th anniversary no doubt in high style.
Go here for Aly's full profile.
April 20, 2019.