Remember 9-11 Tenth Year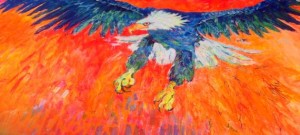 Remember 9-11 Tenth Year is a 10-by-18-foot acrylic painting depicting a bald eagle in flight against a field of bright orange and red. Beneath the eagle's talons are lists containing the names of the more than 3,000 victims who lost their lives on September 11, 2001 in the World Trade Center twin towers in New York, at the Pentagon in Washington, D.C., and in a barren field in Stonycreek Township, Pennsylvania, where United Airlines Flight 93 crashed following an attempt by passengers to regain control of the plane from four hijackers.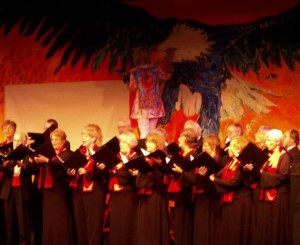 Matlacha Island artist Leoma Lovegrove created the work on September 11, 2011 in front of a Standing Room Only audience at an emotional event held at the Broadway Palm Dinner Theatre to commemorate the tenth anniversary of the September 11 terrorist attacks. "It was a time to honor the heroes," Lovegrove explained at the February 19, 2014 dedication in Library West. "The eagle represents the power of America and that freedom will prevail."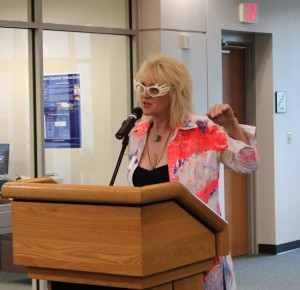 Although the expressionist/impressionist painter does not characterize herself as a wildlife artist, many varieties of birds and fish have appeared in her vibrant artwork over the years. "I've always painted the eagle, but never one this large," she quipped curing the ceremony. The regal bird is not only our national symbol; it also serves as FGCU's mascot, which makes Florida Gulf Coast University a natural home for the painting.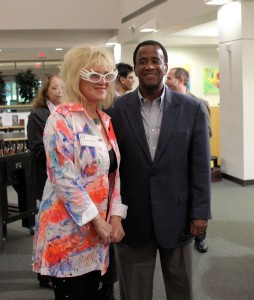 The gift grew from a conversation Lovegrove had last year with FGCU President Wilson G. Bradshaw at a reception where the painting was displayed. "The eagle embodies a spirit of strength and freedom that we value at FGCU and instill in our students," Bradshaw said at the dedication. "Leoma Lovegrove's striking work of art is sure to inspire those who view it for many years to come."
Donations of artwork, as well as monetary gifts to the university, are administered by the Florida Gulf Coast University Foundation. Remember 9-11 Tenth Year joins nearly 100 other artworks in Florida Gulf Coast University's public art collection, which includes such notable monumental sculptures as Albert Paley's Cross Currents, Robert Roesch's Transition 2012, Brower Hatcher's Archway, Depend du Soleil and Whatever You Say Dear by Mark Fuller, Clayton Swartz's Skyward, and Verve by fused glass artist Michele Gutlove. Lovegrove also has public artworks in the collections of the City of Fort Myers and Matlacha Island.
Location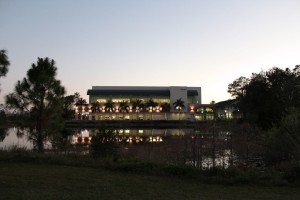 Remember 9-11 Tenth Year is on view in Library West at Florida Gulf Coast University. Hung over the library's south entry, it towers over the reference and help desk and second floor stacks in the library's west wing.
Remember 9-11 Tenth Year Backstory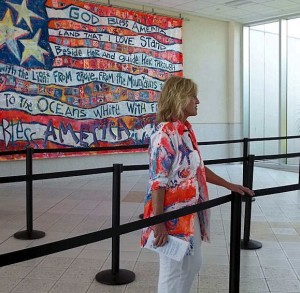 The making of Remember 9-11 Tenth Year actually dates back to September 11, 2009. That's when Matlacha artist Leoma Lovegrove  painted a 10-by-18-foot rendering of the American flag during a live performance at the Broadway Palm Dinner Theatre to honor those who died on the day that changed America forever. The flag was then displayed in Concourse D at Southwest Florida International Airport pursuant to a partnership between Southwest Florida International Airport and the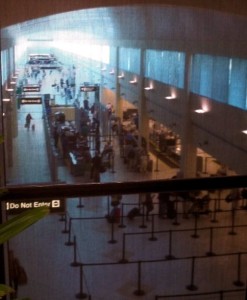 Lee County Alliance for the Arts, which sponsors Art in Flight, a public art program designed not only to create a positive first impression on visitors, but to underscore the community's commitment to art and culture. Covering nearly the entire wall at the top of Concourse D, it served as a somber reminder of the reason for the heightened security measures that inconvenience all and affront some outbound air passengers.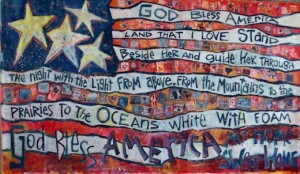 In the flag's white field, Lovegrove emblazoned the lyrics of "God Bless America" in an attempt to resurrect the innocence and purity we lost on September 11. The red stripes signifying valor and hardiness were filled with posters extorting Americans to wake up, remember 9/11 and "never forget." Surrounding Lovegrove's work were  smaller canvases painted by audience members who seized the opportunity to express their own feelings about that tragic day.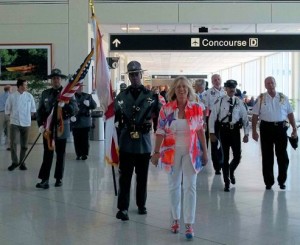 Based on those experiences, the artist perceived that members of the community needed a way to personally express their pent-up and as yet unresolved emotions regarding the losses all Americans suffered that fateful day. So during a ceremony held on June 17, 2011 at the jetport, she extended an invitation to area residents and visitors to paint the names of the more than 3,000 victims of the 9/11 attacks on a 10 by 18 foot canvas that she would turn into a commemorative artwork during a ceremony taking place at the Broadway Palm Dinner Theatre on the tenth anniversary of the attacks.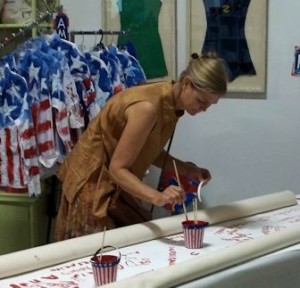 To give as many people as possible a chance to participate in the community-wide and community-based art project, Lovegrove launched an ambitious 12-week tour during which she escorted the canvas to events at the Franklin Shops on First (during July's Art Walk), the Red, White and Boom in Cape Coral on July 4th, Naples' Dennison-Moran Gallery (August 7), Fox 4 Morning Blend (August 12), Iberia Bank in Cape Coral (August 12), Sam Galloway Ford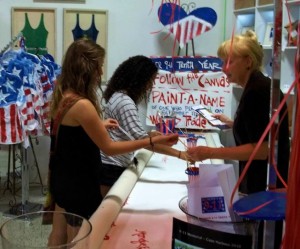 in Fort Myers (August 13), The Shell Factory (August 14), Fort Myers Fire Station No. 6 on Veronica Shoemaker (August 18), Hotel Indigo in the River District (August 20), Lovegrove Gallery & Gardens in Sanibel (August 21), Sip and Send in Cape Coral (August 25 and 26), Bubba's Roadhouse in Cape Coral and the Broadway Palm Dinner Theatre on September 11th.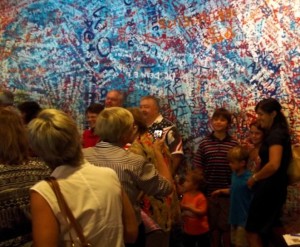 Each event turned out to be highly cathartic, as people shared stories and reflected on where they were that day ten years ago. "Many, many tears," Lovegrove recalled with a hitch in her voice. "I have never seen so many." A surprisingly large number of those who turned out lost a friend or family member in the attacks.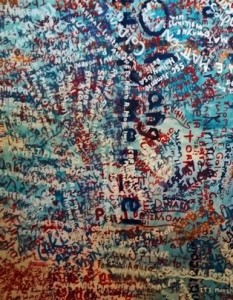 "Some people came with a list of names of people they'd lost," Lovegrove related. "So the names of some of the victims have been painted on twice, but we don't care." And those who selected names at random from a glass bowl often forged bonds with the person whose name they chose. "They'd go home and Google the person's name to learn more about him or her," observed Kirsten Troyer, a friend of Lovegrove's who volunteered to photograph many of the events.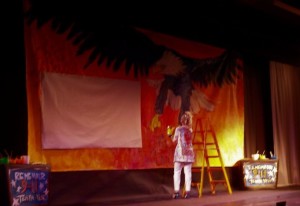 Lovegrove had planned for the victims' painted names to serve as backdrop for an American eagle that she would engraft over them during a Paint Out Loud performance at the Broadway Palm Dinner Theatre on September 11. "[But] the names became so sacred that Leoma decided she couldn't paint over them," Fox 4 Morning Blend's Carley Wegner reported to the Standing Room Only crowd who attended the emotionally-charged program. "So she started a separate painting of an American eagle that's she going to finish today."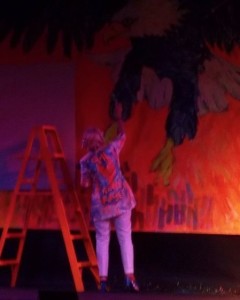 Thus, one flag became two, and while both paintings now stand in tribute to those who died on 9/11, the soaring eagle against a bright orange background hangs now in the library at Florida Gulf Coast University, where it will serve as a reminder of the fragility of life, heroism of those who took action that day in history, and that in spite of our too-often polarized politics, all Americans  are bound together by love of flag, country and our fellow countrymen and women. From its new home perched high above the floor of the library at FGCU, Remember 9-11 Tenth Year will inspire students for years to come to dedicate themselves to compassion, community and country.
Click here for a U-Tube video on the making of the canvas containing the names of the more than 3,000 9-11 victims.
About the Artist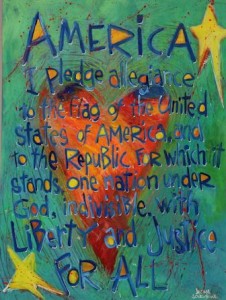 Leoma Lovegrove is known for expressionist works characterized by exuberant strokes (applied to canvas not only via brushes of all sizes and shapes, but with her fingers and hands as well) and a palette bursting with vivid tropical color. While she is popularly associated with Florida motifs that include birds, fish, palms and coconuts, Lovegrove easily adapts her quasi-impressionist style to both portraiture and entertainment art.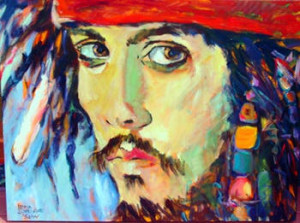 Her subjects have included former President Jimmy Carter (who hung his portrait in his presidential library in Atlanta) and Sir Richard Branson (whose portrait was commissioned for Virgin Airlines' headquarters in London). And while Johnny Depp and Steven Tyler remain collector favorites, her Beatles Series was so well-received that it drew the attention of the City of Liverpool.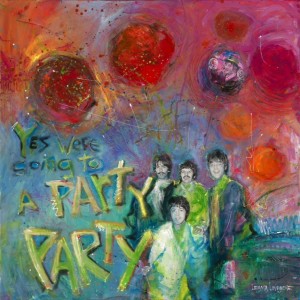 The presidential library of George W. Bush also includes Lovegrove's work, as do the private collections of actress Sharon Stone and actor Jesse Metcalf. To commemorate the unification of East and West Germany, Lovegrove's work Focused was presented to the Consul General of the Federal Republic of Germany, Eva Alexandra, Countess Kenderffy. Lovegrove has garnered reviews in numerous magazines and art publications, and she was featured in February of 2012 in Galileo, a German television show that is viewed by more than 2.5 million people in five countries.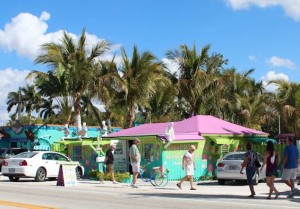 Lovegrove maintains her gallery, studios and botanical gardens on picturesque Matlacha Island, a popular tourist destination for visitors to southwest Florida. However, many art enthusiasts and collectors have become familiar with her work through her Painting Out Loud performances, during which Lovegrove completes an entire composition in a matter of minutes before a live audience to the accompaniment of inspirational music and a multi-colored light show. Her painting, Freedom, was created during such an event, as were Remember 9-11 and Remember 9-11 Tenth Year.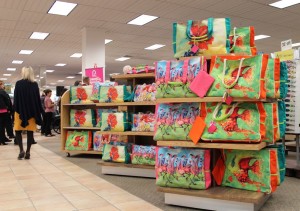 On February 19, 2012, Bradenton-based Bealls Department Store introduced a line of ladies and children's apparel that features Lovegrove's casual, colorful Florida motifs. They were such a hit with the store's customers that Bealls decided in 2014 to expand their line of Lovegrove products to include handbags, totes, luggage, beach towels, Tervis drinkware and more. The expanded product line is available in each of Bealls' 74 department stores in the State of Florida, as well as online at: http://www.beallsflorida.com/online/leoma-lovegrove, which will add to the prestige that FGCU enjoys from having Remember 9-11 Tenth Year included in its public art collection.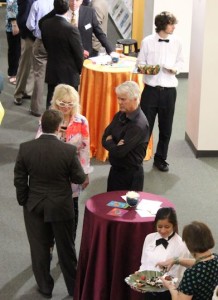 Lovegrove has a degree in illustration from the Ringling School of Art & Design in Sarasota, and has studied at ArtStudy Florida and the Guild de Beaux Arts and ArtStudy Giverny in France. She returns to Europe each spring to recharge her artistic batteries by sketching, drawing and painting in the cradle of the impressionist and expressionist movements.
Related Articles and Links.