Skyward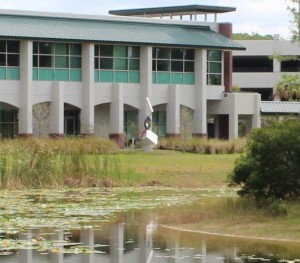 Herbert J. Sugden Hall at Florida Gulf Coast University looks more like a resort-style hotel than an academic building. That's because the sophisticated 37,000-square-foot building functions as a working laboratory for students enrolled in its top-rated Resort & Hospitality Management program. The two-story facility includes a wine and food technology laboratory equipped with light panels for visual wine evaluation, a high-end residential kitchen for wine pairings and expert demonstrations, built-in spittoon sinks for tasting, and video and internet technology for oenological learning experiences.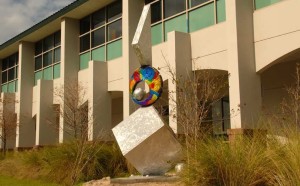 Among the building's other features is a ballroom, space for events and functions, a prototype spa laboratory area equipped with wet and dry treatment rooms, a hair and nail salon, a steam and whirlpool area and "arrival sculpture" at both entrances – the kind of pieces one would expect to find at a resort.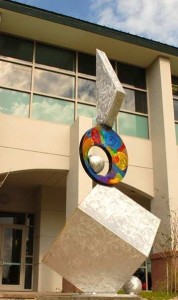 The one that sits outside Sugden Hall's south entrance is called Skyward. Created by St. Petersburg sculptor Clayton Swartz, it is a bright and contemporary abstract made of brushed aluminum with surface color made from clear-coat enamel paint. Swartz's use of bold geometric shapes and bright, saturated colors gives Skyward a feel of lightness and fun that complements the inviting and spacious building. "I describe it as a performance or dance with the material," says Swartz, "a chance to change something raw into something beautiful."
Skyward soars 12 feet into the southwest Florida sky and measures 4 feet across at its widest point. It rests on a concrete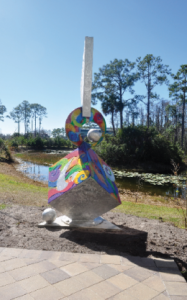 pedestal to lend it even greater height and is accentuated by ground lighting which makes it visible to students and faculty at the Student Union located at the other end of the lily-pad-covered crescent-shaped pond that's nestled between the two buildings. Thanks to the building's open design, it is also visible to visitors as they enter Sugden Hall through its north entrance.
Like Sugden Hall itself, Skyward works in conjunction with the education students receive. "It has a very uplifting theme," says Swartz , who adds that "[l]ooking into one of my sculptures will take you deep into a maze of parts, design, formal unities and holistic composition that will give you a sense of revelation into the sculpture's design and meaning."
About Clayton Swartz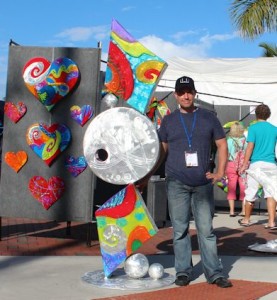 Clayton Swartz started out as an abstract painter, a hobby he pursued while attending St. Petersburg College. However, after receiving his BFA in painting and sculpture from the University of South Florida, he began to transition into metal sculpture. Although he continued to paint (and even dabbled a bit in photography) during his 5-year tenure as an art teacher at St. Petersburg's Northeast High School, he increasingly favored metal sculpture, developing a unique style that concentrated on colorful biomorphic and abstract shapes that ranged from sealife to cityscapes. He then took to the road, exhibiting at art festivals throughout the state, quickly gaining a reputation and following that has enabled him to pursue art professionally since 2005.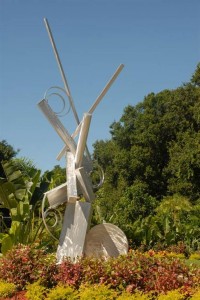 "My medium lends itself more to public art," Swartz told Tampa Bay Times Staff Writer Mike Brassfield in September of 2010. "It withstands the elements, and I tend to like to work big." He was referring at the time to an 18-foot-tall aluminum sculpture by the name of Constellation (left) that was on display in the landscaped medians of Cleveland Street as part of Clearwater's Sculpture 360 public art program.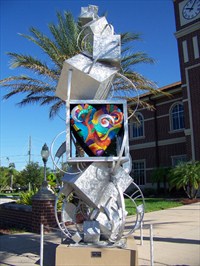 Swartz is perhaps best known for his 1,200 pound, 20-foot-tall sculpture at Park Station in Largo, The Heart of Pinellas (right). This monumental work aptly illustrates Swartz's signature style. The piece is crafted of brushed aluminum and features as host of interwoven geometric and biomorphic shapes. Swartz then finishes the sculpture with painted surfaces that utilize an automotive finish that gives the topography of his sculpture dynamic colors and an iridescent sheen.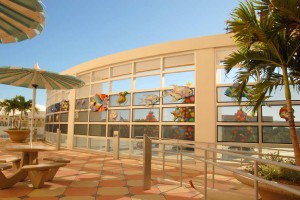 In addition to Florida Gulf Coast University, Sculpture 360 and Largo's Park Station, Swartz's has been included in such major public and corporate collections as the City of Pinellas Park, Pinellas Gateway Chamber of Commerce, All Children's Hospital in St. Petersburg (left, which has 20 of Swartz's signature brightly-colored creations), 400 Beach Seafood & Tap House Restaurant, Salt Rock Grill and Homewood Suites Tampa/Brandon (which features Swartz's 7-foot sculpture Shades of the Florida Reef to better connect extended-stay travelers with the community in which they are staying).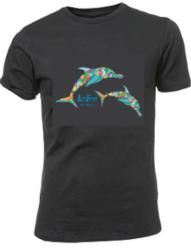 His credits include honors at the 2011 ArtFest Fort Myers (where his art was used as the design logo for the event's T-shirts), the Award of Merit at the 34th Annual Mainsail Arts Festival in St. Petersburg in 2009 and a feature in The Tampa Tribune. Today, he showcases his work in his Pinellas Park studio, select galleries, art festivals and selected Tampa Bay charities.
"My work blends modern abstract sensibilities with formal subjects." His current work often contains ocean life, expressing Swartz's abiding fascination with the sea and hobbies including scuba diving, spear fishing and boating. His sculptures often incorporate hearts, which symbolize his strong connection to his family and deep respect for life. "My modern abstracts illustrate a passion for vibrant color and form."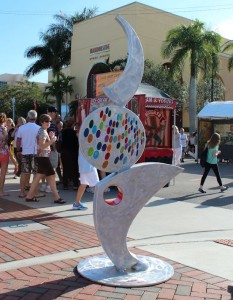 Swartz prefers brushed aluminum because the bright white metal shows off the layers of translucent color that he favors. "Stainless steel tends to mute the colors," he explains. "Besides, it's hard to transport and hang because it's so heavy, and isn't nearly as weather resistant as aluminum is." Of course, aluminum is less forgiving. "Steel is more pliable and easier to weld. If you overheat aluminum, it just falls apart. But aluminum suits the bright, happy, saturated colors that I really, really like."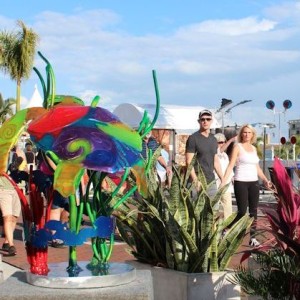 Swartz uses an array of techniques and processes to create his aluminum sculptures. "My metal working process employs MIG and TIG welding, plasma cutting, and grinding. When fabrication is complete, the color process begins. Using an array of brushes, airbrushes and paint moving tools, I coat my work with a saturated translucent automotive finish. These special techniques are used to create vital effects in the work that treat each shape as its own abstract painting while simultaneously working in conjunction with the whole sculpture."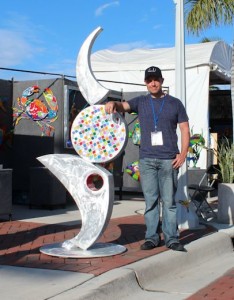 "Because I have a specific style, when somebody sees a sculpture that I create, if they know my work, they know I did it – even if they're driving by it at 80 miles per hour," states the artist. "While I am continually refining my process, I stick with a specific style and color pattern so that my work continues to remain recognizable by people who are familiar with my work." Toward that end, he steadfastly refuses to sacrifice his individual style in order to make his public artworks site specific, "something that tends to make public art feel stilted and anonymous in way too many instances."
A Note about Art Festivals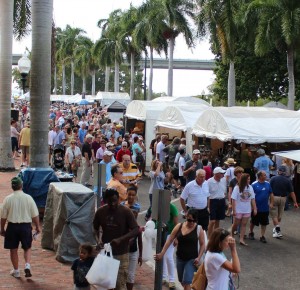 Many artists make their living exhibiting and selling their work at art festivals. More than a thousand festivals take place across the continental United States each year. Southwest Florida's robust festival season alone accounts for more than 50 art fairs and shows between mid-October and mid-April of the ensuing year from Marco Island to Matlacha. [Crowd at ArtFest Fort Myers in February, 2012.]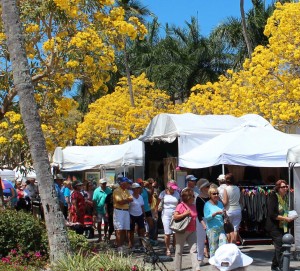 Entry into these festivals is not automatic. Most are juried. To be considered for inclusion, artists must apply months in advance for booth space. Then typically a blind jury selects the best 100-250 from the 1,000 or more applications the organizers receive. Thus, there are no guarantees that just because an artist makes it into a festival one year he will be invited back in the ensuing year even if he continues to maintain high standards for technique, concept and originality. [At left, the artworks on display at the Downtown Naples Festival of the Arts in March, 2012 vie for attention with golden trumpet trees.]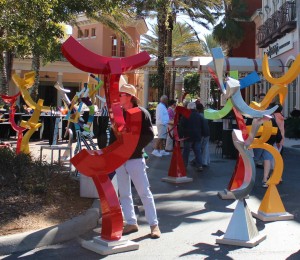 "Different shows have different qualities about them," Clayton Swartz notes. "But obviously the better shows, the shows you make the most money at, are the ones you want to get into." Such as ArtFest Fort Myers (which attracts 55,000 visitors over the course of three days) , Naples National Art Festival (#10 art festival in the United States according to Sunshine Artist Magazine, and a show that has been in the top ten five years running), Bonita Springs National Art Festival (whose January and March 2011 festivals were ranked #11 and 27 in the nation by Sunshine Artist magazine), the Downtown Naples Festival of the Arts (the #24 art festival in the entire nation in 2011 according to Sunshine Artist Magazine), Naples Invitational Art Fest (ranked #55 in 2011 by Sunshine Artist), the Downtown Naples New Year's Art Fair (the #62 art festival in the United States according to Sunshine Artist Magazine, and one that has been in the top 100 five years running), and the Mercato Fine Art Festival (the #75 art festival in 2011 according to Sunshine Artist Magazine). [Sculpture display at January, 2012 Bonita Springs National Art Festival.]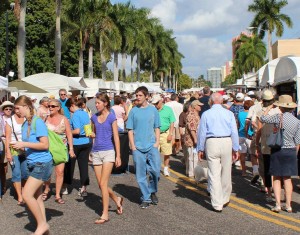 Working the festival circuit is not without sacrifice. Artists spend weekends away from families, sometimes setting up before sunrise on Saturdays, only to sell one or two pieces. A rainy, windblown day can ruin it all. Some artists participate in as many as 50 festivals a year, meaning that they are on the road for months at a time. Swartz is more fortunate. He limits himself to just ten fairs each season, and since most if not all are located in Florida, Swartz is able to return home after each one to be with his wife, Rachel, and four children and re-stoke his creative fires in his 1,800-square-foot studio out back.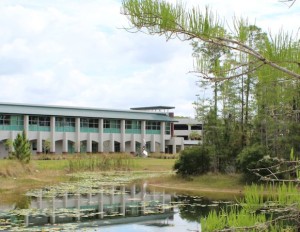 However, Swartz intends to scale back the number of art fairs and festivals he participates in each year. "I plan to transition into more solo and group shows at galleries, art centers and museums," Swartz discloses. "I'm a believer in goalkeepers and  gatekeepers. The goalkeepers are the people buying your work. Gallery owners and museum directors are the gatekeepers. When enough people know, like and purchase your work, the gallery owners and directors have to exhibit you."
Fast Facts.
As a boy, Swartz learned welding from his father, Michael, who welded and brazed metals into unique sculptures of his own.
Both of his grandmothers were also creative.
Swartz credits as his other influences contemporaries such as Frank Stella, David Smith, Roy Lichtenstein and Keith Haring.
Swartz is a member of the Florida Craftsmen, a statewide non-profit organization headquartered in St. Petersburg, FL.
He comes from a closely-knit family which is the reason why most of his pieces contain a heart in some fashion or another.
Articles and Links.