Spotlight on Fort Myers' Ward 4 art hub at Florida Repertory Theatre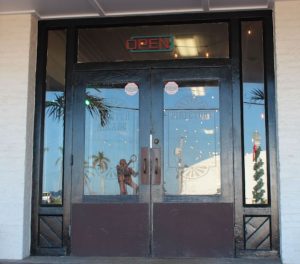 The Fort Myers Public Art Committee is establishing art hubs in each of the City's six wards using the 23 Edgardo Carmona sculptures that the City purchased in August of 2018. One such art hub is Florida Repertory Theatre. On Saturday (December 3, 2022), the Committee relocated the Unicycle Juggler to the east side of the entrance into the Rep's parking lot on Bay Street.
The term art hub refers to a location that is already or which is intended to become either a cultural, business or residential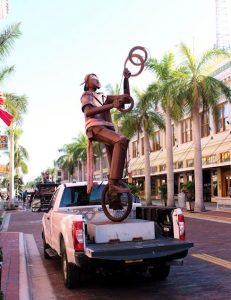 destination. Florida Rep clearly falls into the former category.
The Rep is one of Southwest Florida's most important cultural and educational institutions. A fully professional regional theatre company, Florida Rep functions as a vibrant cultural outlet for over 95,000 theatre-goers every year. Gulfshore Life and Florida Weekly have named the Rep "Best Performing Arts Group" numerous times. Its work has been covered in American Theatre Magazine and featured on numerous occasions by The New York Times.
In addition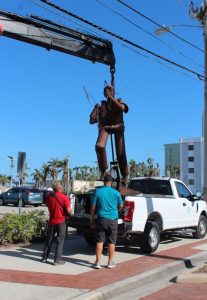 to its work on stage, Florida Rep has a very active and vital Education & Outreach arm that includes Theatre for Young Audiences & Lunchbox Theatre, Camp Florida Rep, an audition-only Theatre Conservatory Program, classes for youth and adults, and artist in residency programs. With programs designed to supplement and enhance arts programming in the schools and theatre programs that reach more than 45,000 young people annually, Florida Rep is one of the most active arts organizations in the area, and holds true to its mission to "improve the quality of life in our community through all the arts."
The Unicycle Juggler or Faena En La Plaza depicts a juggler sitting atop his unicycle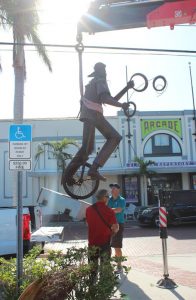 with his rings ready for action while the wind tests his balance. The artwork's sculptor, Edgardo Carmona, based this piece on a street performer common to Plaza de la Trinidad in his hometown of Cartagena. Tourists from all over the world flock to the Plaza to enjoy lovely little restaurants, sidewalk cafes, bars, and all manner of enthusiastic street performers ranging from hip-hop dancers to jugglers and acrobats who jump and spin to the sound of breaking, locking and popping.
The sculpture is emblematic of the enthusiastic entertainment patrons have discovered over the years at Florida Rep. And like Plaza de la Trinidad, the downtown Fort Myers River District is filled with savory restaurants,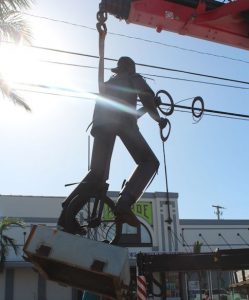 delightful sidewalk cafes, bars, gift and souvenir shops and art galleries that the Rep's patrons from the world over can enjoy pre and apres theater.
The River District is home to a number of other art hubs, ranging from Centennial Park East (which is home to Uncommon Friends, the USCT 2nd Regiment Monument, the Buckingham & Page Army Air Field Monument and The Florida Panther) and Centennial Park West (Fire Dance) to The Collaboratory (Ribbon Routine), Edison & Ford Winter Estates (Music Lover), Edison Park Entrance (The Spirit of Fort Myers), Fort Myers Country Club (Tootie McGregor Fountain),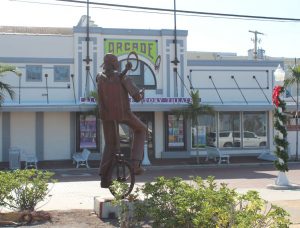 Fort Myers-Lee County Garden Council (Lorelei), Fort Myers Regional Library (Stacked Brands), Franklin Shops on First (Two Drunks on a Bench), Greater Fort Myers Chamber of Commerce (Don Quixote), Langford Kingston Home (busts of Chief Billy Bowlegs, Captain Francis Asbury Hendry, Tootie McGregor Terry, James D. Newton and Connie Mack), the Laboratory Theater of Florida (Fertilization), Park of Palms (82nd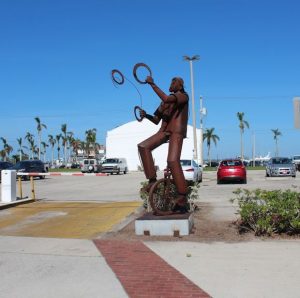 Airborne Monument), Sidney & Berne Davis Art Center (Caloosahatchee Manuscripts) and Scoops on First (Snow Cone Vendor).
To encourage the public's enjoyment of and interaction with the artworks located in each of the City's art hubs, the City's Public Art Committee has subscribed to a free mobile app called Otocast. The app includes text, photographs and audios that provide information and behind-the-scenes stories about all of the City's public artworks and the artists who created them.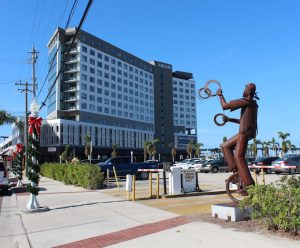 The Committee expects to go live with text, photographs and an audio for Unicycle Juggler within the next few weeks.
For information about other artworks and art hub locations, please read the articles appearing below or download and enjoy Otocast. It's free!
December 4, 2022.
RELATED ARTICLES.