Spotlight on Fort Myers' Ward 1 art hub at Roberto Clemente Park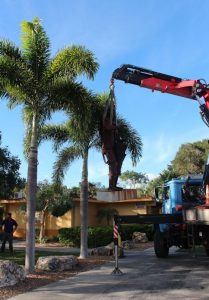 The Fort Myers Public Art Committee is establishing art hubs in each of the City's six wards using the 23 Edgardo Carmona sculptures that the City purchased in August of 2018. One such art hub is Roberto Clemente Park in Ward 1. On November 19, 2021, the Committee moved two sculptures there – Cadencia or Bongo Drummer and Mambeo or Coco Leaf Chewer.
The term art hub refers to a location that is already or which is intended to become either a cultural, business or residential destination. With pavilions, picnic tables, beautifully-landscaped walking trails, a playground, tennis and basketball courts that are open seven days a week from dawn until dusk, thousands of local residents visit Roberto Clemente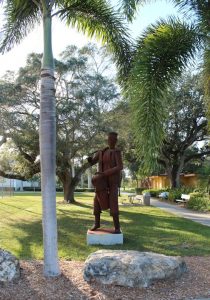 Park each month for picnics, family gatherings, community events and to visit the Williams Academy Black History Museum and the Lee County Black History Society. Special community events such as Juneteenth (which replaced the Mancipation Day Celebration), Holiday in the Park, and Black History Month are celebrated in the park.
Bongo Drummer and Coco Leaf Chewer join What Dreams We Have and How They Fly, a brightly colored 5×10 foot plasma-cut steel sculpture with mosaic elements that was installed in October of 2014. Another half dozen outdoor artworks are located a short drive from the park, as well.
Two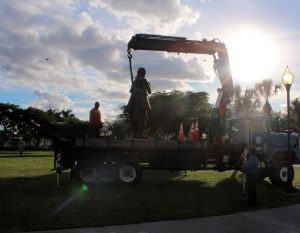 Edgardo Carmona sculptures, The Knife Sharpener and Female Fruit Vendor, can be viewed at Dr. Jesse Bryson's Urban Community Farm between Beardon Street and Flint Drive; Man Playing Flute and Boy Fishing from a Bucket grace the grounds of the nearby IMAG History & Science Center; and the Buck's Backyard Mural is located across MLK Boulevard from IMAG at historic McCollum Hall.
And coming in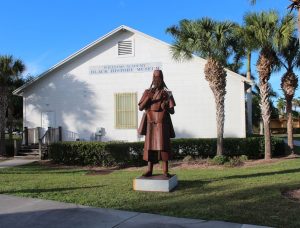 2023, a gateway art piece titled Journey of Hope will be installed by St. Petersburg artist Cecilia Lueza in the mall at the intersection of Martin Luther King, Jr. and Veronica S. Shoemaker Boulevards.
To encourage the public's interaction with Clemente Park's new artworks, both have been included on Otocast, a free mobile app that includes text,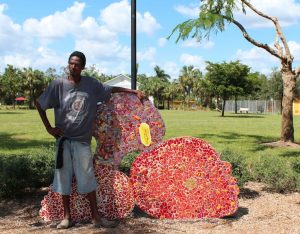 photographs and audios that provide information and behind-the-scenes stories about all of the City's public artworks and the artists who created them. While text and photos for Bongo Drummer and Coco Leaf Chewer are already live on Otocast, scripts for the associated audio are currently being researched and written. The Committee hopes to add these audios to the app before year end.
For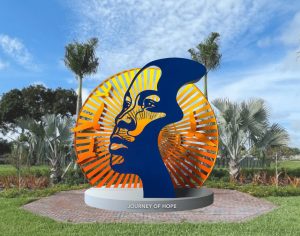 information about other artworks and art hub locations, please read the articles appearing below or download and enjoy Otocast.
September 20, 2022.
RELATED ARTICLES.