'Jekyll & Hyde' play dates, times and tickets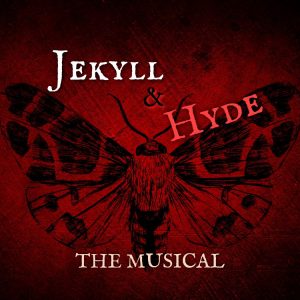 Play:  Jekyll & Hyde
Book & Lyrics:  Leslie Bricusse
Score:  Frank Wildhorn
Genre:  Musical
Synopsis: In an attempt to cure his ailing father's mental illness by separating "good" from "evil" in the human personality, talented physician Dr. Henry Jekyll inadvertently creates an alternate personality of pure evil, dubbed Mr. Hyde, who wreaks murderous havoc on the city of London. As his fiancée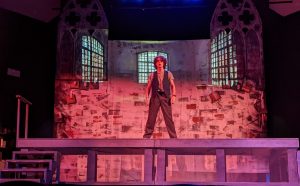 Emma grows increasingly fearful for her betrothed, a prostitute by the name of Lucy Harris finds herself dangerously involved with both the doctor and his alter ego. Struggling to control Hyde before he takes over for good, Jekyll must race to find a cure for the demon he has created in his own mind. This gripping tale of a brilliant mind gone horrifically awry is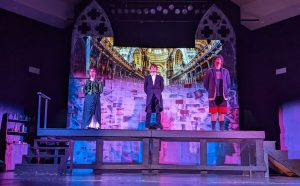 based on Robert Louis Stevenson's classic thriller Jekyll & Hyde.
Director:  Danica Murray
Music Director:  Joseph Brauer (credits include Gulfshore Playhouse, The Naples Players, Gulfshore Opera, Prairie Fire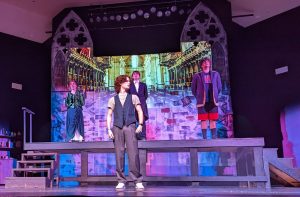 Children's Theatre, Newfangled Theatre Company, Little Country Theatre, Brownville Village Theatre)
Stage Manager:  Naomi Bates (Nebraska Shakespeare)
Assistant Stage Manager:  Sophia Fallia
Fight Choreographer: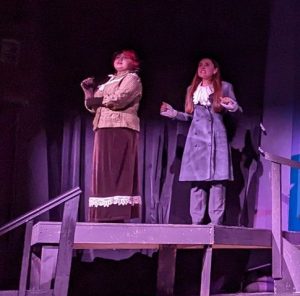 Kody C. Jones
Costume Designer:  Elena Murray
Cast:
Dr. Jekyll/Mr. Hyde:  Brycton Archer (Something Rotten Teen-The Naples Players; Percy Jackson in The Lightning Thief at CFABS; Finding Neverland at The Broadway Palm)
Utterson (Jekyll's right hand man): James Arpin (Little Women at Gulfshore Playhouse and Chiron in The Lightning Thief at CFABS)
Lucy (a coquettish prostitute): Sophia Gurule (Cabaret at the Barbara B Mann, West Side Story at Florida Repertory Theatre)
Jekyll's fiancée, Emma: Gia Provinzino (one of Cinderella's stepsister in Cinderella at CFABS, Something Rotten Teen at The Naples Players; she is also a songwriter/recording artist)
Jekyll's nemesis, Simon Stride: Landon Maas (Harry Potter and the Cursed Child on Broadway, Kinky Boots on Broadway, Spongebob in Spongebob Squarepants: The Musical at Florida Rep, and NBC's The Blacklist)
Nelly, a prostitute and Lucy U/S:  Arianna Schipper (Chicago at Gulfshore Playhouse, The Lightning Thief at CFABS, and The Wizard of Oz at Gulfshore Playhouse)
Dir Danvers: Julian Nieto (Spongebob Squarepants: The Musical at Florida Rep. and Our Town at CFABS)
Ensemble (alphabetically):  Colton Baugh, Khaleo Brown, Caitlyn Clark, Juliana Codi, Sophia Fallia, Lyla Hogue, Ella Provinzino, Gia Provinzino,  Zechariah Whooley, Leni Willhite and Vera Willhite
Play Dates and Times: 
Friday, October 14 at 7:00 p.m.
Saturday, October 15 at 2:00 and 7:00 p.m.
Sunday, October 16 and 2:00 p.m.
Tickets:  Jekyll & Hyde: The Musical – Center for the Arts Bonita Springs (artcenterbonita.org)
Location:  Hinman Auditorium, Center for Performing Arts Bonita Springs, 10150 Bonita Beach Road.
More Info:  For more information, please telephone 239-496-8989.
September 4, 2022; revised October 12, 2022.