For designer MariaPia Malerba, challenge of creating costume for '3' nearly as impossible as the dress itself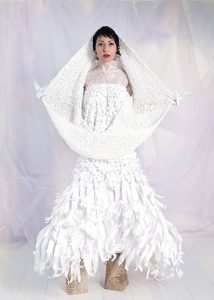 MariaPia Malerba has worked for such prestigious fashion houses as Versace, Dolce & Gabbana, Moschino and, locally, Chico's White House/Black Market. Since arriving in Southwest Florida, she's designed gowns for Art Walks the Runway, for Melissa DeHaven to wear to Fort Myers Film Festival openings, and for shoots by Marco Island narrative photographer Mila Bridger. But none has thrown down as amorphous a creative gauntlet than playwright Jim Brock, Director Brittney Brady and Ghostbird Theatre Company when they challenged her to create an "impossible dress" for the play 3.
Other than the name, Brock, Brady and company gave Malerba virtually no information about the play. They didn't provide MariaPia with a copy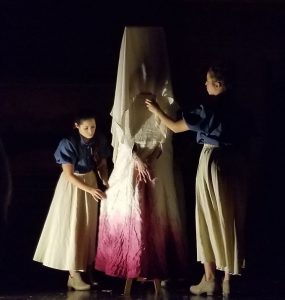 of the script. They didn't clue her in about the themes explicated by the play. They didn't even mention that the play's dress designer characters, Gogo and Didi, discuss at length the factors they considered and rejected in coming up with the concept for the impossible dress.
"I was familiar with Ghostbird's process and the type of theater they do," MariaPia mentioned prior to the play's premiere this past Friday night.
"So I just kept asking myself why a dress would be 'impossible.'"
And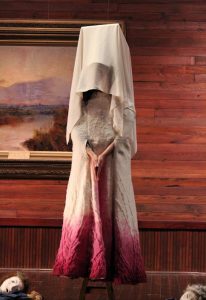 just like, an idea came to her.
"I knew it had to be organic. It needed to be minimal, but expressive. And it dawned on me that the dress should have a constriction."
As in not having any sleeves.
"The hands are locked in position, crossed at the writs."
Reminiscent, but the inverse of a cangue, stockade or pillory, devices that are worn by the play's main characters, Mun (played by Kaleena Rivera), Cam (Violet Shindler) and Alea (Katelyn Gravel).
"And from the wrists flows a river of color, emphasizing how women go through life.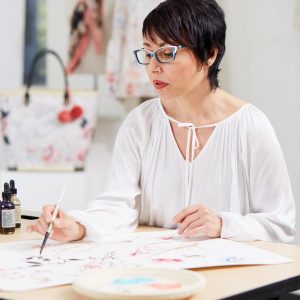 Through manipulation of the raw fabric, I created emerging waves, an underlying ocean of struggle, but also waves of potential and immense beauty."
Brock, Brady and company loved the idea the instant MariaPia revealed it.
They had to be blown away. Within the context of 3, the dress symbolizes the ways in which women are bound, constricted and delimited by society in service to patriarchal norms and expectations, one of the play's major themes.
But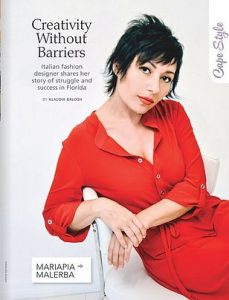 MariaPia didn't know that at the time she was tasked with creating the dress!
Nor did she know that the script calls for Cal and Alea to place the dress on Mun in a ceremony during which she stands motionless on a box.
Which involves yet another dimension of the impossible dress.
"Shame," announces MariaPia in her rich, distinctive Italian accent.
"I sensed that there'd be an element of shame that went along with the dress."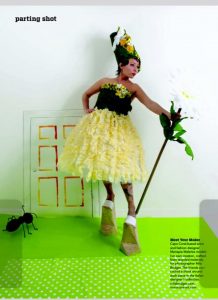 Indeed.
And that shame exists on multiple levels.
As the other women mock her, Mun confesses that she has "committed atrocities against the state, the kingdom, the constitution, the public, nature and God."
But Mun's shame and humiliation runs far deeper, like the blood red color that emanates from her wrists and stains the skirt of the impossible dress.
"I have committed atrocities against myself. Worse, I have betrayed my kind."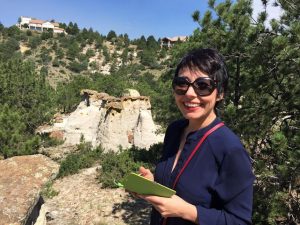 Amazing is a word that's often used to describe MariaPia and her designs.
It applies equally here.
That she was able to create a costume for 3 that so aptly encapsulates and enunciates the themes, dialogue and plot of the play without having the benefit of either the script or a summary is A-M-A-Z-I-N-G.
But then,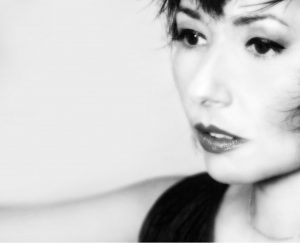 that's MariaPia for you.
She's that kind of artist – the kind who is, like Ghostbird itself, "committed to working in the in-between space of the known and the unknown."
Ghostbird will perform 3 twice more – on Friday, August 9 and a final time on Saturday, August 10. Both performances take place at 8:00 p.m. in Art Hall in Koreshan State Park in Estero. Tickets for the play are available through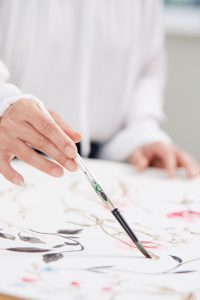 Ghostbird Theatre Company via its website: GhostbirdTheatreCompany.org.
August 5, 2019.
RELATED POSTS.