Expanding on the theme of Jim Brock's new play, '3'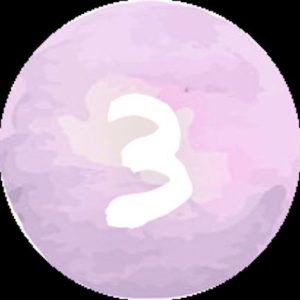 Opening August 1 in Art Hall at Koreshan State Park is 3, a new play from Ghostbird co-founder Jim Brock that explores how three women contend with state punishment – a patriarchal 'correction' that is witnessed and supported by the community.
It's a concept that is explored in depth by Cornell Professor of Philosophy Kate Manne in her controversial book Down Girl: The Logic of Misogyny (Oxford Press, 2018). Manne defines the latter term as ingrained cultural hostility toward women who violate patriarchal norms and expectations because they are not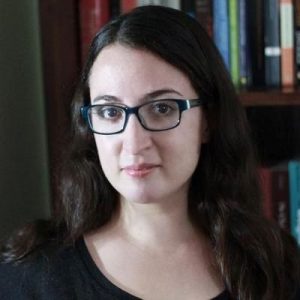 serving male interests in the way society expects them to.
"There's this sense that women are doing something wrong: that they're morally objectionable or have a bad attitude or they're abrasive or shrill or too pushy," Manne explained in a 2018 interview with Sean Illing of Vox Magazine. "But women only appear that way because we expect them to be otherwise, to be passive."
According to Manne's analysis,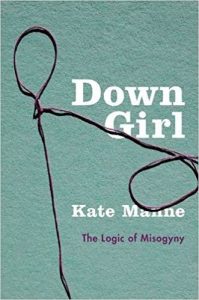 misogyny is the enforcement mechanism of patriarchal society that punishes women who transgress or threaten dominant men. That threat typically manifests itself in the form of a backlash that is characteristically embraced and supported by women operating under the belief that it is their place to defend and support, rather than challenge, male authority figures and the men in their lives.
"When people are attached to positions they believe are their birthright, you get huge amounts of backlash," Manne elaborated in her Vox Magazine interview. "When men think women are taking opportunities and privileges away from them, when they think women are challenging male dominance, you get backlash.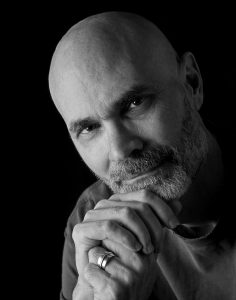 [W]e have to deal with that. Women cannot — and should not — internalize patriarchal values and give and give and give until we're nothing."
This is precisely the jumping off point for 3.
"The play considers how we internalize those [patriarchal, misogynistic corrections and how we lose our humanity along the way," says Brock.
Manne readily admits that she doesn't know what to do about or how to change sexism and misogyny. But as is true with any problem, understanding the mechanisms and admitting that there is a problem is half the battle.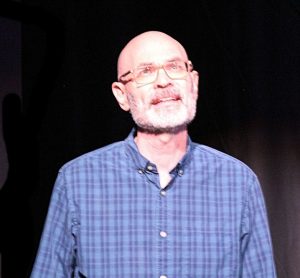 "The good news is it's becoming really obvious that women are not inferior to men in masculine-coded pursuits like math and physics and philosophy," Manne notes with an air of optimism. "Women are funny. Women are writers. It takes an enormous amount of willful denialism not to see that women are free-minded and creative beings just as much as men are."
With this as backdrop, it should be interesting to see what insights or proscriptive measures Brock may offer in 3.
While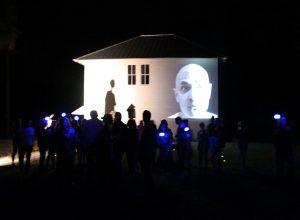 Ghostbird has produced two other plays at Koreshan State Park (ORBS! and The Perfect Island of Dr. Teed), 3 is not a play specifically about the Koreshan Unity Community. Still, it is appropriate for 3 to be staged and performed in Art Hall at Koreshan State Park.
Koreshan beliefs included a biune God (one that is both male and female) and equality of the sexes. The latter was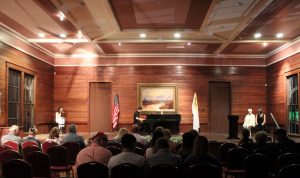 in stark contrast to the role of women in American society in the early 1900s, where females lacked equal rights, the ability to hold public office, access to education or even the legal power to own land or run a business in their own name. But not only did Koreshan women enjoy equal status, respect and limitless possibilities, the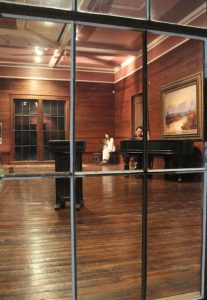 ladies of the Planetary Court helped guide and run the daily businesses and life of the Koreshan community.
"There is something powerful having the play at Koreshan, a place of order and watchfulness, but it could occur anywhere, anytime," says Brock.
Directed by co-founder and previous Producing Artistic Director Brittney Brady, 3 will run from August 1-10, 2019.
July 4, 2019.
RELATED POSTS.
Spotlight on '3' playwright Jim Brock