Outfit No. 3 – That Girl
Backstory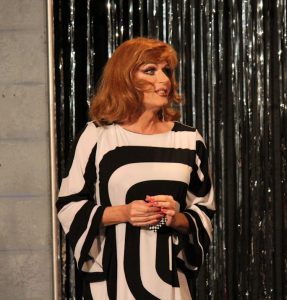 The third outfit that Miss Tracy wears in The Legend of Georgia McBride is this black-and-white outfit.
"Here, I'm going back from contemporary to mod-60s, channeling the types of outfits that Marlo Thomas wore in That Girl. In the iconic opening credits of That Girl, which premiered in 1966, Marlo Thomas masquerades as a mannequin in the window of Bergdorf Goodman wearing a gown by Cardinali, a fashion label started by Marilyn Lewis. Thomas personally signed up Lewis to design the costumes for her hit television sitcom, which ran from 1966 to '71.
"She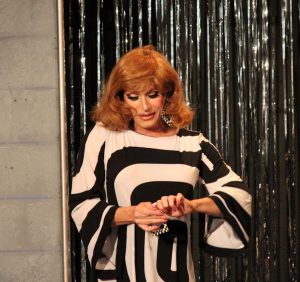 wore a lot of black and white patterns in shaped dresses because it went so well with her hair," actor and costume designer Clay Brown recollects.
The name Cardinali — Lewis's homage to her Italian grandmother — suggests an affinity for Italian designers. The French knew how to do sexy, but the Italians knew how to do sensual. Lewis understood, as did her fellow designer Yves Saint Laurent, that women of the time wanted to feel sexy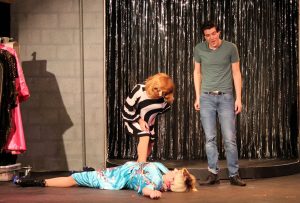 without looking gauche. Their pieces came in bright solids and novelty prints. Great beauty is timeless, and Miss Tracy's third Georgia McBride outfit perfectly expresses that sentiment.
The Dress
The dress is a stunning black-and-white knee-length dress with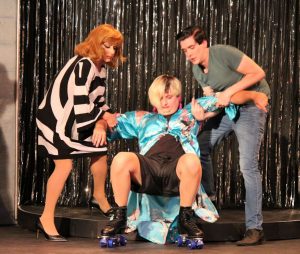 flared sleeves which Brown accessorized with diamond-shaped mod black-and-white earrings and simple black closed-toe heels. "I would have liked to pair the dress with go-go boots [a Marlo Thomas/That Girl trademark], but from a costume change perspective, I couldn't get in and out of them quickly enough – there was no time for zippers – so I stayed with pumps that I could just slip on and kick off."
Interestingly,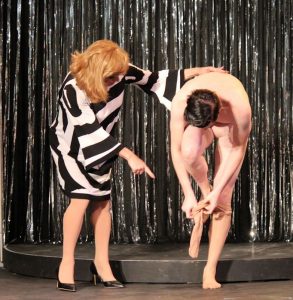 the final ensemble has a comfortable sophisticated look, which is precisely the feel that Marlo Thomas seeks to capture today with her That Woman clothing line.
"Women over 45 don't want to look like an older woman," Thomas told The Daily Front Row's Sydney Sadick in a 2017 interview. "They want to look like the girl inside of them …. So I try to make everything have a little sass to them and show a little skin to make women feel feminine and flirty. That, to me, never goes out of style."
And so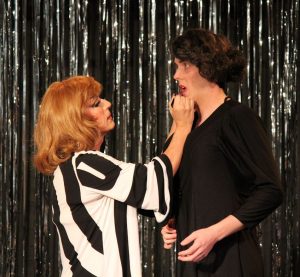 it is with the third outfit that Miss Tracy wears in The Legend of Georgia McBride.
June 23, 2019.
RELATED POSTS.