On top of all the laughs, 'Church & State' has surprising degree of character depth and explosive message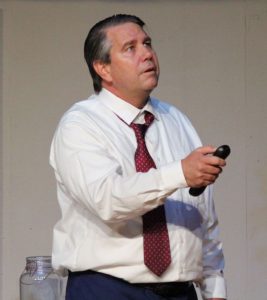 On stage in the Joan Jenks Auditorium at Golden Gate Community Center is The Studio Players' production of Jason Odell Williams' comedy Church & State. It's a very, very funny play … until it isn't. Which is precisely what attracted director Brett Marston to the work.
It's just 72 hours before the polls open in North Carolina. Senator Charles Whitmore is running for re-election. He's not only a shoe-in, he's on the fast track for a run at the White House. To the chagrin of his wife, Sara, his political stock has attracted a slim, comely New Yorker, Alex Klein, as his campaign manager. Sara is not at all happy about the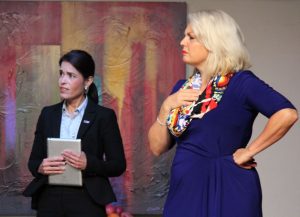 time the two are spending together or, more to the point, that she seems to have his ear – and the clash between Sara and Alex provides much of the humor in the play's first act.
Then something happens that threatens to derail Charles' re-election and presidential electability. There's a school shooting that claims nearly two dozen lives. It happens at the school the Whitmores' boys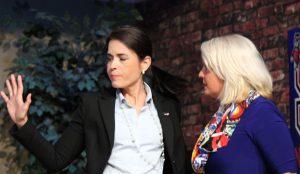 attend. Although they weren't directly involved, Charles is friends with the parents of some of the children who were killed, and the Senator's carefully calibrated political veneer begins to crack and dissolve as he shares in the shock, grief and outrage of his friends and the community at large. And in a moment of unguarded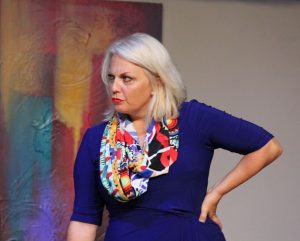 candor, Whitmore confesses to a conservator blogger that he is experiencing a crisis of faith.
"What kind of God would allow something like this to happen?" he asks the blogger. Is there really a God, or is God just a concept that mankind has postulated in an exercise of superstition to explain natural phenomenon like tornados, earthquakes and solar eclipses?
The school
shooting has also caused Charles to question the propriety and scope of the Second Amendment. If this is the best we can do in the shadow of our collective right to bear arms, then maybe it's time to curtain or eliminate the right.
Although the blogger has but a modest following, his post is tweeted and retweeted. In a matter of hours, Charles' campaign is caught in a maelstrom. His poll numbers drop precariously. A savvy political operative, Alex Klein finds herself in a quandary.
Sara Whitmore is also beside herself.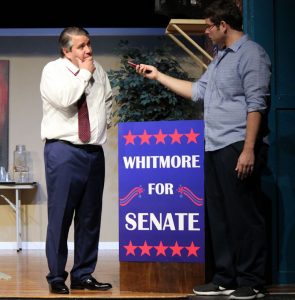 Deeply religious and staunchly conservative, Sara Whitmore cannot decide which is the bigger affront! Alex is equally appalled, but for strictly political reasons. She directs him to issue a clarification. When he refuses, she importunes, even begs him to stay on script. But Charles opts to follow his instincts. He doubles down, giving a speech in which he bares his soul about the whole issue of God, the Second Amendment and gun violence, not only in North Carolina, but throughout the entire country.
Millions of Americans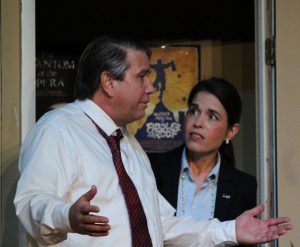 expected the emergence of a real-life Charles Whitmore following the shootings at Marjory Stoneman Douglas High School in Parkland, Florida, if not in the wake of the Pulse Nightclub shootings or the recent slayings in El Paso. No, not a progressive figure like Betto O'Rourke, but a conservative champion of the Second Amendment whose faith and principles inspire like-minded politicians and voters to re-evaluate the merits of unfettered gun ownership.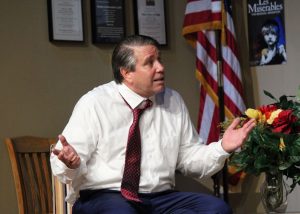 The character of Charles Whitmore may seem, at first blush, like a preposterous fictional construct, but under Brett Marston's able direction, Keith Gahagan breathes life and a conscience into this political animal. His rendering of Whitmore is so genuine, self-effacing and tortured by his own complicity in the carnage being wrought daily by gun violence that he doesn't just make the Senator believable, he infuses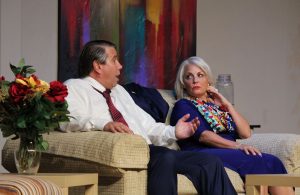 him with a down-home likeability that compels the audience to become invested in his life and future prospects. How can you not want things to turn out well for such a really nice guy.
Sara Whitmore is the perfect counterpoint to her husband. She'd tell you that she truly loves Charlie, but it becomes painfully apparent early in the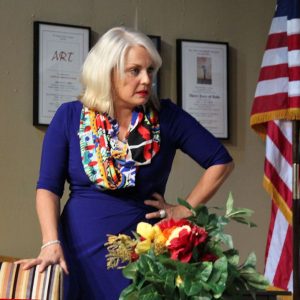 play that she loves the ideal of him that she's constructed in her smugly self-righteous mind. He's not just a successful politician, he's a public figure of her making and she's ever-vigilant to ensure that he aspires to convey the image she's created over the course of his political career.
A fairly recent Naples transplant, Suzanne Sole brings to the role a lengthy and impressive pedigree. She's a scene stealer, but not in an overt, attention-grabbing way. She understands her character's thoughts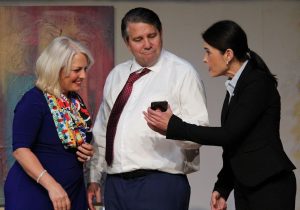 and motivations so intimately that Sara's aims, ambitions and blind spots bubble to the surface in unobtrusive, true-to-life posturing and mannerisms. Although Church & State is unequivocally a comedy (albeit a tragi-comedy in the truest sense), Jason Odell Williams has given Sara Whitmore a character arc to traverse, and Suzanne Sole displays the skills necessary to masterfully negotiate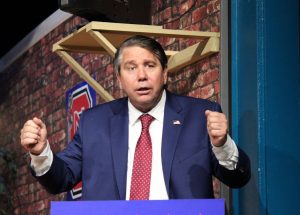 the changes she goes through within the brief timeline (just 90 minutes) specified by the play.
Sharon Isern is a relative newcomer to the stage. She was last seen in Shadow Box for New Phoenix Theater, and she continues to show marked growth and improvement in the role of Alex Klein – a Democrat of Jewish persuasion who is called upon to employ her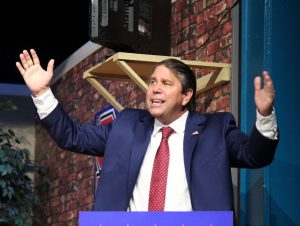 education, training and many talents to elect a man who stands for everything she would stand against. The audience cannot help but ask itself whether Alex Klein is a complete sell-out motivated by blind ambition or simply a woman bound and determined to do the best job possible no matter the situation or circumstances at hand. But through Isern's portrayal, a third option emerges, that being that in Charles Whitmore, she sees a good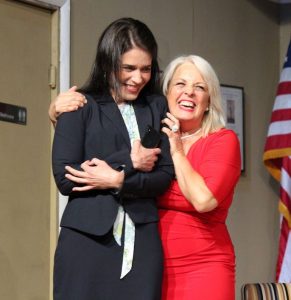 and decent man worthy of her time, efforts and reputation regardless of his political stance.
Unfortunately for Daniel Cancio, the script does not ask of him or afford him the opportunity to show off much of his acting skills and acumen. He plays multiple characters, but most exist within the context of the play primarily for comic relief. Even there, much of the humor he provides comes in the form of the various tee shirts he dons rather than anything he says or does.
Church & State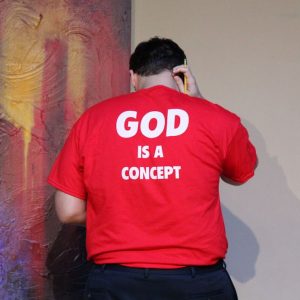 comes with plenty of sit-com-style scenes, sequences and laughs. But it has a surprising degree of character depth and a message to shout loud and clear. It's also surprising, shocking and thought-provoking. But if you haven't seen it already, you're down to just three more shows. Church & State resumes with 7:30 shows on Friday and Saturday night, before closing with a 3:00 p.m. matinee on Sunday afternoon.
October 17, 2019.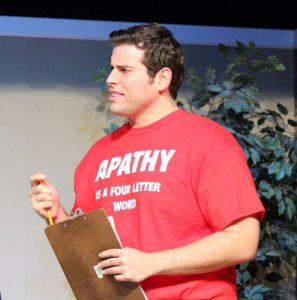 RELATED POSTS.