Sharon Isern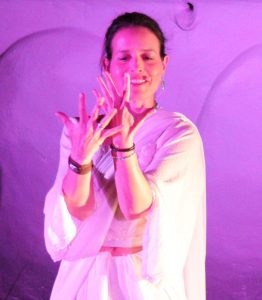 Sharon Isern is an actor, artist (steampunkphage.com) and recovering academic (@profpathogen) who spends her days teaching and doing virus research with undergraduate students as a Professor of Biology at FGCU.
Sharon is new to acting. She made her debut in January 0f 2019 in Ghostbird Theatre's production of Everyone on this Train, excelling in the role of a mother fleeing the Chechen war with her daughter. "Paired with mesmerizing Ghostbird vet Megan Shindler, Isern is particularly engaging," this reviewer wrote of her performance. "The duo's interactions as mother and daughter and their mid-show stargazing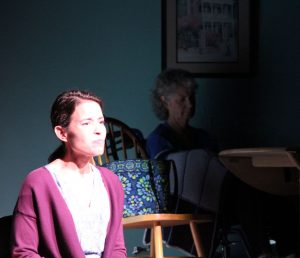 scene are two of the many highlights of this show."
In her second role ever, Isern played a daughter dutifully caring for her terminally ill mother, who's not only suffering from end-stage cancer, but dementia as well. Theirs is a sad dynamic. Agnes' sister is, and has always been, her mother's favorite – even though her sister died tragically of a hemorrhage many years ago. But mom doesn't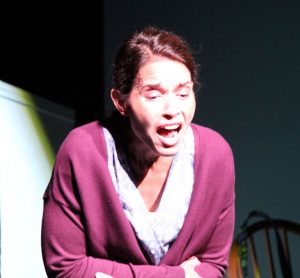 remember her daughter's death. And to give her mother a reason to live, Agnes has been writing letters from her sister promising to visit soon. The subterfuge has worked too well. Now, buoyed by the promise of the chance to her daughter one last time, the old woman won't give up the ghost even though her pain is so intense and debilitating that it is beyond not only the pale of the imagination, but the efficacy of the painkillers the doctors can prescribe.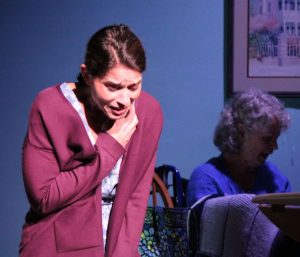 Agnes' plight is heartrending, and Isern wrings every ounce of emotion from the part without ever overplaying her role. She is simultaneously loving, sad, resentful and conflicted. Like many long-term caregivers, Agnes increasingly wishes that her mother would just die already and release her from the commensalistic relationship she shares with her mother. The concomitant guilt she feels is palpable, and gives rise to the most powerful scene and tearful moment in a play filled with tremendous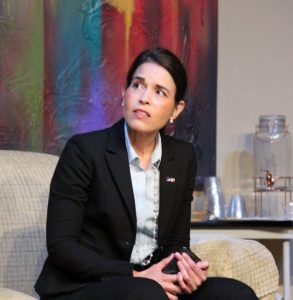 poignancy and angst.
Now she's in Jason Odell Williams' Church & State at The Studio Players, where she plays an exasperated campaign manager by the name of Alex Klein. The character provides intriguing contrast to the play's main characters, U.S. Senate candidate Charles Whitmore and his bubbly wife Sara. That's because Alex is an unapologetic New York Jew whereas the Whitmores are (presumably) North Carolina Southern Baptists. A quick study, Church & State not only represents Sharon's Studio Players' debut, but her first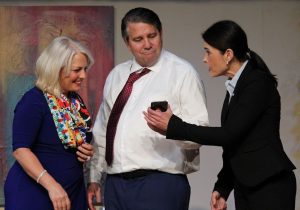 comedic part.
But not her last. She's been cast in several other productions during the 2019-2020 season, including her first musical!
October 1, 2019.