'Mountaintop' play dates, times and ticket information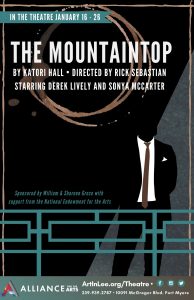 Play:  The Mountaintop
Playwright:  Katori Hall
Synopsis:  An exhausted Dr. King retires to his room at the Lorraine Motel in Memphis after delivering his magnificent "I've Been to the Mountaintop" speech. As a storm rages outside, a mysterious hotel maid brings King a cup of coffee, prompting him to confront his life, his past, his legacy and the plight and future of the American people in a reflective, touching and often funny way.
Director:  Rick Sebastian
Cast: 
Dr. Martin Luther King, Jr.:  Derek Lively
Camae:  Sonya McCarter
Audio Described Show: An audio described show is available on January 26. For theatregoers who are blind, or have moderate to severe vision loss, the Alliance will provide a specially trained describer who verbalizes what's happening on stage during pauses in dialogue. The describer uses a headset microphone, while individuals using the service listen through a receiver with a single earpiece. Reservation of headsets is required prior to the show by calling 239-939-2787.
Talk-Backs:  To widen the post-show conversation and discuss what the art onstage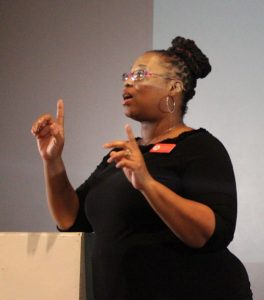 means to us as individuals and as a society, the Alliance will facilitate a community conversation through talk-backs after the January 19 and January 26 matinees. Talk-backs allow the audience to ask questions and express their thoughts, ideas on issues revealed in the play through the form of meaningful discussion.
The January 19 talk-back will feature the director and cast.
The January 26 talk-back will be hosted by a panel facilitated by Director of Diversity and Inclusion at the Lee County School District Jarret Eady. The opportunity is included with ticket purchase.
Play Dates and Times: Thursday, Friday and Saturday nights at 7:30 p.m. with 2:00 p.m. Sunday matinees January 16-26.
Location:  Foulds Theatre, Alliance for the Arts, 10091 McGregor Blvd., Fort Myers.
December 15, 2019.
RELATED POSTS.