'Marian' play dates, times and ticket information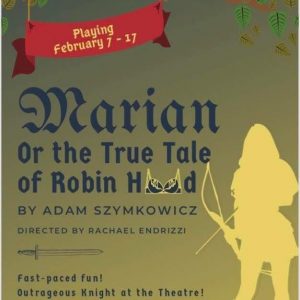 Play:   Marian, or the True Tale of Robin Hood
Playwright: Adam Szymkowicz
Synopsis: Robin Hood is and has always been Maid Marian in disguise. Robin/Marian leads a motley group of Merry Men (many of whom are not men) against the greedy and duplicitous Prince John. As the poor get poorer and the rich get richer, who will stand for the vulnerable if not Robin?
Director: Rachael Endrizzi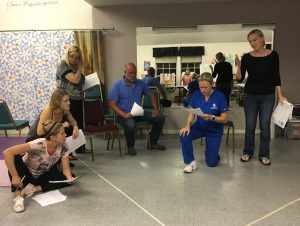 Cast:
Robin Hood/Maid Marian- Shelley Sanders
Little John- Grant Cothren
Alanna Dale- Lisa Kuchinski
Will Scarlett- Tamicka Armstrong
Friar Tuck- Karen Goldberg
Prince John- Patrick Day
Sheriff of Nottingham- Justin Larsche
Much, the Miller's Son- Anna Grilli
Tommy of No Consequence/Lucy- Gerri Benzing
Guard 1- Kathy Grey
Guard 2- Lauren Drexler
Lady Shirley- Joann Haley
Sir Theo/Tanner- Angel Duncan
Sir Lenny/Gaurd- June Koc
Running Time: 90 minutes
Play Dates and Times: February 7-9 and 14-16 at 7:30 p.m., with 2:00 p.m. matinees on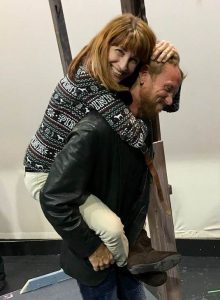 February 10 and 17.
Tickets: $22 members; $26 non-members. Call 239-939-2787 or purchase tickets online at http://www.artinlee.org.
Community Talkback: To widen the post-show conversation and discuss what the art onstage means to us as individuals and as a society, the Alliance will facilitate a community conversation through a talkback on February 17. (Talkbacks allow the audience to ask questions and express their thoughts, ideas on issues revealed in the play through the form of meaningful discussion with the cast or panel guests. The opportunity is included with ticket purchase.)
Audio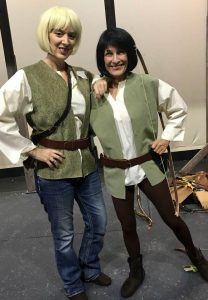 Descriptor Performance: February 17. For theatregoers who are blind or have moderate to severe vision loss, the Alliance will provide a specially trained describer who verbalizes what's happening on stage during pauses in dialogue. The describer uses a headset microphone, while individuals using the service listen through a receiver with a single earpiece. Reservation of headsets is required prior to the show by calling 239-939-2787.
Sponsors: Susan Ion Hogan, DDS.
Location: Foulds Theatre, Alliance for the Arts, 10091 McGregor Boulevard, just south of intersection of McGregor and Colonial.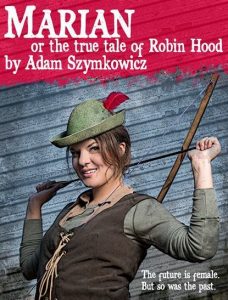 February 5, 2019.
RELATED POSTS.