Art Walk July 5, 2013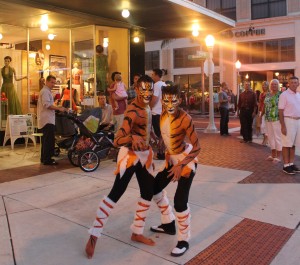 Art Walk returns to downtown Fort Myers on Friday, July 5. Come join the monthly self-guided tour of new art exhibits and streetside craft demonstrations taking place in the River District's art galleries and boutiques from 6-10 p.m. With exceptional venues like the Art League of Fort Myers on Monroe, Art of the Olympians in the City Pier Building at the end of Hendry Street, Articulture Gallery & Tattoo Studio, Arts for ACT Gallery & Boutique, Enjewel, Ocasiocasa Studio Gallery, Reverie & Rock Art Gallery, the Sidney & Berne Davis Art Center and UNIT A Contemporary Art Space on Evans Avenue, there's much to sample and savor.
Here's a summary of everything there is to see and do in the River District this Friday night: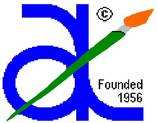 1. The Art League of Fort Myers normally presents a group show each month that opens in conjunction with Art Walk. However, the Art League will remain closed for renovations in July. The Art League expects to be back in August with "Back to School," a two-dimensional show open to members of the Art Council of Southwest Florida that will feature oils, acrylics, watercolors, pastels, collages, original prints (including etching, lithographs and wood block,), photography and fiber art.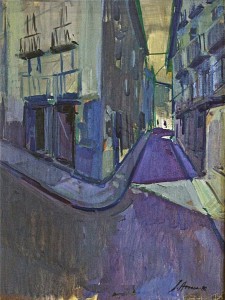 2. Art of the Olympians unveiled Spark of Sportsmen in Art last month. It contains works by non-Art of the Olympians artists that originally debuted at the Sports Museum in Barcelona as the VIII International Biennial Sportsmen in Art Exhibit. Curated by Francisco Peris Vidal, the exhibit brought together non-Olympian sportsmen and sportswomen who are also amateur artists. After leaving Barcelona, the exhibit travelled to USOC headquarters in Colorado Springs, and it has now been donated to AOTO's permanent collection. Organized to help promote and publicize athletes participating in art, Spark of Sportsmen in Art illustrates why Art of the Olympians was able to form and grow to what it is today.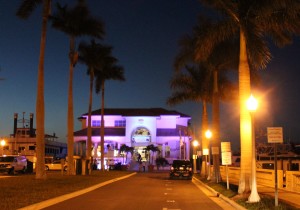 Located in the former City Pier Building, Art of the Olympians occupies one of the most picturesque locations in all of Fort Myers. Situated on a narrow peninsula that juts out into the Caloosahatchee River, AOTO is framed by the historic Fort Myers Marina to the east and the River District's Myers newly-completed 1.8-acre river basin to the west. Designed to collect stormwater run-off from the downtown's 15-acre hardscape, the basin utilizes a series of  percolating fountains to aerate the water and plants to absorb fertilizers and other nutrients that don't belong in the river, downstream estuaries or the Gulf of Mexico.
3. Articulture Gallery & Tattoo Studio is holding a group exhibit. Articulture's tattoo artists have had work featured in numerous online magazines. They specialize in original art, cover ups, and all around quality tattoo work.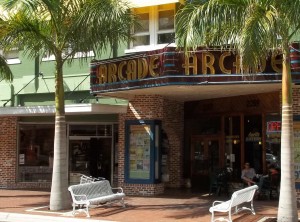 4. Arts for ACT Gallery & Boutique is hosting its Sixth Annual Open Theme Juried Group Exhibition. This year's exhibition contains two and three dimensional works in a variety of media that represent or evoke one or more of this year's themes, namely "Storybook Magic," "Far Away Places" and "Silhouettes and Shadows." Besides bragging rights, the winner will receive a $100 cash prize. Second place will earn $75, with 3rd place receiving $50. A merit prize of $25 will also be awarded. Arts for ACT Gallery & Boutique is located at 2265 First Street, in the century-old Arcade Building in which Thomas Edison, Henry Ford, Harvey Firestone and their families and friends once watched early motion pictures. For more information, please telephone 239-337-5050 or visitwww.artsforactgallery.com.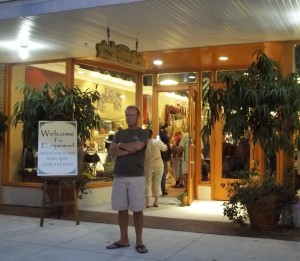 5. Enjewel is the hip First Street boutique that caters to confident and fashion-forward women. Operating under the banner that "with the right accessories [a woman] can do anything," Enjewel offers vintage purses, handmade Mother of Pearl and natural horn bags, art jewelry, faux fur scarves with pockets, and chic dresses galore. "We love supporting local designers with our made in the USA collections," Lynne Routhier posts on Facebook. "These apparel pieces will provide your wardrobe with classic colors and fun prints and you'll be sure to turn a few heads." Enjewel is located at 2266 First Street in the downtown Fort Myers River District, across from Arts for ACT.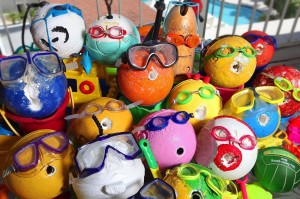 6. In June, the Franklin Shops on First introduced ARTlocale, a program that includes special exhibits, live art performances, entertainment and art talks. "The events of ARTlocale are meant to support local artists and at the same time stimulate the artistic scene in the River District," notes Franklin Shops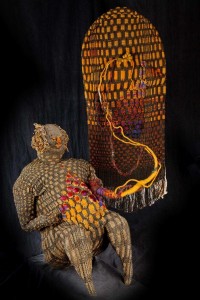 owner Rene Miville. Last month, Fort Myers based painter George Settos set up his ARTlocale studio in the shops. In July, two Naples based artists open their studios at the shops. Fiber artist Roseline Young presents tapestry and sculptures, while Susan Barton composes fun art creations from material she collected at the beach. Both artists will meet Art Walkers on Friday night from 6 through 10 p.m. and invite them to have fun and participate in their creative activities.
The Franklin Shops are home to permanent exhibits by the Fort Myers based sculptor Steven Swenor – aka The Dragonfly Guy – and local painters George Settos, Lourdes Mora-Shay, Lilia Lopez, and Joe Rossi. Art dealer and entrepreneur Terry Tincher established his gallery Art & Odditorium at the shops, specializing in antiques and artistic works for collectors, who are attracted to the unique and unusual. Terry Tincher presents his distinctive personal collection, which includes artworks by Andy Warhol and Robert Rauschenberg.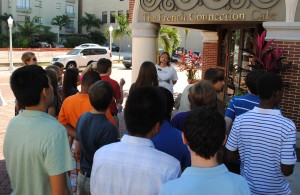 The Franklin Shops on First is also home to True Tours, which offers a highly informative historical walking tours, spooky haunted history tour, architectural and public art walking tours. So if you've ever wondered about the history of the old buildings downtown or the public artworks that dot the River District, then stop into the Franklin Shops during Art Walk and book your tour with Gina Taylor. (For more information, you can reach Gina by phone at 239-945-0405 or at www.TrueTours.net.)
The Franklin Shops are located at the corner of Broadway and First in the downtown Fort Myers River District.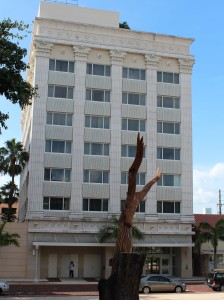 7. Part of the InterContinental Hotel Group, Hotel Indigois known for plush guest rooms and swank public spaces that are transformed seasonally through changing signage, aromas, music and artwork. With Vino de Notte, a newly-renovated lobby lounge and its Phi in the Sky rooftop lounge, Hotel Indigo always figures prominently in the Art Walk scene.
Phi in the Sky is home to David Acevedo's mural, The Heart of the City's Sky. Owners Tim and Catherine O'Brien commissioned the work in August, 2011 following a month-long competition Acevedo won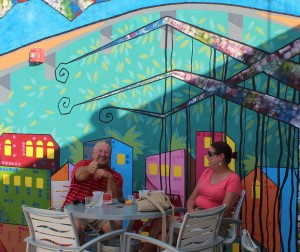 because of his superb attention to detail, space, color and deep concentration on Fort Myers' cultural society. Says the hotel's social media director, Kayla Dacosta, "David is not only a sensational artist, but his spirit runs deep and his work is an obvious statement of all things beautiful and exceptional in the world. He grasps color and moves paint in such a way that viewers feel awakened by his work. Hotel Indigo is very pleased and grateful to have David lending inspiration to the Phi in the Sky!"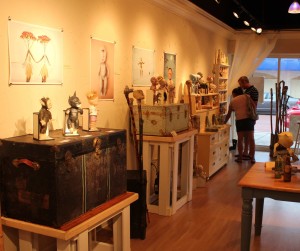 8. Ocasiocasa Studio Gallery presents new artwork by owners Jeff and Dale Ocasio. The duo collaborate on making things… like reclaimed found objects remodelled with sculpted masking tape, recycled, upcycled, modified, customized, re-imagined artifacts … and original illustrations. Their work was originally inspired by their children. Making toys for them allowed Jeff and Dale to play again themselves, and taught them to recycle, alter and reclaim everyday objects from the house and yard, giving them new life and purpose.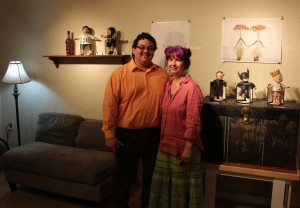 Applying his original 3-dimensional designs to found "canvases" has given Jeff a fresh artistic freedom in this new found medium. Dale documents many of the pieces through her own illustrative photography and digital art, while running their studio gallery where much of their work is created and also exhibited. Ocasiocasa is teaming up with local film maker,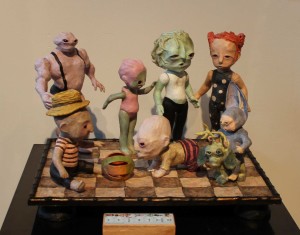 Karl Bergstrom, to create a live-action movie, which will be integrating Jeff and Dale's own stop motion animation with sculptures created just for the movie. They're in the process of raising capital for the project on Kickstarter, but they'd love to talk about the project with you during Art Walk. Ocasiocasa is located at 1540 Broadway, between First & Main, in the Fort Myers River District.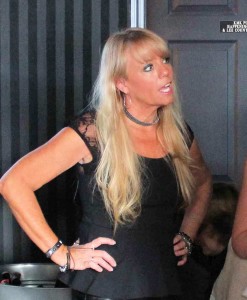 9. Reverie & Rock Art Gallery features the digital surrealism of Kathy Kuser and the rock and country concert photography of Jamie Kuser. "With my art, I want to bring a fresh and contemporary twist to a long established medium – surrealism," says Kathy Kuser. "I find that through tragedy comes hurt and healing. At 50, I am at a point of re-evaluating life's direction and I find myself invigorated by my new form of artistic expression. Using my skills as a graphic designer, I create 2D/3D digital surrealism. Through a mystical and fantasy driven vision, a story emerges from my canvas. I use stark details with transitional blending; thus my art takes flight."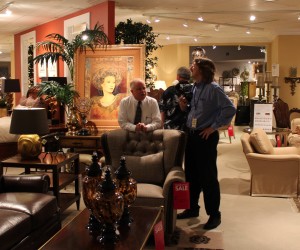 The new downtown Fort Myers art space also showcases the concert photography of Jamie Kuser. For more than 15 years, Jamie has been photographing national recording artists while they perform on stage. From AC/DC to ZZ Top, and from Alan Jackson to Sugarland, Jamie has photographed more than 150 national artists live in concert. His photos have appeared on national tour T-shirts, VH1's Behind the Music, the Associated Press Photo Archives, published in daily newspapers and, of course, in Southwest Florida's own Happenings Magazine.
For Art Walk, Reverie & Rock will be featuring the music of Johnny O. For more information about Reverie & Rock Art Gallery, please visit http://www.reverieandrock.com/ or telephone 239-278-5236.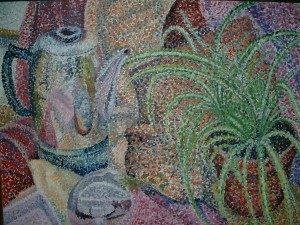 10. The Sidney & Berne Davis Art Center is hosting "Raising the Bar," an exhibition that features eight Lee County Bar Association attorneys who display their their artistic side with paintings, woodworks, sketches, stained glass art and photography. Adding to the excitement will be a poetry reading by trial attorney Tom Chase, and vocal artistry by family

law attorney Rana Holz, a partner in the law firm of Rubinstein & Holz, P.A. The Lee County Bar Association is a 501(c)(6) not-for-profit organization that has served the citizens and legal community of Lee County since 1949. "Raising the Bar" is sponsored by CopyLady, Merit Court Reporting, and Encore Bank.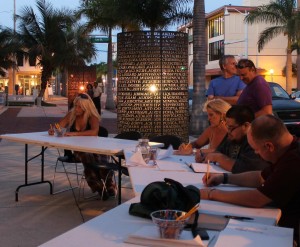 11. Outside the Art Center during Art Walk from 7-9 p.m., Dr. Sketchy will be on hand. The Dr. provides models attired in intriguing costumes who assume exaggerated poses for sketchers to capture on paper. But there's a catch. The muses only hold each pose for several minutes, forcing sketchers to work quickly. There's no time for a detailed, full-blown drawing.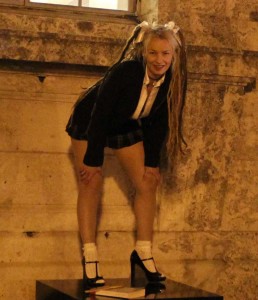 The trick is for sketchers to focus on big picture subjects like  mood, character and the inner spirit of the muse rather than on trying to get all the details right. By compressing session times into five and ten minute increments, participants gain in just a few short hours experience it would take weeks to glean in a conventional classroom setting. "This will be a free event but I will be putting out a tip jar so anything you can throw in will go toward paying the model and the extra paper/pencil supplies as well as a portion to the Art Center," adds Perara.  "We will also be giving away prizes as well as having an online contest for anyone who posts their art and photos from the evening on our Facebook Wall…."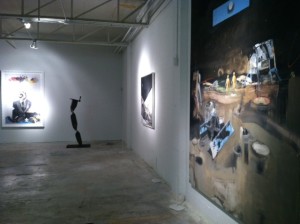 12. UNIT A Contemporary Art Space in downtown Fort Myers will unveil new work by world-renowned artist Marcus Jansen during Art Walk. Since opening for Art Walk in March of 2012, UNIT A has treated Southwest Florida collectors and art enthusiasts to the first glimpse of Jansen's new work before it departs for galleries and museum elsewhere in the world. For July, guest artist and former Robert Rauschenberg assistant Jonas Stirner will also have new large and small sculpture works on display. Parking is free and there is no cover charge. For more information, space rentals or to RSVP for the July 3 preview, please contact Terry Tincher atterryunitaspace@gmail.com or visitwww.unitaspace.com.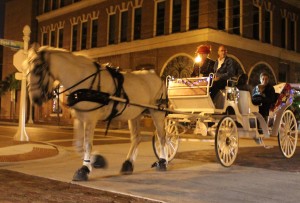 More than 35 participants make Art Walksuccessful each month and they include the Art League of Fort Myers, Art of the Olympians, Arts for ACT Gallery and Boutique, Charme, Cigar Bar, The Deli, Downtown House of Pizza, Enjewel, First United Methodist Church, Florida Repertory Theatre, Ford's Garage, Fort Myers Community Redevelopment Agency,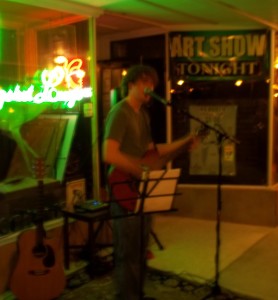 French Connection, Franklin Shops, Gulf Coast Times, Happenings Magazine, Hotel Indigo, Legacy Harbour Hotel & Suites, Linen Cottage, Lush Bakery, Market America Realty & Investments, The Nest Home & Garden, Ocasiocasa Gallery Studio, The Open Door Shoppes on Hendry, Palm Printing, River District Alliance, The Shoppes at Broadway, Sidney & Berne Davis Art Center, Spirits of Bacchus, Twisted Vine Bistro, UNIT A Contemporary Art Space, United Café Bar & Bistro, The Veranda Restaurant and the Young Artists Awards Program.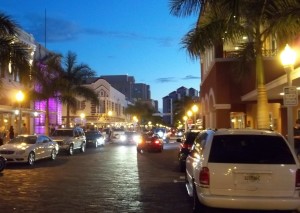 Held the first Friday of every month from 6 to 10 p.m., Art Walk features local and national artwork in the downtown art galleries and several art stops in the Fort Myers River District. While thousands will be making their way to the River District for this month's Art Walk and party opportunities, fret not. There's plenty of free parking within easy walking distance of the galleries, shops, restaurants and bars along First and adjoining streets. So call your friends and meet downtown in the city on the Caloosahatchee that's quickly gaining a worldwide reputation as the art center of southwest Florida.