Art Walk November 1, 2013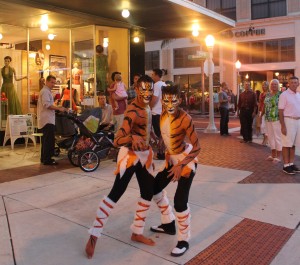 Art Walk returns to the downtown Fort Myers River District on Friday, November 1. The event takes place from 6-10 p.m. With exciting venues like the Art League of Fort Myers on Monroe, Articulture Gallery & Tattoo Studio, Arts for ACT Gallery & Boutique, Enjewel, Ocasiocasa Studio Gallery, Reverie & Rock Art Gallery, the Sidney & Berne Davis Art Center and UNIT A Contemporary Art Space on Evans Avenue, there's much to sample and savor. And to enhance the Art Walk experience, organizers have added live artist demonstrations throughout the downtown are to the popular monthly event.
Here's a summary of everything there is to see and do in the River District on November 1: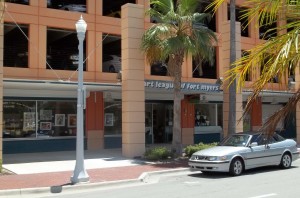 1. The Art League of Fort Myers features "Giving Thanks" in November. This show features two-dimensional artworks created by members of the Art Council of Southwest Florida in oils, acrylics, watercolors, pastels, collage, original prints (including etching, lithographs and wood block,), photography and fiber art. This is judged show, with cash awards for first, second and third place as well as three merit awards and three honorable mention ribbons. Art Walkers also get to choose their Peoples Choice. The Art League is located at 1451 Monroe Street, on the ground floor of the City of Palms Parking Garage. For more information, please visit www.artleagueoffortmyers.org or telephone 239-275-3970.
Tara Phillips will be doing face painting, and Helen Ding will be doing portraits.
2. Articulture Gallery & Tattoo Studio is holding a group exhibit. Articulture's tattoo artists have had work featured in numerous online magazines. They specialize in original art, cover ups, and all around quality tattoo work.
3.  This month, Arts for ACT Gallery will feature "Expanding the Palette" by mixed media artist Stephen Gray-Blancett, photography by Bill Hofer and a "Patterns of the Land" by Michael Pohlman.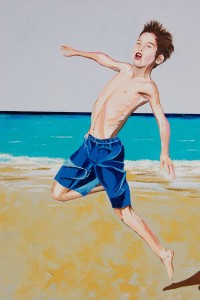 Stephen Gray-Blancett's works are in the collection of many notable celebrities, and in corporate and private collections around the world. His work has been featured in numerous publications and is exhibited in galleries across the country and in the UK.  He was honored by the Lee County Alliance for the Arts in 2011 as their Visual Artist of the Year, and at Arts for ACT's 16th annual charity art auction in 2005, his painting titled Ruby and Blue Chasing the Storm fetched $4,500 at auction. Other of his works have sold for as much as $20,000.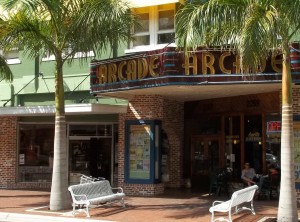 Using the principles of Gottlieb, Braque, Hofmann, Rothko and Hodgkins,  Pohlman started his Patterns of the Land series on small surfaces by exploring Pennsylvania Dutch barn hex symbols and antique quilt patterns as muses. He moved on to larger format landscapes, blending them towards abstraction with line and color value. This provided an intriguing juxtaposition of real symbols to abstract canvases of color and line patterns. It is his hope that this will become a catalyst for new thinking about our land and its beauty for all who encounter these images.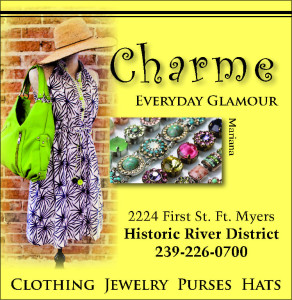 4. Charme carries women's clothing and accessories, including purses, jewelry, hats and shoes. It also stocks the very funny "Laugh with Leslie" cards along with "Dolly Mama." During this Friday's Art Walk, artist Sarah Kiser will provide a free demonstration outside the boutique. For the last decade, Kiser has studied art and taught herself to paint by copying famous portraits. In the process, she's evolved into her own brand with a fan base to match. Several galleries represent her jewelry, paintings and "Eco-Fish," including Island Visions in Matlacha and Arts for ACT Gallery on First Street.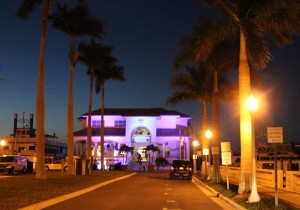 5. On Friday night, the City Pier Building will be the scene of a VIP reception for the opening of ArtCalusa: Reflections on Representation. Attendees will be treated to music by Kat Epple, culinary treats by Chef Michael Gavala, a meet-and-greet with the artists and a lecture by Dr. Jerald Milanich, who will explore the 420-year-old mystery of Theodore de Bry's engravings in his presentation, "Tattooed Ladies: Do Theodore de Bry's Iconic 1591 Engravings of Florida Indians Reflect Reality or Something Else?" Tickets for the VIP reception are available through the Sidney and Berne Davis Art Center at www.sbdac.com or (239) 333-1933. A published exhibition catalogue of all works will also be available for purchase.
This is a Viva Florida 500 celebratory event.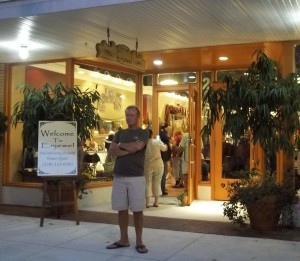 6. Enjewel is the hip First Street boutique that caters to confident and fashion-forward women. Operating under the banner that "with the right accessories [a woman] can do anything," Enjewel offers vintage purses, handmade Mother of Pearl and natural horn bags, faux fur scarves with pockets, and chic dresses galore. "We love supporting local designers with our made in the USA collections," Lynne Routhier posts on Facebook. "These apparel pieces will provide your wardrobe with classic colors and fun prints and you'll be sure to turn a few heads."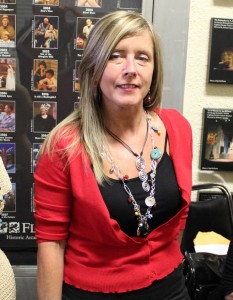 Enjewel also has a long history of sourcing and providing sensibly-priced art jewelry to its patrons, so it's only natural that Lynne Routhier is creating new designs herself. "I actually started making jewelry nearly a decade ago when I visited my brother in New Hampshire," Lynne explains. "He was making some jewelry at the time and let me join in. But I've been so busy with the store that I didn't really pursue it in earnest until a few months ago." Her pieces reflect the chic, trendy casual and business wear for which Enjewel is known. They are full of colorful, highly textural stones and baubles that glint and sparkle in the Florida sun … or the low lights of your favorite restaurant or lounge. While Routhier may not be in their class – yet – she aspires to follow in some pretty big footsteps. Picasso, Dali, Max Ernst, Georges Braque, Fernand Leger, Man Ray, Josep Hoffmann, Hector Guimard, Auguste Rodin and Alexander Calder all sought artistic expression in the genre of fine art jewelry.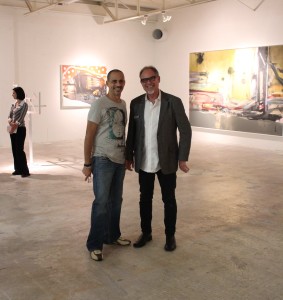 7. The Franklin Shops on First are home to permanent exhibits by the Fort Myers based sculptor Steven Swenor – a/k/a The Dragonfly Guy – and local painters George Settos, Lourdes Mora-Shay, Lilia Lopez, and Joe Rossi. Art dealer and entrepreneur Terry Tincher has also established his Art & Odditorium gallery at the shops, specializing in antiques and artistic works for collectors who are attracted to the unique and unusual. Terry Tincher (right) presents his distinctive personal collection, which includes artworks by Andy Warhol and Robert Rauschenberg.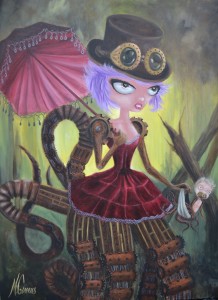 Fort Myers-based painter Jerry McGreens will be painting live, and the Shops will host a storybook time for kids of all ages with Barbara Saunders and her funny puppets reading and playing throughout the night. Known for his fantastic and funny paintings, McGreens, who calls himself an illustpaintor, re-purposer and conservationist, offers a truly unique and imaginative look at a world where spook and humor meet.
7. The Franklin Shops on First is also home to True Tours,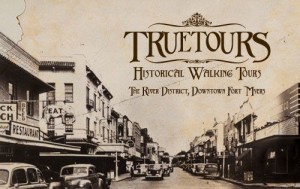 which offers a highly informative historical walking tours, spooky haunted history tours, architectural and public art walking tours. So if you've ever wondered about the history of the old buildings downtown or the public artworks that dot the River District, then stop into the Franklin Shops during Art Walk and book your tour with Gina Taylor. (For more information, you can reach Gina by phone at 239-945-0405 or at www.TrueTours.net.)
The Franklin Shops are located at the corner of Broadway and First in the downtown Fort Myers River District.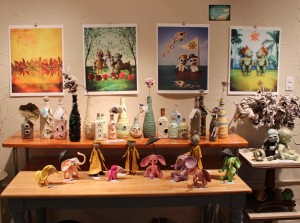 8. Ocasiocasa Studio Gallery presents new artwork by owners Jeff and Dale Ocasio. In the House of Ocasio, sculpture is molded, modelled, crafted and formed through the successive application of layers of masking tape over old vinyl dolls and other found objects that are recycled, upcycled, modified, customized and re-purposed into other-worldly creatures that spring from the fertile imaginations of Jeff and Dale Ocasio. Jeff experiments on these "found canvases," using masking tape to give life to his one-of-a-kind designs. When he's done, Dale takes over, adding water-based professional glue, acrylic paint and varnish. She also photographs each piece at varying stages throughout the creative process and collages the digital images into illustrations that hang on Ocasiocasa's cream-colored plaster walls. Stop in and see Jeff and Dale's new sculpted pumpkins (like Patrik, Pepper and Peter Pumpkin) and scary post-Halloween creations.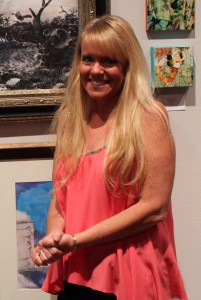 9. Reverie & Rock Art Gallery features the digital surrealism of Kathy Kuser and the rock and country concert photography of Jamie Kuser. "With my art, I want to bring a fresh and contemporary twist to a long established medium – surrealism," says Kathy Kuser. "I find that through tragedy comes hurt and healing. At 50, I am at a point of re-evaluating life's direction and I find myself invigorated by my new form of artistic expression. Using my skills as a graphic designer, I create 2D/3D digital surrealism. Through a mystical and fantasy driven vision, a story emerges from my canvas. I use stark details with transitional blending; thus my art takes flight."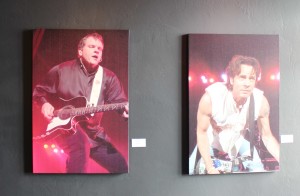 The new downtown Fort Myers art space also showcases the concert photography of Jamie Kuser. For more than 15 years, Jamie has been photographing national recording artists while they perform on stage. From AC/DC to ZZ Top, and from Alan Jackson to Sugarland, Jamie has photographed more than 150 national artists live in concert. His photos have appeared on national tour T-shirts, VH1's Behind the Music, the Associated Press Photo Archives, published in daily newspapers and, of course, in Southwest Florida's own Happenings Magazine.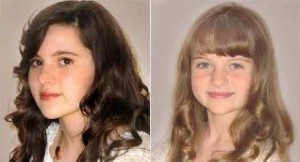 Young Artists Awards will present three performers from 6:30 to 8:30 p.m. Vocalists Callie Atkinson, Elisabeth Best and Sarah Best will be featured.  Callie is a freshman at Cypress Lake High School, Elisabeth is a freshman at North Fort Myers High School and Sarah attends Trafalgar Elementary School.  All have been multiple year participants in the Young Artists Awards program.
10.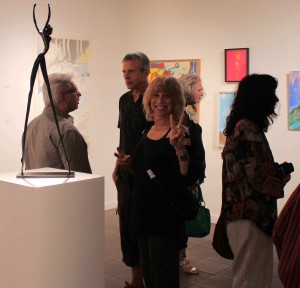 On November 1, artist Lily Hatchett unleashes Hail Helios, her Third Global Warming Art Report, at the Sidney & Berne Davis Art Center. The non-political art exhibition opens with a 6-10 p.m. reception and 8 p.m. Paper Grotto performance.
The Global Warming Art Report 3 combines visual art, music and a series of live action multimedia performances and video events that include Lily's paintings of "cartoon endangered species," giant drawings, and "art suns" created by a supporting cast of fantastic artists. While the show has a serious side, Hatchett is careful to present her subject matter in a humorous, celebratory fashion that is sure to make both a visceral and intellectual impact on viewers. The SBDAC is located at 2301 First Street in the downtown Fort Myers River District. For more information, please call 239-333-1933 or visit www.sbdac.com.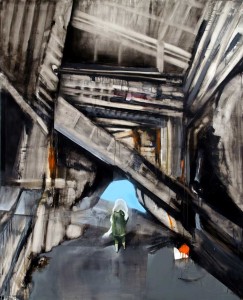 11. The Southwest Florida audience is always the first to see new works by internationally-renowned artist Marcus Jansen. Before they leave Fort Myers bound for exhibitions around the globe, Jansen's newest compositions are hung in UNIT A Contemporary Art Space for the viewing pleasure of art enthusiasts and collectors during Art Walk each month. The private 7,000-square-foot studio-museum does not operate as an ordinary gallery. Rather, it serves as the artist's international headquarters for arranging and coordinating shows with its partnering agents, galleries and museums around the nation and abroad.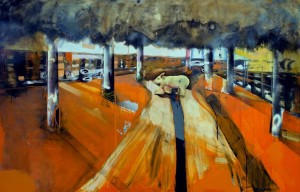 For Art Walk on November 1, get a sneak peek of works bound for Art Basel Miami Beach, where Marcus Jansen will be showing with Galleri Urbane Marfa + Dallas at Art Miami CONTEXT at booth: E38. UNIT A Contemporary Art Space is located at 1922 Evans Street. For information please contact: unitaspaceinfo@gmail.com.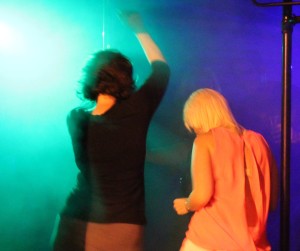 More than 35 participants make Art Walk successful each month and they include the Art League of Fort Myers, Art of the Olympians, Arts for ACT Gallery and Boutique, Charme, Cigar Bar, The Deli, Downtown House of Pizza, Enjewel, First United Methodist Church, Florida Repertory Theatre, Ford's Garage, Fort Myers Community Redevelopment Agency, French Connection, Franklin Shops, Gulf Coast Times, Happenings Magazine, Hotel Indigo, Legacy Harbour Hotel & Suites, Linen Cottage, Lush Bakery, Market America Realty & Investments, The Nest Home & Garden, Ocasiocasa Gallery Studio, The Open Door Shoppes on Hendry, Palm Printing, River District Alliance, The Shoppes at Broadway, Sidney & Berne Davis Art Center, Spirits of Bacchus, Twisted Vine Bistro, UNIT A Contemporary Art Space, United Café Bar & Bistro, The Veranda Restaurant and the Young Artists Awards Program.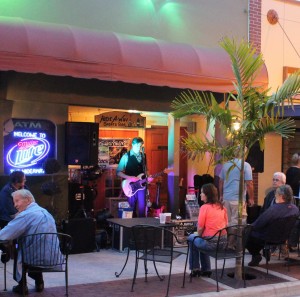 Held the first Friday of every month from 6 to 10 p.m., Art Walk features local and national artwork in the downtown art galleries and several art stops in the Fort Myers River District. While thousands will be making their way to the River District for this month's Art Walk and party opportunities, fret not. There's plenty of free parking within easy walking distance of the galleries, shops, restaurants and bars along First and adjoining streets. So call your friends and meet downtown in the city on the Caloosahatchee that's quickly gaining a worldwide reputation as the art center of southwest Florida.