Spotlight on 'Wellesley Girl' title role actor Danica Murray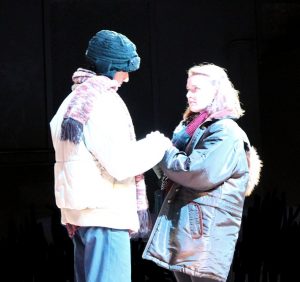 On stage at FSW's Black Box Theatre for one more weekend is Brendan Pelsue's Wellesley Girl. It is an insanely intense political drama set 447 years in the future, where a small contingent of New Englanders tries to honor the spirit and letter of the U.S. Constitution after an environmental apocalypse kills off all save small pockets of refugees in America and across the globe.
Dual enrollment theater student Danica Murray is the Wellesley girl – the sole remaining survivor of the Massachusetts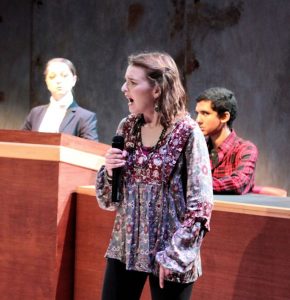 college town, which was decimated by an algal bloom that poisoned the town's water. Now the walled settlement to which she fled is under attack by an army of Texans and must decide to either surrender and become slave laborers or flee their walled city and take their chances in the wilderness.
After what she witnessed in Wellesley, Murray's character, Marie, insists that the enclave must find a different solution since the water in the surrounding countryside is still not safe to drink. Unfortunately, hers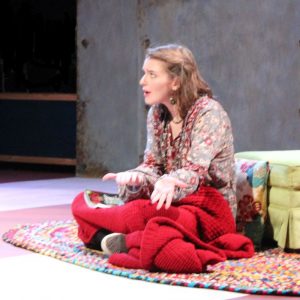 is a minority position that not even her own husband (played by Jorge Cabal) supports. As the missiles begin to fly and the residents prepare to leave, Marie must choose between joining them or killing herself and her children.
Murray characterizes herself as a comedic actor. But her part in Wellesley Girl has given her a chance to develop dramatic skills. Every role requires an actor to stretch and grow, but Danica has found the part of Marie particularly challenging.
"The political lingo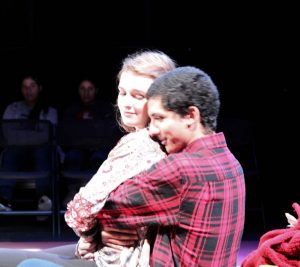 and legalese has been tough," she concedes. But more, her own strong survival instinct made it hard to understand and get into her character.
"Not only do I attempt to kill myself and my children, I have to persuade [my husband] to kill himself with me," Danica explains. "In real life, I'm a fighter. So it's [anathema] to me to contemplate suicide."
To get into Marie's mindset,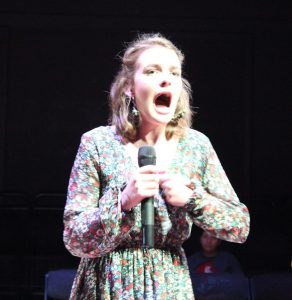 Murray had to convince herself that in the situation in which she finds herself, suicide is the only viable option for herself and her children.
"Marie thinks she's making the best decision for her children and herself," Danica amplifies. "To play her properly, I had to faux believe that [suicide] really is the best decision. One way I did this is by accepting that they're going to die outside the walls anyway. They could die a peaceful death or they could die a gruesome death [like her mother and father did in Wellesley]. That helped."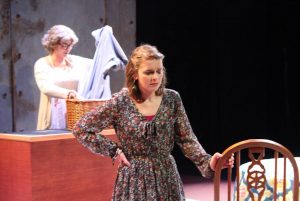 Had time and resources permitted, Murray would have likely spent time at a suicide prevention hotline call center or in a support group for women who'd attempted to take their own lives. She's that committed to learning her character and perfecting her craft. Toward that end, she's planning to shave her head completely bald for her next role, in which she plays a "Holocaust-esque"
young woman who lives, ironically, in another isolated town that is under threat of invasion. [Danica will portray Barblin in Lab Theater's upcoming production of Max Frisch's study of cultural prejudice, Andorra.]
Theater provides Murray with numerous benefits. For instance, theater affords an unparalleled opportunity to visit different time periods, be different people and experience different emotions.
"I can't do those things as myself," Danica acknowledges. "But theater allows me to do them all."
It also provides a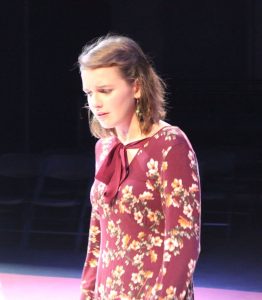 sense of community, of extended family, found in few other disciplines or careers.
"I'm just so much in love with it."
Next Spring, Murray will simultaneously earn both her high school diploma and Associates of Arts degree. But she's already amassed an impressive resume, thanks in large measure to her participation in Florida Repertory Theatre's Conservancy program. So far, her acting credits include Judy Turner in A Chorus Line, Mrs. Peterson in Bye Bye Birdie, Winnifred in Once Upon a Mattress, Duke in Big River,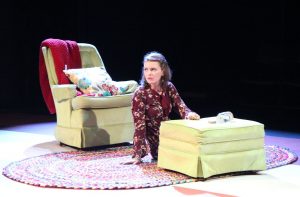 Hawking Clam in Peter and the Starcatcher, Hunger, Laundress and the Narrator in Metamorphoses, Ms. Sheinkopf in School of Rock and Young Republicanette and Officer Milner in Heathers. She also played a couple of supporting roles in Lab Theater's recent production of the campy parody Hush Up Sweet Charlotte.
"I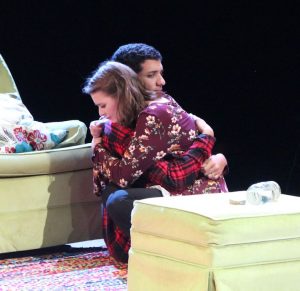 did my very first summer camp at Florida Rep when I was 14 or 15. I really liked it and was invited to participate in their Conservancy program," Danica notes.
And that was the start of a life-long love affair with theater that will take her next year to a four-year school where she can earn a B.A. in Theatre.
But for now, you can see her as Marie in Wellesley Girl. Follow the links below for more information, including play dates, times and ticket information.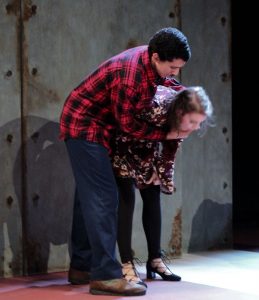 November 12, 2018.
RELATED POSTS.