Spotlight on 'Wellesley Girl' husband Jorge Cabal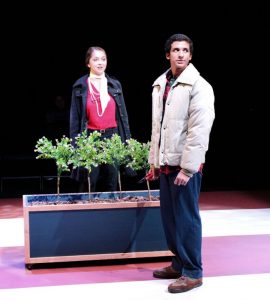 On stage at FSW's Black Box Theatre for one more weekend is Brendan Pelsue's Wellesley Girl. It is an insanely intense political drama set 447 years in the future, where a small contingent of New Englanders tries to honor the spirit and letter of the U.S. Constitution after an environmental apocalypse kills off all save small pockets of refugees in America and across the globe.
Jorge Cabal plays Max, a father of two who's married to the sole remaining survivor of the Massachusetts college town of Wellesley, which was decimated by an algal bloom that poisoned the town's water after it ceded from the Union and decided to go it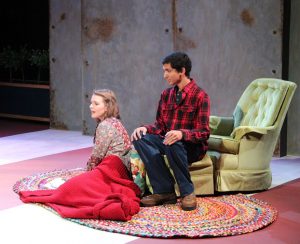 alone. Now the Union is under attack by an army of Texans and must decide to either surrender and become slave laborers or flee their walled city and take their own chances in the wilderness.
Max's wife, Marie, the Wellesley Girl, knows the horrible, macabre death that awaits them if the water outside the walls is still unsafe. So much so that she would rather kill herself and their children than subject them to that risk. But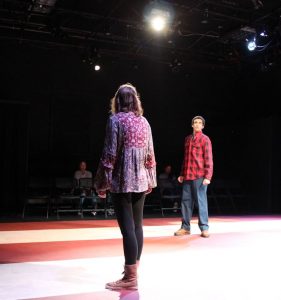 he's simply unable to make a decision pro or con without concrete evidence that the water is subject to more lethal algal blooms. So by his indecision, he goes along with the majority's plan to fire their stockpile of missiles at the Texans and destroy their walled cities as they leave, hoping that the scorched earth will prevent the Texans from hunting them down in the wilderness.
Clearly, the character of Max is a stand-in for all the ambivalent, apathetic Americans who fail to vote in elections – whether because they mistakenly believe that their voice/vote does not count or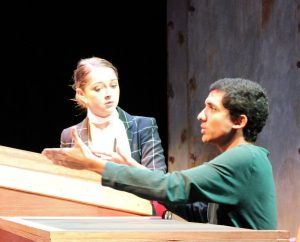 because they are so disaffected by our highly partisan, distastefully contentious political process. Through Max, playwright Brendan Pelsue illustrates that regardless the reason, their inaction is a tacit vote for whoever ultimately wins and the policies they impose.
And Pelsue doesn't mince words about nonvoters whose inaction creates the predicate for perverse governmental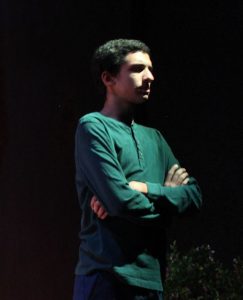 decisions. "I will never forgive you," says Marie to Max near the end of the play.
"Max represents the entire community of people who have a voice, who have a vote, but are almost too scared to make a decision," Cabal observes. "There are a lot of people who don't know if they want to have a vote, or don't think their vote matters, and as a result, are not up to casting a vote when it really matters."
Cabal himself is Max's polar opposite.
"I don't hold anything back," Jorge maintains. "If I want to do something, I do it. I'm very loud, very happy, very excited."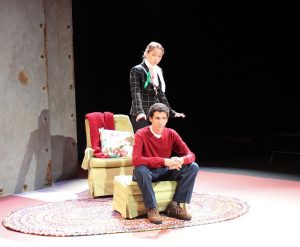 In other words, the exact opposite of the character he plays in Wellesley Girl. But what Cabal found especially challenging was the need to play the role as if Max is going to do something, whether he does it or not.
"There are times when he wants to yell at Marie, 'Don't force your opinions down my throat,' but I have to show all that in my facial expressions and body language because he never verbalizes what he's feeling or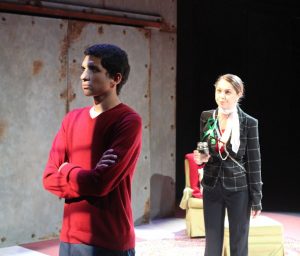 truly wants to do," Jorge explains. "He won't tell her to get off his back. He just gives her this look. For me, as an actor, it was a stretch for me to speak only through facial expressions and body language."
Fortunately, Cabal was guided in the process of dissecting, digesting and reassembling his character by director and FSW Theatre Professor Stuart Brown.
"There's so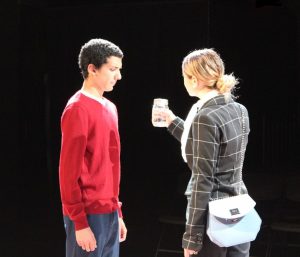 many things that I didn't know I could accomplish until I met Stuart," Jorge says without hesitation. "He has this knack for helping us find answers without giving us the answers. A lot of them are to questions we never ask ourselves. He'll look at a role and open our minds to many different interpretations of the character."
It's a consciousness-raising approach that Cabal can use in conjunction with future roles and productions.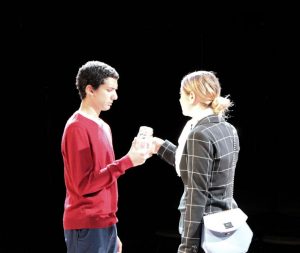 Last year, Cabal played the role of Chuck the Dungeon Master in She Kills Monsters and he's also appeared in Cultural Park's production of Neil Simon's Fools. In high school, he not only performed in a number of productions, he also wrote, directed and starred in a play of his own.
"My dream is to one day play the characters from A Gentleman's Guide to Love and Murder. It would be incredible to play multiple characters in different costumes at the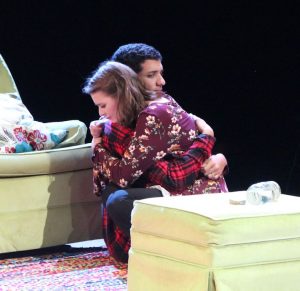 drop of a hat. I'm a very character-driven type of guy, so I'd very much like to be able to tackle that one day … or any other eccentric character for that matter."
But Cabal's love of theater extends beyond the experience of standing on stage under the lights.
"There are people who make costumes, who work lights, who work set," Jorge elaborates. "There's an entire [cadre] of human beings who come together to fool another, larger number of people. In the end, it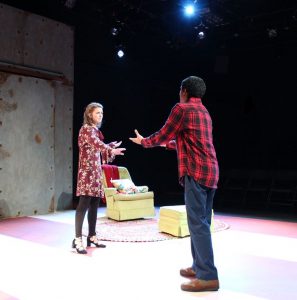 brings us together – communitas – and it teaches us all a lesson. It's such a beautiful, beautiful result. It's miraculous."
The final four performance of Wellesley Girl take place in the FSW Black Box Theatre this weekend. For more on the production, follow the links provided below.
November 12, 2018.
RELATED POSTS.