Next up at FSW's Black Box Theatre is alarmingly prescient 'Wellesley Girl'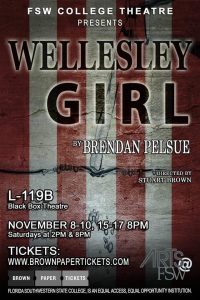 Up next at Florida SouthWestern State College's Black Box Theatre is Brendan Pelsue's Wellesley Girl, directed by Stuart Brown.
The action takes place 447 years in the future. It's 2465, and as a result of a massive environmental catastrophe, the United States' population has been reduced to 435 people, all of whom now live in a walled citadel in what used to be a wealthy suburb of Boston.
In this new state, the Constitution still functions as the governing document, with everyone now serving as a member of Congress and the only checks and balances against tyrannical majority rule are a levelheaded chief executive named Garth and a thoughtful woman named Donna, who serves as the entire Supreme Court (Ruth Bader Ginsburg finally getting her wish for an all-female high court).
When outsiders suddenly appear and set up camp outside the city's walls, the miniature United States must decide whether to send a diplomat to welcome them, preemptively bomb them, or just hunker down and hope for the best.
Brendan Pelsue's quirky American future is funny, dark and alarmingly prescient. With canny humor and wicked intelligence, Wellesley Girl exposes an unsettling truth: sometimes all you can do is flip a coin and hope that history proves you right.
"This is a new play written in 2016 and premiered at the Humana Festival at Actor's Theatre of Louisville," said Stuart Brown, FSW Professor of Theatre and the play's director. "The play is funny and smart, but ultimately, dark. It is also quite relevant to Florida today."
October 26, 2018.