Courtney Sander making most of FSW theater experience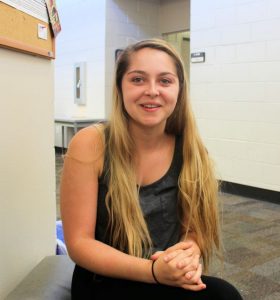 The Florida Southwestern State College Theatre Program is producing Qui Nguyen's fantasy romp, She Kills Monsters, this spring. FSW student Courtney Sander plays the part of Lilith, the in-game bestie of a girl named Tilly who's died and left behind a journal for her sister, Agnes, to decipher and decode.
Lilith is an interesting role. She's a surly leather-clad Demon Queen who deftly wields a double-headed medieval battle ax while spewing biting barbs and caustic sarcasm at anyone who has the misfortune to cross her path. And yet, where her friends are concerned, Lilith has an unexpected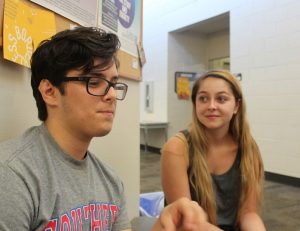 warm, tender and protective side.
Sander's background and bent is musical theater, so She Kills Monsters is a bit of a departure from the roles she's accustomed to playing. And Lilith might well be Courtney's polar opposite. Where Lilith is dark, dour and unabashedly malevolent, Sander is positive, upbeat and unapologetically optimistic. And then there's the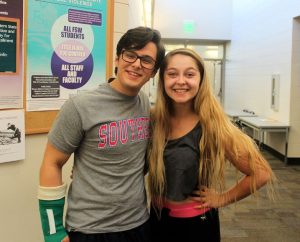 fact that Lilith is gay and the play includes a scene in which her character shares a kiss with her friend, Tilly (played by Kiana Pinder). While Sander is straight, she has people who are gay and bisexual in her life. She drew upon her observations of their emotions and experiences in order to project this aspect of her character's persona.
"I'm very empathic," Courtney explains, "and that's an important quality for anyone who wants to act."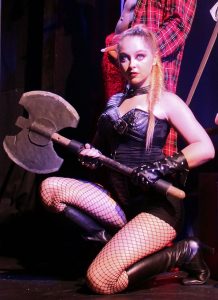 Courtney began singing in front of an audience at the age of four, but she didn't catch the mythic theater bug until two years later, when she auditioned for a school musical and got the lead. "The feeling you get before you get on stage … the jitters, the energy and that excitement you feel from the audience … I just knew from that moment that this is what I want to do for the rest of my life."
For Sander, it's more than merely the adrenaline rush she derives from being on stage or the validation she receives in the form of the whistles and applause that erupt from the proscenium during and at the conclusion of each performance. It's about the camaraderie she shares with her cast mates and crew and the satisfaction she experiences from deconstructing and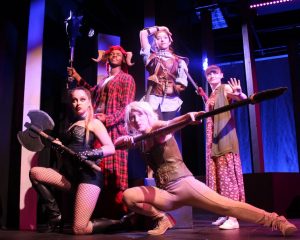 successfully playing a continual stream of new and challenging characters.
"I love the hard work, and pour my heart and soul into each of the characters I play," Courtney acknowledges.
But that's the way she rolls.
"I'm just not a nine-to-five girl. I'm an out-of-the-box person. I need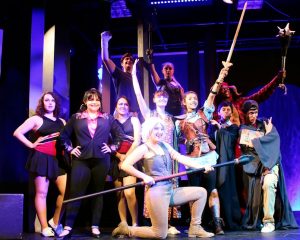 something that enables me to constantly grow, change, morph and experience. And bringing people joy is my passion in life."
Her trajectory going forward remains musical theater. It's also a discipline that may enable her to indulge her desire to travel and experience other places and cultures, particularly on the continents of Europe, Asia and Africa.
"I'd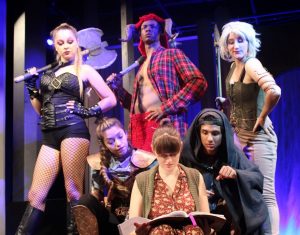 love to travel the world, but don't have the money for that. So it would be really cool to travel the world and get paid for doing something that I love," she says, closing her eyes and inclining her head back slightly as she lets the vision vividly play across the movie screen on the backside of her eyelids.
Just a freshman, Sander is already contemplating where she might go to finish her college degree. She rattles off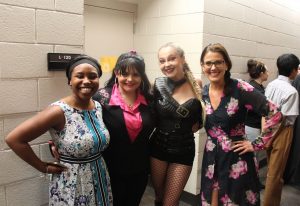 half a dozen schools, including the University of Tampa, Rollins, University of South Florida and UM. Exceptional musical theater programs is their common denominator.
But Sander readily concedes that she'll always do dramas and comedies.
"They're more difficult. Because you don't have music and choreography to rely on, you have to have to be a good actor. You can't just get by with singing. Emotionally, you have to really dig into the character."
In the meantime, Sander is making the most of the opportunities for growth and development afforded by the theater program right here at Florida Southwestern State College. For example, She Kills Monsters represents Courtney's first foray into the sub-discipline of stage combat.
"I knew nothing about stage combat [before this show]. Literally, absolutely nothing." To her utter amazement, Courtney discovered that fighting on stage is a form of dance that requires finely-tuned, split-second choreography.
"If you deviate from it even slightly, someone can get really hurt."
There are half a dozen or more complex fight scenes interspersed throughout She Kills Monsters. All of them include an array of weaponry that includes broad swords, spears, axes, spiked clubs and shields. And to make sure that she and her cast mates safely negotiate their on-stage interactions with each other and all the props, Theatre Professor Stuart Brown drills his actors not only in rehearsal, but prior to each and every performance. "It is a dance, it is a dance, it is a dance," he reiterates a thousand and one times. And just like Olympians and professional athletes, muscle memory is a big component to their success.
You'd think that dance-type scenes would come naturally to someone with musical theater aspirations, but Courtney is quick to point out that she's more of a "mover" than a dancer.
"Although I pick up on choreography pretty quickly and have a good sense of where my body is at all times, I'm not a dancer and never pretended to be – although I was just in Sister Act at Cultural Park, and people thought I was a dancer," she adds with no small amount of pride at the compliment.
Besides Sister Act, previous roles include Milton in All in the Timing and Mercy in The Crucible.
While Southwest Florida isn't likely to hold the Rochester, New York native beyond her time at FSW, Courtney expects to grow and develop both as an actor and a person while she remains under the tutelage of Theatre Professor Stuart Brown.
"He's an incredible instructor and the best director I've ever worked with," Courtney effuses. "He's intelligent, intuitive and wise. You can go to him for acting advice or for life advice. He's just a down-to-earth type of man."
April 6, 2018.
RELATED POSTS.