During troubled times, 'Miss Bonita Springs 1967' is a candy bar for the mind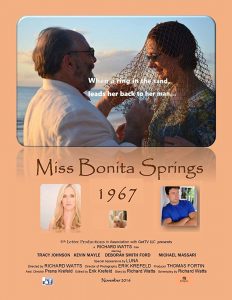 Among the Strictly Local short films juried into this year's Fort Myers Film Festival is Miss Bonita Springs 1967. It's a lighthearted story that the filmmaker describes as "a candy bar (a Mars bar to be precise) for the mind," a humorous salve for the soul during the troubled times in which we live.
Aaron and Lacey are married but have a few things to work out. Following an argument, Lacey escapes to the beach. With waves gently crashing on the beach in front of her, Lacey does yoga to help her relax. Bored, her dog, Luna, begins digging in the sand. Lacey joins in, and together they find a gold ring bearing two inscriptions. On the inside, the words "Fish With Me Forever" are incised in the band.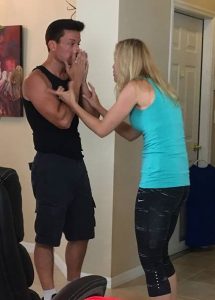 On the outside, the inscription reads: "Miss Bonita Springs 1967."
Her curiosity piqued, Lacey tracks down Miss Bonita Springs 1967, a woman by the name of BeBe Nowitzki. They meet for coffee and, sure enough, it's BeBe's ring. BeBe then recounts how her husband, suffering from PTSD following service in Vietnam, simply up and disappeared one day and she never saw him again. In her despair, BeBe had gone to the beach for solace one day, and lost the ring there.
The two then head to the beach so that Lacey can show BeBe the spot where she and Luna had dug it up.
In the meantime,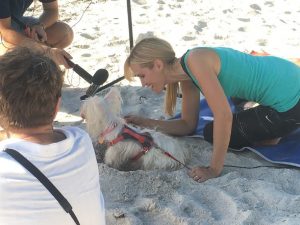 Aaron is sitting in a local bar, striking up a conversation with a guy named Cal who has had romantic troubles of his own. Aaron takes Cal to meet his wife on the beach and do some fishing. You guessed it. Cal is BeBe's long lost husband, who's never remarried and has long regretted walking out on his wife. The surprise rapprochement culminates in an impromptu wedding ceremony on Bonita Beach where the older couple met 50 years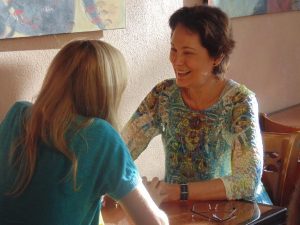 earlier.
Written and directed by Richard E. Watts, the film features local actors Deborah Smith Ford as Bebe, Tracy Johnson as Lacey Hutton, Kevin Mayle as Aaron Hutton and Michael Massari as Cal Nowitzki. Luna the dog plays herself.
In fact, it was Luna who served as inspiration for the film.
"I'm a day dreamer,"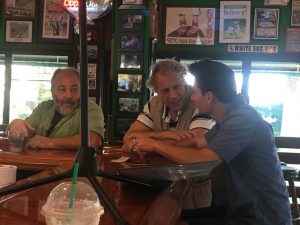 writer/director Richard Watts admitted in the Q&A following the film's screening. "One day I was sitting on the lanai watching Luna. She's quite unusual, an albino Silky (an Australian terrier that's closely related to the Yorkshire Terrier) with an unbelievable personality. So I'm sitting there watching her and my mind kinda wandered and the next thing you know you're at the Fort Myers Film Festival!"
And
so it is with creative types like Watts.
March 30, 2018.
RELATED POSTS.