A Note about Bonita Springs' Art in Public Places Program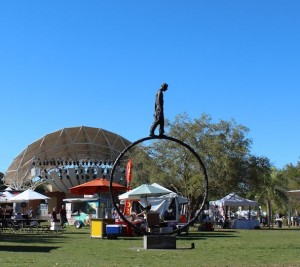 The City of Bonita Springs has embraced public art in a personal, grassroots sort of way. Like 35 other Florida municipalities and 13 counties, it has an ordinance that sets aside money for art every time it constructs a new building or conducts a major renovation. But recognizing that capital improvement projects aren't initiated every year, the city also allocates a modest stipend for public art in its annual operating budget. And by forging unconventional relationships with public artists and business property owners, the town has been able to parlay those funds into a collection of sculpture and murals that inspires pride of ownership in residents and a sense of wonderment in first-time and seasonal visitors.
.
Percent for Art Ordinance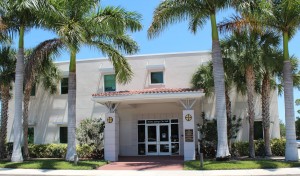 The City of Bonita Springs formally implemented its public art program on October 5, 2005 with the adoption of Ordinance No. 05-18. The ordinance sets aside in a designated trust fund one percent (1%) of the total construction budget associated with the original construction and major renovations of city buildings in which employees work on a regular basis or that the general public uses. While the City Council can increase or decrease the allocation by resolution in a particular instance, the ordinance does impose a $100,000 cap for any single project.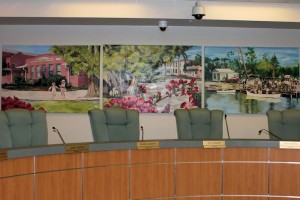 These funds are administered by a seven member committee called the Art in Public Places Board. The APPB advises the City Council regarding the acquisition, commissioning and maintenance of works of art for public places, which is defined by the ordinance to include paintings, sculpture, engravings, murals, mobiles, photographs, drawings and works in fabric, as well as architectural enhancements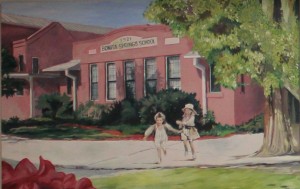 (such as specially-designed plazas and atriums) and special landscape treatments (like earthworks, gardens, pavings and water features). The ordinance mandates that the City Manager and the architect for the project work with the APPB "early in the design [phase] … to develop a plan for adding art to the project."
Where possible, the APPB recommends three alternatives for each acquisition, with the City Council making the final selection.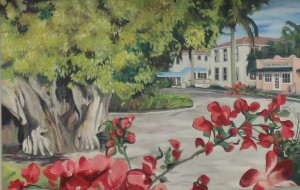 Both the APPB and the Bonita Springs City Council strive to choose locations where residents live and congregate and art that reflects enduring artistic concepts as well as Bonita Springs' cultural and ethnic diversity. The Board and Council also consider site specificity, durability and maintenance, and variety of message and media in comparison to other works in the city's collection each time Bonita Springs acquires or commissions a new public artwork.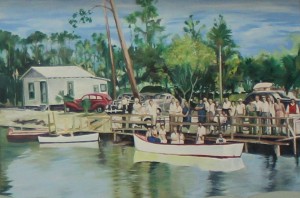 [The Florida cities that have enacted public art ordinances reads like a AAA directory of tourist destinations: Bradenton, Bonita Springs, Boynton Beach, Clearwater, Coconut Creek, Coral Gables, Coral Springs, Delray Beach, Dunedin, Fort Worth, Gainesville, Homestead, Jacksonville, Key West, Lauderhill, Largo, Miami Beach, Miami Gardens, Naples, North Miami, Orlando, Palm Beach Gardens, Pompano Beach, Port St. Lucie,  Sarasota, St. Petersburg, Sunrise, Tamarac, Tampa, Tarpon Springs, Village of Key Biscayne, Village of Palmetto Bay and West Palm Beach.]
Art in the Sun Along Old 41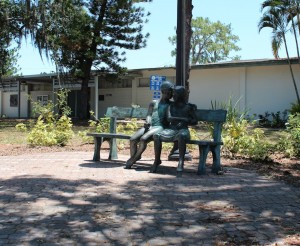 But public art in Bonita Springs didn't start with the adoption of its public art ordinance. Rather, it derived its impetus from an effort by citizens to save a sculpture known as the Secret Bench of Knowledge after the artist, Lea Vivot, issued the town an ultimatum to either purchase the work or return it so that she could sell it to a European collector who was interested in acquiring the piece.
The work had been on loan to Bonita Springs since 2003, but the City did not have the $150,000 that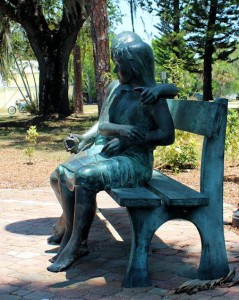 the artist was asking for the artwork. A Committee to Save the Bench was formed with the mayor's wife, Amy Arend, as Chair. Over the ensuing ten months, the Committee raised enough money ($57,000) through pancake breakfasts and other fundraisers to induce the artist to sell the sculpture to the City.
The populace support for the artwork demonstrated to city officials and staff that art and culture are valued in Bonita Springs, which led them to include a line item for public art in its annual operating budget. 2007 budget allocated $100,000 for public art, enough to allow the City to acquire three metal sculptures from Colorado artist Jane DeDecker (Setting the Pace, Lords of the Forest and The Ties that Bind), together with a mixed media work titled Imperial River History by David Kellum.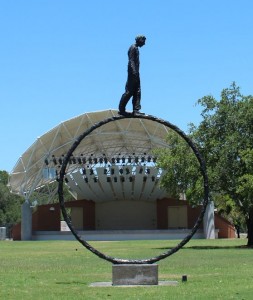 But then the subprime crisis hit. The resulting precipitous decline in property values and concomitant plunge in ad valorem tax revenues compelled the City to slash the art allocation to just $10,000, forcing members of the Art in Public Places advisory board and City Council to evolve other ways "to bring art to the public."
The unifying approach was subsumed under the catchy rubric of Art in the Sun Along Old 41. Councilwoman Janet Martin crafted the idea after viewing Wilmington, North Carolina's Ped Art program online. "I did a Google search to find out what other communities were doing to get art in the post-subprime economic downturn,"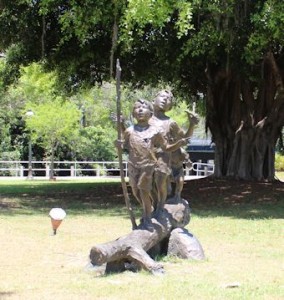 says Martin, who has served since 2008 as Liaison to Bonita Springs' Art in Public Places Board. Following Wilmington's example, Bonita installed concrete pads at five downtown locations – the Lee County Sheriff's Substation in Community Hall, the Fire Control & Rescue District station, Depot Park, and two spots near historic Liles Hotel, including one by the butterfly garden. They then set about finding artists who were willing to display their work at those sites for one year in exchange for the exposure, publicity and the honor of helping create a walkable community.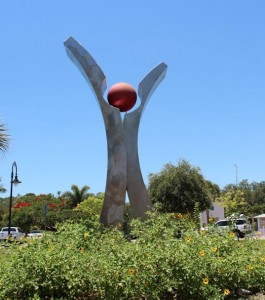 "It turned out to be a lot harder than we thought it would," Martin acknowledges. But then APPB member Jackie Houserman spotted a sculpture by the name of Away while she was strolling through the Bonita Springs National Art Festival in January of 2009. She introduced herself to the artwork's creator, Massachusetts metal sculptor Dale Rogers, told him about Art in the Sun Along Old 41, and bluntly asked him if he would be willing to participate. He did, thus becoming the first artist to loan Bonita Springs an artwork under the novel program.
The City went on to lease and later purchase the work outright with funds that came from the Art in Public Places account and its Chalk Where You Walk event.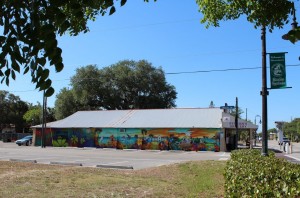 Today, Art in the Sun Along Old 41 has morphed into a mural program that started in 2014 with Alex Nunez's My Beautiful Town on the north wall of Benson's Grocery. The mural program is a public-private partnership in which the business property owner makes available one of their exterior walls, the artist prepares the site and does the rendering, and the city provides the budget to cover the work.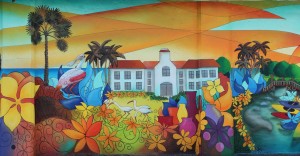 By agreement, the murals are only there for three years. After that, the property owner has the right to remove the mural, replace it with another one or enter into an agreement with the artist to maintain it awhile longer. "No business property owner would ever agree to host a mural if they had to maintain it in perpetuity," notes APPB Chairman Nigel Fullick.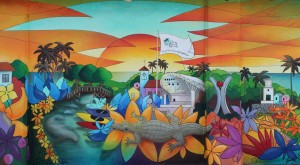 Especially since City-funded façade enhancements, landscaping incentives,  centralized stormwater facilities and additional on-street parking are likely to induce property owners in Old Bonita to renovate, add on to, or raze and rebuild in order to take full advantage of the new densities that will be allowed on their sites. In fact, the mural initiative is being coordinated by the APPB with the planned $16 million revitalization of downtown Bonita, which also includes beautification of medians, sidewalks and other pedestrian pathways.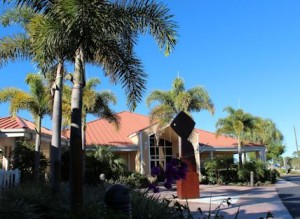 Up to four more murals are contemplated over the next couple of years. And the Art in Public Places advisory board continues to explore other ways to partner with property and business owners, artists and the general public to bring more art to the community. "We are working with [Executive Director] Susan Bridges and the Center for the Arts of Bonita Springs (pictured right) to identify prospective artists and bring exhibitions to town which could coincide with Celebrate Bonita, the Bonita Blues Festival and the tri-annual Bonita Springs National Art Festival," states Director of Development Services Arleen M. Hunter. The goal is to host something annually between February and April that could lead to cost-effective, quality additions to the city's public art collection.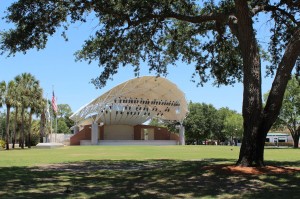 All these efforts belie a conviction on the part of the City and APPB that public art improves the quality of life in the community, enhances the reputation of its citizens and the town, educates the public about and exposes people to art and culture. It has not escaped anyone from the mayor on down to the APPB that a common denominator possessed by thriving, robust downtowns across the country is their vital public art programs. "It's economic development 101," maintains Coucilwoman Martin. "We want Bonita Springs to be known for art and culture," Ms. Hunter emphatically adds. "We're proud of the Center for the Arts. We're proud of the fact that Bonita National is consistently ranked as one of the top 10 outdoor art festivals in the country. We're committed to the Arts in Bonita Springs."
Benefits of Public Art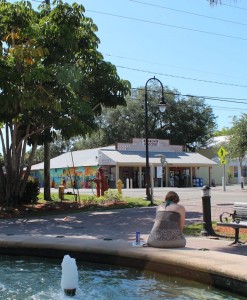 The preamble to the city's public art ordinance codifies the sentiments expressed by Ms. Hunter. It notes an intent and desire on the part of the City Council "to provide vast cultural resources to beautify the community," "foster … a receptive climate for fine arts," benefit the citizens of the City of Bonita Springs in their daily lives," and "serve a public purpose." Bonita's Master Plan adds: "Art in Public Places is designed to complement the visual experience that is an important element of the identity of Bonita Springs. The placement of art in public places enriches, stimulates and enhances the aesthetic experience."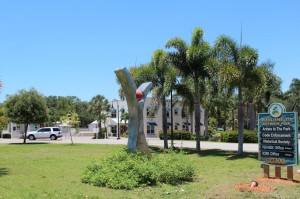 The policies stated by the ordinance and Master Plan echo the advantages that urban planners and art consultants have long attributed to vital and robust public art programs, which are believed to:
boost/strengthen civic pride;
enhance and define a city's identity;
reflect the unique character and history of the city;
burnish the city's image to the outside world;
create an important positive impression for visitors;
enable the community to attain recognition as a regional and national leader in the visual arts;
symbolize a community's maturity;
express the vision of community leaders;
make a statement about the community's values and culture;
elevate the image of proximately-located corporate enterprises;
spur economic development in the community;
create visual and aesthetic landmarks;
create positive mental images;
impart a more aesthetic, cohesive visual and physical appearance;
enrich the public environment visually;
make the beautification of the city a matter of the highest priority;
enhance the climate for artistic creativity in the community;
bring art and art education to the entire community;
create public art community partnerships linking individuals of all  races, ethnicities, age, genders, professions, and economic levels;
stimulate our imagination;
promote excellence and diversity through a variety of artists and media;
provide tangible outlets for creative ingenuity;
increase property values;
enrich the cultural climate of the city;
reflect and enhance the city's  diversity, character and heritage through the integration of artworks and designs  in the architecture, infrastructure and landscape on public and private property;
make a space seem more welcoming;
create a deeper interaction with the place one is visiting or working in;
increase awareness of how surroundings impact experience;
express shared ideals and concepts;
enhance the quality of life for residents and property owners;
add to the visual quality of life;
engage the community;
draw people together and induces strangers to talk to each other;
raise the level of citizen awareness to the importance of aesthetic and intellectual experiences in everyday life;
promote understanding and awareness of visual arts in the public realm;
make a commitment to future generations; and
create "human scaling" of open areas by framing the space with various forms of public art structures.
In the words of one public art advisory board, "a town with public art is a town that believes in itself, thinks creatively and feels deeply."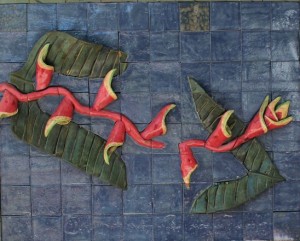 In fact, a recent survey of nearly 43,000 people in 26 communities conducted by Gallup and the John S. and James L. Knight Foundation over a three year period beginning in 2008 discovered that more than schools, low crime rates and economic opportunity, public art is the factor that most inspires people to locate and remain in a community.
"A city's art, parks, and green spaces are more important than education, safety, and the local economy" when it comes to inducing residents to develop a binding attachment to the town or city in which they live, the report noted. And this doesn't change much from one place to another.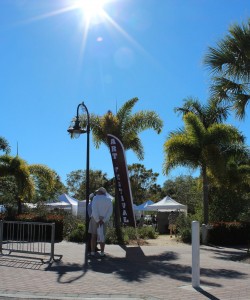 "This is not to say that jobs and housing aren't important," the report goes on to say. "Residents must be able to meet their basic needs in a community in order to stay. However, when it comes to forming an emotional connection with the community, there are other community factors which often are not considered when thinking about economic development.
These community factors seem to matter more when it comes to attaching residents to their community." Demographics don't alter this conclusion either. "While we do see differences in attachment among different demographic groups, demographics generally are not the strongest drivers of attachment. In almost every community, we found that a resident's perceptions of the [community's aesthetics] are more strongly linked to their level of community attachment than to that person's age, ethnicity, work status, etc."
The Arts & Economic Prosperity
.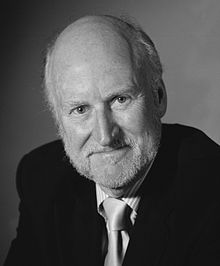 In November of 2012, Rocco Landesman announced his retirement from the National Endowment of the Arts. During his three-year tenure as NEA Chairman, Landesman used his bully pulpit to educate both Washington and the American people on the value of the arts, specifically noting that they are a strong source of jobs and economic stimulus. In fact, his slogan "Art Works" was intended to persuade Americans, including members of Congress, that investment in art can build stronger communities and revive a flagging economy.
While no study has been found that purports to measure the correlation between public art and tourism, economic growth and development, a recent study by Americans for the Arts does lend credence to the more than two dozen benefits commonly ascribed to public art.

Established in 1960, Americans for the Arts is the nation's leading nonprofit organization for advancing the arts in America.
In June of  2012, it completed a study into the impact of the nonprofit arts and culture industry on the national economy. Included in the survey were 139 cities and counties, 31 municipalities, 10 states and 2 individual art districts representing all 50 states and the District of Columbia. The study provides empirical support for what urban planners and art consultants have long contended. Arts and culture draws tourists and drives economic recovery and growth.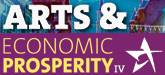 Nationally, the industry generated $132.5 billion dollars in economic activity in 2010 – $61.1 billion in expenditures by the nation's nonprofit arts and culture organizations, plus an additional $74.1 billion in event-related expenditures by their audiences, supporting 4.1 million full-time jobs. Locally, Lee County's nonprofit arts and culture industry generated $68.3 million in economic activity in 2010, supported 2,038 full-time equivalent jobs and produced $9.4 million in revenue for the City of Fort Myers, Lee County and the State of Florida – all during a year that is considered the apex of the economic downturn.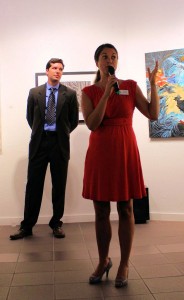 According to the study, nonprofit arts and culture organizations in Lee County spent $23.2 million during fiscal year 2010. Far-reaching in scope, this spending included wages and salaries, supplies, contract services and related expenditures. Those dollars, in turn, generated $21.3 million in household income for local residents and $3.1 million in local and state government revenues. "The arts are well known for their entertainment value and for enhancing a community's quality of life," concludes Lydia Black, Executive Director of the Lee County Alliance for the Arts (pictured right with FGCU Bower School of Music & Art Gallery Director John Loscuito). "This study provides a persuasive argument, and the statistical data, to prove that the arts are also significant economic drivers, which enhance our community's overall health and vitality."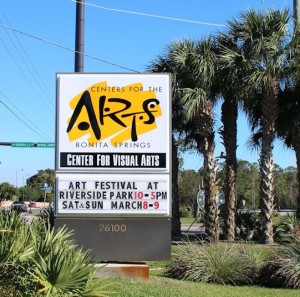 The Alliance participated in the study, collecting critical data from 39 nonprofit arts and cultural organizations in Lee County such as, by way of example, Art Council of Southwest Florida, Art League of Fort Myers, ArtFest Fort Myers, Arts for ACT Gallery, Bailey Matthews Shell Museum, BIG ARTS, Bob Rauschenberg Gallery, Calusa Nature Center, Cape Coral Arts Studio, Cape Coral Historical Society, Center for the Arts of Bonita Springs, Creative Theater Workshop, Cultural Park Theatre Company, Edison & Ford Winter Estates, Florida Repertory Theatre,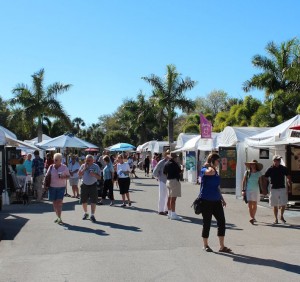 Fort Myers Beach Art Association, Fort Myers Community Concert Association, Fort Myers Symphonic Mastersingers, Gulf Coast Symphony Orchestra, Imaginarium Science Center, Sanibel Music Festival, Sidney & Berne Davis Art Center, Southwest Florida Historical Society, Southwest Florida Museum of History, Southwest Florida Symphony, The Heights Foundation, The Laboratory Theatre of Florida, Theatre Conspiracy, Weavers of Char-Lee, WGCU Public Media and Young Artists Awards.
"Lee County's arts community … supports jobs, generates revenue and acts as a cornerstone of cultural tourism," adds Black. "This study attests to the vitality of arts as they relate to the economic well-being of our county."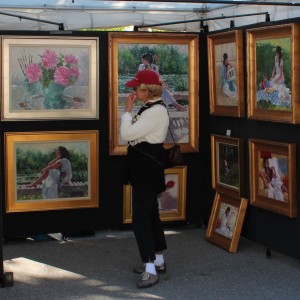 In addition to money spent by nonprofit arts and cultural organizations, people attending art and cultural events such as Bonita Springs National and other area art festivals, plays and concerts spent an additional $45.1 million in Lee County. This is not the cost of admission paid by attendees, but rather expenditures they made ancillary to the event for dinner in local restaurants, parking, gifts and souvenirs, babysitters, etc. To make this assessment, researchers took surveys during such events from 742 attendees. But given that the average person who attends an art or cultural event is part of a larger group, the surveys actually reveal the spending patterns of nearly 2,000 people.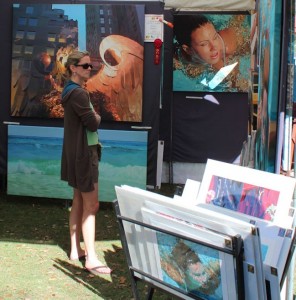 The study provides much-needed statistical support for a claim universally made by arts organizations and public art programs around the country. Arts and cultural events prompt cultural tourism. They draw visitors. In fact, more than half (55.4%) of all nonresidents visiting Lee County for an art or cultural event came specifically to attend that event. While most arts and cultural events are day trip destinations, the study reveals that more than 10 percent of those coming from out of town stayed the night, spending money on lodging, meals and fuel incident to their trip. Also of significance, researchers discovered that if the event had not occurred in Lee County, 52.5% of our local residents would have traveled to another county in order to attend a similar art or cultural experience.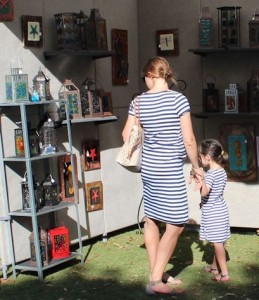 "This study shows how immensely the arts and cultural community directly provides jobs and stimulates tourism" says Carol S. Robinson, a vice president at Northern Trust Company and longtime Southwest Florida Symphony board member. "Our robust cultural environment leads to the expansion of existing businesses and also helps lure new businesses and retirees to choose Lee County as their home.  The arts truly represent a crucial pillar of the economy."
While the study does not quantify the economic contribution made by public art programs themselves, the conclusion can be extrapolated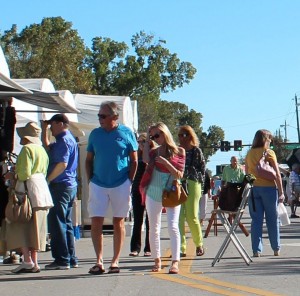 from the the report that by creating a cultural climate within a community that fosters artistic creativity, public art helps attract visitors, retirees and people and businesses who are seeking to relocate, thereby engendering economic growth and development. In fact, notes Bonita Springs Art in Public Places Board Chairman Nigel Fullick, "The first question Hertz executives asked after completing interviews during their due diligence trip to Lee County in 2013 was 'Is the Big Dog Exhibition still running?'," referring to a 3-month-long exhibition in Riverside Park of 16 large scale Corten steel dogs created by Massachusetts metal sculptor Dale Rogers. "Public art not only beautifies, it transforms a town culturally. It brings in people with different sensibilities. It attracts business. Fortune 500 companies like Hertz look for opportunities to support art in their communities. Bonita became an area of interest for Hertz because of that."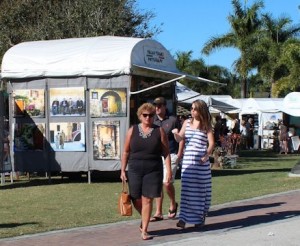 [The Arts & Economic Prosperity IV study was conducted by Americans for the Arts and supported by The Ruth Lilly Fund of Americans for the Arts. The project was administered locally by the Lee County Alliance for the Arts and funded with the assistance of The City of Fort Myers, Lee County Visitor & Convention Bureau, Florida Division of Cultural Affairs and the Southwest Florida Community Foundation. Its completion would not have been possible without assistance from the more than 40 nonprofit organizations who provided economic data, and the countless volunteers who together spent hundreds of hours conducting patron surveys. Full local and national study results are available at the Alliance website, http://artinlee.org/economicimpact.html.]
National Public Art Programs
The federal government has a public art program too. It is called the Art in Architecture program and it was established on May 16, 1972 by a directive issued by President Richard M. Nixon that reinstated a program initiated under President John F. Kennedy in September of 1963 (but which was discontinued in 1966 due to the rising costs associated with the war in Southeast Asia). Under the mandate, the Public Buildings Service of the General Services Administration (GSA) allocates 0.5 percent of the cost of constructing federal buildings for the acquisition of public artworks. Ideally, the works purchased or commissioned are to draw attention to the history of the community in which they are installed.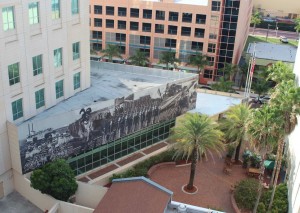 Locally, the ceramic tile mural called Fort Myers: An Alternative History located in downtown Fort Myers was commissioned pursuant to the Art in Architecture Program. Created by Barbara Jo Revelle and installed in January of 1999, the mural contains rare historical photographs of the fort from which the city takes its name, 15 members of the 2nd Regiment of the United States Colored Troops, which defended the fort from Confederate attack on February 20, 1865 during the southernmost battle of the Civil War, one of the steer that the Confederates were after, and Seminole Chief Billy Bowlegs and several members of his tribe who were deported to Indian territory in Oklahoma by soldiers occupying the fort at the end of the Third Seminole War.
Florida Public Art Program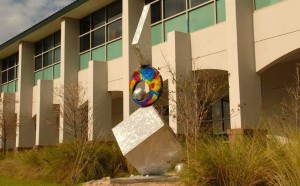 Like the federal government, the State of Florida earmarks 0.5% of the total amount the legislature appropriates for the construction of state buildings for the acquisition of public artworks (except for buildings that only provide limited access to the public like prisons and medical examiners' offices). The amount that can be allocated for public art is capped at $100,000 per project. In creating the Florida Art in State Buildings program in 1979, the legislature enunciated the belief that "strong and appropriate public artworks enhance our state's image, says that we care about our public spaces, and is an important element in spurring economic development and tourism."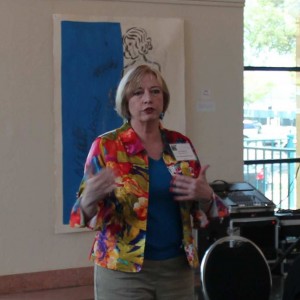 Over the ensuing 35 years, the Florida Art in State Buildings program has been placing strong and impressive artwork by state, national and internationally-acclaimed artists in public spaces. And for three and a half decades, the state's citizens and visitors have been enjoying and learning from them, benefiting from this "museum without walls" on a daily basis. "There's a resurgence in awareness of the value of showcasing the uniqueness of a community to attract new citizens, businesses and tourists," said Florida Art in Public Buildings Administrator Lee Modica in 2005. Seven years of additional boots-on-the-ground experience has only served to solidify Modica's conviction. "Those of us who work in the field see every day the important role that public art plays in helping communities create an identity, encourage tourism, entice new residents and spur economic development," she said during the 2012 annual conference of the Florida Association of Public Art Professionals which, incidentally, was held in Fort Myers.
Although none of the public art located within downtown Bonita Springs is attributable to Florida's Art in State Buildings Program, the program is responsible for building an exceptional public art collection on the campus of nearby Florida Gulf Coast University (which includes works such as Cross Currents by Albert Paley, Transition by Robert Roesch, Depend du Soleil and Whatever You Say, Dear by Robert Fuller, Skyward by Clayton Swartz, Archway by Brower Hatcher, Beacons by Harry McDaniel and Verve by Michele Gutlove).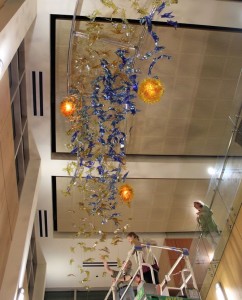 [Florida is not alone in finding a nexus between public art and the tourism and economic development that follow as a consequence of projecting a culturally-refined image to the outside world. Twenty other states mandate the contribution of funds toward the acquisition and maintenance of public artworks, vis: Alaska, Colorado, Connecticut, the District of Columbia, Hawaii, Illinois, Iowa, Louisiana, Maine, Montana, Nebraska, New Hampshire, New Jersey, Ohio, Oklahoma, Oregon, Rhode Island, Utah, Washington and Wyoming. In addition, Maryland, North Carolina and Vermont require annual allocations for public art from either general revenues or their capital improvement fund.]
County Public Art Program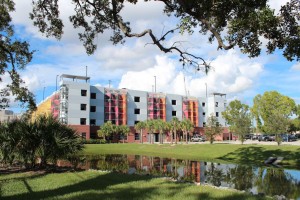 At present, Lee County has no official public art program. Nevertheless, the county is responsible for a number of works located within the contours of the downtown Fort Myers River District. In 2010, the county partnered with the City of Fort Myers and its Public Art Committee to commission internationally-acclaimed New York abstract artist Marylyn Dintenfass to create 23 open-weave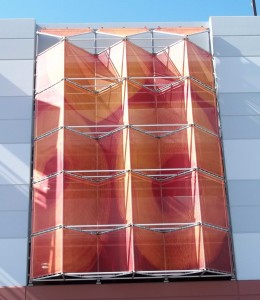 Kevlar and fiberglass art panels 33 feet tall by 22 feet wide in order to comply with a city building code that requires cars inside a parking structure be screened from public view. The resulting 30,000 square-foot installation known as Parallel Park is now one of the cornerstones of the city's public art collection and an artistic landmark that has brought considerable national attention to Fort Myers in the form of a feature article in ARTNews Magazine (which has a worldwide readership of more than 200,000 people) and a monograph written by Aliza Edelman and published in 2011 by Hard Press Editions under the title Marylyn Dintenfass Parallel Park.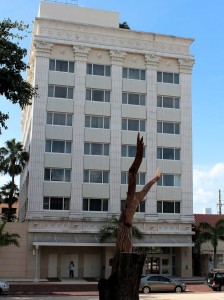 In 2011, the county funded the conversion of a termite-infested 200-year-old oak tree into a work of fine art when Fort Walton Beach chainsaw sculptor Marlin Miller offered to carve the decaying trunk into a soaring American bald eagle free of charge provided that the county cover his expenses. In 1998, the county commissioned the granite sculpture called Sun Gate from Robert Sindorf. At the time, the county did maintain a formal public art program, which it terminated a short time later.
The county maintains no public art pieces within the City of Bonita Springs.
[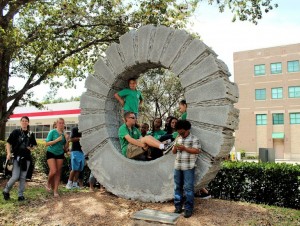 Like Lee County, most of Florida's 67 counties do not maintain any type of public art program. However, the Florida counties popularly associated with tourism do, such as Alachua, Brevard, Broward, Duval, Hillsborough, Leon, Miami-Dade, Monroe, Orange, Palm Beach, Pinellas, St. Lucie and Volusia. Their enabling ordinances unequivocally state that they view public art as a vehicle for stimulating economic growth, development and civic pride, and find that these objectives are accomplished through the vehicles of enhanced urban design, aesthetic amenities and traditional artworks that include paintings, murals and sculpture.]
_____________________________________________________
Bonita Springs public art program featured in Sept/Oct 2014 issue of Bonita & Estero Magazine (08-22-14)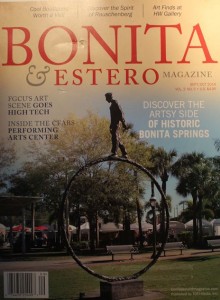 The September/October, 2014 issue of Bonita & Estero Magazine (Vol. 3, No. 5) features the artsy side of historic Bonita Springs in a cover photo and article titled, "Where Culture is the Catalyst for Change: Murals and sculpture are breathing new life into historic downtown Bonita Springs." The article appears on pages 22 through 24 of the magazine, which is published by TOTI Media, Inc. six times a year.
Written by arts advocate and Art Southwest Florida founder Tom Hall, the article describes how the City of Bonita Springs has embraced public art in a personal, grassroots sort of way. Like 35 other Florida municipalities and 13 counties, it has an ordinance that sets aside money for art every time it constructs a new building or conducts a major renovation. But recognizing that capital improvement projects aren't initiated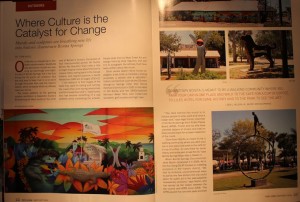 every year, the city also allocates a modest stipend for public art in its annual operating budget. And by forging unconventional relationships with public artists and business property owners, the town has been able to parlay those funds into a collection of sculpture and murals that inspires pride of ownership in residents and a sense of wonderment in first-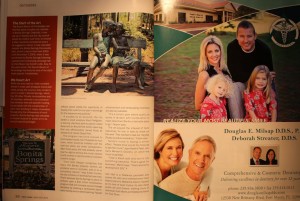 time and seasonal visitors. The Bonita & Estero piece introduces Southwest Florida residents and visitors to Bonita Springs' public art collection, and induces them to hop in their car or on their bike for a personal look at the pieces that border and dot picturesque Riverside Park on Old 41.
"Downtown Bonita is meant to be a walking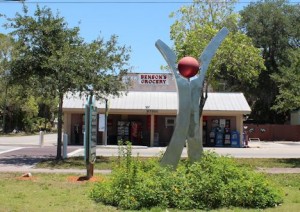 community where you park your car in one place and walk to the café for a cup of coffee, to Liles Hotel for some history, and to the park to see the art," Bonita Springs' Mayor Ben L. Nelson, Jr. explained when interviewed for the article. And those who make the trek will be treated to nearly a dozen exemplary artworks in close proximity to each other, including Away, a 12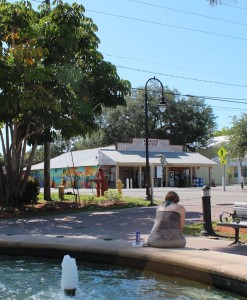 foot tall, 800 pound stainless steel sculpture just south of Liles Hotel, Lords of the Forest, an oft-overlooked figurative bronze sculpture situated in a field in the park to the northeast of the Liles Hotel, Setting the Pace (the Jane DeDecker artwork that is featured on the cover of the current edition of Bonita & Estero), The Ties That Bind, Secret Bench of Knowledge (the seminal acquisition in by Bonita Springs' public art program), Mi Pueblo Bonito on the side of Benson's Grocery (which is the first mural in the City of Bonita Springs new Art in the Sun Along Old 41 mural initiative), and fan favorite Rusty (The American Dog), an 8-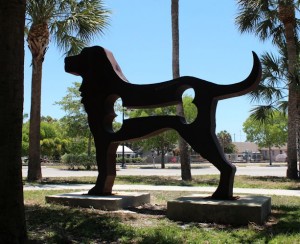 foot-tall by 10-foot long 500-pound Cor-Ten steel sculpture that resides today in Depot Park in historic downtown Bonita Springs thanks in large measure to a petition signed by area residents who objected when the City proposed to move the piece to a new dog park it is creating about a mile away.
To read more, pick up a copy of Bonita & Estero Magazine and read the full story.