Rusty, The American Dog
American Dog is a 8-foot-tall by 10-foot long 500-pound Cor-Ten steel sculpture that resides today in Depot Park in historic downtown Bonita Springs. Local residents have affectionately named the sculpture Rusty because of his rust-colored patina. "He was supposed to go into the City's new dog park," notes Bonita Springs City Councilwoman Janet Martin, "but the residents out there [who have come to regard him as a member of the community] have insisted that he stay in Depot Park." Their collective feeling demonstrates the power of public art when it comes to place making and engendering community identity and civic pride.
How It Became Part of Bonita Springs' Public Art Collection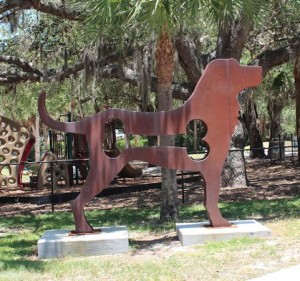 On April 13, 2013, the City of Bonita Springs celebrated its 14th birthday. It marked the occasion in Riverside Park in downtown Bonita with Celebrate Bonita!, a festival that featured live music by Academy of Country Music's 2012 Vocal Duo of the Year and 2013 CMA New Artist of the Year Thompson Square ("Are You Gonna Kiss Me or Not," "If I Didn't Have You"), children's activities, a chili cook-off, the "Chalk Where You Walk" art competition and the Big Dog sculpture show.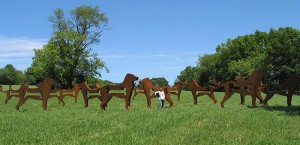 The Big Dog Show is a travelling large-scale public art exhibition created by award-winning Massachusetts sculptor Dale Rogers. In 2013, it consisted of 15 metal 8-foot-tall by 10-foot long Cor-Ten steel metal dog sculptures. By 2013, Roger was well familiar with Bonita Springs. Not only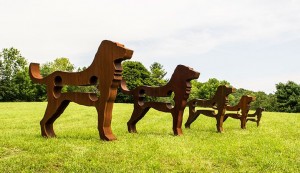 had he participated in several Bonita Springs National Art Festivals, in 2010 he leased the City Away, the 12-foot-tall, 800-pound, stainless steel sculpture that is located in Riverside Park, just south of Liles Hotel. Bonita Springs purchased it outright a year later.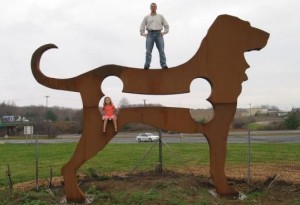 "I created this travelling exhibit in 2009 because I strongly believe that public exposure to art is a critical component to the health of our communities," Rogers explains. "Art is a catalyst for thought, conversation and connection. Public Art goes even further by becoming a part of the community; something available for everyone. I built the exhibit for a New England tour which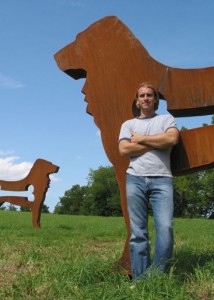 travelled through six cities in three states. After seeing its success, I made the exhibit available to be rented out by corporations, individuals or non-profits as a way to raise awareness for their own organization or one they support. This temporary public art exhibit will enhance any community and is a proven crowd pleaser."
In early 2013, the Big Dog Show was on exhibit in Orlando. "We asked [Rogers] where the exhibit was going from there," said APPB Chair Nigel Fullick. "If it's going to be two or three months [before it travels somewhere else], why don't you store that exhibit in Bonita Springs?" Rogers, who was participating in Bonita Springs National Art Festival at the time, cut his normal exhibition fee in half, staged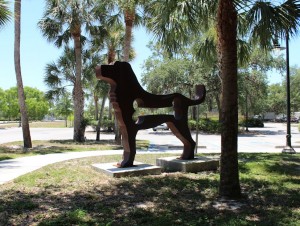 the show in Riverside Park from early March through April, and ended up selling the piece that is now in Depot Park to Bonita Springs for $2,000.
"The Big Dog Show was on exhibit when Hertz came to Southwest Florida in 2013 to conduct interviews," APPB Chair Nigel Fullick adds. "People were coming from everywhere, even out of state, to see the show, and when Hertz completed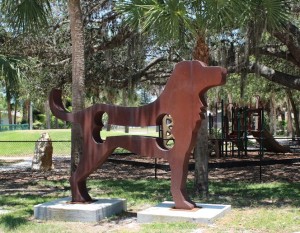 their interviews, the first thing their executives wanted to see was the Big Dog Show. Bonita became an area of interest [to them] because of the exhibit."
And today Depot Park remains an point of interest because of the presence of Rusty, Dale Rogers' American Dog.
Marley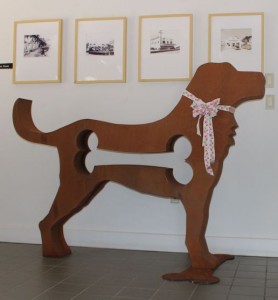 Dale Rogers donated a smaller version of American Dog to the City so that they could raffle it off in order to raise money for their public art program. The City hoped to sell 250 of the $100 raffle tickets, but sold all 500 instead.
Center for the Arts of Bonita Springs' members Steve and Connie McIntosh won the drawing. "He looked at her and she looked at him," recalls APPB Chair Nigel Fullick, "and without hesitating, they donated it on the spot to the city" for installation in the dog park that is planned for a site on the northeast corner of Matheson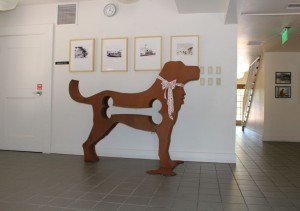 and E. Terry. "Steve said at the time that it just seemed like the right thing to do."
The McIntoshes named the dog Marley in honor of their first family dog, a German Shepard mix that was dumped near their house one night when he was just six weeks old. "'You can stay one night,' Connie sternly told the puppy at the time," Steve recounts with a chuckle. But the couple's two small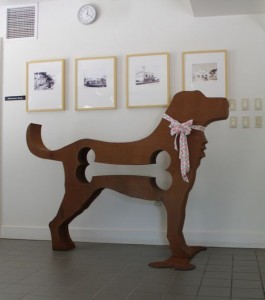 children had other ideas and gave their new pet an old family  name from their Scottish heritage, Marley. The kids were also familiar with the dog featured in Marley & Me: Life and Love with the World's Worst Dog, a 2005 New York Times bestselling autobiographical book by journalist John Grogan about the thirteen years he and his family spent with their yellow Labrador Retriever, Marley.
"The kids still refer to him 'as our dog' even though he's now passed," adds Steve.
At present, Marley is waiting patiently in the Liles Hotel for completion of the dog park. He still sports the paper mache' collar made for him by local schoolchildren during the Big Dog Show.
About Sculptor Dale Rogers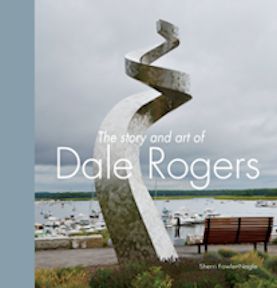 Dale Rogers is a Massachusetts metal sculptor whose career as a monumental artist spans more than a decade. Rogers works primarily with stainless Cor-Ten steel. "Stainless Steel is beautiful and versatile," Rogers remarks. "The surface of it can be done in many different finishes, with the variations adding dimension and depth." He favors Cor Ten because of its "long life/low maintenance" reputation. "It is what cities and the federal government use to make bridges out of. It oxidizes over time and then seals itself. It offers an organic and simple element to the sculptures while the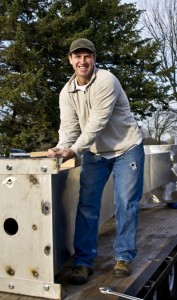 stainless steel brings in a little more pizzazz and punch."
Rogers' process takes at least six months from conception to completion. "When an idea comes to me I think about it for some time before moving to the next step," he confides. "I complete a sketch and then begin the process of transferring that idea to something that can be created with metal in my studio. I use 3-D software to perfect the image I want before breaking it apart into workable pieces to be laser cut."
Assembly requires TIG welding. Rogers became interested in welding long before he began creating monumental artworks when he taught himself to repair metal equipment on his family's farm. His interest in art started even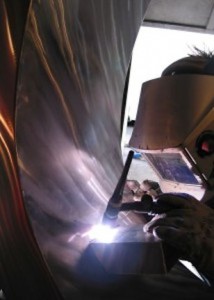 before that, when he was in school. "Art was always something I loved, but truthfully didn't think it was a career path that could support a family," say Rogers, echoing a sentiment voiced by the vast majority of his fellow artists. "It always struck me as a hobby, and having it make sense economically didn't seem feasible." That sensibility has informed his artworks, helping him maintain a companionable balance between his creative impulses with the economic realities of marketing, selling, and transporting large heavy metal sculptures.
"My love for art lies in abstract geometrics, and much of my body of work encompasses the clean simple properties of that style," the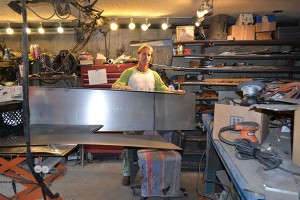 artist reveals. "Over the years, I have incorporated iconic and whimsical shapes into my sculptures that allow viewers to connect with my art on an emotional level. My public exhibits feature sculptures that do just this. I strive to create thought-provoking work that is sophisticated, easily recognized, and will serve as a mental postcard. I take pleasure in creating work that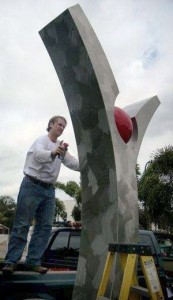 inspires the public to think about the world differently. I truly believe adding sculpture to the public landscape forever enhances the environment and the art serves as a reflection of the quality of the community."
In addition to Florida, Rogers has work in public art collections in California, Connecticut, Illinois, Indiana, Maryland, Massachusetts, Michigan, Minnesota, New Jersey, New Hampshire, North Carolina, Ohio, Pennsylvania, Texas, Utah, Vermont and Virginia, as well as Ontario, Canada. Within the state, Rogers' work can be found in Cape Coral, Coconut Creek, Delray Beach, Fort Lauderdale, Ocala, Orlando, Valrico and Winter Park. Over the past few years, Rogers has installed pieces on several academic and corporate campuses, including Southern New Hampshire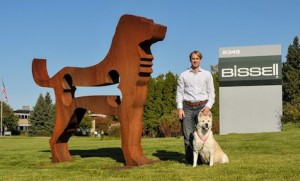 University, Northern MI College, Haverhill High School, Pingree High School, Idexx, NE Bio-Lab and Bissell Corporation. "I am honored that my large sculptures enhances many public spaces across the nation for visitors to enjoy and I hope to have a piece of public art in every state by 2015," Rogers states.
Following is a list of some of the awards Rogers' work has received over his career:
| | | |
| --- | --- | --- |
| Best Use of Urban Space Award | ArtPrize, Grand Rapids, MI | 2012 |
| First Place | Westport, CT Fine Art Show | 2008 |
| First Place | Old Saybrook, CT Fine Art Show | 2008 |
| Best of Show | Francisco's Farm Art Festival at Midway College, Midway, KY | 2008 |
| Best of Show | Promenade of Art, Arlington Heights IL | 2010 |
| Best of Show | Temple Beth El Art Show, St. Petersburg, FL | |
| Best Sculpture | Under the Oaks Art Show, Vero Beach, Fl, | 2007 |
| Best Sculpture | Under the Oaks Art Show, Vero Beach, Fl | 2008 |
| Best Sculpture | Art on the Square Art Show, Belleville, IL | 2007 |
| Best in Category | Westport Fine Art Show, Westport CT | 2009 |
| Best in Category | Chicago Botanic Garden Arts Festival, Glencoe, IL | |
| People's Choice | Paradise City Arts Festival, Marlborough, MA | 2007 |
| Award of Distinction | Bonita Springs Art Festival | 2009 |
| Award of Distinction | Bonita Springs Art Festival | 2010 |
| Award of Excellence | Winter Park Sidewalk Art Festival | 2011 |
| Sculpture in the City Award | Belleville, IL | 2008 |
| Merit Award | Port Clinton Art Festival, IL | 2008 |
| Artist of the Year | North Shore Animal League Rescue America | 2009 |
| Artist of the Month | Haverhill, MA | 2007 |
A Note About Cor-ten Steel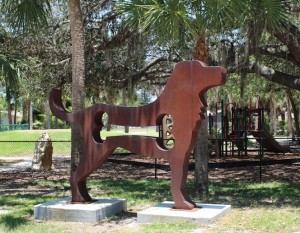 Cor-ten is the trade name given to a group of steel alloys developed to eliminate the need for painting. When exposed to the elements for several years, corten forms a protective layer that has a stable, rust-like appearance  but which actually resists further corrosion. For that reason, corten (sometimes called weathering steel) is popularly used in exterior building facades and outdoor sculptures such as the large Chicago Picasso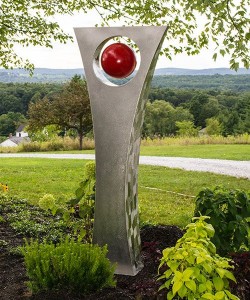 Sculpture.
It is important to note that weathering steel is not rustproof in itself. If water is allowed to accumulate in pockets on or around it, cor-ten will experience continued corrosion. Weathering steel is also sensitive to environments that have a lot of salt in the air. In such places, the protective patina can fail to stabilize, leading to catastrophic corrosion. That is what happened to the former Omni Coliseum built in 1972 in Atlanta, which never stopped rusting and had to be demolished just 25 years after construction when large holes appeared in the structure.
Adding Color to Artworks through Fused Glass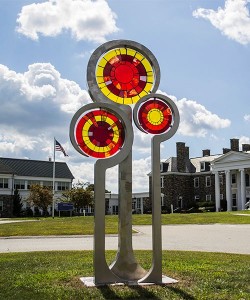 In an effort to infuse his work with more color, Rogers has begun designing, fabricating and installing fused glass into his sculpture, converting a very small storage closet into an efficient, fully functioning glass studio. Through continuing trial and error over the course of 2014 and 2015, Dale and his studio staff have gained a depth of experience and knowledge. "I am happy to say that the glass has added the color and enrichment I was hoping for," states the artist in his studio blog, where he also outlines the 6-step process they employ. "Stay tuned to see what is next," Dale tantalizes.
Fast Facts.