Outfit No. 10 – stormy gray gown parallels turbulent times facing Casey and Jo
Backstory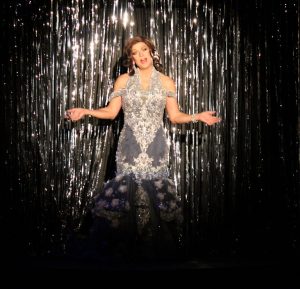 One of the songs on the playlist that Clayton Brown provided to "The Legend of Georgia McBride" director Brett Marston for the evening gown number in Act Two was Linda Eder's "Why Do People Fall in Love." She made her Broadway debut in the musical Jekyll & Hyde, originating the role of Lucy, for which she was nominated for the Drama Desk Award. Eder has performed in concert halls across the country including Carnegie Hall and Radio City Musical Hall. She has 17 solo albums to her credit.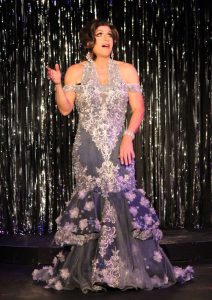 "So I gave Brett this song choice within the evening gown category [along with "Over and Over" from First Wives Club and the theme song from the movie Caspar." Although Director Brett Marston chose "Over and Over" for the evening gown number, he loved Eder's "Why Do People Fall in Love" so much that he built a whole scene around it.
The Outfit
"I knew it was strategically coming right after Casey and Jo have their fight. "Why Do People Fall in Love" is the song that underscores their relationship.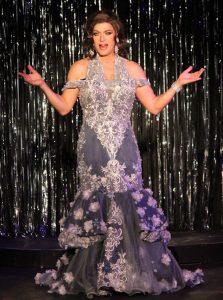 So I thought it has to be an evening gown number and there has to be this stormy grey, shadowy blue color with no sequins because it's not about the performance, but to underscore their fight. Plus, the dress suits the lighting."
It's the only song in the show where there's just a spotlight and no parameter lights.
How He Made It
"I bought a bunch of silk flowers and chopped them off and dusted the whole outfit with Swarovski crystals," Clay relates. "If there was ever a gown I wanted to be breathtaking, it's that one."
Brown resolved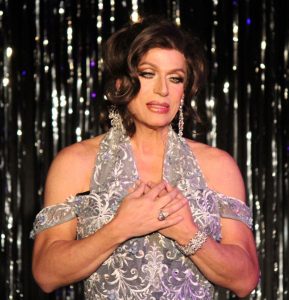 from the outset that each time the audience sees Miss Tracy, she'll have a different look, and that's true with this outfit, as well. For the "Why Do People Fall in Love" number, she's a brunette. It's the first and only time she appears with that hair color.
Clay found the wig in an online bridal site. He took it to a friend who's a hairdresser to style.
"Carol's done a lot of wigs for TNP, and I had her style the wig. She was so lovely to help me out. She did a beautiful job styling it."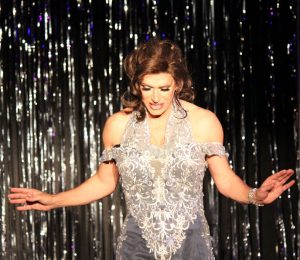 At the end of the song, Miss Tracy turns around to reveal all these intricate braids.
"It's a little hard to see because the hair color is so dark, but Carol styled in all these braids in the back. I put some combs and picks to brings out the braids. They're a work of art in themselves."
Because the song is so poignant at that point in the storyline, Clay has actually found himself tearing up as he's lip syncing.
"But I refuse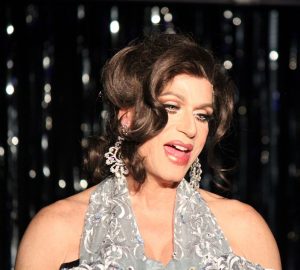 to indulge myself because there's no time to repair my make-up."
But the audience has no such restrictions and is free to shed as many tears as they'd like.
June 25, 2019.
RELATED POSTS.