Outfit No. 11 – and it's the bathrobe that's outrageous!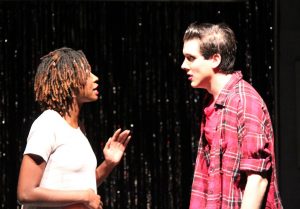 After his fight with Jo, Casey comes to his friend and mentor's place for advice and some consoling. The scene contemplates that Miss Tracy's alter ego, Bobby, is out of his make-up and in a plain tan bathrobe and pajama bottoms. One problem. Since it takes Clay Brown two full hours to apply the make-up that creates Miss Tracy Mills, it's not possible for him to strip it all off and get back into make-up to complete the show.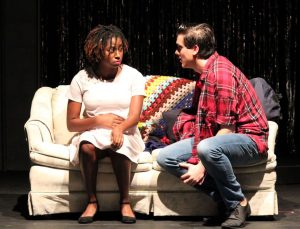 "Keep in mind, it's not merely removing lipstick and then painting it back on again," Clay patiently points out. "I'm actually using the lipstick too contour a whole feminine mouth for Tracy. If I remove the lipstick, I have to re-cover the whole mustache area. Then I'm drawing a new mouth, shading it in, and applying lipstick. It takes precious minutes I just don't have."
But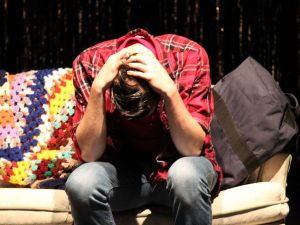 this is one of the most important scenes in the play, and Bobby is a bit pissed at Casey because he's fucked up his life by not being honest with either his wife or himself.
"To keep the audience from seeing that I'm still wearing all of my make-up, I stay out of the direct lights as much as possible," Clay reveals. "And in that scene I'm talking in my own, lower voice, because she doesn't care about the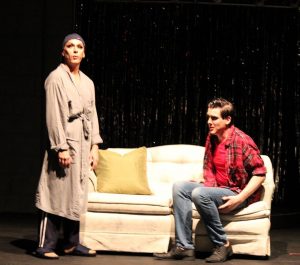 affectation anymore. So you see Bobby in whatever a guy would wear when at home."
June 25, 2019.
RELATED POSTS.