Outfit No. 6 – rehearsal outfit worthy of Judy Garland reference
Backstory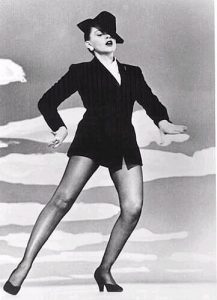 The inspiration for this costume and scene came from a still picture that Director Brett Marston had of two drag queens at one of their rehearsals. They had on their heels, but none of their stage make up. Going without make-up was simply not an option. "With two hours needed for prep, there was no way to take it off and then put it back on during the show," notes Clay Brown, who portrays Miss Tracy Mills in the show. But Clay liked the photo for another reason.
"When you think of drag, so many performers do Barbra Streisand and Judy Garland," Clay explains. Marston's photo reminded Clay of a famous shot of Judy Garland wearing a man's suit jacket, black tights, a jaunty top hat and black heels from the 1950 MGM musical Summer Stock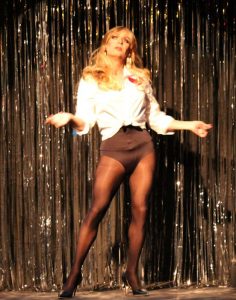 in which she starred with Gene Kelly. One of her most charming films, Summer Stock features her iconic performance of "Get Happy.
"So I thought I'd like to reference a little Judy Garland," continues Clay. "Nothing's more drag queen than Judy Garland."
In fact, there are no less than three reasons why it's a' propos for Brown to reference Judy Garland in The Legend of Georgia McBride.
First, Garland has long been considered a gay icon because her personal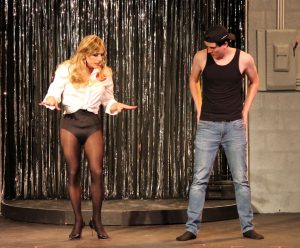 struggles during the height of her fame have been seen by gay men as mirroring their own travails in trying to fit into America society.
Secondly, Garland has been called "the Elvis of homosexuals" and, of course, the King is a dominant and recurring theme in The Legend of Georgia Brown.
But finally and perhaps most poignantly, June 22 marks the 50th anniversary of Garland's untimely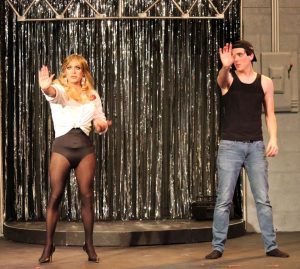 death at the age of 47.
And then there's Garland's alleged connection to the Stonewall riots, which took place following the actress' funeral on June 27, 1969. While Garland's death did not spark the riots, many of the patrons in the Stonewall Inn that night had come from Garland's very emotional funeral earlier in the day to drink and mourn. And as the bar was a bottle club at which patrons were required to sign in, Judy Garland or "a friend of Dorothy" was a pseudonym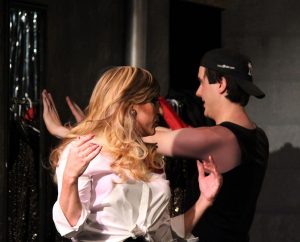 many of the patrons used that night. The Garland/Stonewall connection has been fictionalized in the Nigel Finch feature film about the events leading up to the riots. Lead character Bostonia is shown watching Garland's funeral on television and later refusing to silence a jukebox playing a Garland song during a police raid, declaring "Judy stays."
The Outfit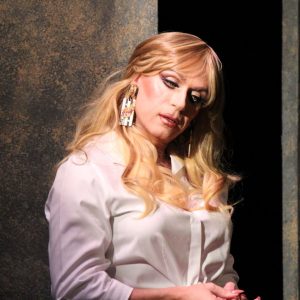 Clay didn't want to merely replicate what Judy Garland wore in Summer Stock. "I wanted to update it." The outfit consists of a white blouse tied at the waist over black tights with black pumps trimmed in gold.
Clay figured he could just pick up the blouse in the women's section of any clothing store, but he couldn't find anything that fit properly. "So I ended up in a St. Matthew's House and told the sales person there I'm in this show and need a 12, 14, 16 blouse that I can alter but something that could be tied at the waist.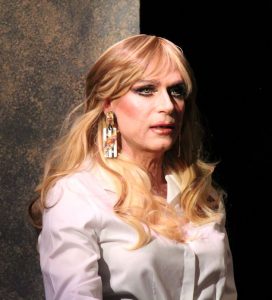 And they had just the thing."
To update it, he found a sequined iron on fabric, cut it in the shape of a heart and added it just above his left breast "she has to have some sequin, she's a drag queen after all."
The decision to wear black tights was perhaps his most courageous fashion decision in the entire show because he's fully exposed. "I was concerned whether the pelvic area was going to be flat enough because that's unforgiving. If there is any protrusion when you turn to the side, you've shattered the illusion. The tuck has to be good."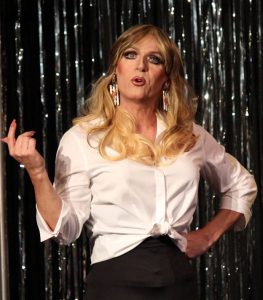 It was.
"And since she's at rehearsal, I wanted her to have this long hair."
Originally, Clay was supposed to be dancing on the runway portion of the stage, but for time constraints Director Brett Marson backed it up, which was fine with Clay. "The less time I'm having to dance in heels, the better for me and the better for the audience because there's less chance of me falling down."
The Judy Garland homage represents Clay's last scene in Act One. All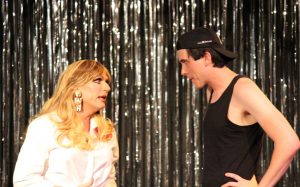 totaled, he wore six outfits and did five costume changes, wit the shortest being just 35 seconds long!
June 23, 2019.
RELATED POSTS.