Outfit No. 7 – channeling Daryl Hannah, Diana Ross and Bob Mackie
Backstory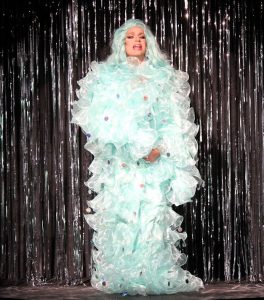 The outfit that gets the most hype in Lab Theater's production of The Legend of Georgia McBride is the mermaid-siren outfit that Miss Tracy Mills wears to open Act Two. And the song that director Brett Marston and Miss Tracy actor Clayton Brown chose for this scene is, appropriately, Pink's "Let's Get This Party Started." Except the version to which Miss Tracy lip syncs is not performed by Pink, but rather by Dame Shirley Veronica Bassey.
Bassey is a Welch singer whose career started in the mid-1950s. Hers is the powerful voice moviegoers hear during the opening credits in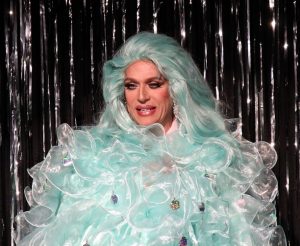 the James Bond films Goldfinger, Diamonds Are Forever and Moonraker. In 2006, British department store Marks & Spencer commissioned Bassey to cover Pink's tune "Get this Party Started" for a Bond-themed Christmas commercial, and that led to a new album, Get the Party Started, which was released in the U.K. on June 25, 2007.
"My partner Rob found the song long before I ever thought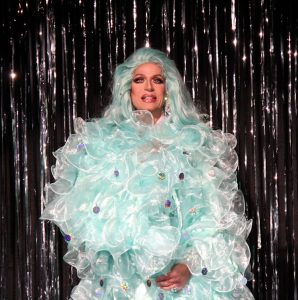 about doing Georgia McBride," Clay recounts, "and when I heard it I thought that would be a great drag number. I loved [Bassey's] version of it. You couldn't get two more different singers who you'd never associate with each other – Shirley Bassey is singing a Pink song? I couldn't even picture how that would go."
So he filed away the song in the back of his mind and when Marston gave him the green light about choosing the music and doing his own costumes, Clay knew he had to use that number if they could fit it in.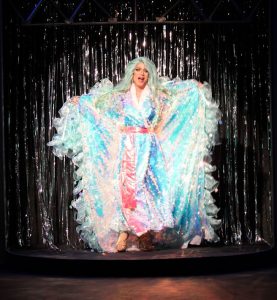 "I gave Brett all of the songs I thought would work," Clay continues. Bassey's version of "Let's Get this Party Started was toward the top. "I gave him a variety of songs that I felt comfortable lip synching and moving to and I knew that Georgia would be doing all country music and I didn't want to do anything that was remotely like that."
Marston chose the song to not only open Act Two but a section of three performances that he refers "the drag performance section" of the play. And Marston included the songs that didn't make it into the show on the playlist that the audience hears before the start of the show and at intermission.
The Outfit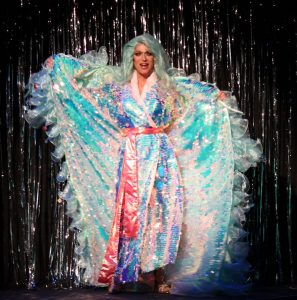 While Georgia McBride playwright Matthew Lopez gives each director the latitude to pick most of their own music for each production [Padam Padam is one of the few numbers the playwright mandates], his notes to the directors does state that the drag performance section of Act Two is "just as much a fashion show as a drag show."
As a general proposition, Clay chose the music first for each of his lip sync numbers and then costumed the songs within the parameters of what the character can do and the time constraints associated with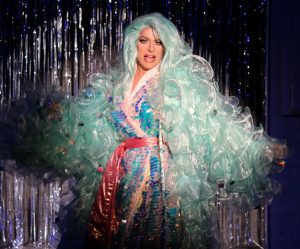 attendant costume changes.
"I approached the costumes the same way I do my paintings – I wanted color, contrast, creativity. But notice that comfort did not make this short list. "Comfort was never a consideration."
From the time he was a youngster, Clay has been enthralled with the mythology of mermaids, mermen and underwater tales. Daryl Hannah in Splash immediately came to mind. So he wanted to make a blue-green outfit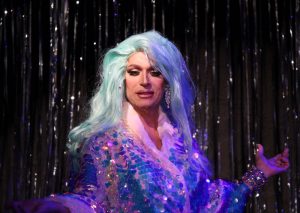 for the "Let's Get This Party Started" number that exploited this mermaid/underwater theme. But he also wanted to give props to Diana Ross, and that informs the fantastical, flamboyant duster he's wearing in the Act Two opening.
In 2017, Diana Ross received an American Music Awards Lifetime Achievement. The LGBTQ community has long considered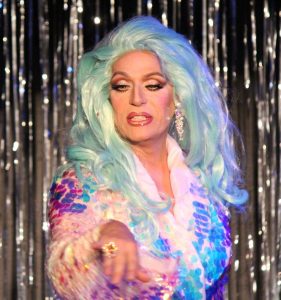 the legendary diva an OG gay icon for her dynamic personality and inspirational rise to the top. Her glitz and glamour attracted a gay following even when she was a member of the Supremes, and after she struck out on her own, she made her hair and outfits even bigger and more spectacular to reflect her diva attitude and stage presence. But it was RuPaul who made Ross' name synonymous with drag queen performers. In addition to being ahead of her time in her approval of gay marriage, Ross made groundbreaking appearances in Mahogany, inspired Dreamgrils and recorded "I'm Coming Out," which is widely recognized as the ultimate gay anthem.
How He Made It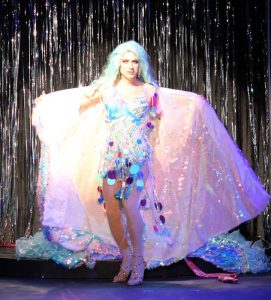 Clay found the material you see once the duster opens first. "All I could think of was how beautiful that would be when the spotlight hit it. I bought five yards of it, but didn't have a clue about what I was going to do with it."
Then he saw the aqua fabric for the duster.
"That's an easy pattern because it's basically like a choir robe that I attached rows of ruffles to in straight lines," Clay explains. "Since I had enough material, I lined the duster with the dress material, kind of as a nod back to what I did with the '50s [pink polka dot] swing dress and jacket."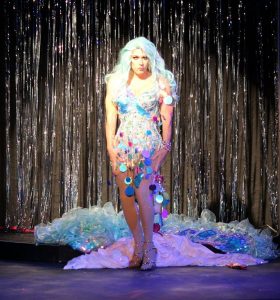 The dress is also robe-style because Clay has to be able to get out of it during the scene without losing his glued-on fingernails, which eliminated buttons and zippers. So, he used a tie instead.
"It not only looks glitzy when the spotlight hits it, I could get out of it for the third [part of the outfit], which is the costume I enjoyed working on most."
That's the scimpy little number with the wonderful big iridescent paillettes. "The third dress is basically like making a nude swimsuit. And here I'm channeling my inner Bob Mackie," Clay observes.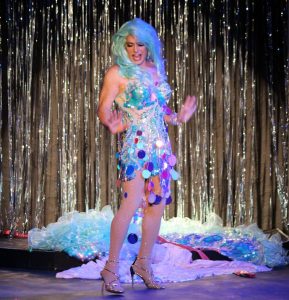 Born March 24, 1939, Robert Gordon Mackie is an American fashion designer and costumer best known for his dressing entertainment icons such as Diana Ross, Judy Garland, Marlene Dietrich, Liza Minnelli, Tina Turner, Cher, Joan Rivers, Ru Paul, Barbara Eden, Bette Midler, Elton John, Ann-Margret, Marie Osmond, Lola Falana and Mitzi Gaynor. He was the costume designer for Carol Burnett on The Carol Burnett Show during its entire 11-year run and designed the costumes for its spinoff, Mama's Family, and for the 1993 television adaptation of Gypsy.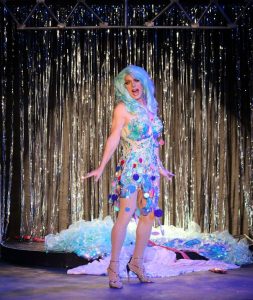 "This was the first time I used large paillettes. I couldn't find large sequins anymore. The sequins that were available were only as big as the material, but I wanted bigger than that. So I made my own paillettes out of iridescent mylar. What they're used for in the art department, I have no idea, but they come with a sticky back. So I fabricated my own."
Astonishingly, Clay did not view each of the outfits he made in a full-length mirror prior to the show, with one exception – the Bob Mackie dress. "That's the one dress I tried on in Tracy's body and I remember thinking, 'damn, that doesn't look too shabby!'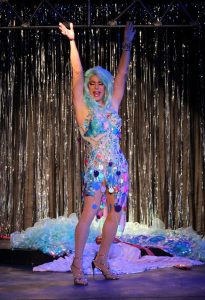 Not too shabby indeed!
June 24, 2019.
RELATED POSTS.