'POTUS' play dates, times and ticket information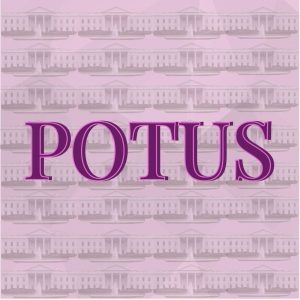 Play:  POTUS: Or, Behind Every Great Dumbass Are Seven Women Trying to Keep Him Alive
Playwright: Selina Fillinger
Genres:  Comedy, Political Satire
Synopsis:  When one four-letter word creates a public relations nightmare during international nuclear talks, the seven women orbiting the president will risk everything to keep the Commander in Chief out of trouble. Zany and hilarious, POTUS will have you rolling in the aisles only because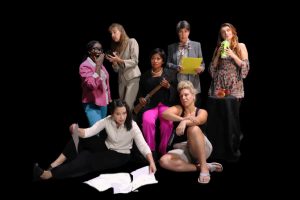 it isn't true… yet.
What The Critics Say:  "…amid the lunacy and laughter [it] also has some important things to say about women, power, and the lack of proper rewards for hard work and even harder-won achievement." The Daily Beast
Director: Heather Johnson
Cast:
Loyse Michel: Chris, a famous journalist who is trying to sniff out a story that will eclipse the likes of Bob Woodward and Matt Drudge
Stacy Stauffer: Jean, POTUS' often-in-the-dark press secretary
Celene Evans:  Margaret, POTUS' savvy First Lady called upon to countenance philandering husband that the country can never meet
Nancy Antonio:  Harriet, POTUS' ultra competent Chief of Staff
Gabrielle Lansden: Dusty, a gorgeous young farm girl who's come to the White House to make an announcement that's likely to give everyone a bad case of agita, if not worse
Sharon Isern:  Stephanie, POTUS' hapless secretary who frets endlessly about job security and not just because of her boss' flagging poll numbers
Allison Lund: Bernadette, POTUS' sister who not only has designs on one of the other women, but fully intends to resume her drug-dealing days now that she's freshly out of prison
Play Dates and Times: POTUS runs August 4-2o, with performances at:
8:00 p.m. on August 4, 5, 10, 11, 12, 17, 18 and 19; and
2:00 p.m. on August 6, 13 & 20
Tickets: Tickets may be purchased here: https://www.brownpapertickets.com/event/5754115
Special Events:
Half-Price Preview:  August 2 & 3 at 8:00 p.m.
Teen Night: On August 5 at 8:00 p.m. teens get a free ticket to the performance and a meet-and-greet with the cast (reservations required)
Sensory Friendly Performance:  August 17 at 8:00 p.m.
Place:  Laboratory Theater of Florida, 1638 Woodford Ave, Fort Myers, FL
July 24, 2023.