Stacy Stauffer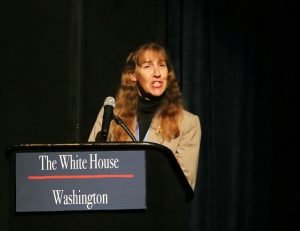 Stacy Stauffer is a talented character actor who lives and performs in Fort Myers. She appears in the role of Sally for The Belle Theatre in Drinking Habits. 
Her previous stage credits include the President's press secretary for Lab Theater in POTUS, Or Behind Every Great Dumbass Are Seven Women Trying to Keep Him Alive, Cinderella's stepmother in Into the Woods at New Phoenix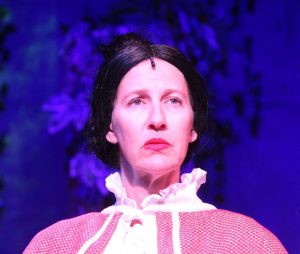 Theatre, Logan for Lab Theater in The Thanksgiving Play, Renee in Odd Couple: Female Version for Belle Theatre, Marjorie Taub in Charles Busch's The Tale of the Allergist's Wife for New Phoenix Theatre (2022), Hall in Men on Boats for the Alliance for the Arts, Sarah Goodwin in New Phoenix Theatre's production of Time Stands Still, Sheila in Joe Simonelli's The Ghost in the Meadow (Cultural Park Theatre), Lab Theater's world premiere production of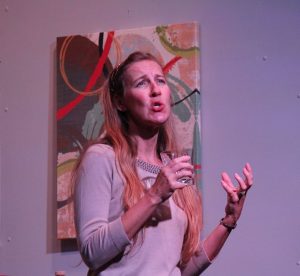 Zalman Velvel's DMV (various roles, including the mayor), Bessie in Marvin's Room, and The Musical Comedy Murders of the 1940s, Sarah Ruhl's Stage Kiss and Laura Lorusso's Scrooge TV: A Modern Christmas Carol, Hannah in "This Flight Tonight" and Cate in "A Traditional Wedding" in Standing on Ceremony: The Gay Marriage Plays.
Stacy also appeared in Rumors, the Vagina Monologues, Bye Bye Birdie and The Dixie Swim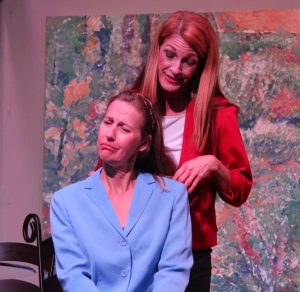 Club.
Stacy also hones her skills doing staged readings (such as The 48th Parallel) and participating in Lab Theater's 24-Hour Playwriting Challenge (she was in the cast of Candice Sanzari's 2018 Critics' Choice winner, "Thanksgiving is for Nutters") and 24-Hour Screenwriting Project (she was a time traveler by the name of Charlene in Doug Winings' short film Toast on 10 in 2021.
September 15, 2019; revised September 21, 2023.