Actors, artists, filmmakers and events in the news April 1-7, 2020
Grouped under headings that include art openings, film, outdoor art fairs and festivals and theater are advances, announcements and articles about the actors, artists, filmmakers and events making news in Southwest Florida this week:
1     ART & ARTISTS
Due to the COVID-19 outbreak, all of Southwest Florida's museums, galleries and art centers are closed to the public. Notwithstanding, some of these organizations have produced virtual shows and you can also read here about some of the artists who would have been featured but for stay-at-home orders and recommendations issued by the White House, Centers for Disease Control & Prevention and Governor Ron DeSantis.
FGCU Digital Media Design students creating visual identity for Naples Design District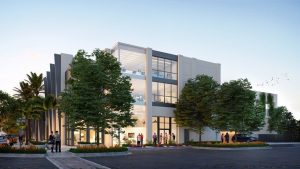 The newly formed Naples Design District has tasked FGCU's Digital Media Design students with a design challenge. Select students will create a visual identity for the new district that will be expressed in the form of on-street lamp post banners advertising the area to visitors in Naples. The winning design will be chosen by a selection committee this summer.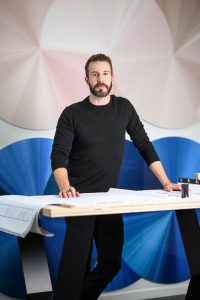 Once a design is selected, the banners will go up in the district celebrating the diverse range of businesses, galleries and creative communities comprising the Naples Design District.
The students competing in the challenge are Skyanna Billman (junior, DMD), Kaitlin Connor (senior, DMD), Aracelly Peralta (senior, DMD), Alyx Gonzalez (junior, DMD) and Jazmin Gonzalez Vera (junior, DMD). They and their professor, Mike Salmond (Art), met with Chad Jensen, director of Method and Concept gallery, in late February to tour the district and get a sense of what the committee is looking for in making a visual statement for the new district.
The project is similar to last year's design challenge, in which students created a visual identity for the multi-million dollar centerpiece of the Naples Design District, The Collective building.
_______________________________________________________________
Fifth Avenue's Shaw Gallery featuring romantic figures of Anna Razumouskaya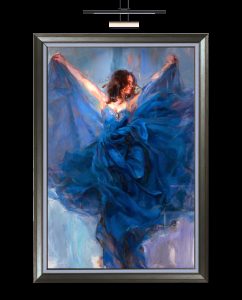 Shaw Gallery of Fine Art is digitally featuring work by Anna Razumouskaya, a Russian artist residing in Canada who is best known for classic, romantic figures that carry a sense of elegance and grace.
"They carry an aura associated with the Renaissance and yet, due to her signature powerful and dynamic technique, they are refreshingly modern," states Shaw Gallery's bio for the artist. "Anna's eclectic mix of experiences has enabled her to create a truly unique signature style that resonates with those who share her passion for life. She is a great believer in art's power to heal, transform and inspire others in their journey."
Razumouskaya is a graduate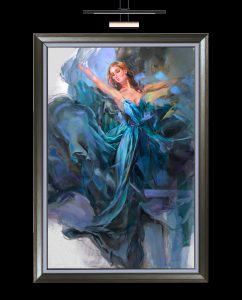 of the Russian State University for Arts, where she got the distinction award of high-class artist in 1991. She subsequently studied art in Germany, Belgium and Holland. With solo exhibitions in New York, Toronto, Paris, Amsterdam, Antwerp and Berlin and numerous works in private collections across the globe, she has become one of the most exciting and collectible artists on the contemporary scene.
Born at the height of the cold war, Anna has seen two very different worlds, that of the austere communist regime alongside the sophistication and femininity of her fashion-conscious mother. She excelled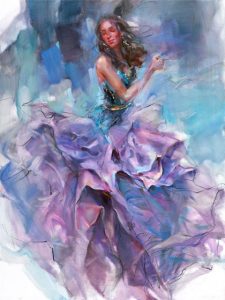 at art school, and enjoyed the freedom of learning and perfecting her technique in a variety of different media. Of particular interest to her were the portrait masters of the late 19th Century, such as John Singer Sargent, the Russian painter Valentin Serov, and earlier masters including Peter Paul Rubens and Rembrandt. She traveled around Europe absorbing the influences of artists, and finally settled in Canada which she now feels to be her real home.
"Looking at Anna Razumouskaya's art, you always get a feeling of artist soul tension behind the painting," Shaw Gallery's bio expounds. "'Romanticism' is the word to describe Anna's works…interlacing of quiet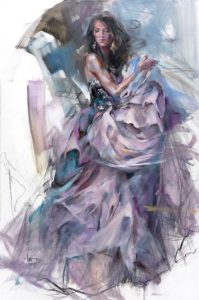 tones with the bright color impact at the end is the trademark of the artist… abstract elements is the significant aspect of every artwork and, in combination with the sensual dynamics, creates an unforgettable experience for the viewer."
Shaw Gallery of Fine Art has been serving Southwest Florida for 31 years. Although its brick-and-mortar location on Fifth Avenue South is only open by appointment during the COVID-19 outbreak, it's online gallery is open 24/7. The Gallery represents more than 40 prominent artists whose work will enhance any collection.
For more on this artist or to view Shaw Gallery's virtual exhibition, go here. Please direct any inquiries to 239-261-7828.
___________________________________________
Sheldon Fine Art providing virtual visit to Naples Pier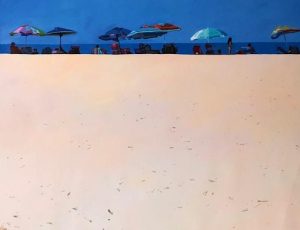 Sheldon Fine Art on Naples Fifth Avenue South is currently featuring beach scenes rendered by German artist Henri Lepetit.
The New England coastline fuels Henri's unabated passion for painting. His bold brushstrokes and thick creamy impasto tackle the delightfully sparkling colors and brightness of light without hesitation. He knows where he is going and how to achieve the end result.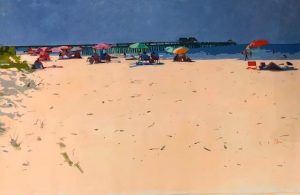 Always aware of the privilege to be able to afford contemplating at will the atmosphere of a setting, Henri strives to adapt his palette to ever-arising new challenges.
It was while sojourning in Provence that Henri's passion for visual art transformed from a paying hobby into full professional status. Since that time, he has steadily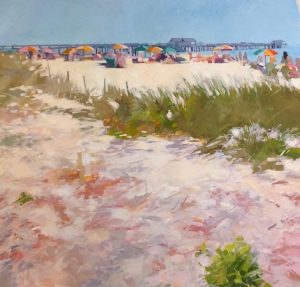 and successfully built a wide and eager collector base throughout the world.
Lepetit's oeuvre is informed by his extensive travels, which began when, at the age of 12, he began to accompany his father on scientific assignments throughout the African continent, the Middle East, and later the entire length of South America. While today Henri's calls Germany home, he's made several visits to Southwest Florida and his motifs include our beaches and the Naples Pier.
So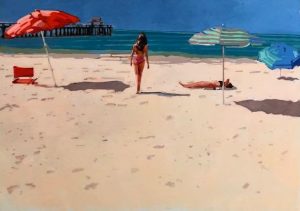 during this period when our beaches remain closed in order to protect everyone from community spread of the COVID-19 virus, you can still visit them virtually by visiting Sheldon Fine Art's online gallery. Please direct inquiries to the gallery by email at sheldonfinearts@aol.com or by calling 239-649-6255.
____________________________________________________________
Arsenault Gallery offers digital show of new work by Amy Moglia Heuerman
Arsenault Gallery had planned a pop up show of Horizons, new work by Amy Moglia Heuerman.
"Amy's new work gives us hope and reminds us that better days are just beyond the horizon," states Paul Arsenault. "We hope you enjoy her new paintings, share them with friends, and continue to support the arts.
You may view Amy's work on the gallery's website.
Please call the gallery at 239-263-1214 if you are interested in any of Amy's work.
_______________________
2       Outdoor Art Fairs and Festivals
During the pendency of the COVID-19 outbreak, all outdoor art fairs and festivals, including Fort Myers Art Walk, have been cancelled.
_______________________
3.      FILM
No film festivals were scheduled in Southwest Florida for the week of April 1-7, 2020.
Postponement of Fort Myers Beach International Film Festival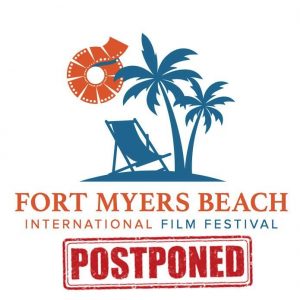 The Fort Myers Beach International Film Festival was scheduled to take place April 21-26, 2020. However, the Fort Myers Beach Town Council has passed emergency orders (1) recommending that everyone remain at home and on their property unless they need to access essential services and then adhere to social distancing and (2) instructing all hotels, motels, timeshares and other public lodging establishments (as defined in section 509.013(4)(a) of the Florida Statutes) to cancel all existing reservations, not extend existing stays and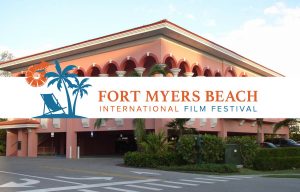 not accept new guests or reservations for the next 90 days (through June 29, 2020). In light of this action and following the recommendations from the Governor's office and Florida Department of Health, The Fort Myers Beach International Film Festival has announced its postponement until a July or September date, "which will be announced shortly."
_________________________________
Postponement of Fort Myers Film Festival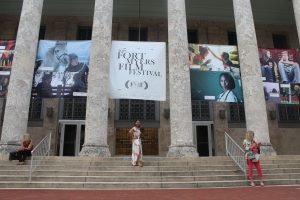 Similarly, the Fort Myers Film Festival scheduled for May 6-10 has been postponed. FMff Executive Director Eric Raddatz has announced that the film festival will be rescheduled when it is safe.
Check back for future announcements.
__________________________________________________________
Filmmaker Evgeniya Radilova bringing new award-winning short to FMff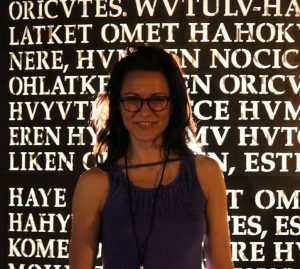 Filmmaker Evgeniya Radilova made her Fort Myers Film Festival debut last year with Patrik, a short film that was accepted into 18 other film festivals, receiving 9 awards along the way including Best Narrative Short at the Olympus Film Festival, Best Comedy at the 2019 Florence Film Awards, Best Original Story and a Best Actor for Patrik Baldauff at the 2019 Cannes Global Short Film Awards (which recognizes excellence in short films under 15 minutes in length written and produced by both amateur and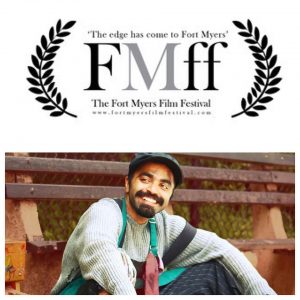 professional filmmakers from around the world) along with an Honorable Mention for Radilova by the Top Shorts Film Festival. She returns for the 10th anniversary of the Fort Myers Film Festival with another award-winning short titled El Cavil.
Go here for the rest of this advance on El Cavil.
________________________________________
Spotlight on 'El Cavil' filmmaker Evgeniya Radilova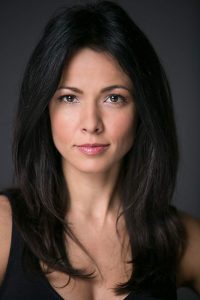 Evgeniya Radilova is an actor, producer, director, model, fire twirler and international woman of mystery.
She hails from Bulgaria, where Evgeniya became one of the best known faces on screen and the stage. A descendant of four generations of artists (her mom was an actor, her father a director), she became the youngest actress to play on the professional stage.
Shortly after graduating from the National School for Music (where she learned piano), she hosted Masters of the TV, one of the biggest television shows on Bulgarian National TV. She hosted the show for three years.
Go here for the remainder of this profile.
_________________________________________________________
'Her Place' garners awards and praise as 'one of best short films in years'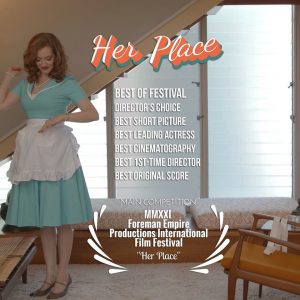 Last year, Kathryn Parks and Mark Palmer brought 50 Words to Southwest Florida. The 28-minute film was an official selection of the Fort Myers Beach International Film Festival and was selected by the Bonita Springs International Film Festival as Best Florida Film in the Adult Category. This year Parks returns with another indie film that's already garnering all kinds of awards.
Her Place turns the idea of a 1950s instructional video (which taught how to throw the perfect party or cook the perfect Thanksgiving Day turkey) on its head and explores the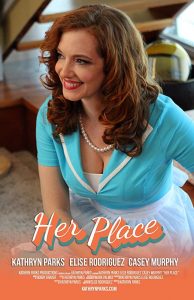 irony in 1950's nostalgia compared to today's modern world.
"I wanted to address how far women have come since the 1950s when there were many expectations to be the perfect wife/woman/mother," explains Parks, who wrote, directed and co-produced the 5:12 short. "Her Place brings a female voice into discussions that are often dominated by men and aims to redefine traditional roles in society and in the home."
Joining Parks in the project is Elise Rodriguez, who served as co-producer, assistant director and co-star.
Go here for the rest of this  story.
_______________________________________
Spotlight on 'Her Place' filmmaker Kathryn Parks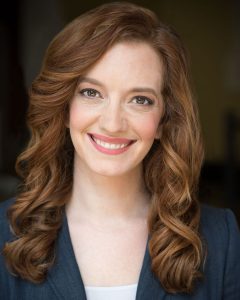 Kathryn Parks has established herself as one of Sarasota's most recognizable leading ladies. A singer, actor and dancer, she is a regular in the region's musical theater scene. She has starred in productions My Fair Lady, Carousel and The King and I, receiving acclaim for her portrayal of Eliza Doolittle, Julie Jordan, and Anna Leonowens respectively. She has appeared on numerous stages including the Florida Studio Theatre, American Stage, the Players Theatre, Venice Theatre, Manatee Performing Arts Center, Asolo Rep and with the St. Petersburg Opera Company.
Go here for the rest of this profile.
_____________________________________________
Kathryn Parks making lemonade from COVID-19 lemons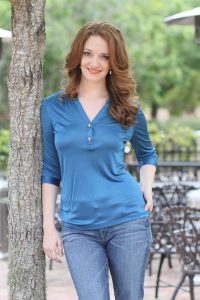 Kathryn Parks prides herself on being indefatigable. She spent the final two months of 2019 filming, editing, producing and submitting Her Place to film festivals around the country.
2020 saw her in another run of When X Meets Y at Florida Studio Theatre Improv, playing the part of Lola in Damn Yankees at Manatee Performing Arts Center, promoting the musical on ABC7's Suncoast View, and playing an ex-beauty queen and mother in Southwest Florida Films' Kung Fu Pink (Cynthia Mallick directing).
She was in her second week of rehearsals for a new musical for a premiere West Coast theatre company when the COVID-19 pandemic struck.
_______________________
4      THEATER
Due to the COVID-19 outbreak, all of Southwest Florida's theaters are closed. But the need to create and perform goes on. Read here about the efforts being made by area theater companies and thespians to reach out and entertain. Also reproduced here are past interviews conducted with local actors that you may have previously missed or wish to re-read.
Lab launches SoDis Theater with virtual reading of 'Realish Housewives of Fort Myers'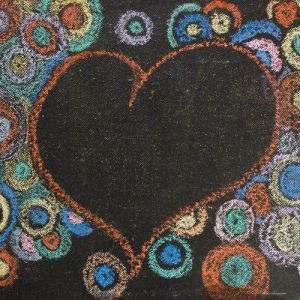 With theaters around the world dark except for their ghost lights to help curb the spread of the global pandemic, artists are anxious to resume performing. While the loss of at least three months of income is daunting, the loss of access to their craft is devastating. To fill this need, the Laboratory Theater of Florida's SoDis (socially-distant) Theater Project was born.
SoDis Theater consists of a series series of virtual staged readings. The first will take place at 7:00 p.m. tomorrow night (Tuesday, April 7), and will offer a reading of one of Season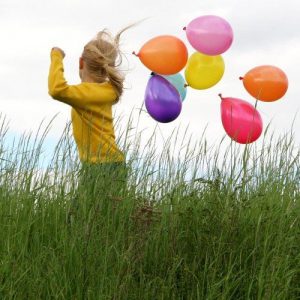 12's upcoming productions, The Realish Housewives of Fort Myers. In this comedy,  Chicago Second City alumni Tim Sniffen (Death of a Streetcar Named Virginia Woolf: A Parody) and Kate James take on the people and events of Fort Myers in a hilarious parody of the reality TV show that we all love to hate.
The video will be available on the theater's Facebook and YouTube pages. The performance is free, but the theater is gratefully accepting donations on its website: www.laboratorytheaterflorida.com.
_________________________________________________________________
And these are the actors who'll be bringing the 'Realish Housewives' to life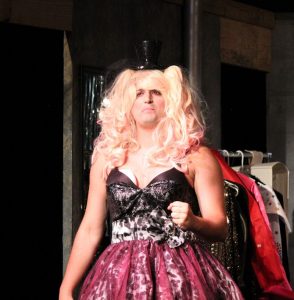 Tomorrow night (Tuesday, April 7), The Lab's SoDis Theater will be offering up on Facebook and YouTube a reading of Tim Sniffen and Kate James' hilarious comedy, The Realish Housewives of Fort Myers. And included in the cast are (alphabetically):
TJ Albertson is Guy. Last seen in How to Transcend a Happy Marriage, Lab's inveterate bad boy – seen as Timmy in Hand to God and the remorseless Soldier in Andorra is perhaps more in his element as chippyAnorexia Nervosa in The Legend of Georgia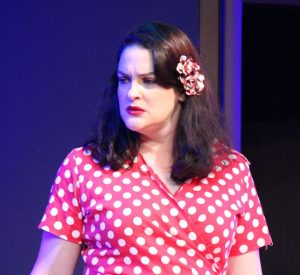 McBride. Go here for TJ's full resume and read here how's he's been navigating the pandemic.
Danielle Channell is Desiree. Last seen throwing shade and creepin' around as the devious Mae Flynn in Studio Players' Cat on a Hot Tin Roof, the Queen of Farce was deliciously convivial as trophy wife Kaitlyn Gordon, brainiac surgeon Angela Saperstein-Koplan and the dark and caustic Bohemian author Brianna in Let Nothing You Dismay.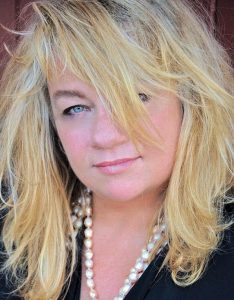 You'll be dismayed when you see her full profile or read more about her performance in Cat on a Hot Tin Roof.
Stephanie Davis is CL or ClaudiaLouise: A consummate actor, Stephanie Davis has appeared on a variety of Southwest Florida stages over the past 30 years. She has worked with Theatre Conspiracy at the Alliance, Laboratory Theater of Florida and Florida Repertory Theatre, where she also served as Associate Director when the company was first founded. But the most fun she's had recently is eating quiche with five lesbians on the Theatre Conspiracy stage. Her resume takes days to read, but you can access a synopsis here.
Heather
Johnson is Gwen:  Far from a plain Jane in How to Transcend a Happy Marriage, this dip spittin' (Hush Up Sweet Charlotte) soccer mom (The Wolves) has performed a time or two with TJ Albertson before (The Crucible, Every Christmas Story Ever Told), so tomorrow night should be a fun-filled virtual reunion! Go here for more on this Starkville, Mississippi transplant.
Rebecca Cintron Justice is Brooke: On the rebound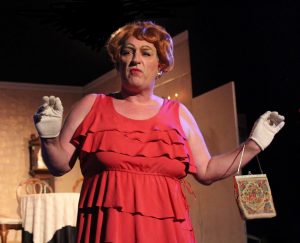 from being deprived of her In the Heights performance and Lab Theater debut, this Lehigh Senior High grad studied music at FSW and has been a singer for most of her life. Her brother, Miguel, is both her inspiration and biggest fan.
Randall Kenneth Jones is Randy: This gender-bender is best known to Lab audiences as femme fatale Cousin Miriam (Hush Up Sweet Charlotte) and Baby Jane Hudson (Whatever Happened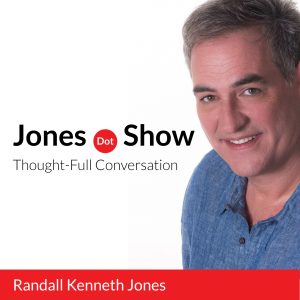 to Baby Jane: A Parody of the Horror). But there's nothing horrific about his popular podcast JONES.SHOW, which has already featured featured the Beekman Boys, Laura Benanti, Erin Brockovich, Sam Champion, Val Chmerkovskiy, Donald Duck, Judge Patricia DiMango, Sara Evans, Lisa Guerrero, Bob Orr, Dr. David Perlmutter, Faith Prince, Patricia Racette, Ginger Zee and Vanna White. But who's keeping track? If you are, go here to see Randy's full profile.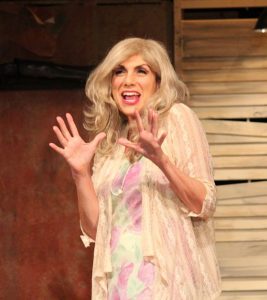 Sue Schaffel is Ravonka: When we last checked, Sue was portraying Blanche Dubois in another Tim Sniffen parody, Death of a Streetcar Named Virginia Woolf. But the role that really prepared Sue to play Ivanka Ravonka was playing Smack Daddy Donald Drump's wife in Darlyne Franklin's A Night at the Elks in last year's 24-Hour Playwriting Project. This Price is Right contestant also has ties to Randall Kenneth Jones, as both were in Hush Up Sweet Charlotte.
Madelaine Weymouth is Daughter: The doctor (Watson, I presume) is in tomorrow night when this Venus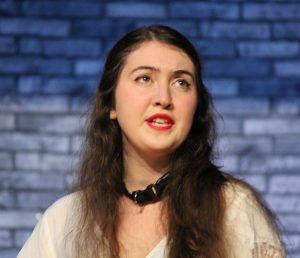 (in Fur) joins the cast (virtually) of The Realish Housewives of Fort Myers. If any of the gals need sex tips (for Straight Women), Maddy can certainly lend a hand (to God) while singing Carl Boberg's timely hymn "How Great Thou Art." Go here for Madelaine's profile.
The video of the virtual reading will be available on the theater's Facebook and YouTube pages. The performance is free, but the theater is gratefully accepting donations on its website: www.laboratorytheaterflorida.com.
__________________________________________________________________
SoDis Theater conducting virtual performance of Macbeth on April 14 with int'l cast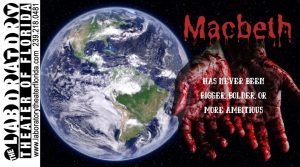 The Laboratory Theater of Florida will present a SoDis (socially-distant) virtual staged reading of William Shakespeare's Macbeth at 7:00 p.m. on Tuesday, April 14 that features a cast of Shakespearean-trained actors from Australia, the Netherlands, South Korea and the United Kingdom,
plus U.S. actors from New York, Maryland, Michigan, Puerto Rico and Florida. Many of the actors participating in the broadcast have performed on television, in film, on Broadway and the West End (London) and more.
With theaters around the world dark (except for their ghost light) to help curb the spread of the global pandemic, artists are anxious to get back to performing. While the loss of at least three months of income is daunting, the loss of availability to their craft is devastating. To fill this need, the SoDis (socially-distant) Theater Project was born. And the April 14 performance of Macbeth will be bigger, bolder, and more ambitious than ever.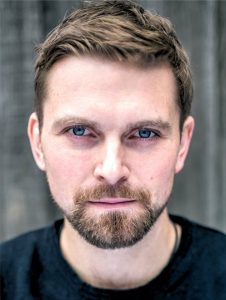 As you can imagine, the logistics of scheduling a reading like this were fairly herculean – dealing with international time-zones, balky internet bandwidth and unfamiliar technology. But the actors participating in the reading have embraced this project with enthusiasm.
You can view this SoDis performance on the Laboratory Theater of Florida's YouTube and Facebook pages at 7:00 p.m. on Tuesday, April 14. The performance is free, but the theater is gratefully accepting donations on www.laboratorytheaterflorida.com.
[Pictured are Christopher Sutton who plays Macbeth and Andrew Cullimore who is Malcolm.]
______________________________________________________
More on international SoDis Theater cast for Shakespeare's Macbeth
The international cast For SoDis Theater's upcoming virtual reading of Macbeth includes:
Socially Distant Macbeth – The Laboratory Theater of Florida

Producing Artistic Director

FL

Annette Trossbach

Director

FL

John McKerrow

Production Manager

FL

Margaret Cooley

Roles

Location

Actor

Duncan/Lord 3.6

FL

Patrick Ashton

Malcolm

Australia

Andrew Cullimore

Donalbain/Young Siward/Soldier 5.4

FL

Brandon Somers

Macbeth

NYC

Christopher Sutton

Lady Macbeth

NYC

Tamara Flanagan

Seyton/Messenger 1.5/Servant 3.1 and 2

FL

Kylie Campbell

Angus/Murderer 1

FL

Lauren Redeker Miller

Murderer 3/Armed Head

Puerto Rico

Dan Hernandez

Murderer 2/bloody captain/English doctor

FL

Chris Cooper

Scotch Doctor/Messenger 4.2

Melbourne

Adam T. Perkins

Gentlewoman/Crowned Child

South Korea

Neece McCoy

Porter/Servant 5.3

FL

Nykkie Rizley

Banquo/Old Siward

Netherlands

Adam Desforges

Macduff

LA

Jon Curry

Lady Macduff

FL

Mary Anne McKerrow

Young Macduff

FL

Maximus Bogert

Lennox/Lords 3.4

FL

Derek Lively

Ross

Melbourne

Syd Brisbane

Witch 1

London

Polly Sands

Witch 2

LA

Madeleine Curry

Witch 3

FL

Eren Sisk

An Old Woman/Hecate

Maryland

Louise Wigglesworth

Messenger 5.5/ Menteith/Caithness

Michigan

Seth Hart

Bloody Child/Fleance

LA

Olivia Curry
_________________________________________________________
The king, Derek Lively, performing virtually in SoDis Theater's 'Macbeth'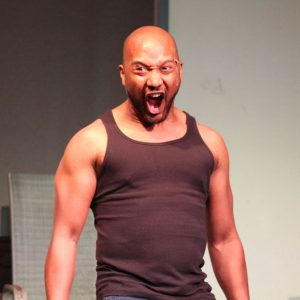 Derek Lively needs a break. After playing the King in Katori Hall's Mountaintop and a much different king in August Wilson's King Hedley II … not to mention Walter Lee Younger in Lorraine Hansberry's A Raisin in the Sun and Frederick Douglass in The Agitators, Derek feels the need to do a little Shakespeare. You can catch him next Tuesday at 7:00 p.m. in SoDis Theatre's virtual reading of Macbeth. And for more on Derek, go here … and you can access a terrific interview that Derek provided in May of 2018 here.
_____________________________________________________________
'Bout damn time, Rizley performing as Porter/Servant 5.3 in virtual Macbeth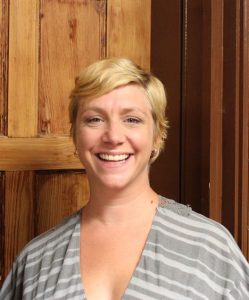 It's been 8 long years since Nykkie Rizley performed in a role, but that ends on Tuesday, April 14 when she joins a multi-national cast in SoDis Theater's virtual reading of Shakespeare's Macbeth. A founding member of Lab Theater, Rizley has confined herself to directing. She's been at the helm in Hand to God, Veronica's Room The House of Yes, One Flew Over the Cuckoo's Nest and – wait for it – Lab's cumfuddled Shakespearean classic Twelfth Night. Go here for more on the ineffable Ms. Rizley.
_______________________________________
Spotlight on 'Macbeth' fair-is-foul witch Eren Sisk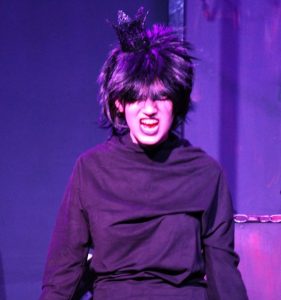 Laughin' and jokin' and feelin' alright, goin' downtown in the middle of the night, ZZ Top is bad and they nationwide, but they have nothing on Eren Sisk, who's going intercontinental in SoDis Theater's virtual presentation of Macbeth next Tuesday (April 14). She'll be Witch 3. "Double, double toil and trouble, fire burn and cauldron bubble," her fair-is-foul-and-foul-is-fair sisters are London-based Polly Sands and L.A.-based Madeleine Curry, and what they don't know is that Sisk has some training that suits her for wicked Wiccan witchuals – after all, she was a galactically cool phantom in Richard O'Brien's Rocky Horror Show (along with Lisa Kuchinski and Sage Meyers). Eren stays busy – go here to see what else she's been up to.
_________________________________________
Spotlight on 'Macbeth' actor Lauren Redeker Miller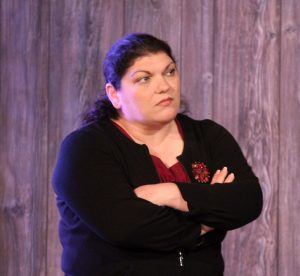 Lauren Redeker Miller is part of the cast for SoDis Theater's upcoming virtual reading of Macbeth. Lab Theater audiences will remember Lauren as Kit Kat Girl Texas in Brenda Kensler's blockbuster production of Cabaret in 2015. She is a seasoned stage performer, with appearances as Ann Putnam in The Crucible, Mazeppa in Gypsy, Sister Mary Hubert in Nunsense, and Henrietta in All Shook Up. She also performed with The Naples Players in Chicago (Matron Mama Morton), Les Miserables,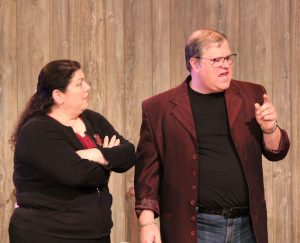 Little Shop of Horrors, Smokey Joe's Café and Disney's Beauty and the Beast. A Lehigh University grad, Lauren was also a member of the University Choir and the a capella group, The Overtones, with whom she toured Russia, Germany, Thailand and China.
Go here for the rest of Lauren's theatrical resume.
Louise Wigglesworth in intercontinental cast of SoDis Theater's 'Macbeth'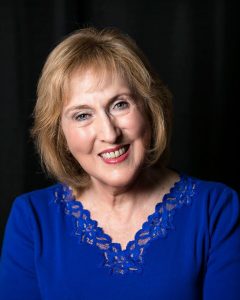 Louise Wigglesworth will be playing Hecate and an old woman in SoDis Theater's virtual reading of Macbeth on Tuesday, April 14. While she's graced the boards at Lab Theater, she's best known as a playwright. In fact, she's been writing plays since she was a child and teaching playwriting for three decades. Some of her productions include Real Art as part of Miami City Theatre Summer Shorts and Island Shorts, Real Art and Anywhere from Here by Manhattan Theatre of Light, Coercion by Playwrights Round Table, Seasonal Migrations at Foundation Theater. Her stage adaptation of Albert Camus' The Plague premiered at The Laboratory Theater of Florida.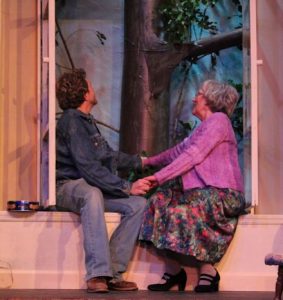 No Bad Dance, In The Shade Of Old Trees, After Life, and The Migrant House had readings at Theatre Conspiracy and The Laboratory Theater of Florida. One acts Second Movement, Anywhere From Here and Penumbra, along with Real Art and Lemon Twist, were winners in the Naples Players annual competitions. Louise's youth plays Seeing Red and In My Brother's Name have had productions in schools and children's theater groups. Louise is a member of The Dramatists Guild, Theatre Conspiracy Playwrights and Playwrights Round Table.
Louise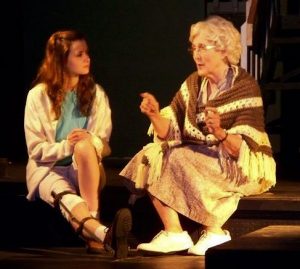 was last seen in Play On! Her other acting credits include Arthur Kopit's Wings, Alexandra in Eric Coble's Velocity of Autumn, Bernarda in The House of Bernarda Alba, Mary Winrod in The Rimers of Eldridge, Ethel Thayer in On Golden Pond, Mother in Women Beware of Women, Leda Largo in her own play, Final Stage, Mrs. Trotsky in Variations on The Death of Trotsky, Mrs. Gottleib in Dead Man's Cell Phone, Lucille in The Oldest Profession and Abby Brewster in Arsenic and Old Lace.
_________________________________________________________________
Thinking about that next role is helping TJ Albertson get through COVID-19 hiatus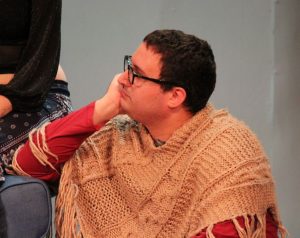 TJ Albertson is one of Southwest Florida's rising community theater stars. In the past two seasons, he has turned in outstanding performances as the priest in The Crucible, Anorexia Nervosa in The Legend of Georgia McBride, The Soldier in Andorra, Tyler Johnes in And the Winner Is … and bad boy Timmy in Hand to God.
But with all of the nation's theaters shuttered indefinitely, Albertson no longer has an outlet for his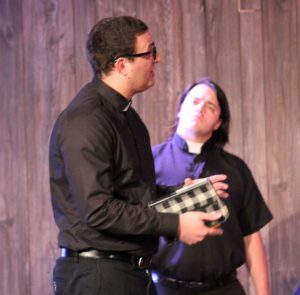 creative impulses.
"On the days I didn't have rehearsal, I didn't know what to do with myself," TJ concedes. "Now that [theater] has been taken away, it's an even greater loss."
Feeling adrift between roles may be disquieting, but it pales in comparison to the existential threat to the viability of local theater posed by COVID-19.
Go here for the rest of this interview.
________________________________________________________
For gregarious Gerri Benzing, life post-COVID-19 is a world of solitude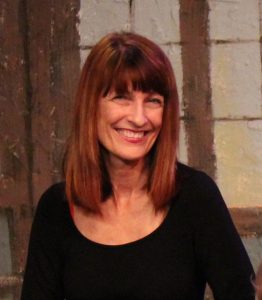 Slipping her key into the stage door, Gerri Benzing gives a short, silent sigh before slipping inside. The back of the theater is as quiet as a tomb. She scurries across the stage and begins the lonely walk up the stage right aisle, her only companion being the ghost light keeping vigil center stage.
It's not that Florida Rep is haunted. But theatrical superstition holds that every theater has a ghost. Locally, Lab Theater is reputed to have at least one. Just ask ghost hunter Lee Ehrlich, who found a lot of paranormal activity in certain spots of the nearly 100-year-old theater during a visit last May. On Broadway, the Palace Theatre supposedly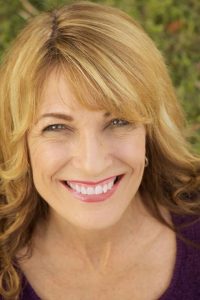 houses more than 100 ghosts, including a white-gowned cellist, an ill-fated acrobat and even Judy Garland. And the New Amsterdam is said to be inhabited by former Ziegfeld showgirl Olive Thomas.
So over time, theaters around the world have evolved traditions to appease and please their supernatural residents. For example, London's Palace Theatre keeps two seats bolted open in the balcony to provide seating for the theater's ghosts. New Amsterdam posts pictures of Olive Thomas at every entrance and exit.
You'll find the rest of Gerri's interview here.
_____________________________________________________________________
Post 'Full Monty,' actor Kristen Wilson finds new purpose sewing COVID-19 face masks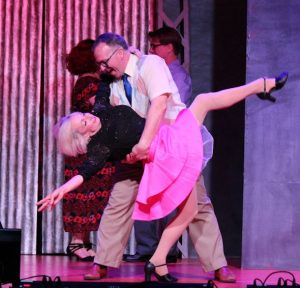 Kristen Wilson was performing in Terrence McNally's The Full Monty when the pandemic forced the early closure of the New Phoenix show.
"We literally found out that our show was closing early about an hour before the start of our 3:00 p.m. matinee."
That was on Sunday, March 14.
"We all gathered on stage and kind of cried it out. We called and let our family and friends know Full Monty was closing so that they could come. It was a special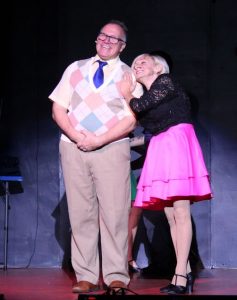 show."
To a person, the cast knew it was the right call. It would have been irresponsible, even unconscionable, to expose themselves and audiences to exposure – and all the people they would have gone on to unknowingly infect.
But that knowledge didn't blunt the heartbreak associated with being deprived of the opportunity to share McNally's uplifting story with four more enthusiastic, fun-loving audiences, to speak his words, sing David Yazbek's score, perform Brenda Kensler's carefully-wrought choreography.
You will find the rest of this interview here.
_________________________________________________________
Reacting to the loss of cherished American playwright Terrence McNally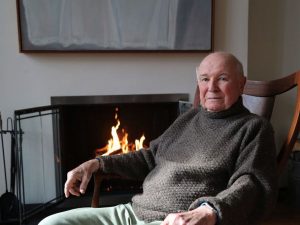 The Coronavirus has dealt a double blow to the cast of New Phoenix Theatre's production of The Full Monty. First, the theatre was constrained by the pandemic to cut the production short, eliminating the show's final four performances. Then COVID-19 claimed the life of 81-year-old Full Monty playwright Terrence McNally. A lung cancer survivor living with chronic COPD, the cherished American playwright died on Tuesday, March 24, at Sarasota Memorial Hospital.
Go here for the remainder of this story.
_______________________________________
Release of 'In the Heights' postponed indefinitely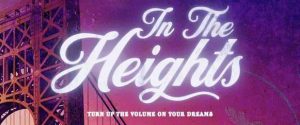 The film adaptation of In the Heights was scheduled to be released on June 26. But Warner Bros. has decided to postpone the release indefinitely.
The film was written by Quiara Alegría Hudes. Jon M. Chu (Crazy Rich Asians)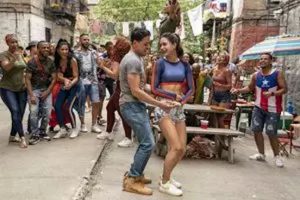 directed the movie-musical. Anthony Bregman, Mara Jacobs and Scott Sanders produced. The film stars Anthony Ramos as Usnavi, Melissa Barrera as Vanessa, Corey Hawkins as Benny, Leslie Grace as Nina, Olga Merediz as Abuela Claudia, Jimmy Smits as Kevin Rosario, Stephanie Beatriz as Carla, Dascha Polanco as Cuca, Marc Anthony as Sonny's Father, Noah Catala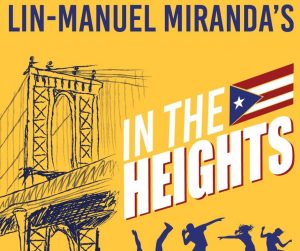 as Graffiti Pete, and Lin-Manuel Miranda as Piraguero.
With music & lyrics by Lin-Manuel Miranda and book by Quiara Alegría Hudes, the stage show on which the film is based opened on Broadway in March of 2008 and was nominated for 13 Tony Awards, winning four: Best Musical, Best Original Score, Best Choreography and Best Orchestrations. It won a Grammy Award for Best Musical Show Album and was also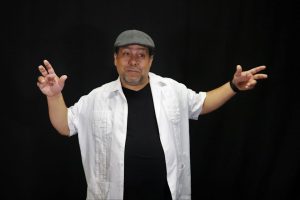 nominated for the 2009 Pulitzer Prize for Drama.
The musical was due to open at Lab Theater on March 27. Under the superb direction of Carmen Crussard and with choreography by the incomparable Lauren Perry, the cast featured Miguel Cintron as the Piragua Guy, Adrien Bermudez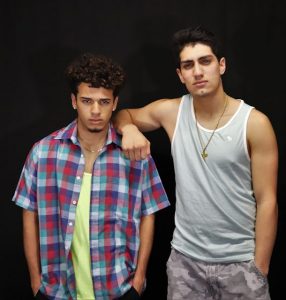 as Graffiti Pete, Gian Hernandez as Sonny, Chris Lewis as Usnavi, Ruthgena Augustin as Vanessa, Sam Bostic as Benny, Nydia Brown as Carla, Sharon Isern as Camila Rosario, Rebecca Cintron Justice as Abuella Claudia, Gil Perez as Kevin Rosario, Nilda Tojanci as Daniela, and an ensemble that includes Kathryn Book Emory Ambrosia, Brittani Chandler, William Nelson and Samantha Pudlin.
It remains to be seen whether Lab can negotiate the rights to produce the show at a later date, how many or the original cast will be able to participate in the rescheduled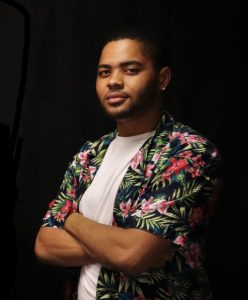 show, if any, or whether the local live musical can be brought to the stage before Warner Bros. releases the movie.
"We had the best summer of our lives filming #InTheHeightsMovie last year," said Lin-Manuel Miranda on Twitter following the announcement. "We couldn't wait to share it with you. But we're going to have to wait a little longer. With the uncertainty in our world right now, the release of In The Heights is being postponed."
Each of the members of Carmen Crussard's cast share this sentiment.
Check back for further developments.