In 'Cat on a Hot Tin Roof,' Danielle Channell reveals seriously devious side of Mae Flynn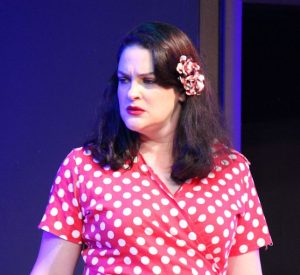 On stage through March 1 in the Joan Jenks Auditorium at Golden Gate Community Center is The Studio Players' production of Tennessee Williams' classic Cat on a Hot Tin Roof. In the role of Big Daddy and Big Mama's daughter-in-law Mae is Danielle Channell.
Channell is wonderful in the role, throwing shade and creeping around the stately southern mansion in which the play takes place. But be careful what you say, even when you're behind closed doors. The walls have ears. Or to be more
precise, Mae and her male mirror image, Gooper, take peek-hole spying to an MI6 level. In fact, word on the street is that Billie Eilish is revving up another sparse-sounding, lushly arranged piano-driven track just for these surreptitious world-class eavesdroppers who try to fool Big Daddy once, fool Big Mama twice, then watch her cry 'cause it's Big Daddy's time to die.
Because of the caliber of her work in comedies like Let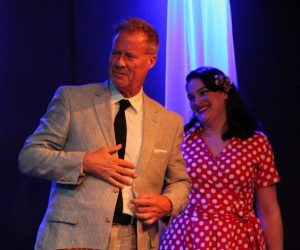 Nothing You Dismay, It's Only a Play and The Musical Comedy Murders of the 1940s, Channell has been dubbed the Queen of Farce. But she reveals a deviously serious/seriously devious side in her performance as Cotton Carnival Queen Mae Flynn, where it's her role to suck up to her mother and father-in-law, pull her husband's strings like he's one of Jeff Dunham's puppets, and clash with her sister-in-law, Maggie, in her ongoing and persistent effort to wrest control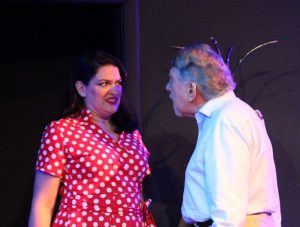 of the plantation and Big Daddy's vast fortune for Gooper, herself and their five – soon to be six – children.
At first blush, Mae and Gooper seem to be joined at the hip. Where you see one, you see the other. And at times, the couple appears to be so in sync with each other that Mae seems to complete her husband's sentences. But what emerges from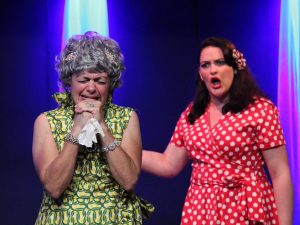 Channell's portrayal is the implication that she's impatiently reminding him what she's told him to say. Channell leaves no doubt that she's the alpha dog in their relationship. What's less clear is whether Gooper would have the gumption to fight for the plantation were it not for her overbearing presence.
Mae's sister-in-law came from poverty. Mae came from wealth.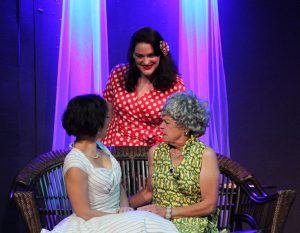 But her family lost their fortune and now Mae sees in Big Daddy's passing the opportunity to regain lost wealth and power on an even grander scale. But standing in her way even more than her husband's lack of a strong spine is Big Daddy's affection for Brick and Maggie. While Mae doesn't clash directly with Brick, she holds little back when it comes to her sister-in-law, and part of the fun of watching the show is witnessing the on-stage cat fights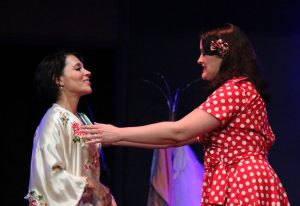 between Channell and Rachel Borwein as Maggie.
In her scenes with Borwein, Channell's coy. She's feisty. But she's at her absolute best when she taunts her childless rival via a treasure trove of mocking facial expressions intended to be seen by her and nobody else.
Channell is every bit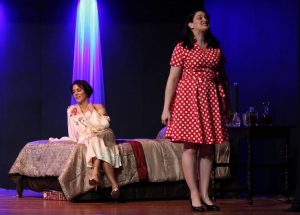 the meme master that Billie Eilish was at the Academy Awards, and her looks of condescension and exasperation rival those that the Grammy winner displayed in reacting to Maya Rudolph and Kristen Wiig's fun Best Production Design and Best Costume Design presentation that saw the comic tandem cycling through satirical numbers. In fact, Channell better watch out or her doppleganger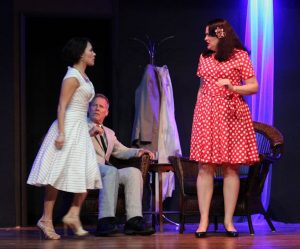 might show up in the audience at The Late Show with Stephen Colbert.
Cat on a Hot Tin Roof clearly called upon Channell to stretch as an actor, and with Mike Scanlan's sound direction she's responded well to the challenge. But check out her performance for yourself. Cat on a Hot Tin Roof runs through March 1 in the Joan Jenks Auditorium at Golden Gate Community Center. Follow the links below for play dates, times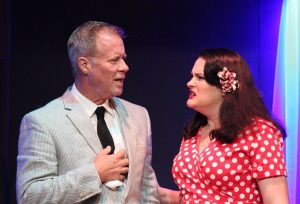 and ticket information.
February 14, 2020.
RELATED POSTS.