Rob Green's Sherlock conducts dance of the crazies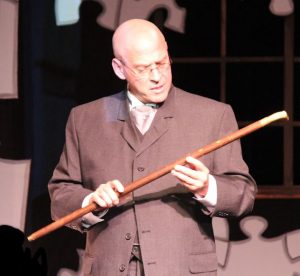 On stage for a final weekend (February 20-23) in the Foulds Theatre at the Alliance for the Arts is Ken Ludwig's Baskerville: A Sherlock Holmes Mystery. It's a farce, with Sherlock Holmes and Dr. John Watson playing the straight men to nearly 40 characters portrayed by just three audacious actors:  Thomas Marsh, Shelley Sanders and Jordan Wilson.
Rob Green plays Holmes, and right out of the box he's quick to point out that while his character might be a straight man, there's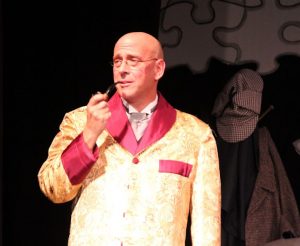 a wry wrinkle when it comes to his crime-solving buddy. The good doctor is actually played by Madelaine Weymouth.
"The other three actors also gender bend," says Rob during a recent interview. "Jordan plays Lucy. Shelley plays Cartwright. Tom plays the maid. They have multiple characters, multiple accents and multiple costumes."
Funny factoid,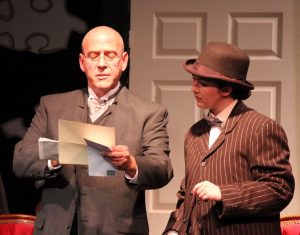 even Green's character has a feminine side. The name Sherlock, you see, is historically a girl's name.
Green was surprised when Director Rachael Endrizzi reached out to him to be in the show, and godsmacked when she cast him as the greatest sleuth known to fiction (C. Auguste Dupin and Hercule Poirot notwithstanding).
Not that Rob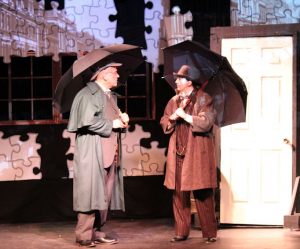 knew that first hand. He cops to having read neither Arthur Conan Doyle nor Hound of the Baskervilles prior to being cast in the role. But Sherlock Holmes' reputation precedes him. He's appeared in 226 films and has been played by dozens of actors since the advent of cinema in the late 19th century. In fact, only Dracula has been depicted in film more times than the great sleuth (at 239).
So it comes as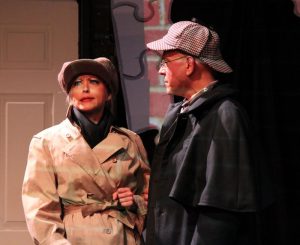 no surprise that Rob didn't really see himself in the role when Endrizzi dropped the bombshell that she wanted to cast him in the part.
But Green trusts her implicitly.
"She's the whole package – a musician, an actor and a director. She's talented, fun and she knows exactly what she wants. But she still gives you the latitude to make your character your own."
And she's a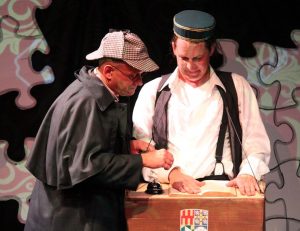 girl from his native Ohio, so she's a Buckeye as well.
"It's a huge compliment to be entrusted with a role you don't necessarily see yourself doing," Rob demurs. "And it inspires you to want to do the best job you're capable of doing to reward the confidence [a director like Rachael] has in casting you in such a coveted role."
Part of what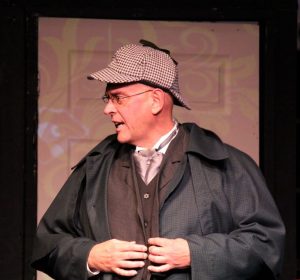 makes Sherlock Holmes so iconic is his legendary brilliance. But as he got deeper and deeper into the character, Green picked up on some of what motivates Holmes to tackle the cases that come his way.
"He's so smart that he needs the mental challenge and stimulation that comes from putting together the pieces of a crime-solving puzzle," Rob explains. The Theatre Conspiracy giant jigsaw puzzle set aptly underscores this aspect of Holmes' character.
"Without that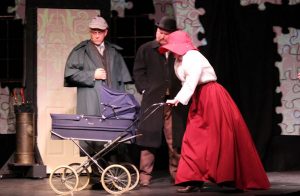 challenge, he'd easily get bored."
In settled Sherlock Holmes canon, the sleuth is renowned for his deductive reasoning.
"That's based on his superior powers of observation," Rob emphasizes. "He picks up on seemingly inconsequential things that no one else observes."
But in the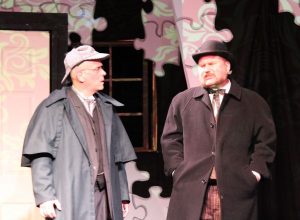 tradition of Sherlock Holmes' legendary penchant for accuracy, Holmes' intellectual process is actually abduction rather than deduction. Since he draws inferences from observation, on occasion the conclusions he draws are not necessarily true. And there are actually a few instances during the course of the play where Holmes is required to amend his postulations and theories as new information comes in.
But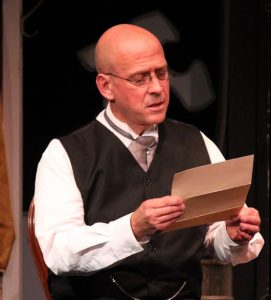 perhaps Green's chief challenge in playing Sherlock Holmes so believably lay not in convincing the audience of his character's brilliance, but staying in voice.
"He has such precise elocution of words, and the words he chooses express his vast intellect," says Rob, with a twinkle in his eyes.
"It's not merely a matter of perfecting a British accent. [Playwright Ken Ludwig's] semantics and phraseology fall somewhere between The Crown, Harry Potter and Downton Abbey. So there's a lot more involved than just getting the accent and the lines right."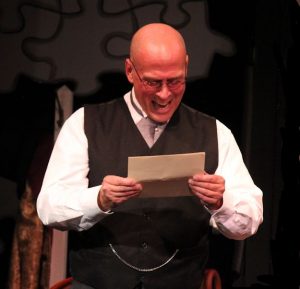 Something else emerged from Green's reading and re-reading of Ken Ludwig's spirited script.
"His sense of humor isn't like anyone else's," Rob reveals with a wry grin. "He's the kind of intellect who takes delight in an ill-written empirical equation."
He also likes to toy with Watson, proclaiming the health benefits of smoking just to get a rise out of the physician.
And then there's the scene where a comely nurse with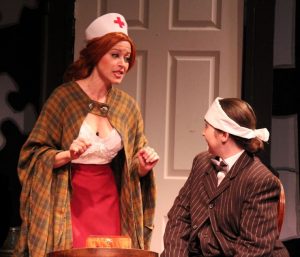 plunging décolleté is stroking Watson's hand after bandaging his conked head. Watson is enjoying the sensation so much that he closes his eyes. Holmes tiptoes behind him and takes the nurses place prompting quite the reaction when Watson eventually opens his peepers.
Rob returns to an earlier theme, in which he characterized his character as a straight man.
He's also like the conductor in a 3-ring circus or Christopher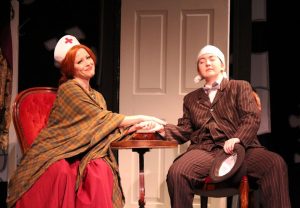 Hall orchestra.
"This play really involves a rhythm because there's so much going on and so many character and costume changes [being effected by Marsh, Sanders and Wilson]. In a way, Baskerville is like a complex dance." With Sherlock orchestrating the action and telling the audience what's happening."
Green's not wrong.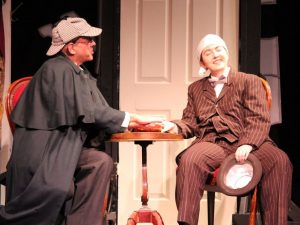 Marsh, Sanders and Wilson enter and exit with such abruptness that it's almost like watching a brisk game of Whac-a-Mole. In fact, area chiropractors and masseuse's should be on hand to give post-production adjustments or at least hand out coupons for treatment.
"The audience will get caught up in trying to solve the [opening scene murder], but the real fun is craziness unfolding on stage."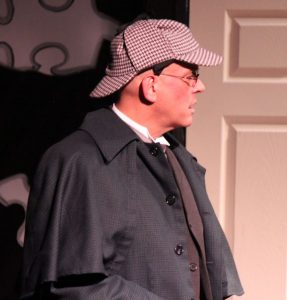 Baskerville closes next weekend with four performances – Thursday, Friday and Saturday at 7:30 and Sunday's 2:00 p.m. closing matinee.
February 15, 2020.
RELATED POSTS.
Five actors will play 45 characters in Theatre Conspiracy's 'Baskerville'