'Night in Shangri-Ooh-La-La' wins Critic's Choice and Audience Favorite in Lab's Playwriting Contest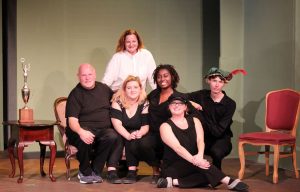 On November 23, Lab Theater hosted its 8th Annual 24-Hour Playwriting Contest. For the only the second time over that span, a single entry received both Critic's Choice and Audience Favorite honors. That distinction went to Aricka Shuck for A Night in Shangri-Ooh-La-La.
After heavily attended and critically acclaimed productions
of Hedwig and the Angry Inch and The Legend of Georgia McBride, it only made sense for The Lab to make burlesque the theme for this year's playwriting project. And as in Georgia McBride, A Night in Shangri-Ooh-La-La takes place backstage in the performers' dressing room, where the club owner/manager and a veteran drag performer are getting to know a young girl who wants to become part of the show.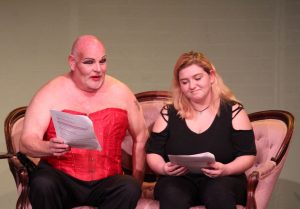 The young woman, tenderly played by Emmie Spiller, needs work. But not only does she lack experience, she doesn't have an act, a hook or any idea about what or how she'll perform. The drag queen, played to perfection by Brian Linthicum, seems intent on showing her the ropes. As it turns out, he has a reason. Not only does he relish the role of mentor, he's decided that it's time for him to retire and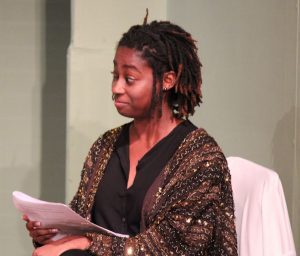 doesn't want to leave his friend, the club's owner/manager, in a lurch. Played by up-and-coming star Imani Lee Williams, the owner/manager is a sage soul looking out for her performers, including the upstart young girl looking for work.
The climax of this story occurs when the drag queen demonstrates some performance basics for the youngster, who displays an astonishing lack of aptitude
when she tries to emulate his moves. The denouement occurs moments later, when the club owner/manager confronts the young woman, who it turns out is a 16-year-old runaway with no place to live and no way to support herself. She and the drag queen then persuade her to call her mom and tell her she wants to come home.
"I loved the poignancy of this one," posted Stephanie Davis, who was one of the night's four judges. "There was some really great humor, but the sweetness of the story and the character's vulnerabilities got me in the end. To accomplish that in under 20 minutes, while incorporating all the required elements was a real feat of the playwright. The actors and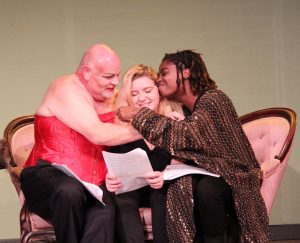 director really stepped up beautifully to honor the words."
Writing a play of any length in under 10 hours is a feat worth touting. But in Lab's pressure-cooker festival, the playwrights are also tasked with incorporating three sound cues, three required lines of dialogue and a handicap into their scripts – which cannot be shorter than 17 nor longer than 20 minutes when performed. Not only did Shuck
accomplish all of that, she gifted her director, Heather Johnson, actors and the audience with a plot, character arcs, crackling humor and believable dialogue.
What happens with the vast majority of 10-20 minute plays is that they end up being sketches that work toward a climax or punchline. There's nothing wrong with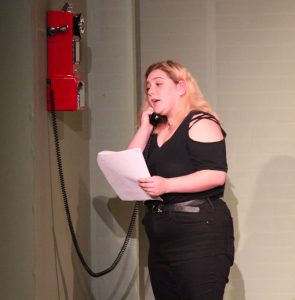 that, but Shuck produced a story with a satisfying arc that focused on poignant and timely themes that included runaways and sex trafficking in the tradition of Lab Theater productions such as Body & Sold and The Rauschenberg Project Play. On top of that, her characters possessed nuance and depth. The young girl was sweet, innocent and scared; the owner/manager had the wisdom and ethics of a senex like Obiwan or Yoda; and the retiring drag queen evoked memories of Miss Tracy Mills (albeit without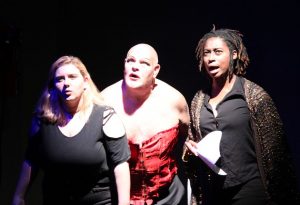 Clayton Brown's wonderful costumes).
With writing such as this, Aricka Shuck clearly has the talent and tools to produce sophisticated and polished projects that any theater would love to workshop, if not produce. She's also a force on the other side of the footlights. Go here to access all of her stage credits.
Congratulations to Shuck, Johnson, Linthicum, Williams and Spiller and all the other playwrights, directors and actors who participated in this year's 24-Hour Playwriting Project. There really are no losers in this annual event except, perhaps, those who aren't fortunate enough to get a seat to see the shows.
November 25, 2019.
RELATED POSTS.