Kayleigh O'Connell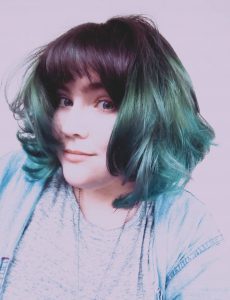 Kayleigh O'Connell has been working in theater for twenty years. Over that span, she had done everything from performing, stage management, set design and playwriting.
Her acting credits include George Bradley in Men on Boats, Vampire Lesbians of Sodom (Renee Vein/Tracy), The Intellectuals, Andorra (the Village Idiot),  Every Christmas Story Ever Told (multiple roles), the Musical Comedy Murders of the 1940s, Crimes of the Heart (condescending cousin Chick Boyle), Sordid Lives, Play On! (feather-dusting Marla Smitty Smith), the campy cult classic Whatever Happened to Baby Jane – a Parody of the Horror (Elvira), Anything Goes (Florida Rep), Thoroughly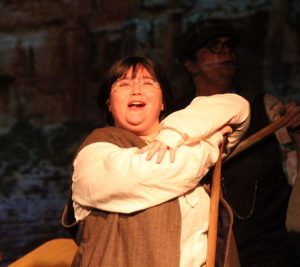 Modern Millie (Florida Rep) and Hairspray for North Fort Myers High School for the Performing Arts. She also appeared in the SoDis Theater virtual reading of Intellectuals during the COVID-19 pandemic and was a prickly pill-popping pixie in Thanksgiving Is for Nutters, which was Candice Sanzari's 2018 Critics' Choice winner in Lab Theater's 24-Hour Playwriting Challenge.
In Baby Jane, Kayleigh enjoyed many memorable show-stopping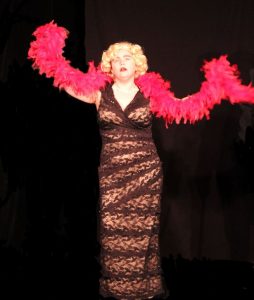 scenes. There was an early sequence, for example, in which Elvira arrives for work and proceeds to square off around the living room divan with Baby Jane Paso-Doble-style to the strains of the theme from The Good, The Bad and the Ugly. Even better, though, was the one in which she reacts rather strongly to some suggestive language Baby Jane writes on a manila envelope. It was not quite as suggestive as Meg Ryan's When Harry Met Sally fake orgasm scene, or as hysterical as Bernadette's fake laugh scene in "The Hesitation Ramification" episode of The Big Bang Theory, but it was in the same zip code. Priceless.
On the playwriting side,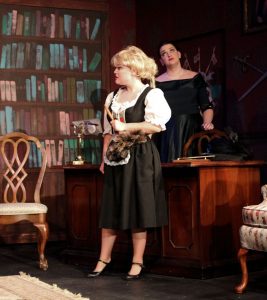 Kayleigh wrote (and appears in) Projekt Grotesquerie (which follows the Fasching tradition of Germany, in which caricatures of public personas can be presented with no fear of political retribution) and Storm in a Teacup, which was not only performed by Lab Theater but by the Center for Performing Art in Bonita Springs in November, 2021 as part of their staged reading series.
In 2019, Kayleigh took part in Lab Theater's 2019 24-Hour Playwriting Project. Her entry was titled Bagelesque. Directed by Misha Ritter Polomsky,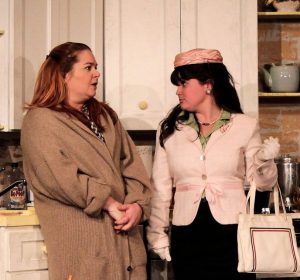 Bagelesque featured Liz Mora, Kinley Gomez and Dave Rode (whose character suffered from a twitch triggered by laughter).
"Storytelling is the thread that connects us with our past, ourselves and most vitally with each other," notes Kayleigh. "It is the first language we shared before mathematics and science. It is so crucial to honor the oral tradition and theater has allowed me to be a part of that legacy."
If you haven't yet seen Kayleigh O'Connell perform, you're in for a treat.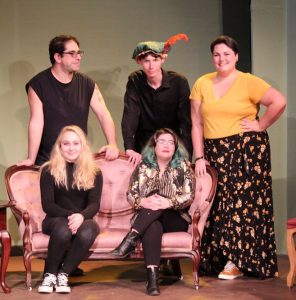 She is easy to spot. Look for a small bundle of energy that's big on attitude. That's Kayleigh O'Connell.
She next appears for the Alliance for the Arts in Men on Boats.
November 20, 2018; revised October 3, 2021.