Visual and Performing Artists and Events in the news January 1-7, 2023
This is who and what's creating news in Southwest Florida's visual and performing arts community this week:
1     ACTORS
Makayla Davis makes Lab Theater debut in role of Roberta in 'SISTAS'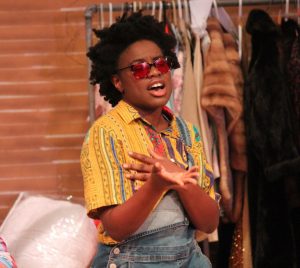 Makayla Davis makes her Lab Theater acting debut in the role of Roberta in the Southwest Florida premiere of SISTAS: the Musical. However, she is no stranger to the Lab, having worked as Assistant Director on Lab's production of Fairview. After putting on several shows at Florida Gulf Coast University, Makayla is graduating with a Bachelor's Degree in Theatre and is now spreading her wings include newer avenues of performance.
________________________________________________
Rosie DeLeon plays Lilly for Studio Players in 'Need to Know'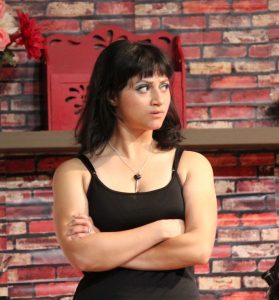 Rosie DeLeon will play Lilly for The Studio Players in Jonathan Caron's Need to Know, for which she also serves as its Assistant Director. DeLeon has appeared often on the boards at various Lee County venues. Her credits include the roles of Corrie Bratter for The Studio Players in Barefoot in the Park, P.B. in One Slight Hitch, Lauren in Circle Mirror Transformation, and Officer Pudney in Neil Simon's Rumors for New Phoenix Theatre. Go here to view all of her theatrical credits.
_____________________________________________________
Simone Farrell is Gloria in Dorothy Marcic's 'SISTAS: the Musical'
Simone Farrell plays Gloria in the Southwest Florida premiere of Dorothy Marcic's SISTAS: the Musical. Simone previously appeared at Lab Theater in the role of Jasmine, the assertive and outspoken sister of Beverly Frasier in Jackie Sibblies Drury's play Fairview. Simone discovered acting after taking a class in Orlando at The Maile School and became instantly drawn to the craft. Go here for the rest of Simone's profile.
___________________________________________
Debi Guthery to play Melissa Gardner in 'Love Letters'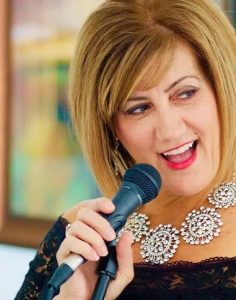 Debi Guthery will play the part of Melissa Gardner in Gold Theatricals' production of A.R. Gurney's Love Letters on February 17 in the Charlotte Performing Arts Center in Punta Gorda.
Debi Guthery has performed in national tours and regional theaters across the United States. She has played the title roles in Hello, Dolly!, Mame, The Drowsy Chaperone and Sylvia, for which she won a best actress award.
You can review all of the Ms. Guthery's theatrical credits here.
_____________________________________________
Julissa Jean-Bart is Tamika in Lab's 'SISTAS: the Musical'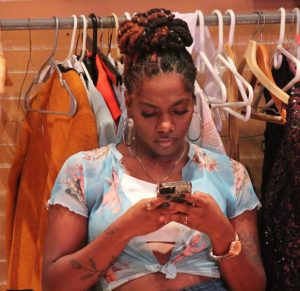 Julissa Jean-Bart sizzles in the role of high-spirited Tamika in Lab Theater's production of SISTAS: the Musical, on stage through January 15, 2023.  Lab Theater patrons are still talking about her portrayal of Nettie in Marsha Norman's The Color Purple, which marked her Lab Theater debut, and she's even more terrific in the role of the boy crazy teen who needs some R-E-S-P-E-C-T from her guy. Go here for Julissa's full profile.
________________________________________________________
Michael Nichols plays Andrew Ladd for Gold Theatricals' 'Love Letters'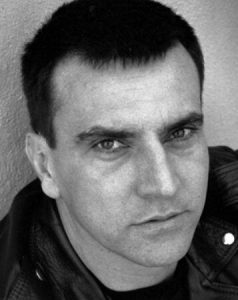 Michael Nichols plays the part of Andrew Makepeace Ladd III in Gold Theatricals' production of A.R. Gurney's Love Letters on February 17. Love Letters marks his Gold Theatricals debut.
Michael appeared on Broadway with Nathan Lane and Laurie Metcalf in the world premiere of David Mamet's November. He also appeared in Steppenwolf Theatre's Broadway production of One Flew Over the Cuckoo's Nest with Gary Sinise. Off-Broadway, he performed at The New Victory Theatre in Tom Sawyer and with The Pearl Theatre in Exit the King and Iphigenia at Aulis.
The rest of Michael's credits can be found here.
_____________________________
Myrtle October is Simone in 'SISTAS'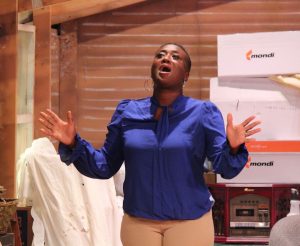 Myrtle October plays the part of Simone in Dorothy Marcic's SISTAS: the Musical. In addition to acting, she is a singer and author. In the latter capacity, Myrtle writes and publishes children's books. As a singer, she performs "whatever my soul conjures up with remnants of spoken word melodies in acoustic soul." The rest of this profile is here.
_______________________________________________
John Strealy plays Steven for Studio Players' 'Need to Know'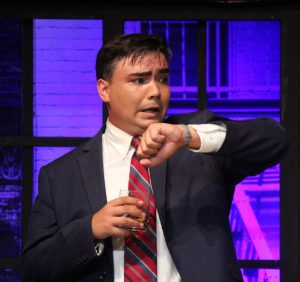 John D. Strealy appears for The Studio Players in the role of Steven in Jonathan Caron's Need to Know. John's credits include Yasmina Reza's Art, Paul Bratter for The Studio Players in Neil Simon's Barefoot in the Park, Ryan in Lewis Black's One Slight Hitch, Wayne Wellcare in Inspecting Carol for New Phoenix Theatre and klepto-director Sir Frank Finger in It's Only a Play, Jason Shelburne in Body & Sold and Malvolio in Shakespeare's Twelfth Night. Go here for more about John.
____________________________________
2      DIRECTORS & CHOREOGRAPHERS
Sonya McCarter directs 'SISTAS: the Musical' for Lab Theater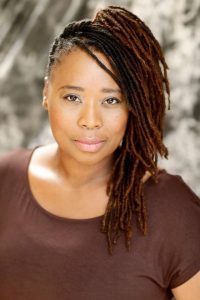 Sonya McCarter is an actor, director and instructor. She is presently directing the Southwest Florida premiere of Dorothy Marcic's SISTAS: the Musical for Lab Theater. Sonya's other directing credits include Fairview, The Color Purple, Lorraine Hansberry's A Raisin in the Sun, August Wilson's King Hedley II, Seven Guitars and Ma Rainey's Black Bottom, Lydia Diamond's The Bluest Eye and George C. Wolff's The Colored Museum. McCarter studied theater and the language of Shakespeare at Pensacola Christian College 1990-1995. She holds two Master's Degrees in Oral Interpretation of Speech and Theatre Arts. You can also hear Sonya on Otocast, the free mobile app which the City of Fort Myers utilizes to share stories with the public about the artworks in its public art collection. Hers is the voice you'll hear on the audios for The Knife Sharpener and Female Fruit Vendor.
__________________________________________
Isabel Isenhower choreographs 'SISTAS: the Musical'
Isabel Isenhower is a young actor, singer, dancer and choreographer who is lives and goes to school in Fort Myers. Musical theater is currently her forte. But in addition to appearing in numerous musicals in the Fort Myers area,  she also excels at choreography. Most recently, she did the choreography for Lab Theater's 2022/2023 production of SISTAS: the Musical. She's also done the choreography for Lab's 2022 summer spoof of The Birds, the dances in Sunset Schmoulevard and Jordan Tannahill's Botticelli in the Fire amd choregraphed Children of Eden for the Junior Theater Festival in Sacramento, California (where her team won the inspirational award). You can view all of Isabel's theatrical credits here.
___________________________________________________
Kevin Hendricks directing 'Need to Know' for The Studio Players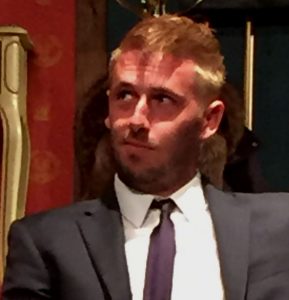 Kevin Hendricks is a local actor who was born, raised and educated right here in Naples (at Golden Gate Middle School and Naples High). Hendricks makes his directorial debut with Wendy MacLeod's Slow Food. His next project is directing The Studio Players' production of Jonathan Caron's Need to Know. When he's not acting or directing, Kevin produces Studio Players shows, builds sets and sits on The Studio Players' board. Go here to see all of Hendricks' theatrical credits.
______________________________
3     ART SHOWS AND EXHIBITIONS
Alliance accepting work for 37th Annual All Florida Juried Exhibition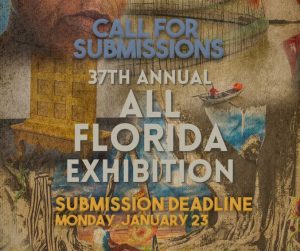 The Alliance for the Arts is accepting work for the 37th Annual All Florida Juried Exhibition. As the name suggests, this exhibition features pieces created by artists working in a wide variety of media from all over the 65,000 square miles that make up Florida.
Categories for entry are sculpture, painting (including oil, acrylic, collage, watercolor and mixed media), photography, prints and drawing. An entry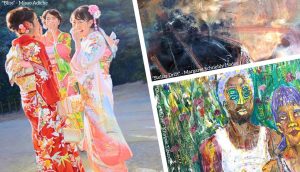 may consist of 1 to 3 artworks. All entries are due by January 23, 2023. If you would like to be considered for this show, please download the prospectus found on the Alliance website, ArtInLee.org/AllFlorida2023. For more information, please email our gallery manager at exhibitions@ArtInLee.org.
The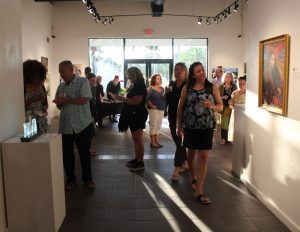 accepted entries will come together for an award-winning and exciting exhibition in March 2023 representing Florida's contemporary artists. Awards include $1,000 cash for Best In Show, a 2nd place gift certificate, $100 cash for 3rd place and Juror's Choice Award(s) of Alliance for the Arts membership(s).
Receptions and gallery tours are open to the public and do not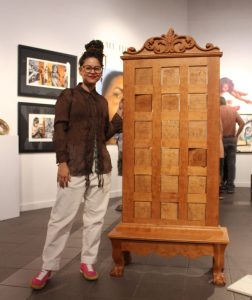 require tickets or reservations. While the gallery admission is free, a $5 suggested donation keeps the Alliance programming affordable and accessible.
While visiting the exhibit, please be sure to also partake in the Arts & Economic Prosperity survey. All answers are anonymous and help to measure the economic and social impact of arts and culture in our community! More information can be found at americansforthearts.org.
_____________________________________________________________________
IMAG celebrates 100th anniversary of discovery of Tut's tomb with 'Return of the King'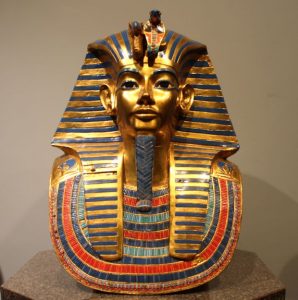 November 4th marks the 100th anniversary of British archeologist Howard Carter's discovery the tomb of King Tutankhamun. Because Tut's successors tried to obliterate his name from the annals of Egyptian history, the pharaoh had been buried in an out-of-the-way place that had prevented robbers from finding and plundering the tomb. So when Carter opened it, the tomb still held the bulk of its treasures. The IMAG History and Science Center in Fort Myes is celebrating the 100th anniversary of the tomb's discovery with an exciting exhibition containing reproductions of scores of the artifacts found in Tut's tomb. Listen on WGCU for the details: https://news.wgcu.org/…/imag-history-science-center…
_________________________________________________
IMAG offers alternative to National Geographic Tut exhibition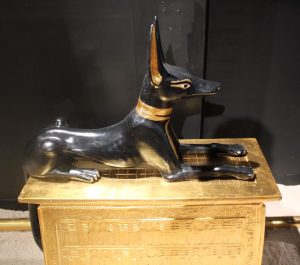 The National Geographic Museum is celebrating the 100-year anniversary of the legendary discovery of Tutankhamun's tomb in Egypt's Valley of the Kings with Beyond King Tut: The Immersive Experience. The exhibition utilizes a combination of projection imagery and dramatic cinematic storytelling to transport visitors back in time more than 3,300 years to experience the Boy King's world in a way that's both educational and visually dazzling. Whether in Washington D.C., Boston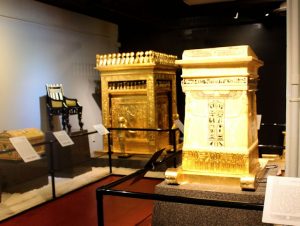 or Vancouver, art and history buffs are snapping up tickets to the exhibition at a record pace. But Southwest Florida residents and visitors need travel no farther than to IMAG History & Science Center in Fort Myers to enter the tomb of the 12th pharaoh of the 18th Egyptian Dynasty or pore over hand-crafted reproductions of the artifacts that renowned archaeologist discovered in Tutankhamun's tomb 100 years ago this month.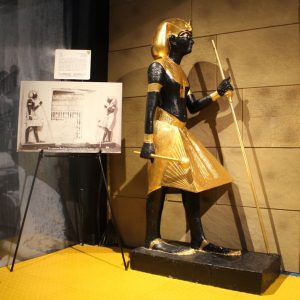 "[Tutankhamun: Return of the King] is made up of faithfully-reproduced replicas of all the treasures that were found in the tomb," IMAG Director Matt Johnson touts. "Many of them were created in Egypt by Egyptian artisans in the same manner and using the same tools as they would have done 3,500 years ago … A lot of them are authentic in their materials, authentic in their design, but what's neat about these is that while they're amazing pieces of art in themselves, they're not priceless antiquities so we don't have to put them behind glass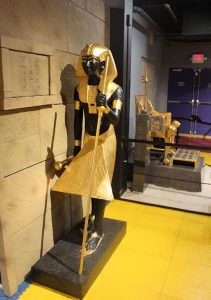 with an armed guard standing next to it. I think you can be a little more immersive and engaged and feel a little more of a connection to these pieces than maybe you would if it was the original piece. So it's a different experience than the original one, but I think it's a unique one in itself."
Besides dazzling, eye-popping artifacts like the pharaoh's 11-kilogram blue-and-gold death mask, Tutankhamun: Return of the King visitors will find information about the mummification process, visual recreations of how Egyptians envisioned the after-life and the pharaoh's mummy, along with the coffins and sarcophaguses in which he was entombed.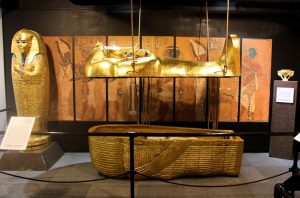 While there is no audio component or tours for Return of the King, there are plaques that described just about every artifact and aspect of the exhibition. While IMAG Senior Director of Development & Communications Kelli King reports that some kids blast through the exhibition in as little as 1o to 15 minutes, "visitors should plan on spending an hour and a half if they want to really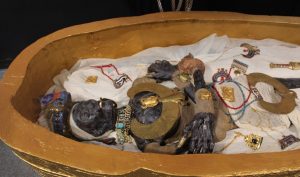 immerse themselves in, get the full story, and read all the great history that we've assembled."
IMAG's Tutankhamun: Return of the King will be on display through March 31, 2023. Consult IMAG's website for days, times and ticket information. You can also listen to IMAG Director Matt Johnson talk about the show on WGCU.
_______________________________________________________________
'Recent Acquisitions: 2019-Present' at Baker Museum through January 8, 2023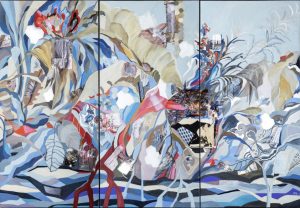 Recent Acquisitions: 2019-Present is on view at The Baker Museum now through January 8, 2023. This exhibition features more than 50 works of art that have been added to the museum's permanent collection since 2019.
The Baker Museum's permanent collection has grown steadily over the past two decades. With generous gifts and promised gifts from numerous individuals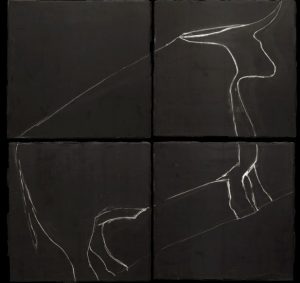 coupled with museum purchases, the art collection has continued to expand in both breadth and quality within the museum's clearly defined scope, which encompasses American, Latin American and European art from the 1880s to the present day.
"We are profoundly grateful to these collectors and donors for their trust in us and for their recognition of our commitment to growing the permanent collection in significant ways," Museum Director Courtney McNeil states.
__________________________________________________________________
Late works of Helen Frankenthaler on exhibit at Baker Museum through February 5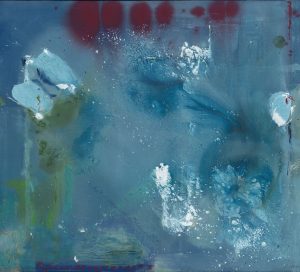 Helen Frankenthaler: Late Works, 1990-2003 is on exhibit at the Baker Museum of Art in Naples. It is the first museum exhibition dedicated to the last phase of the painter's prolific career. The show features 20 paintings on paper and 10 paintings on canvas. These works demonstrate the artist's long-standing interest in the relationship between landscape and abstraction and reveal her continued sensitivity to the emotional effects of color. The exhibition is on loan from the Helen Frankenthaler Foundation.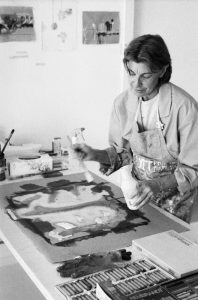 Helen Frankenthaler (1928-2011) played a defining role in the history of postwar American painting. Her innovative soak-stain technique inaugurated the shift from Abstract Expressionism to Color Field Painting and influenced artists such as Morris Louis, Jules Olitski, Friedel Dzubas and Kenneth Noland. In the 1950s, Frankenthaler created saturated, luminous surfaces by applying thinned oil paint onto raw, unprimed canvas. For more than 60 years, she never stopped experimenting with new materials and tools to expand painting's possibilities—on canvas, paper and prints.
_________________________________________________________________
'Envisioning Evil: The Nazi Drawings' at Baker Museum through February 19, 2023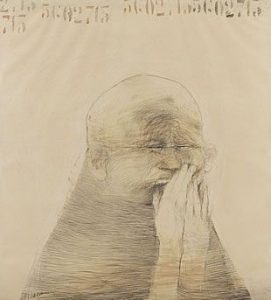 On exhibit now through February 19, 2023 at the Naples Museum of Art are selected drawings of Mauricio Lasansky from his series entitled Envisioning Evil: The Nazi Drawings. Crafted from graphite and charcoal, asphaltum turpentine, and red and white wash, the series of 33 raw and haunting monumental drawings is making its first comprehensive exhibition since its inaugural tour over 50 years ago.
You can read the full advance for this exhibit here.
______________________________________________________________
SWFL arts organizations conducting survey to quantify economic impact of the arts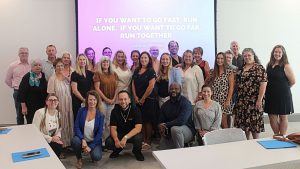 The Alliance for the Arts and dozens of local arts organizations are surveying audiences attending their events in an effort to quantify the economic impact of the arts here in Southwest Florida. In fact, it's part of a nationwide study by Americans for the Arts of the contribution made by arts organizations to their local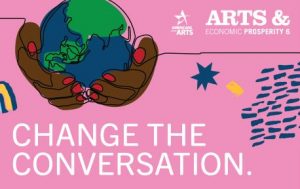 economies.
This is the sixth such study and involves 387 participating communities in all 50 states and the District of Columbia. In Lee County, the Alliance for the Arts is spearheading the effort to collect the data needed for the study. Go here to hear why you should participate in the study if you are asked to complete a survey.
4     ART FAIRS AND FESTIVALS
Naples New Year's Art Fair on 5th Avenue South January 7 & 8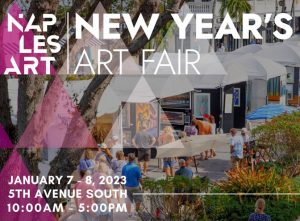 Naples Art Institute's New Year's Art Fair is January 7 & 8 along Fifth Avenue South in the heart of downtown Naples. This annual outdoor show has been voted by Sunshine Artist Magazine among the Top 10 Best Fine Art Fairs in the nation, and has also been named to the Art Fair Source Book's BLUE CHIP 100 Fine Art Events.
During this exceptional two-day event, the works of over 250 professional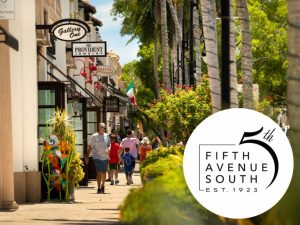 artists from 30 states and abroad will be on display. A wide variety of unique mediums, including acrylic and oil paintings, ceramics, digital art, fiber, leather, glass, wood, and more, will be sure to keep guests intrigued.
The City of Naples closes down the entire street to vehicular traffic, allowing attendees the opportunity to walk down the avenue and engage with artists. It's a wonderful opportunity to discover new artists, purchase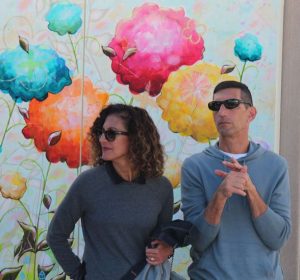 art, enjoy the beauty of Naples and Southwest Florida's incredible weather. Attendees have access to plentiful parking and can visit any of 5th Avenue South's celebrated restaurants and stores.
The New Year's Art Fair opens at 10:00 a.m. and closes at 5:00 p.m. on Saturday, January 7, and Sunday, January 8.
_______________________________
4     PUBLIC ART
First mural installed at river basin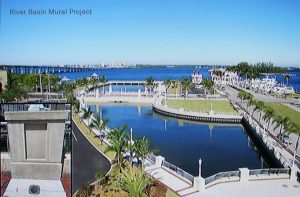 The first of the murals being installed around the detention basin between Hendry Street and Luminary Hotel was installed today. Featuring a portrait of Seminole Chief Billy Bowlegs painted by local artist Sherry Lynn Diaz, the mural is part of a walkable outdoor art and history museum that will ultimately include 57 murals depicting people and scenes from Fort Myers' early days as a riverfront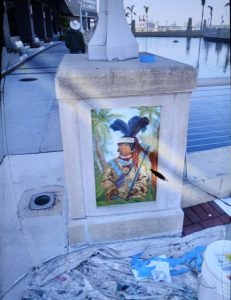 port city.
The project is a collaboration between the City's Public Art Committee, Fort Myers Community Redevelopment Agency and the Fort Myers Mural Society, and involves the participation of 40 local artists. The artists have been painting images since late September that were culled by a selection committee the month before from an aggregation of nearly 500 historical photographs and postcards provided by the IMAG History & Science Center, Southwest Florida Historical Society, True Tours, Joanne Iwinski Miller's Fort Myers Old Photo Facebook Page, and local historians Woody Hanson, Ken Rager and Randy Koger.
The rest of this story is here.
_________________________________
5     THEATER PRODUCTIONS
Gold Theatricals' 'Love Letters' a tender tragi-comedy that spans half a century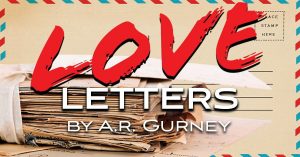 Gold Theatricals is producing A.R. Gurney's Love Letters at The Charlotte Performing Arts Center on Friday, February 17. This tender, tragi-comedy takes audiences on a nuanced examination of the shared nostalgia, missed opportunities, and deep closeness of two complicated lifelong friends.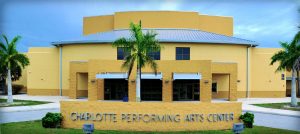 While spanning nearly five decades and numerous locations, it is staged simply, with two actors behind desks or sitting in cozy chairs, letting their words describe a world of emotion.
You will find the rest of this advance here.
Go here for play dates, times and ticket information.
_________________________________________________________
'SISTAS: the Musical' makes Southwest Florida premiere at Lab Theater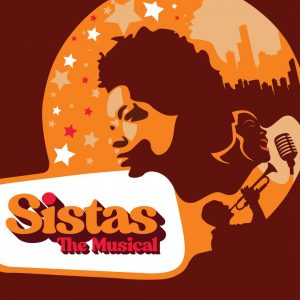 The Southwest Florida premiere of Dorothy Marcic's SISTAS: the Musical plays at Lab Theater from December 16th – January 15th. Nominated for the 2012 Tony for Best New Musical and just months off its Off-Broadway run, this uplifting hit show highlights the musical journey of a multigenerational African-American family.
After Grandma's death, the women in the family clean out her attic and unpack love and memories. They sing hit tunes that trace the history of Black women, from the trials of the 1930s through the girl groups of the '60s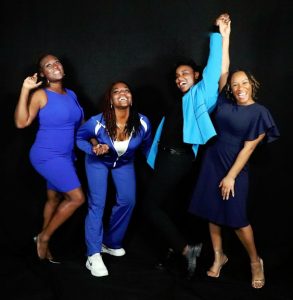 to the empowerment of the '90s. Featuring 40 hit songs from Black legends including Billie Holiday, Aretha Franklin, The Supremes and Beyonce such as Oh Happy Day, Stormy Weather, Strange Fruit, Stop! In the Name of Love, R.E.S.P.E.C.T., I Will Survive, Single Ladies, We are Family, and more, this musical will lift your spirits and leave you singing all the way home.
You can read the rest of this advance here.
_____________________________
Listen to 'SISTAS' preview on WGCU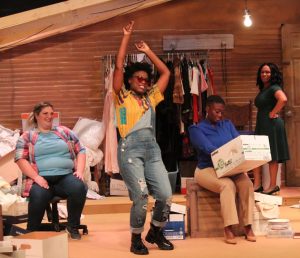 On WGCU's podcast "Three Song Stories," guests choose three songs that connect them to powerful memories, events and people in their lives. Each song serves as the springboard for a highly introspective and often emotional discussion of how the guest relates to the music and what was going on at the time that gives that song so much meaning years later.
This is the very premise underlying Dorothy Marcic's Tony-nominated stage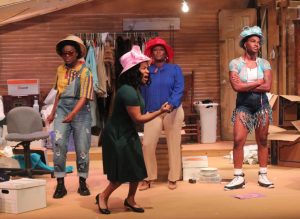 production "SISTAS: The Musical." Laboratory Theater of Florida is mounting Southwest Florida's premiere production of the show through Jan. 15.
_______________________________________
Spotlight on 'SISTAS' playwright Dorothy Marcic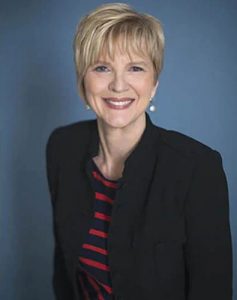 The Southwest Florida premiere of Dorothy Marcic's SISTAS: the Musical plays at Lab Theater through January 15th. Nominated for the 2012 Tony for Best New Musical and just months off its six year Off-Broadway run, this uplifting hit show highlights the musical journey of a multigenerational African-American family.
"Ultimately, SISTAS: the Musical is a story of family, of the history that binds us, and of the love we share that transcends our differences," summarizes Marcic. "It is a joyous celebration of strong women."
The rest of this post can be found here.
_____________________________________________________________
Naples Performing Arts taking Narnia to area elementary and middle schools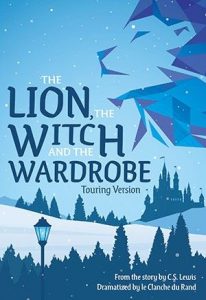 Danica Murray and Cameron Rogers are two of Southwest Florida's most promising young stage actors. You may have seen Murray as Caitlin O'Hare in Over the River and Through the Woods at Off Broadway Palm or Cloe in Bulletproof Backpack at Florida Repertory Theatre. Rogers burst onto the local theater scene in the role of Brad in Richard O'Brien's Rocky Horror Show at New Phoenix Theatre and dazzled Laboratory Theater of Florida audiences with his deft and daring swordplay in Dangerous Liaisons.
Interestingly, Murray's first exposure to theater was at a touring show about Thomas Edison that visited her elementary school. Rogers's mom took him to a Broadway Palm Children's Theatre production of C.S. Lewis'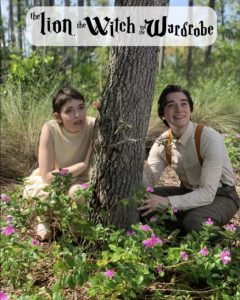 The Lion, the Witch and the Wardrobe a short time after they'd seen the movie. Now Murray and Rogers are returning the favor by performing multiple roles in the Naples Performing Arts Center's (NPAC) Theatre for Young Audiences production of The Lion, the Witch and the Wardrobe.
Naples Performing Art Center Associate Artistic Director Kody Jones said that while Theatre for Young Audiences (TYA) has been around for about four decades, it is new to many people, even avid theater-goers. But TYA has an important role in introducing elementary and middle school students to the performing arts.
Go here for the full story on WGCU.
______________________________________________________________________
More on Naples Performing Arts Center's TYA production of 'Lion, Witch and Wardrobe'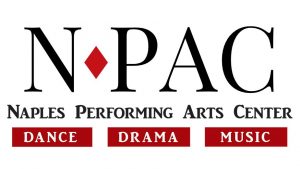 Naples Performing Arts Center has officially announced its first Theatre for Young Audiences (TYA) touring production, C.S. Lewis' iconic The Lion, The Witch, and The Wardrobe.  This new and innovative program delivers a fully-realized professional touring production to area schools.  Each production will be tailored to not only provide engaging and educational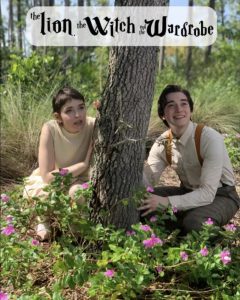 entertainment, but tie in with the host school's curriculum and Florida's Education Benchmarks and Standards. The highly-imaginative production runs 50 minutes and comes with an optional fifteen-minute Q and A with the actors following the performance.
"The Lion, The Witch, and the Wardrobe is a tour de force adventure that enables the audience to join our journey as we utilize imaginations and creativity to depict the stories of Narnia," notes NPAC in its press release announcing the production, which stars Danica Murray and Cameron Rogers, who play storytellers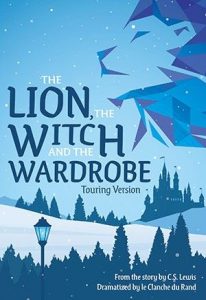 as well as a dozen other characters within Narnia that careen in and out of the story with a simple costume change and complete physical and vocal transformation.
The production is directed by veteran TYA Director, Kody C Jones with support by NPAC Production Manager, Jenn Murray.
"There is nothing more special than TYA Theatre for Young Audiences," says Jones. "It's a program with the sole purpose of introducing the performing arts to as many kids as possible while introducing life skills and inspiring creativity and imagination."
Recommended for 1st through 6th grades, the show is designed and directed to be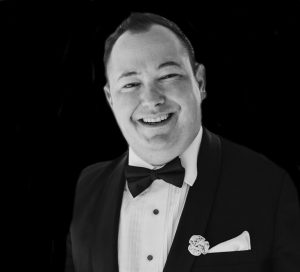 performed any space, large or small whether it be a classroom or large theatre or gym.
For pricing questions or to book your tour today, please email Associate Artistic Kody C Jones at kodycjones3@gmail.com.
And to listen to more on TYA and the production on WGCU, please click here.
______________________________________________________
'Need to Know' provides steady stream of surprises and red herrings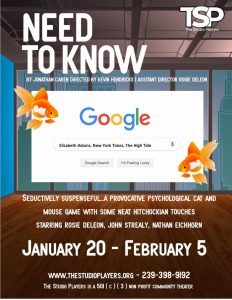 Coming to the Joan Jenks stage at Golden Gate Community Center is The Studio Players production of Jonathan Caron's situational comedy Need to Know. Directed by Kevin Hendricks and starring John Strealy, Rosie DeLeon and Nathan Eichhorn, Need to Know keeps surprises and red herrings in constant flow while having fun with a symbolic pair of fish in a bowl.
The play revolves around Steven (John Strealy) and Lilly (Rosie DeLeon), an attractive and charismatic couple who have just moved into a new apartment. To their dismay, they discover that the tenant with whom they share a wall, Mark Manners (Nathan Eichhorn), is mannerless.
Go here for the rest of this advance.
Go here for play dates, times and ticket information.
____________________________________________
Spotlight on 'Need to Know' playwright Jonathan Caron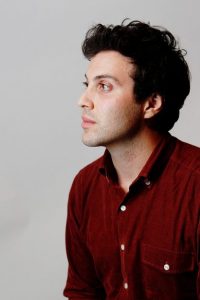 Jonathan Caron is an American playwright and screenwriter. His plays include The House That Jake Built (2017), Need to Know (Colt Coeur Play Hotel 2015, Rogue Machine 2015),  The Recommendation  (IAMA 2014, The Flea 2013, Old Globe 2012, Craig Noel Award, Best New Play,  2014 Ovation Best Play, NAACP nomination), The Morning The Sun Fell Down (MTC 7@7 2013), Catch The Fish (Most Outstanding Play, NY Fringe),  The Venerable Raman Gupta (Sundance Finalist, New Group 2014 New Works Lab).
His work has been developed at theaters across the country including MTC, The Roundabout, EST, The Rattlestick, New Group, Williamstown, Ars Nova,  Pasadena Playhouse, The Keen Company,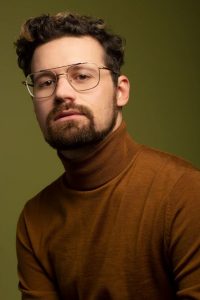 Colt Coeur, Woodshed Ensemble, Berkshire Playwright's Lab, Rogue Machine as well as developmentally at The Lark, New York Stage and Film, The Jewish Plays Project, Partial Comfort and in The Samuel French OOB Festival and The Old Vic in London.
He is a 2016 member of the Dorothy Strelsin New American Writer's Group at Primary Stages, a MacDowell Colony Fellow, a Dramatist Guild Fellow, The New York Stage and Film Founder's Award Winner, a two time recipient of a Fellowship to SPACE @ Ryder Farm, a two-time Lecomte du Nouy award winner and a recipient of the Theater Publicus Prize for Dramatic Fiction. Additionally, he was a finalist for the Laurents/Hatcher Award, a nominee for the Otis Guerney New American Playwright's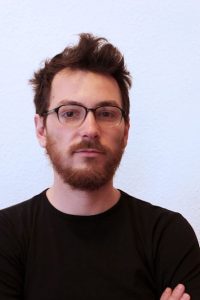 Award.
In TV, Jonathan is a writer on Netflix's new original drama Gypsy and has written pilots for FOX and CBS with frequent collaborator Jason Winer.
He is a graduate of The Lila Acheson Wallace American Playwright's Program at The Juilliard School and Vassar College where he studied mythology and religion.  He's a member of The IAMA Theater Company, Partial Comfort and originally hails from Los Angeles.