Gold Theatrical's 'Love Letters' a tender tragi-comedy that spans nearly five decades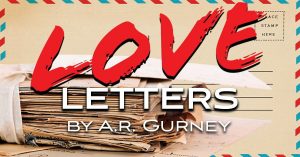 Gold Theatricals is producing A.R. Gurney's Love Letters at The Charlotte Performing Arts Center on Friday, February 17. This tender, tragi-comedy takes audiences on a nuanced examination of the shared nostalgia, missed opportunities, and deep closeness of two complicated lifelong friends. While spanning nearly five decades and numerous locations, it is staged simply, with two actors behind desks or sitting in cozy chairs, letting their words describe a world of emotion.
Their platonic affair begins innocently enough when Melissa Gardner writes her childhood friend Andrew Makepeace Ladd III a thank you note, asking why he gave her a copy of The Lost Princess of Oz for her birthday. Their ensuing correspondence continues for nearly half a century, and over that span, their friendship goes through many changes ranging from romance to periods of estrangement as they experience college, adulthood, marriage, divorce and death.  Despite painful differences that ultimately tear them apart, they remain each other's most trusted confidante and true love – on paper if not on the earth – coming ultimately to the realization of what their eloquent exchanges meant to the other.
The newly-constituted theatrical division of Gold Entertainment, Gold Theatricals will be producing unique theatrical shows at select Southwest Florida venues. The theater division represents the next step in the successful career of Jay Goldberg, who has more than 50 years of concert, festival and special event experience.  Under the leadership of Executive Director Lucy Sundby, Gold Theatricals will be touring Florida, and beyond, with cutting edge plays, musicals and dramas.
For tickets, please call 800-514-ETIX or visit www.goldtheatricals.com.
The Charlotte Performing Arts Center is located at 701 Carmalita Street in Punta Gorda.
January 1, 2023