'Need to Know' provides steady stream of surprises and red herrings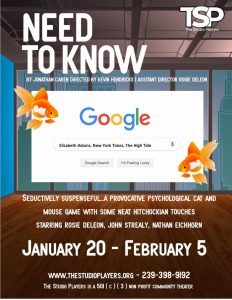 Coming to the Joan Jenks stage at Golden Gate Community Center is The Studio Players production of Jonathan Caron's situational comedy Need to Know. Directed by Kevin Hendricks and starring John Strealy, Rosie DeLeon and Nathan Eichhorn, Need to Know keeps surprises and red herrings in constant flow while having fun with a symbolic pair of fish in a bowl.
The play revolves around Steven (John Strealy) and Lilly (Rosie DeLeon), an attractive and charismatic couple who have just moved into a new apartment. To their dismay, they discover that the tenant with whom they share a wall, Mark Manners (Nathan Eichhorn), is mannerless. Intrusive, interrogative and intimidating, he's the posterchild of the nightmare neighbor-next-door.
Steven and Lilly have problems of their own. Lilly's a frustrated author who has experienced writer's block since she published a successful novel several years ago. Steven is an artist whose temper is sabotaging a promising career. Put off by their inappropriately chummy neighbor, the concerned couple resort to checking out Mark on Google and Facebook – and openly mocking their cyber-stalked subject. When it occurs to them that Mark has undoubtedly overheard them belittling him through paper-thin walls, it sets into motion layers of mistrust and call-and-response stress involving tainted cookies and mutilated dolls. When they try to resolve the newfound tension, it escalates in ways none of them could ever predict.
While technology and social media play a pivotal role in this seductively suspenseful cat-and-mouse comedy with Hitchcockian flourishes, the playwright's primary concern in Need to Know is ethics: specifically, how we treat the misfits among us—those who may not conform to conventional standards of beauty and behavior.
Need to Know opens January 20 and runs through its closing matinee on February 5.
January 1, 2023.
RELATED POSTS.