And the winner is ….
The 4th Annual Bonita Springs International Film Festival wrapped up last night with a cocktail party, one final screening, awards ceremony and well-attended foot-stomping, hand-clapping concert by The Screaming Orphans. On a night dominated by the Oscars, BIFF handed out its own awards. Filmmakers received top honors in nine separate categories.
Best Feature Narrative went to Danish thriller The Guilty, directed by Gustav Moller and starring Jakob Cedergren, Jessica Dinnage and Omar Shargawi.
Best Feature Documentary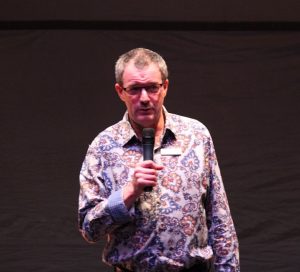 was awarded to Ky Dickens' Zero Weeks, which not only looks at paid leave from an emotional, medical and global perspective, but draws attention to the deplorable fact that the United States and Papua New Guinea are the only two countries in the world that don't provide this social safety net protection.
Best Short Documentary was G is for Gun: The Arming of Teachers in America, written, produced and directed by Kate Way and Julie Akeret.
Best Short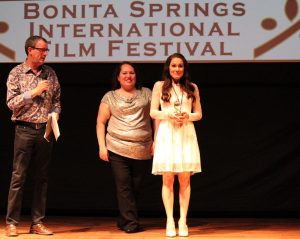 Narrative honors were conferred by BIFF on Bird's Eye, directed by Scott Poiley and written by and starring Erin Beute. [Read here for Art Southwest Florida's review of this film.] The award not only recognizes the overall quality of the film from both a conceptual and technical perspective, but is doubly meaningful since this category also included the Quebec film Marguerite, which received an Oscar nomination in the Short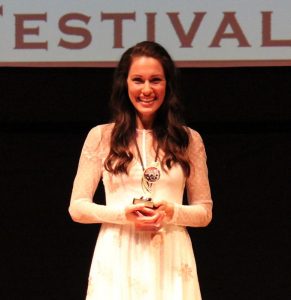 Narrative category at this year's Academy Awards.
BIFF's Best Short Animation went to Night Light, an 8-minute film in which Director Yamiset Trujillo and Co-Director Jane Suarez remind viewers that seaside light pollution can interfere with sea turtle hatchlings' natural instinct to follow moonlight to the sea. [It should be noted that BIFF chose this local-interest film over Bao, which the festival also screened. Later in the evening, some 2,700 miles away at the Dolby Theatre in Los Angeles, director Domee Shi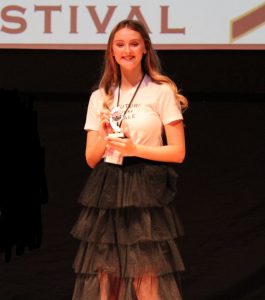 and Producer Becky Neiman accepted the Academy Award for Best Animated Short Film for Bao.]
This year's Best Kids Short went to Captain Video, which follows the story of Captain Rob Sorenson of the Jacksonville Fire Department whose videography for the JFD has profoundly impacted firefighting procedure.
Best Florida Film in the Youth Category was conferred on I Don't Know. Directed by Molly Smith and produced by Elizabeth Buzbee, the 4-minute film is centered around a boy who reflects on his past choices in deciding where he will go in the future through the power of spoken word poetry.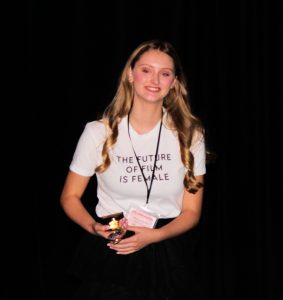 Best Florida Film in the Adult Category went to 50 Words, directed by Mark Palmer and co-produced and starring Kathryn Parks. [Read here for Art Southwest Florida's review of this film.]
The Tom Falciglia Audience Award was garnered by Finding Your Feet. Directed by Richard Loncraine and written by Meg Leonard and Nick Moorcroft, this dramedy tells the story of a judgmental middle class snob who reclaims her relationship with her estranged elder sister and her long-lost dream of finding happiness in the world of dance.
The Bonita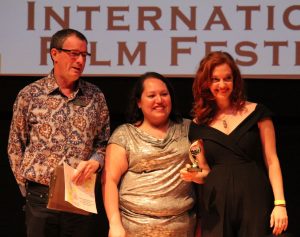 Springs International Film Festival is organized and produced by the Center for Performing Arts Bonita Springs. The four day event screens films at two venues on Bonita Beach Road – the 200-seat Robert & Karin Moe Auditorium and the 400-seat Larry and Beverly Hinman Auditorium. CFABS Film & Theatre Coordinator Frank Blocker and Kathy Saldivar served as co-directors of this year's film festival.
The 5th Annual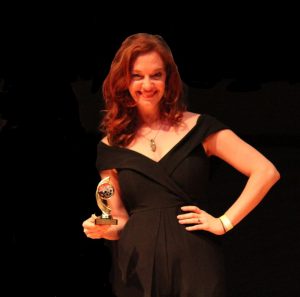 Bonita Springs International Film Festival takes place February 27 through March 1, 2020, so save these dates. For more information on either this year's or next year's festival, please visit artcenterbonita.org/biff or telephone 239-495-8989.
February 25, 2019.
RELATED POSTS.