'50 Words' features cute concept, exceptional acting and satisfying character arc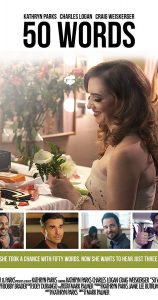 Last night, the 4th Annual Bonita Springs Film Festival screened its Shorts Package II. The assemblage of indie films consisted of seven high-quality pictures, including 50 Words.
The 28-minute short film has a clever premise. The storyline revolves around a stage actor by the name Lilly Green, who's starring in a musical titled "Words Won't Do." Her boyfriend is the male lead, and sometime during the rehearsal process, Lilly catches him cheating on her with another actress in the cast. When the director reminds each actor that she needs their 50-word bio for the show bill, Lilly writes hers as a personal ad, seeking her perfect match from the audience each night following the performance.
Kathryn Parks wrote,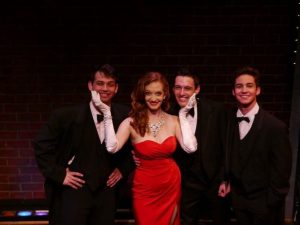 co-produced and stars in the film, which marks her transition from the stage to the realm of film and filmmaking.
"I was inspired to do this for a number of reasons," writes Parks. "My love of the arts doesn't begin and end on the stage. I've always had an interest in TV and film and have had great admiration for the people who produce something from scratch. [Secondly],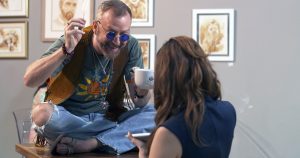 there are so many incredibly talented people that I'm friends with in my hometown of Sarasota, and not just actors but filmmakers, choreographers, sound engineers and costumers. I knew that all I needed was a good idea for a screenplay and then I could attempt to bring all these talented people together to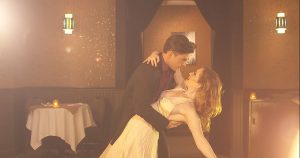 accomplish something special."
During the Q&A following the screening, actor/instructor Elizabeth D'Onofrio asked Kathryn (and all the other filmmakers) to describe her inspiration for the film. In Parks' case, she was asked to tell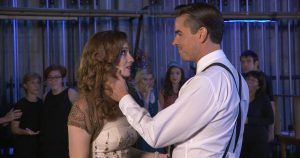 the love story of two of dear friends at their marriage.
"They met online and it got me thinking about the process of finding love," Parks explained. "Were I not happily married (which I totally am!), I asked myself how would I get myself out there to meet a man. Of course,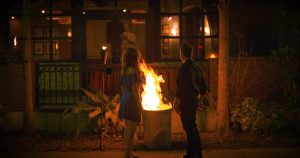 my mind went straight to the theater world where it occurred to me I could replace my 50-word actor bio in the program with a personal ad, seeking my perfect match in the audience each night. At first, I laughed at myself, but gradually, I realized it could serve as the basis for a short film!"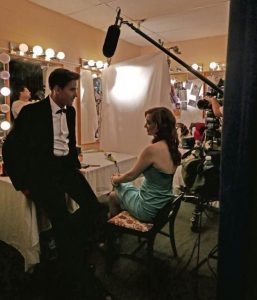 Transforming the concept into an actual script didn't happen overnight.
"That part took more than three months."
The final product contains snarky lines, hysterical sight gags and some really good situational comedy. But the strength of the script inheres in the character arc that Lilly Green traverses over the course of the film. While the audience initially feels sorry for the jilted leading lady and roots for her to find true love, it eventually becomes apparent that she's self-centered and self-aggrandizing.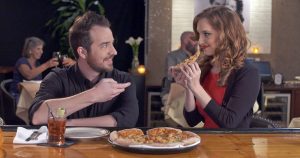 This conclusion is underscored by two sequences toward the end of the film
In one, two fellow actresses ridicule Lilly in the ladies room, unaware that she's in one of the stalls dealing with a coffee stain on her blouse. They're upset with all the flowers, stuffed animals,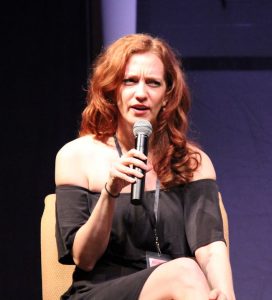 chocolates and other gifts Lilly is getting because of her bio in the Playbill. "She's the star of the show," one of the women exclaims. "It's hard to believe she needs to draw even more attention to herself than she already gets." "Yeah," the other girl replies, "101 ways to date Lilly Green."
It would be easy to dismiss their discontent as petty jealousy, but then we watch Lilly as she fails to recognize a fellow actor who has three on-stage scenes with her in the show. It's not a mere matter of failing to remember his name. (It's Dillon.) She doesn't recognize him at all!
And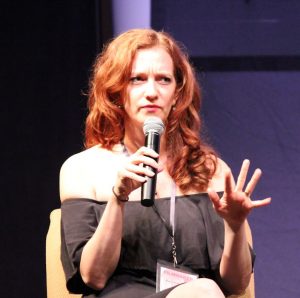 then it comes. "Have you ever read anyone else's bio?" he asks. She hasn't, of course. She doesn't read anything that's not about her. After all, she's the center of the universe. No one else matters.
Our leading lady is many things, but stubborn is not one of them. She takes Dillon's advice and reads the bios of her cast mates and the director. Her perfect match has been staring her in the face all along. Which just goes to show – when you look beyond yourself, anything is possible, including true love and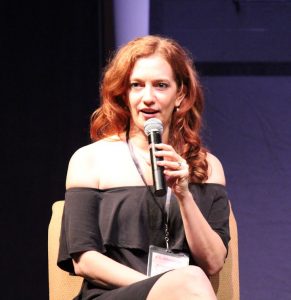 pineapple pizza.
When she'd finished the script, she approached Mark Palmer of Mars Vision Productions. "He read the script and was ready to join me in this escapade as co-producer, director, and director of photography."
The tandem knew they'd also need another producing powerhouse whose skill set complimented theirs, so they reached out to actor/singer/theater jack-of-all-trades, Jamie Lee Butrum.
"Together,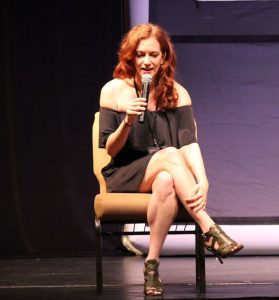 the three of us started setting the wheels in motion."
Those wheels included a crowdfunding campaign, filming, editing and submission to film festivals around the country. Not only was 50 Words juried into the Sarasota Film Festival and the Bonita Spring International Film Festival, it will be screened later this year at both the Fort Myers Beach International Film Festival on April 24 – 28 and Et Cultural Festival in St. Petersburg.
50 Words has already earned a number of accolades.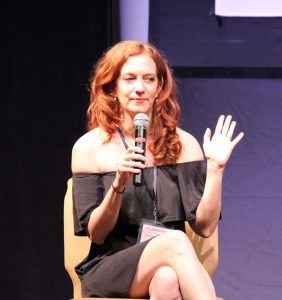 The film was the Tampa Bay Underground Film Festival's Best Florida Short and was nominated for Best Comedy at the Rendezvous Film Festival and for Best Comedy or Musical by the Prince of Prestige Academy Award.
For her part, Kathryn Parks received a Ladies in Film and Entertainment Award for her role in the film.
February 24, 2019.
RELATED POSTS.