Estero Fine Art Show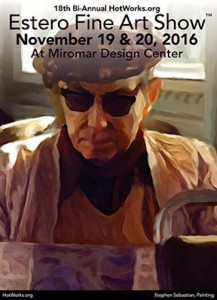 Name: Estero Fine Art Show
Dates: The Estero Fine Art Show is offered twice each season. This season's dates are:
18th Bi-Annual Estero Fine Art Show:  November 19 & 20, 2016
19th Bi-Annual Estero Fine Art Show:  January 7 & 8, 2017
Hours: 10 a.m. to 5 p.m.
Place:  The Estero Fine Art Show takes place at the Miromar Design Center. As Southwest Florida's premier destination for design professionals and the general public, the Miromar Design Center welcomes visitors to a world of luxury and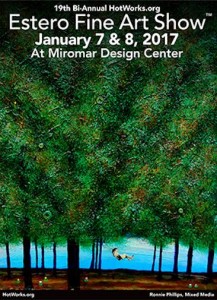 elegance that is unparalleled in the design industry. Distinctive showrooms present a world-wide collection of the finest furniture and accessories, fabrics, wall coverings, lighting, kitchen and bath products, flooring, art and more. The first floor showrooms are open to the public for direct purchases. The second and third floors cater to designers; however, the public is welcome to shop and purchase with the assistance of a designer or with the assistance of the showroom's staff. Design professionals and consumers will find that the Miromar Design Center provides a uniquely convenient and pleasurable shopping experience, which will afford festival-goers the unique opportunity to consider their art purchases in the larger context of home improvement packages.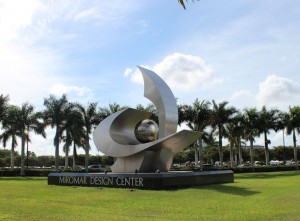 The Design Center is located on the south side of Corkscrew Road, directly across the street from the Miromar Outlet Mall, which also gives festival-goers the opportunity to combine a day of art browsing and buying with shopping and dining at a venue that's been voted Southwest Florida's "Best Factory Outlet Shopping Center" 15 years in a row. Miromar boasts 140 designer and outlet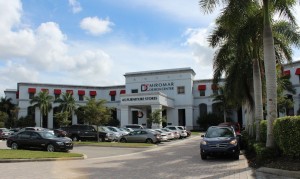 stores including iconic clothiers such as Saks Fifth Avenue, Neiman Marcus, Calvin Klein, DKNY, Aeropostale, Banana Republic, Eddie Bauer, Gap, Guess, Perry Ellis, Talbots, Tommy Hilfiger, Under Armour, and Van Heusen, as well as specialty stores like Coach, Fossil, Sunglass Hut and Bath and Body Works. All are set in Mediterranean-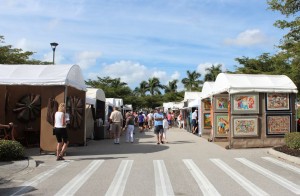 accented shops that are connected by palm-shaded cobblestone-paved walkways lined by landscaping beds, potted plants and gurgling fountains at every hub. And while the festival offers both food and entertainment, Miromar provides its own delicious dining options. With eateries such as All American Grill, Bon Appetit French Bistro, La Bamba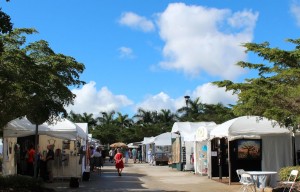 Mexican Restaurant, Luna Rossa Italian Grille and Waterside Seafood and Grille (left), there is something for every discerning palette.
Description. This top-notch fine art & craft event brings to Estero, Florida new original paintings, drawings, pastels, photography, ceramics, clay, glass, sculpture, wood working and carvings,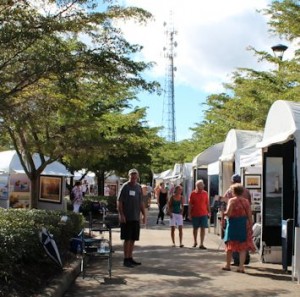 fiber art and art jewelry from the ateliers, studios and workshops of some 120 local and internationally-acclaimed artists. All are present throughout the two-day event and eager to answer questions about their work and inspiration. Live art demonstrations afford numerous opportunities for patrons to witness first-hand the various processes that the artists' go through and the techniques they employ in order to create high-quality artworks in their chosen medium.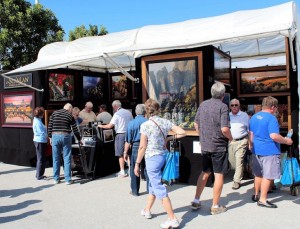 One of the more popular booths during last year's shows was Scanlans' Windows of the World. There, festival goers found themselves enthralled by John and Deb Scanlans' hyper-realist, often panoramic photographs of Euorpean citiescapes and bucolic scenes. "Our goal is to make you feel as if you were passing through a window to another world," says John. "Deb and I are honored and excited by people's enthusiasm for our work," he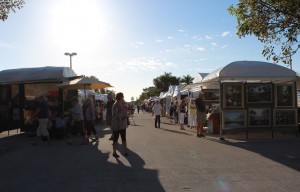 adds. "It's very moving to have someone tell you they were touched by an image. We know what we like, but when other people find some meaning in what we do, we feel like we're really making a contribution."
Art enthusiasts found the fabricated copper and hand blown glass wall sculptures of John Zidek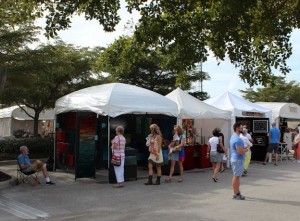 equally riveting. From Franklin, New Jersey, Zidek has built an international reputation as a sculptor. A member of the International Sculpture Center, John periodically exhibits at the International Art Expo in New York. While over time he has become accomplished in bronze, wood, resin and ultraviolet minerals, the copper and blown glass wall hangings he brought to Estero are gaining in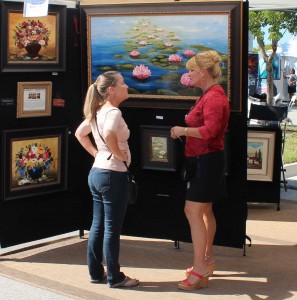 popularity and collectibility. Zidek is now also experimenting with floor, pedestal, lighting, water features and wind sculptures.
Attendees also flocked to Steve Gill's booth for a look at his brightly colored parodies of life on the golf course, tennis courts and dental and lawyer's offices. While Steve's caricatures look like hand-drawn cartoons, they are actually acrylics on canvas. "Some artists have a problem with how quickly acrylic dries. Not me," says Steve. "Sometimes I work with a paint brush in one hand and a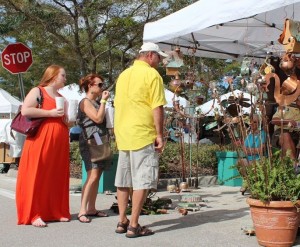 blow drier in the other. Such is the life of a vagabond artist who's on the road 43 weeks a year." But it's not living in a bus most of the year that gives Steve his quirky sense of humor. It's coming from a family filled with musicians and artists. "In our family," quips Steve, "if you're a doctor or a lawyer, it's like 'Oh man, too bad.'"
Whether you have a serious interest in finding the perfect painting, photograph, sculpture or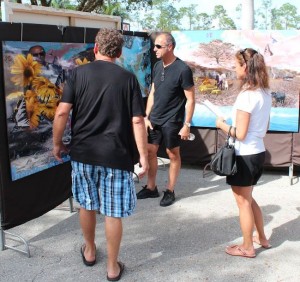 other artwork for your winter residence here in southwest Florida or your summer home some place else or you just enjoy browsing fine art under clear blue skies, the Estero Fine Art Show is for you. Organizer Hot Works LLC goes out of its way to "create an atmosphere that enhances the artwork and creates a relaxing environment for art lovers." So save the date in your smart phone or calendar. These are two art festivals you won't want to miss.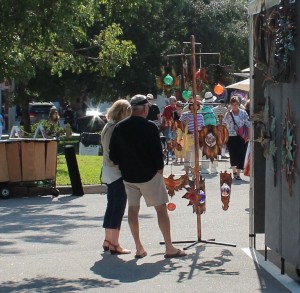 Cost: Admission is free.
Parking: Parking is free and ample.
Organizer: The Estero shows are produced by Hot Works, LLC, which also runs the award-winning Orchard Lake Fine Art Show in Michigan. In order to achieve a high-quality fine art and craft show, the Hot Works team travels continuously around the U.S. and Canada visiting art shows and recruiting the very best artists for Hot Works events.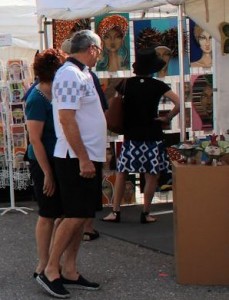 Those artists who do apply for inclusion in the Estero festivals must submit three compelling images of their  work along with one showing their booth presentation. Then, a group of art professionals (that include gallery owners, directors and curators, and artists) reviews the application and images. "We judge based on originality, technique and execution, quality, and booth presentation," observes show director Patty Norozny. Only the finest are admitted into the shows.
In order to encourage participating artists to bring their finest work to the shows, a second round of judging occurs on site on the first day of the show. The results are announced on Sunday,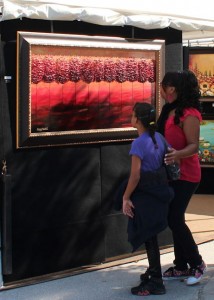 with the best artists in each category receiving ribbons, purchase awards and cash prizes. By pre-qualifying each one of the artists who come to this event and recognizing the best with ribbons and awards, Hot Works seeks "to help the general public with making their artwork purchase decisions by [giving them the knowledge] that they are purchasing quality work."
Director: Patty Narozny. In addition to 25 years of media and event experience, Patty has a corporate finance degree from Wayne State University in Detroit, Michigan. Currently, Patty produces high-quality, juried fine art & craft events in not only in Florida, but Michigan and North Carolina. Narozny is the founder of Hot Works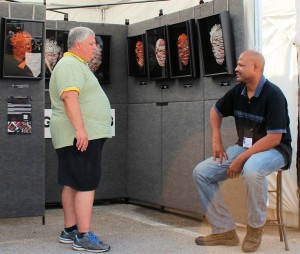 Fine Art & Craft Shows.
Website: http://www.hotworks.org/esterofineartshow/.
Facebook: You can follow these events on Facebook at http://www.facebook.com/event.php?eid=219253024762681.
Event Hot Line. The event hot line is 941-755-3088.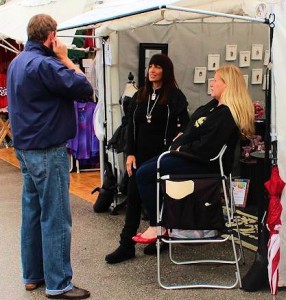 Local Connections:
Lee County Alliance for the Arts, the officially-designated arts organization for Lee County, will be participating at these events in order to help make the community aware of its mission to "facilitate and nurture the creation, development, promotion and education of arts and culture in Lee County."
Hot Works produces the Estero Fine Arts Shows in affiliation with The Institute for the Arts & Education, a 501(c)(3) non-profit organization dedicated to enriching lives and strengthening our community through the power of arts. "We help teach communities how art work is made," states Hot Works, "and further enhance the involvement of the community with our events."
Through its Youth Art Competition, the Institute encourages kids in grades K–8 to create and display their own works of art with a chance to win cash prizes.
For both festivals, young artists are invited to create artworks for Hot Works' Youth Art Competition. Click here for a youth application: WWW.HOTWORKS.ORG.
Fast Facts:
Miromar Outlet Mall is located across a small man-made lake from Germain Arena, home to the Florida Everblades hockey team. The Germain Arena also maintains a full year-round schedule of shows and concerts that has included Elton John, Tom Petty and the Heartbreakers, Kenny Rogers, Sting, Luis Miguel, Bob Dylan, Disney on Ice, Ringling Bros. and Barnum & Bailey Circus, The Harlem Globetrotters, Boston Pops Orchestra and many more. In addition, Germain Arena hosts ice skating, roller skating, and in-line skating events with competitions throughout the year.
The Southerns Extreme Water Ski Team performs in the lake between Miromar and Germain Arena on Sunday afternoons.
In addition to richly landscaped covered walkways throughout the mall, Miromar boasts a number of exquisite fountains. The one located in the hub fronted by Gap and Oakley is patterned after the Fontana della Tartarughe (Fountain of the Tortoises) in Piazza Mattei on Via Dei Funia in Rome, Italy. The original was built between 1581 and 1588 by Giacomo della Porta with bronze figures by Taddeo Landini (1550-1596). The original concept was that of male figures riding dolphins (thus the fountain's first name, Fountain of the Dolphins). But when the fountain was restored in 1659 at the request of Pope Alexander VII, the dolphins were replaced with male figures pushing tortoises toward the upper basin (and the fountain became known as the Fountain of the Tortoises).
The Miromar Outlet Mall is located at 10801 Corkscrew Road, Estero, FL 33928-9436.
Located at the same intersection as the Miromar Outlet Mall is the Miromar Design Center, Southwest Florida's biggest and best resource for home furnishings with 45 stores all under one roof.

Nearby Miromar Lakes Beach & Golf Club is the #1 residential community in the United States. It is the only Florida community ever to win the National Association of Home Builders' Gold Award for Community of the Year. The 1800 acre residential community features a 700 acre freshwater lake, three miles of private white sandy beach, and signature championship golf all within one luxurious setting. The National Gold Award was presented to Miromar Lakes for its excellence and superiority. Miromar Lakes also holds the honor of Best Clubhouse in the United States for its Beach. This truly puts Miromar Lakes in a class of its own, as no other community has ever won both #1 Community and #1 Clubhouse in the United States.

"This event brings a great buying audience, people with money who have large, new secondary homes in the area," notes Hot Works Executive Director Patty Narozny.
About the Author