An Introduction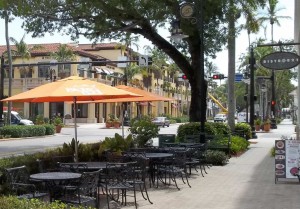 Fifth Avenue South Naples' elite financial and banking center, with names like Capital Wealth Advisors, Fidelity Investments, Fifth Avenue Advisors, Northern Trust and Orion Bank cropping up along the avenue. However, what attracts tourists and residents alike to this oak-shaded, flower-adorned thoroughfare are its eclectic, European-style boutiques, decadent jewelry stores, imaginative specialty shops, world-class restaurants and cafes, and premier art galleries that showcase some of the most coveted fine art in all of southwest Florida.
Galleries, Art Boutiques and Antique Shops
Fifth Avenue South is home to four of Naples' most enduring and renowned art galleries such as Call of Africa's Native Visions Galleries, Dennison-Moran Gallery, Shaw Gallery of Fine Art and Sheldon Fine Art, where beginning to serious collectors will find original oil and acrylic paintings in realism, impressionism, abstract and wildlife art from some of the leading genre artists in the world today. And just one block off the avenue on Park Street is the celebrated von Liebig Art Center, whose mission is to promote and advance education, interest and participation in contemporary visual arts. Fifth Avenue South is also home to a number of high-end antique shops including Ashley Adams Antiques and Lovejoy Antiques.
Restaurants, Cafes and Bars
Fine dining on Fifth Avenue South assumes legendary proportions with:
Bellini on Fifth, serving authentic Italian cuisine to sophisticated locals and international travelers since 1955 in two separate indoor dining areas and one of the largest dining patios on Fifth Avenue in a setting that pays homage to Sicilian opera composer Vincenzo Bellini (although it is Early Renaissance Venetian painter Giovanni Bellini who is celebrated by the motif in the bar).
Bert's Seafood and Chowder Restaurant, offering Mediterranean cuisine with a Florida flair. The emphasis here is on fresh Florida seafood, the finest western steaks available, and market-fresh local vegetables. Bert's large teak bar is perfect for relaxing and conducive to making new acquaintances, and the restaurant offers a limited number of sidewalk tables that offer patrons the perfect opportunity to settle back under its trademark red-and-black vertically-striped awing and red canvas umbrellas to take in the bustle as Fifth Avenue comes alive as the sun sets and the temperatures come down.
Bice Ristorante, which melds old world elegance with modern chic in both its upscale indoor dining room and trendy outdoor café that's just blocks from the Gulf. The fare at Bice is predominantly Northern Italian cuisine in the tradition of Milan, where Beatrice Mungai Ruggen (Bice to her family and Friends) opened the family's first trattoria in 1926.
Bistro 821, which brings a taste of Miami's South Beach to Naples with its warm, colorful urban chic interior and sumptuous medley of fresh seafood, steaks, pastas and award-winning desserts innovatively prepared by executive chef Jesse S. Housman, who still does all the prep work himself because his classic French training mandates that all meals be made from scratch. Under the guidance of owners Bill and Michele Longo Holcombe, the keynote of the Bistro 821 experience is exemplary, personal service in a friendly, neighborhood atmosphere.
*  Chops City Grill, which is the "hottest spot on trendy 5th Avenue," according to Naples Daily News' Linda Gordon. Although the restaurant offers a selection of seafood, hand-rolled sushi and stir-fry, as the name suggests, this is primarily a steakhouse which offers dry-aged New York strip steaks, T-bones and filets. Complemented by a 300 bottle wine list and the best martinis on the avenue, Chops is for those who relish that big city feel.
Fifth Avenue Coffee Company, the place to gather and enjoy the ambiance of Fifth Avenue South while delighting in gourmet coffees and teas, croissants, biscotti and other freshly baked pastries, and even house specialty wraps and Italian panini's. Fifth Avenue Coffee Company is located directly across the street from Florida Choice Champion New River Fine Art and Gallery O, so it's the caffeinated choice while pondering your next art acquisition.
McCabe's Irish Pub embodies the heart, soul and spirit of Irish traditions. Authentic in every detail, this award-winning pub provides a spirituous atmosphere complete with live entertainment and traditional Irish Fare including hearty Irish Stew, Shepherd's Pie, Angus beef and grilled seafood, not to mention pints of the finest ale. It has been a mainstay of Fifth Avenue since 1997, when Philip McCabe decided to make the Irish pub the anchor for his showplace hotel, The Inn on Fifth. The research was exhaustive, but McCabe was up to the task, spending weeks in Ireland visiting all of the Emerald Isle's most famous pubs, including Brazen Head, Dublin's oldest surviving establishment. Interestingly, the pub is housed in the old Nation's Bank, built circa 1951 and the bank's vault today serves as a private dining room complete with the original steel tumbler door.
Pazzo! long known to be Naples' best place to be, has a crazy, casual, romantic atmosphere that makes it the perfect place for a special date or fav you can return to night after night with family and friends. The menu is Italian, and they make everything from scratch, including sauces, pastas and desserts. With more than 250 wines from California, Oregon, Australia, New Zealand and beyond are just waiting to be uncorked, you're in for a great evening in a special restaurant when you choose to dine at Pazzo!
Ristorante D'Angeli, rated four stars by the Naples Daily News and best Italian restaurant by Gulfshore Magazine, this Italian restaurant  pampers guests with homemade pasta, gnocchi, risottos, fresh seafood, veal chops Milanese and many other delightful dishes, not to mention the best Tiramisu in Naples and Creme Brulee worthy of Julia Child, all set in a sumptuous vermilion, white and chrome interior .
Vergina, a stunning classic restaurant featuring gourmet cuisine, romantic décor and wonderful open air ambiance. Executive Chef Andrew Palazzo finds the freshest, most delicious ingredients to create gourmet pastas and specialty dishes from the Lombardy, Veneto, Tuscany, Latium, Campania, and Emilia-Romagna regions sure to please traditionalists as well as those looking for that unique selection. The bar at Vergina boasts Naples largest, friendliest and dynamic bar with live entertainment nightly that adds punch and an energetic vibe that is center stage for fun.
Yabba Island Grill, the only restaurant on Fifth to given four stars by both the Naples Daily News and the Fort Myers News Press. It offers fun, casual island-style dining featuring great local seafood, killer shrimp, dynamite jerk chicken, and modestly priced Caribbean grills. Yabba has one of the best rum lists in the country and specializes in an array of cool Island cocktails. And every Friday and Saturday night, Yabba goes late night with an island party for the younger "natives."
Architecture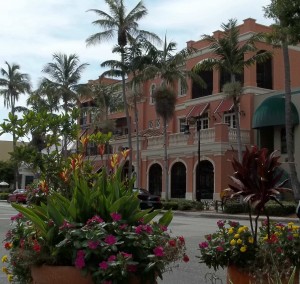 Part of the charm and ambiance for which Fifth Avenue South is known inheres in its blend of historical and modern architecture. With its orange barrel tile roofs, arched windows and breezeways, and concrete balustrades, the latter infuses the thoroughfare with a distinctive Mediterranean feel. The area's tropical feel is reinforced by terracotta and salmon paint schemes, slender Washingtonia palms, towering oaks, lush landscaping and potted flowers as far as the eye can see.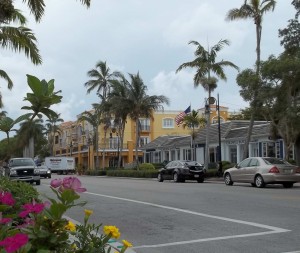 Like Spain and southern Italy, the Fifth Avenue shopping district is sleepy and quiet during southwest Florida's hot, humid summer afternoons, when residents and visitors soak up the sun on Naples' sugar sand beaches or siesta in their air-conditioned homes, but the place comes alive at night as diners fill the restaurants and sidewalk cafes and the smell of grilled steaks and Italian cooking permeate the air. During the more temperate winter season, however, Fifth Avenue South is swarmed day and night by shoppers, diners and gallery goers on their way to or from the artist receptions that attend the opening of new art exhibitions that take place every few weeks in Fifth Avenue's prestigious galleries.
Outdoor Art Festivals
Every winter season, Fifth Avenue South is the venue for a wide array of juried art festivals.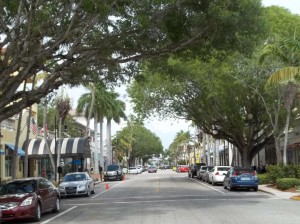 The largest is the annual Downtown Naples New Year's Weekend Art Fair. Arts and crafts publication Sunshine Art ranks the juried holiday show as one of the top art festivals in the entire country. Fifth is blocked off to vehicular traffic during the two-day event, and the artists set up their tents, pavilions and booths right in street under the shelter of the oaks that line the thoroughfare. Last year, more than 15,000 art lovers turned out for the festival, which attracted 190 national and local artists who displayed works valued collectively at nearly $15 million in categories ranging from painting and sculpture to ceramics, hand-crafted jewelry, leather and woodworking, glass, photography, printmaking and graphic art.  The festival will celebrate its 16th anniversary in 2012.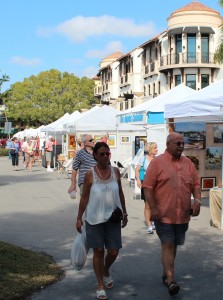 Naples' oldest art fair is called Art in the Park, and it dates back to 1957. It is takes place between 10 a.m. and 4 p.m. on the first Saturday of each month from November through April on Park Street next to The von Liebig Art Center. Each artist who participates in Art in the Park is a member of the Naples Art Association, and show provides art lovers and collectors an excellent opportunity to meet local artists and sample their latest work. There is also a demonstration booth which is designed to foster the public's knowledge, understanding and appreciation for the arts by placing the focus on methodology and technique.
Rated as one of the top ten art festivals in the country, Naples National comes to Fifth Avenue at the end of February each year. It is held in Cambier Park along Eighth Street South, and more than 1,000 artists competed in 2011 for the 260 coveted spots available for the show. A panel of independent jurors selects the winners, thereby ensuring that the public will be treated to the highest quality artworks each year. In addition to visual arts, a number of performing artists take to the band-shell stage to entertain festival goers with musical, dance and comedy performances throughout the weekend. Naples National Art Festival is entering its 33rd season this year.
The Annual Downtown Naples Festival of Art at the end of March marks the final chance each season for art lovers to sample the latest works of local and national artists and artisans in an outdoor setting. Last year, more than 230 artists from around the country were selected by an independent jury to exhibit in the show, which included an impressive array of paintings, mixed media collages, glass sculpture, fine jewelry, digital and monotone photography and much more. This festival also takes place in the street, so Fifth Avenue South is restricted to foot traffic during the weekend event. Next year's festival will be the 24th in the show's long and illustrious history.
Chalk Art Festival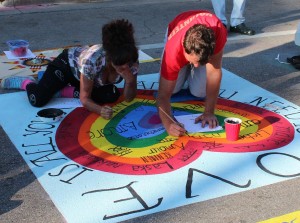 More than 100 individual and teams of amateur and professional artists transform Fifth Avenue into a half-mile long canvas each year, and thousands of curious art enthusiasts take to the streets to "walk the chalk" and appreciate their colorful street art. The event is sponsored by the Naples-Pelican Bay Rotary Club and it benefits the organization's scholarship fund for local students.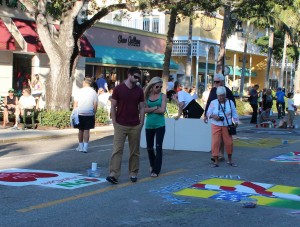 The process is simple. Local businesses participate by purchasing a stretch of street outside their establishment. A 6-foot canvas costs $200, a 9-foot chunk of pavement costs $300, and a 12-foot square commands a $500 donation. Then the businesses either arrange for an artist or team of artists to convert their section of asphalt into a curbside masterpiece, or they ask the Rotary Club to hook them up with an at-large artist or artist team.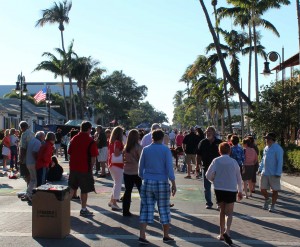 While the event is free and open to the public, spectators pay to vote for their favs. All the proceeds are used by the Naples Pelican Bay Rotary Club for college scholarships for needy local seniors, Quest for Kids scholarships, feeding the hungry with Kids- Against-Hunger, local charities ranging from St. Mathews House to the Boy Scouts to the Immokalee Friendship House and many other local worthwhile charities.
Public Art
Fifth Avenue South is dotted by fountains and wildlife sculptures that enhance the cultural aesthetics of the district.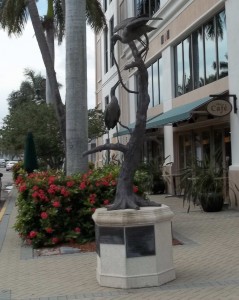 On the northeast corner of Fifth and Eighth Street is Woodstorks, a 12-foot tall bronze commissioned from Virginia sculptor William H. Turner by the Blair Foundation, which donated the work to the Audubon's Corkscrew Swamp Sanctuary. It is displayed on a concrete pedestal donated by D. Garrett Construction, Inc. and displayed as part of the Naples Main Street Pedestrian Art Program. Turner and his son, David, have created more than 400 limited edition bronze wildlife sculptures and Woodstorks is one of 155 commissions located at 98 different public locations.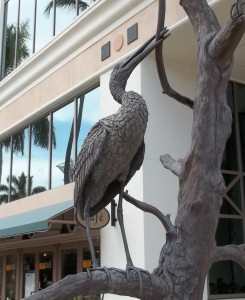 A smaller version of Woodstorks can be found at the National Audubon Society's Corkscrew Swamp Sanctuary, and a number of Turner's sculptures can be seen locally at the Collier County Conservancy, Naples Youth Haven, and the Naples Historical Society Gardens. Nationally, Turner's works are on public display at the White House, Washington Congressional Club, American Museum of Natural History in New York, New York Zoological Society Aquarium, Chicago Zoological Society, Chicago Botanical Garden, Detroit Zoo, Pittsburgh Zoo, University of Arkansas, University of Florida, Michigan State University, University of Virginia and the University of  Wisconsin.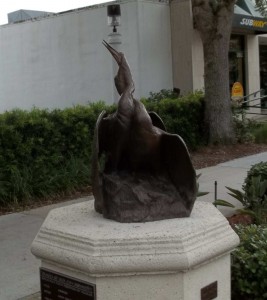 Toward the western end of Fifth Avenue South is Anhingas by Kathy Spalding, which is also part of the Naples Main Street Pedestrian Art Program, with Kraft Construction Co. donating its concrete pedestal.
Kathy Spalding is one of the most notable international sculptors in the country. She studied drawing and lithography at Cornell, engraving and bronze casting at the University of Iowa, and engraving at the acclaimed Atelier Garrigues in France. As a wildlife artist she has pursued independent studies and work in such exotic destinations as the Amazon and Rio Negro, Brazil, Argentina, Uruguay, Chile, the Falkland Islands, Antarctica, Tasmania, New Zealand, Australia and Western Europe.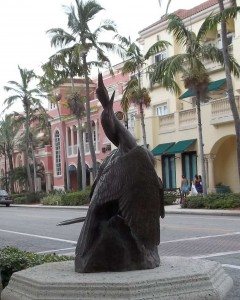 Spalding is one of the few artists who has mastered and refined the "lost wax process" used for hundreds of years to create bronze sculptures. Working directly in wax affords her the ability to create fine detail in larger than life size compositions. Her sculpture and watercolors have been collected by major national and international corporations, naturalist organizations, architects, fine art collectors, and museum patrons, and her remarkable creations can be found in such noted collections as those of Andrew and Jamie Wyeth, Turnberry Ocean Colony, Estuary at Grey Oaks, Cleveland Clinic, Mystic Seaport Museum, Garden of Hope and Courage, Okalahoma Aquarium, Bacardi, The Conservancy of SW Florida, Archer Daniels, Meadox Medical, Rollins family, Suzanne von Liebig, MBNA, Royal Caribbean Cruise Lines, Society Expeditions, and the Ocean Reef Club. Her impressive 40-foot bronze flying fish fountain is the centerpiece for the Royal Walkway at Sun International's Atlantis Luxury Casino Resort on Paradise Island, Nassau in the Bahamas.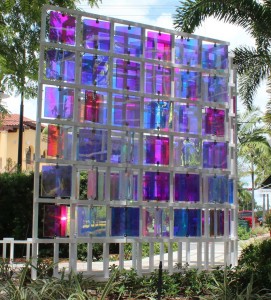 Naples' newest public artwork is one block south of Fifth Avenue. Titled Cambier's Quilt, it is the first public art project at a municipal building under the City of Naples' new public art ordinance. Sponsored by the Public Art Advisory Committee and city council, the installation consists of two structures that are nearly 12 feet tall and weigh 1,300 pounds. They each have 108 dicroic coated panels that pivot with the wind, changing color and reflecting the surroundings as they move. Located at the new city parking garage across from Cambier Park on Eight Street South, the piece was created by West Palm Beach environmental graphic and industrial designer, Mark Fuller, who's been creating dynamic site specific sculptural installations for a wide variety of public art programs since 1992. In fact, Fuller completed two public art commissions for Florida Gulf Coast University in 2011, Depend Du Soleil and Whatever You Say, Dear.
Other Artistic and Historical Landmarks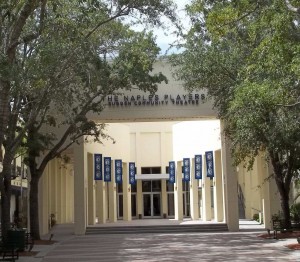 Fifth Avenue South is also home to The Naples Players, named nine times as the best live theater in southwest Florida by the readers poll of The Naples Daily News. Founded in 1953, its first production, John Van Druten's I Remember Mama, was performed in the auditorium of what is now Gulfview Middle School. Today, the Naples Players performs in the Sugden Community Theatre at 701 Fifth Avenue South, nestled in a deep courtyard between McCabe's Irish Pub and Yabba Island Grill in the heart of the Fifth Avenue South business, shopping and art district.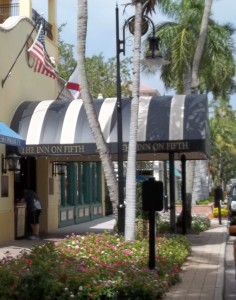 Just blocks from the white sand beaches of the Gulf of Mexico, the Inn on Fifth is an incomparable resort hotel with impeccable service and luxurious amenities. Its Mediterranean-inspired design creates warmth and elegance throughout the Inn, from the palm-lined entrance to its lushly landscaped rooftop pool. Every detail of the Inn's 87 guest rooms and suites has been designed for ultimate comfort and pleasure, right down to their newly renovated guest bathrooms, which sparkle with Italian marble and tile, and luxurious bedding for the ultimate sleep experience.
Every room in the hotel has direct access to either a Juliet Balcony or terrace with comfortable rattan furniture, where guests absorb the tropical breezes and enjoy the busy streetscape below. The Inn is home to the Spa on Fifth, an indulgent feng shui-inspired spa; McCabe's Irish Pub & Grill, with its lively atmosphere and al fresco dining; the fresh-catch seafood and juicy steaks of Trulucks; and the Inn's state-of-the-art fitness center. Complimentary parking, valet service, 24-hour concierge service, and free hotel-wide Wi-Fi are among the services offered by the Inn on Fifth.
Related Articles and Links.