Dennison-Moran Gallery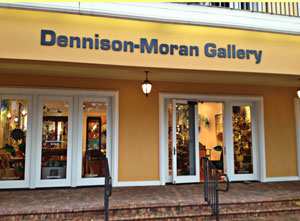 For 14 years, Dennison-Moran Gallery was happy being located in the epicenter of Naples' Fifth Avenue South art and shopping district, but when the building the gallery called home was demolished last August, Kathleen and Robert Dennison and Mary Moran were forced to relocate to the Third Street South gallery district. However, their absence was destined to be short-lived. When gallery space suddenly became available just east of Chico's in the Colonnade Building, Kathleen, Robert and Mary didn't hesitate, and both casual shoppers and more serious art lovers can find Dennison-Moran happily ensconced in its new location in Suite 102 at 600 Fifth Avenue South.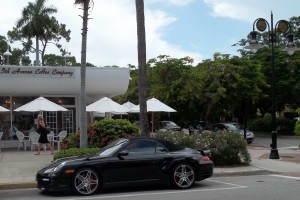 Location. The gallery is located at 600 Fifth Street South. It is located in the Colonnade Building between Park and Lake Streets. It is across the avenue from the Fifth Avenue Coffee Company and just around the corner from The von Lieibig Art Center and Cambier Park.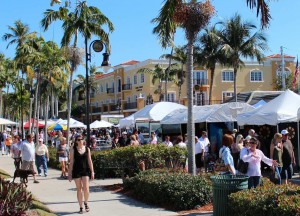 The gallery's central location on Fifth Avenue South places it at the hub of activity during the art festivals and other shows that take place in the street throughout the winter season, beginning with the Naples Art Association's Downtown Naples New Year's Day Art Fair and ending with the Downtown Naples Festival of the Arts.
Facilities. The gallery enjoys wide aisles, soft wood floors and high ceilings ideal for viewing art, jewelry and fine crafts.
Genres and Media. Dennison-Moran features impressionist, pop and op art in oil and acrylics, gold and silver art jewelry and fine crafts created by more than 150 American artists from throughout the United States who work in glass, ceramics, metal, fabric and wood.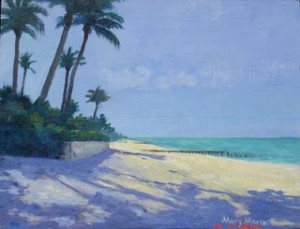 Representative Artists. The gallery showcases the plein air impressionist beach scenes and Naples cottages of co-owner Mary Crook Moran. Mary is a self-taught artist who began painting Naples scenes in a naive style (sometimes called primitive) in 1982, which she exhibited at local art guilds and sold at area art festivals.  She quickly gained a following of collectors and eventually began painting large "life style" commissions depicting families, homes, activities, and pets in colorful acrylics.  Her work began to win awards and was used on the covers of Naples Guide, Awakenings, and Peachtree Papers in Atlanta and several of Moran's creations have made their way onto prints, note cards, tee shirts and tote bags. Today, her artistic style has evolved into plein airimpressionism.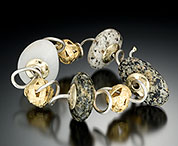 Also featured in the gallery is the art jewelry of Kathleen Dennison. She comes from an artistic heritage. A native of New York City, she spent her formative years being exposed not only to the culture of the city but being surrounded by the numerous artists her parents represented in their art business. Shortly after moving to Naples, she met renowned goldsmith Ruth Roach, who became Kathleen's teacher, mentor and friend. Kathleen went on to study with metalsmiths Arline Fisch, Eleanor Moty, Marne Ryan and Deb Stoner, and she has been making handcrafted art jewelry now since 1972. Recent workshops in glass bead making have added a colorful new facet to her body of work.
Using a medley of hammers, pliers, torches and precious metals, Kathleen fabricates each piece of her jewelry by hand, working to create items that are "original in design and lacking in commercialism." Kathleen has been a Niche Award finalist and her work has earned her awards of excellence from Polk Museum's Mayfair Art Show and Florida Craftsman CraftArt 2004 exhibition. She shares a studio with husband, Robert, who is also a goldsmith.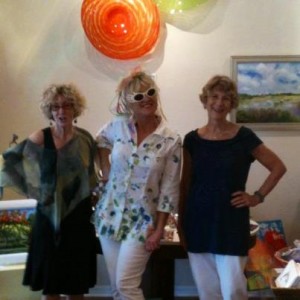 In addition to Moran and the Dennisons, the gallery showcases paintings by Grace Ann Warn and internationally-acclaimed artist Leoma Lovegrove, who is herself a gallery owner with locations on Sanibel Island, Matlacha and in the downtown Fort Myers River District.
Hours. The gallery is open seven days a week, year round . Its summer hours are 11:00  a.m. to 10:00 p.m. Monday through Thursday; 10:00 a.m. to 11:00 p.m. Friday and Saturday; and 11 a.m. until 10:00 on Sunday.
Telephone Number and Website. You can reach the gallery by telephone at 239-263-0590 and online at http://www.dennisonmorangallery.com or Facebook athttp://www.facebook.com/pages/Dennison-Moran-Gallery/205772522779636?sk=wall.
Ownership. As the name suggests, the gallery is owned by goldsmiths, Kathleen and Robert Dennison, and painter Mary Moran. "The fact that we, as owners, are artists ourselves enhances our strong relationship with the artists we represent and our eye for choosing original well-made work," state the Dennisons and Moran. "In a world where everything is mass produced, our desire is to present an alternative … by providing an outlet for the creative talent of American artists with an emphasis on art jewelry, objects for the home, and gifts from kaleidoscopes to handbags, wind chimes and one of a kind blown glass … displayed in a bright, colorful, inviting atmosphere."
Gallery Directors. Dennison-Moran does not employ any curators or gallery directors.
Exhibitions and Shows. The gallery has not yet released its 2012-2013 exhibition schedule.
Fast Facts.
The gallery first opened in 1997.
The gallery moved in August of 2011 when the building it occupied at the corner of Fifth Avenue South and Park Street was torn down to make way for a new 3-story office-retail space.
The gallery officially opened at its present location at 600 Fifth Street South on July 1, 2012.
Related Articles and Links.