Shaw Gallery Naples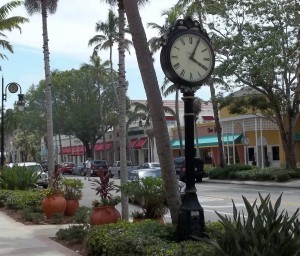 Shaw Gallery of Fine Art has distinguished itself as one of the premier art galleries of Southwest Florida. Now entering its 24th year of service to area art collectors, the gallery features artists of national and international distinction that are true masters in their respective disciplines. Situated in the midst of fine dining, sidewalk cafes and chic boutiques, Shaw Gallery of Fine Art is the ideal destination for an evening of scintillating art and sumptuous food.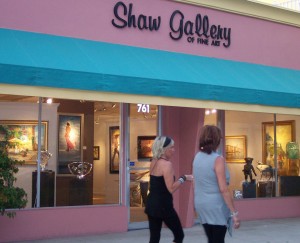 Location. The gallery has two locations. Its Naples gallery is located at 761 Fifth Avenue South, just steps from the intersection of Fifth Avenue and Eighth Street. The gallery's pink façade is denoted by wide-paned storefront windows that are shaded from the intense Florida sun by a distinctive turquoise canvas awning. The windows not only invite lots of organic light into the gallery; they beckon to window shoppers who invariably push through the gallery's glass doors for a closer inspection of the impressive artworks and sculpture waiting patiently inside.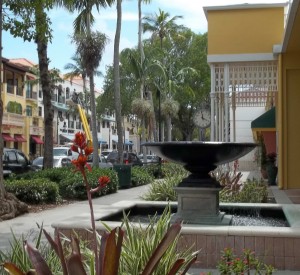 From its vantage near Eighth Street, gallery guests find themselves within steps of fountains and public art installations, and across the street from Starbucks (for those who like to stoke the adrenaline that's released as they consider a fine art acquisition with a dose of caffeine). Many of the gallery's regular patrons like to dine out following the receptions the gallery hosts for its artists to celebrate the opening of their exhibitions, and there's a bevy of bistros and fine dining eateries nearby. Pazzo!, Chops, Bistro 821 and Bert's Seafood are a block to the east, Jolly Cricket is across the street, and Verginia, Yabba Island Grill and McCabe's Irish Pub are just half a block to the west.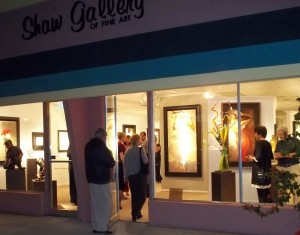 Facilities. Barbara Shaw and her staff clearly understand that the scale, proportion and visual presence of artworks in relation to each other and the space around them are what create an optimal installation or placement of exhibited works. Through the imaginative use of angled interior walls and columns, they have configured every square foot of the showroom so that paintings can be displayed museum style without being crowded too closely together. Visual definition and transition points are created through both lighting and the thoughtful placement of pedestal-displayed bronze and colorful glass sculpture which work to balance the way the artworks interact with each other.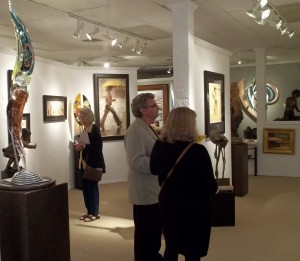 The texture of the walls adds another element of sophistication to the gallery. The stucco has been troweled on with the gusto of van Gogh impasto, and it gives the white satin finish the appearance of hewn marble or the chalk cliffs of Dover at night during the gallery's world-class meet-the-artist receptions marking the opening of each solo exhibition. The walls are framed by semi-gloss wood base and crown molding and contrasted by sand-colored berber carpeting that softens guests footfalls as they wander the long galleries and interior viewing space of the deceptively large exhibition space. It all works together to place the focus totally on the art, rather than the backdrop against which it is viewed.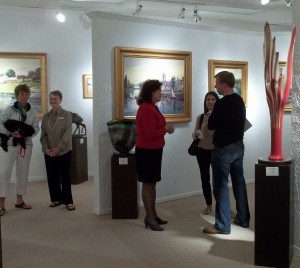 Another nice feature of Shaw's space on Fifth Avenue South is the private viewing room in the back. With built-in bookcases and an ensemble of comfortable armchairs and end tables, the room recreates a prospective collector's library, study or den. It thus provides patrons with the ability to envision how a contemplated acquisition is likely to look in their home. (Of course, the gallery will deliver works to a patron's home on approval in order to remove any doubts they may harbor as to how the purchase will actually fit within the overall design of the room or adjoining works in their collection.)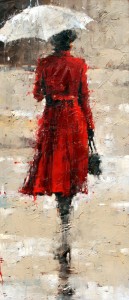 Genres and Media. Shaw Gallery of Fine Art characterizes itself as specializing in representational paintings, sculpture and glass art by the nation's leading artists. The gallery clearly emphasizes pure, romantic and figurative impressionism (left), but each of its artists who work in this genre brings a unique slant to impressionism, either focusing on the kinetics of movement or the interplay of light and shadow with the changing time of day or night.
The gallery does represent works of realism, poetic realism, fractured imagery (right), Scottish Colorism, and abstract expressionism. Most wall art is rendered in the mediums of oil, acrylic and pastels, although it does have in its inventory a limited number of watercolors, drawings and limited edition giclees. Motifs span the spectrum from portraiture and figurative works to landscapes, cityscapes, cottage scenes, seascapes, maritime art, equestrian art, florals and still lifes.
Representative Artists. More than 40 nationally and internationally acclaimed artists are proud to be represented by Shaw Gallery of Fine Art. Each artist in the gallery's stable is carefully vetted to assure Shaw's clients with the best possible artworks for their collections. Featured artists include Hessam Abrishami, Leonard Mizerek, Andre Kohn, Oleg Zhivetin, Giner Bueno, Richard Royal, Michelle Torrez and Kathleen Dunphy.
Hours. The gallery is open during the off-season from noon to 6 p.m. on Monday through Wednesday and from noon until 8 p.m. on Thursday through Saturday. Viewings may also be arranged at other times by appointment.
Telephone Number and Website. You may reach the gallery by telephone at 239-261-7828 and visit it online at http://www.shawgallery.com. The gallery does not presently maintain a presence on either Facebook or Twitter.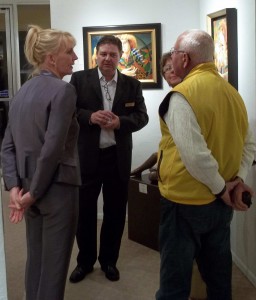 Ownership. The gallery is owned by Shaw Gallery of Naples, Inc. Barbara A. Shaw serves as sole director and officer of the corporation. Shaw has an unerring eye when it comes to edgy art, and she maintains close personal ties to each of her artists. Many have been represented by the gallery for more than a decade. (To left is Barbara in gray business suit with artist Oleg Zhivetin in center and two guests at the meet-the-artist reception for the opening of his solo show in March, 2011.)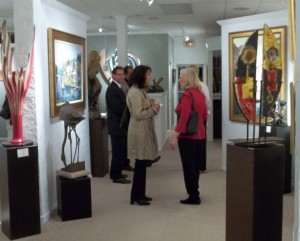 Gallery Directors. Kevin Parise serves as Gallery Director. Kevin was one of eight gallery owners and directors who were included in the "Calling Coast to Coast" section of the February edition (vol. 64) of American Art Collector magazine. Kevin (in photo on the right) told American Art Collector "The art markets in Naples and Bonita Springs, Florida, the two cities where the gallery has locations, are going strong, with our collectors leading the way followed by the casual art connoisseur. Currently at Shaw Gallery, figurative work is in the highest demand, and we have seen trends toward European cityscapes and landscapes. Expressionist and impressionist work is presently selling the best, specifically the works of Hessam Abrishami, Andre Kohn, Leonard Mizerek and Michelle Torres." (American Art Collector magazine is designed to help art collectors find new work for their collections by reporting on galleries, artists, and the newest works of art becoming available for sale and purchase.)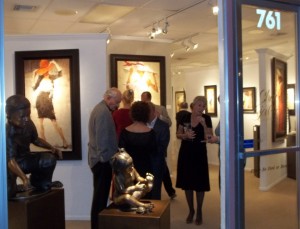 Exhibitions and Shows. The gallery hosts approximately 7 to 10 special events each year which range from large scale one-artist shows to private charitable exhibitions. Most occur during the fall-winter exhibition season which starts November 1 and ends the ensuing April 30.
Other Services. The gallery not only assists its clients in locating art to augment or complete their collections, it also lends its professional experience, knowledge and expertise in the installation and maintenance of individual artworks and collections in whole.
Fast Facts.
Shaw Gallery is beginning its 24th year of service to art lovers, collectors and art patrons in southwest Florida.
The gallery reaches beyond its own walls by working with municipalities, institutions and private businesses to place artwork in the public eye
Related Articles and Links.