Sheldon Fine Art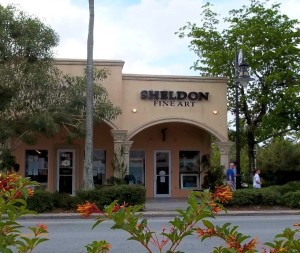 Southwest Florida is known worldwide for gentle waves lapping white sandy beaches shaded by slender, willowy palms as banks of cumulus clouds build on the distant horizon. But surprisingly few galleries in southwest Florida offer high-quality seascapes, beach scenes and maritime art in the genres of modern American realism and impressionism. Sheldon Fine Art on Fifth Avenue is the artistic exception.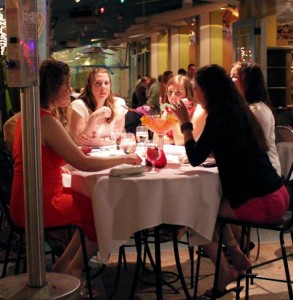 Location. Sheldon Fine Art is located at 460 Fifth Avenue South. Its doors open onto the arched breezeway it shares with next door neighbor, four-star-rated Ristorante D'Angeli. Across the street await Bellini on Fifth and Café Luna. But Fifth Avenue South is known for its bistros, trattorias and ristorantes, and visitors have multiple dining choices when visiting Sheldon Fine Art, including Bice Ristorante just a block to the west and Vergina, Bistro 821 and McCabe's Irish Pub to the east. And at night, Fifth Avenue South provides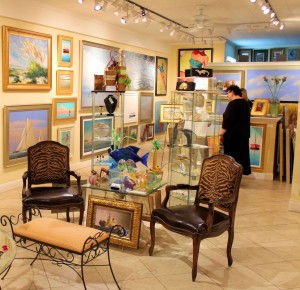 a romantic backdrop for diners, shoppers and art enthusiasts alike.
Facilities. With 16-inch cream-colored ceramic tile laid on the diagonal and pale yellow walls framed by wide white crown moldings and glossy wood base, the deep rectangular space occupied by Sheldon Fine Art is light, cheery and as welcoming as an umbrella shaded beach blanket on a blistering sun-drenched Sunday afternoon.
Because wall space is at a premium, artworks are hung salon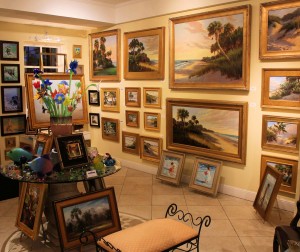 style virtually floor to ceiling, but the paintings on display are so close in motif and genre that they lend themselves to be viewed both individually and collectively without clashing or overwhelming the adjoining works, or being overwhelmed in return.
The center of the space is tastefully appointed with glass-topped tables that sport sculpture, blown glass and a number of craft items. The tables and displays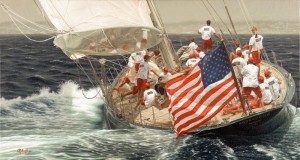 are complimented by stylish black deco armchairs that provide much-needed visual contrast. Best of all, the ensembles are easily removed for opening night receptions to accommodate the crowds the gallery attracts for new exhibitions during the fall and winter season.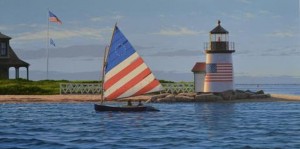 Genres and Media. The gallery features an expansive selection of original oils, watercolors, photography and sculpture by more than 50 contemporary local, national and internationally-acclaimed artists, as well as a limited number of giclees and first edition prints. The gallery specializes seascapes,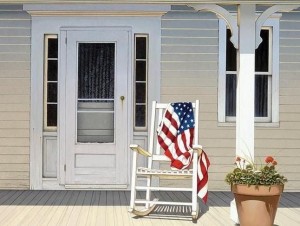 beach scenes, maritime themes and still lifes in the genres of modern American realism, impressionism and abstract art. Pictured left is a luminous seascape titled Clarity XIX by German realist Carolin Wehrmann.
Hours. The gallery is open on 10 a.m. to 6 p.m. Monday through Wednesday; 10 a.m. to 10 p.m. Thursday through Saturday; and noon to 6 p.m. on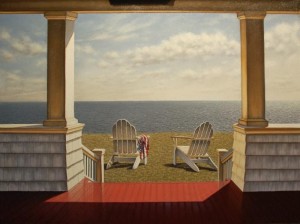 Sundays.
Telephone Number and Website. You may reach the gallery by telephone at 239-649-6255 and online at http://www.sheldonfineart.com/id98.htm and on Facebook at http://www.facebook.com/pages/Sheldon-Fine-Art-Naples/107618525995457?sk=wall.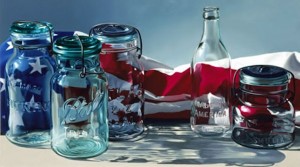 Ownership. The gallery is owned by Susan M. Sheldon.
Gallery Directors. David Chaffee serves as gallery director of Sheldon Fine Arts.
Exhibitions and Shows. The gallery has not yet released its exhibition schedule for the 2017-2018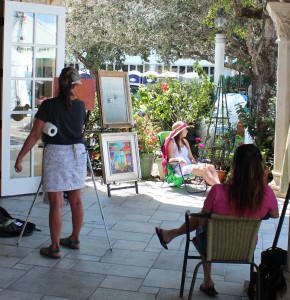 season.
Other Services. The knowledgeable staff of Sheldon Fine Art will meet with collectors in their home or office in order to help them locate, acquire and hang just the right piece they need for any space or to complete their collection.
Fast Facts.
Sheldon Fine Art has been meeting the needs of art collectors for 25 years.
It has two locations, the one on Naples' Fifth Avenue South and the other at 59 America's Cup Avenue on scenic Bowman's Wharf in the heart of historic Newport, Rhode Island.