The Miville Gallery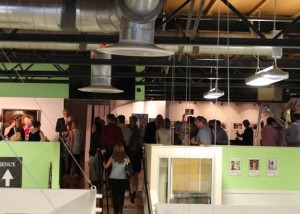 Occupying the 2,200-square-foot south mezzanine of The Franklin Shops on First, The Miville Gallery offers artists, audience and art professionals a classy, upscale venue where compelling new work can be debuted and acquired.
Location. The gallery is located on the second floor of the Franklin Shops on First, a post-Depression Streamline Moderne store built in 1937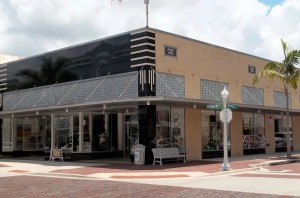 by hardware magnate W.P. Franklin in the heart of the downtown Fort Myers River District on the site of the former residence of Founding Female Jane L. Hendry. Located across Broadway from Starbucks and across First from the popular eaterie Ford's Garage, The Franklin Shops is an elegant emporium in which some one hundred independent vendors offer a mix of retail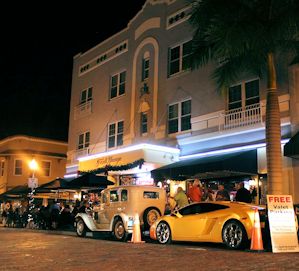 merchandise and boutique products from jewelry, accessories, men's and women's fashion to artwork, photography, furnishings, home goods and gifts. "All this creates an inspired and exciting retail experience," touts The Franklin Shops The Shops. "Less predictable, more fun, and definitely a place for discoveries."
Mission. According to owner Rene' Miville, the gallery seeks to feature emerging artists whose work is likely to one day be included in the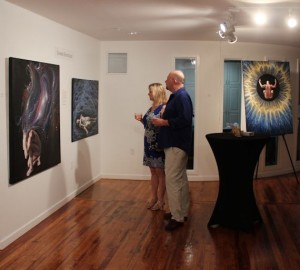 permanent collections of museums and private collectors. To find up-and-coming artists who are reasonably sure to create an exceptional body of work over the course of their careers, Miville is collaborating with museum directors and curators, dealers, art consultants, critics and high-powered collectors around the country. He's looking for a consensus of opinion to pre-qualify the artists his gallery will place on display. "It's the same approach I use when I am looking for art for my own collection," Miville explains.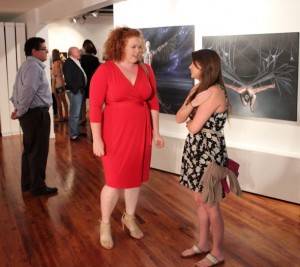 Miville takes as a given that collectors should only buy art that connects with them. But as a businessman and pragmatist, he also realizes that even when they really love a piece, first-time or neophyte collectors are often reluctant to pay four or five figures for an artwork for fear of looking foolish should the artist leave art for a more stable career or day job in some other line of work. Given that as few as 2 in 5 art graduates are still pursuing careers as professional artists five years after earning their degree, collectors have every right to be concerned about the staying power of an artist whose work they come to love and admire.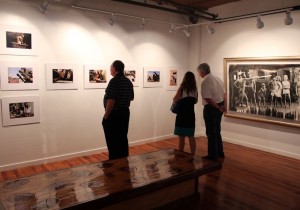 It's not that Miville is espousing an investment mindset for collecting art. Rather, he recognizes that patrons become invested in the artists they collect. They take a rooting interest in their lives and careers, earning bragging rights when they choose an artist who goes on to receive awards, accolades and art-industry recognition. Appreciation in the value of the art they acquire is merely one yardstick collectors use to measure their wisdom or astuteness in recognizing the artist's potential long before everyone else did.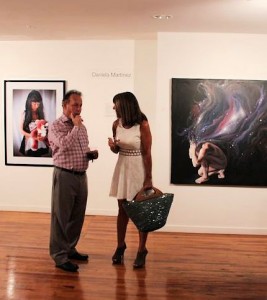 While Miville still encourages patrons to research an artist before acquiring any artwork, collectors who come to The Miville Gallery will have the comfort of knowing that the artists and artwork they see have been carefully vetted by Miville through his wide-ranging network of contacts in the art market. Not only will each artist that Miville exhibits come with recommendations from one or more professionals, they will have been juried into museum-sponsored group shows, won awards and received recognition in art publications and periodicals. "Their art will have universal appeal, even for the casual art lover. It will be technically very proficient. That cannot be denied," Miville adds. "But even more important, they'll know that the artists they see take their careers seriously by trying to get into good shows with reputable art galleries and centers."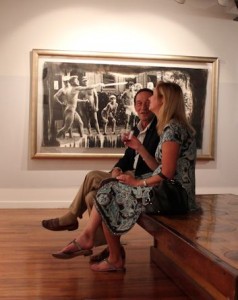 While the path to success is notoriously difficult in the field of the visual arts, Miville is uniquely qualified to understand what an artist must do in order to gain a following, attract good critical reviews and appeal to gallery owners like himself. Miville created a substantive body of work in the 1980s and 1990s that sparked vigorous curiosity and interest among both museum curators and recognized international collectors.
"I plan to promote the artists I exhibit the way I promoted myself," Rene' insists. "Which will increase the odds that the collectors and patrons who visit The Miville Gallery will be seeing these artists and hearing their names for the next five, ten, twenty years."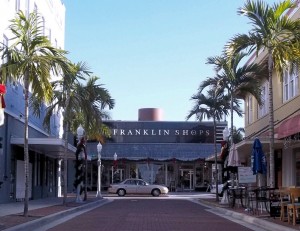 Hours. The gallery's hours are coextensive with The Franklin Shops on First, which is open Monday-Saturday from 10a.m. to 8 p.m. and on Sunday from noon to noon-7 p.m., except on Event Nights, when the Shops are open until 10 p.m. But for more information about hours and directions, please visit http://www.thefranklinshops.com.
Telephone Number and Website. The Miville Gallery's telephone number is 239-333-3130.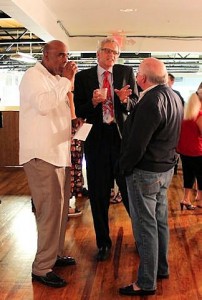 Ownership. The gallery is owned and curated by Rene Miville. A successful mixed media artist and photographer, Miville has exhibited at numerous galleries and museums across the country, including the Museum of Art in Boca Raton, the L.A. County Art Museum and The Ludwig Museum in Cologne, Germany. He created a substantive body of work in the late 1980s and early 1990s using a photographic process that involved splashing and painting developer, stop and fixer onto silver gelatin photo paper. At the advent of the digital photography age, his innovative "opposing aesthetic journey" sparked a vigorous curiosity and interest among both museum curators and recognized international collectors and led to a PBS documentary titled "Master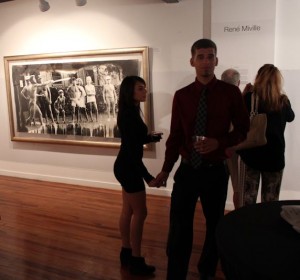 Manipulator: Avant Garde Photographer Rene Miville" that was aired extensively in the 1990s and early 2000s. Today, his work can be found in the permanent collections of the Ludwig Museum in Cologne, Germany, the Museum of ART in Boca Raton, the L.A. County Art Museum and the Denver Art Museum.
His experiences as an artist inform his activities as the gallery's owner, director and curator. "As an artist, I learned that you have to be on the phone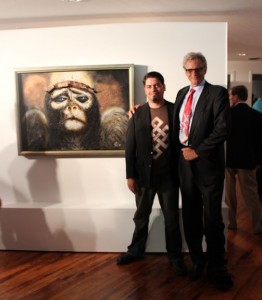 making things happen. And that's also what it takes to run a gallery. In my experience, there isn't a gallery that makes money that isn't calling collectors, business people and museums saying, 'I've got this artist you've really got to see.' Or arranging events like private showings and cocktail parties to show off featured art."
Gallery Director. Rene' Miville also serves as gallery director.
Exhibitions and Shows. Shows are typically timed to open coextensively with Art Walk, which takes place on the first Friday of each month. A list of "coming exhibits" is posted in the gallery for the convenience of patrons.
More About The Franklin Shops' Architecture
Because of its vitrolite (Carrera glass) on the front arcade (which appears similar to marble), glass block transom windows, terrazzo flooring, plate glass windows and metal clad overhang, The Franklin Shops on First is often referred to as an example of Art Deco architecture, which first appeared in France after World War I. Characterized by rich colors, bold geometric shapes and lavish ornamentation, it was a style of architecture that embraced the emerging technology of the time. The Chrysler Building in New York is a well-known example of Art Deco style, symmetrical, rectilinear, with dazzling details and sharp angles. Banks used the style to convey security. Representing luxury, glamour, exuberance and faith in social and technological progress, Hollywood used the style to symbolize the good life everyone expected prior to the stock market crash and Great Depression.
As the Depression deepened, designers stripped Art Deco of its ornamentation and substituted earth tones consisting of off-whites and beiges trimmed by contrasting dark colors and bright metals. Other characteristics of the more austere Streamline Moderne style of architecture include glass brick walls, corner windows, rounded edges, chrome hardware, smooth exterior wall surfaces (usually stucco), flat roof with coping and horizontal grooves or lines in walls. Classic examples of Streamline Moderne include the Marlin Hotel in Miami Beach and the Hecht Warehouse in Washington, D.C. Each of these features can also be found in The Franklin Shops on First as well as the Edison Theater on Hendry Street