Gardner Colby Gallery
The first thing you notice as you pass under the black and white canopy and open the handsome glass door to Gardner Colby Gallery is the seductive smell of linseed oil and drying paint. The artworks displayed on the flat gray walls are that fresh. Inside, you'll be greeted by the smiling visages of owner Nancy Winch, Gallery Director Pamela Campe and sales associate Andrea Lissette. Individually and collectively, they're as welcoming as a bowl of clam chowder on a blustery fall night in Martha's Vineyard, which is where Nancy and her husband Tony opened the first Gardner Colby Gallery many years ago. Today, Gardner Colby Gallery is one of Naples premier dealers in contemporary realist and impressionist art.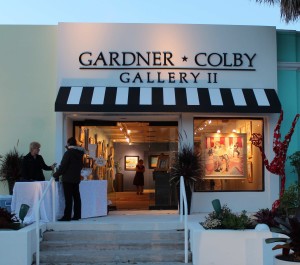 Location. Gardner Colby Gallery has two locations straddling Gallery Row. Gardner Colby I is located on the south side of the street at 386 Broad Avenue South, next to Premier Sotheby's International Realty. It is readily identified both by that mango orange canopy supported by two slender white columns and by metal sculptor Tim Brown's 12-foot tall Red Ring Juggler, which seems to be greeting guests with a festive aspect as they enter the gallery.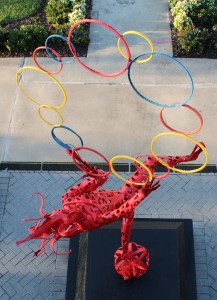 Gardner Colby Gallery II is located across the street at 365 Broad Avenue South. It abuts Marianne Friedland Gallery, Gallery Row's bastion of modern art, and is just steps west of Galerie du Soleil with its potted bougainvillea and white Marton Varo sculpture which greets motorists who enter the Third Street South gallery district via Gallery Row.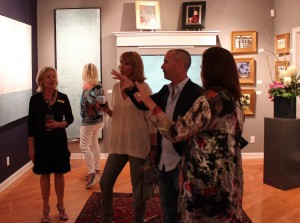 Facilities. Gardner Colby I is an elegantly designed space that contains three viewing areas united by warm wood floors laid on the diagonal, ten-foot ceilings and flat gray walls trimmed in white wood base and door moldings. The gray provides ideal contrast for the paintings hung salon-style throughout the three exhibition rooms.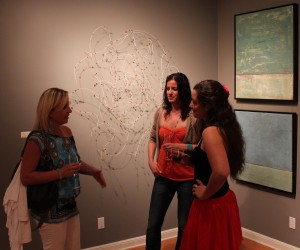 The front exhibition area (above) consists of a foyer with tall windows, wide white door moldings and a viewing wall capped by a white wood mantel that allows collectors to envision how a artwork might look in their own home or office. Beyond the foyer is the windowless main exhibition hall which is served by a network of strategically-directed white gallery spotlights and an elegant desk offset in the far corner. There's a cozy little room beyond that which doubles as the serving area during the lavish receptions Gardner Colby throws during season for its featured artists to mark the opening of their solo exhibitions and group shows.
Gardner Colby II looks like a small overflow space as you cross the street and bound up the front steps, but it is deceptively deep and able to accommodate a large number of additional works of art that are typically arranged in a more traditional museum-style installation. As with the main gallery, this exhibition space places all of the focus and attention on the art, which is as it should be.
Genres and Media. Gardner Colby Gallery represents roughly four dozen artists whose works span a wide range of genres and mediums. However, the gallery's primary focus is on realism, impressionism and abstract works of art, as well as a number of significant  representational sculptures including the large scale works of Tim Brown, which are made of powder coated forged steel.
Representative Artists. In addition to sculptor Tim Brown, the Gardner Colby's most notable artists include:
Frank Corso. Corso is a plein air impressionist who eschews the use of photographs in any way, shape or form. He rows a specially-rigged kayak deep into the Everglades in order to paint luminous sunsets and beguiling nightscapes on location. Corso has not only established himself over the course of his career as the "preeminent interpreter of the Florida landscape," but Gardner Colby owner Nancy Winch firmly believes his name will be included one day on a list "of the greatest landscape painters of the 20th and 21st centuries."

Kevin Sloan. Sloan is a Sante Fe-based magical realist known for his allegorical "noble portraits of regal animals" that are part portraiture, part still life and part landscape. Sloan has been featured on the cover of American Art Collector magazine three times (in its January 2011, 2009 and 2008 editions) and included in New American Paintings, Number 36 (published by Open Studios Press), Review, Art-Talk and Southwest Art publications.

Edward Minoff. A talented seascape realist , Minoff has been twice featured in American Art Collector magazine (most recently the May 2011 edition (vol. 67)). A product of Jacob Collins' Water Street atelier and co-founder with Collins (widely considered the dean of American realism) of the Hudson River Fellowship, Minoff employs the the uncommon ideals and landscape techniques of the famed Hudson River School of artists to create powerful seascapes that capture the sea's power, expansiveness and alluring beauty whether viewed under the sun's first rays, afternoon radiance, or the pale glow of a full moon.

Ken Otsuka. This Japanese-born artist is an equally proficient seascape realist whose paintings transcend photographic exactitude to capture the spirit of the motif and the painter's own emotion while contemplating and recreating the scene – emotions that include peace, tranquility and reverence for the timeliness and permanence of nature and the sea. There is a Zen-like duality to Otsuka's work which melds a reliance on the techniques of traditional Western realism with Eastern influences in composition and spirituality.

Robert Gruppe. This mid-career artist hails from a long line of New England painters, and Robert apprenticed for 20 years at the Gloucester School of Painting under the watchful eye of his father, renowned painter Emile Gruppe. Robert has gone on to become a highly-coveted and award-winning impressionist who hones his own unique personal style which pays homage to his Cape Ann heritage and the motifs afforded by his home in Naples, Florida.

Stan Moeller. Whether painting Italian lanscapes or exploring figurative themes, this gifted impressionist produces works that are kinetic, dynamic, enigmatic and alluring. Wife and sometimes model Tammy Moeller characterizes her husband's figurative paintings as tantamount to "stealing a little bit of the model's soul."

Linsday Goodwin. Intricately-detailed interiors and epicurean still lifes have become the trademarks of this California-based artist who travels Europe with the zest of a gourmet food critic in search of five-star hotels and eateries that can serve as motifs. Her work has also been featured in American Art Collector magazine.
Hours. At present, the gallery is open on Monday, Tuesday, Friday and Saturday from 11:00 a.m. until 5:00 p.m. or by appointment on other days or times.
Telephone Number and Website. The gallery can be reached at 239-403-7787 or online at http:www.gardnercolbygallery.com. You can follow the Gardner Colby on Facebook as well at http:www.facebook.com/pages/Gardner-Colby-Gallery/173658305993510?sk=info.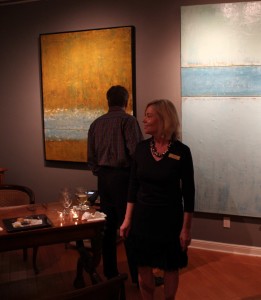 Ownership. The gallery is owned by Nancy H. Winch, a graduate of Hollins University with dual degrees in French and art history. Her education also included an year of study in Paris. After 15 years in public relations and advertising in Boston, she and her husband Tony decided to pool their business acumen (he's also a veteran of the ad business) and shared passion for art and opened a gallery on Martha's Vineyard.
"[Thirteen] years ago," Nancy writes, "we [took] a month off in the middle of winter and traveled south from our beloved Martha's Vineyard with hopes of finding a winter home for Gardner Colby Gallery. We strolled up and down the Third Street shopping district and were overwhelmed by the beautiful shops, the fabulous flowers and majestic fountains that give this most elegant shopping district in Naples its very special cache. It didn't take long to make the decision that yes, Old Naples was where we wanted to open our Florida gallery."
With that as background, Winch reserved the name with the State of Florida on February 9, 1998 and established Gardner Colby's seminal location on Gallery Row with the help of Gallery Director Pamela Campe.
Exercising leadership in the business and art communities, Nancy became a founding member in 2008 of the Naples Fine Art Dealers Association, an alliance of gallery owners and art dealers committed to showcasing established and emerging artists and to educating buyers about fine art.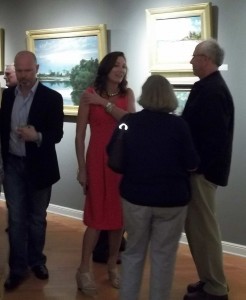 Gallery Director. Pamela Esker Campe joined Gardner Colby Gallery two years before Nancy Winch made the jump from Martha's Vineyard to Naples' Gallery Row, and she has been instrumental in helping build the gallery into a premier destination for both neophyte and experienced collectors. Personable, outgoing and keenly interested in both the artists Gardner Colby represents and the patrons they serve, Pamela also excels as an event planner, converting exhibition openings and artist's receptions into must-see happenings during Naples' lively winter social scene. Pamela's background includes a Bachelor of Arts degree in painting with a minor in art history from Long Island University.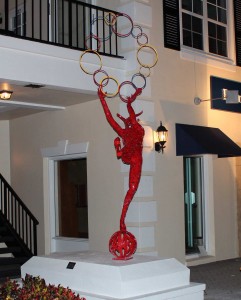 Exhibitions and Shows. The gallery promises exciting times during the first three months of 2013. Gardner Colby's 2013 exhibition season will feature 5 shows and 14 artists in 56 days starting January 17, 2013:
Ancient Ways, opening January 17, 2013, features contemporary works using ancient techniques created by John Schuyler, Ran Adler, and new artist Claire McArdle.
Modern Times, opening January 31, 2013, features the magical realism and "stories on canvas" of Kevin Sloan.
Touch of Romance, opening February 14, 2013, features sensual offerings by Aaron Westerberg, Lindsay Goodwin and new artist Pauline Roche.
Fun and Games, opening February 28, 2013, features fanciful work by Tim Horn, Rebecca Kinkead and new artist Pam Carroll.
A Slice of Life, opening March 14, 2013, features a medley of gestural styles, spontaneous brushwork and expressive technique by Gardner Colby standard-bearers Stan Moeller, Kim English, Lesley Rich and Robin Cheers.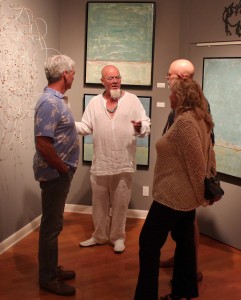 Fast Facts.
Gardner Colby offers a full range of art consulting services from finding the art, to framing, hanging and installing the art in the collector's home or office.
"We are dedicated to giving you a quality art experience each time you visit us, either in person or on the web."
Related Articles and Links –
2012
Related Articles and Links – 2011
Archived Articles