Marianne Friedland Gallery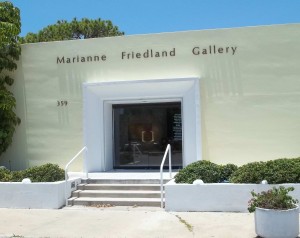 With two unadorned four-foot-wide all-glass doors surrounded by a wide white stucco band that interrupts an otherwise nondescript yellow facade, the exterior of the Marianne Friedland Gallery once prompted the New York Times to describe the gallery as "a spare and serious modern and American contemporary gallery amid blocks of more ornate, decorative works …." It's true. You won't find art nouveau or neo-impressionist works by emerging or mid-career artists inside this Olde Naples art destination. The Marianne Friedland Gallery is devoted to modern works by early 20th century and contemporary artists with established worldwide reputations.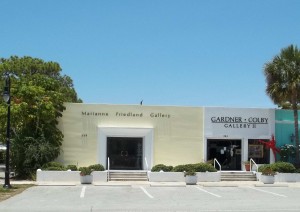 Location. Marianne Friedland Gallery is located at 359 Broad Avenue South, right next door to Gardner Colby Gallery II and its Red Guitar Player sculpture by Tim Brown and framed at either end of Gallery Row by the colorful bougainvilleas of Galerie du Soleil to the east and the impressive two-story white-balustrade-capped structure that houses DeBruyne Fine Art's massive 5,000 square feet of exhibition space.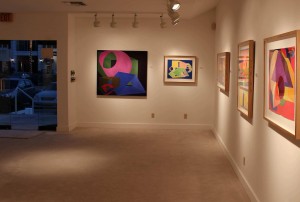 Facilities. The interior of the gallery is divided into three rectangular viewing spaces. Inside the glass front doors is a long, wide exhibition hall. To the right (east) is a long narrow room, and behind that is a private viewing room where patrons can view contemplated acquisitions in an environment which simulates their home or office. In all three rooms, crisp white walls, a plain beige carpet and plain white baseboards keep the focus where it should be – on the artworks hung museum style on the walls.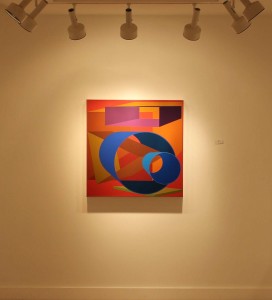 Genres and Mediums. The gallery specializes in major original works by modern and contemporary American masters including Wolf Kahn, Milton Avery, Jules Olitski, Al Held, Friedel Dzubas, Hans Hofmann, Janet Fish and George Rickey as well as prints by master American printmakers such as Robert Rauschenberg, Alex Katz, Frank Stella, Larry Rivers, Donald Sultan, James Rosenquist and Jeff Koons. Based upon the complementary business and art backgrounds of the principals (see below), gallery selections are guided by three criteria: (1) scholarship; (2) connoisseurship; and (3) an understanding of the economics of the art market. Whether working with a beginning or seasoned collector, the gallery's mission is to provide works of quality and value. As a result of this dedication, the gallery is highly regarded internationally as a source for important paintings, sculpture and works on paper.
Representative Artists. Some of the gallery's more prominent contemporary artists are: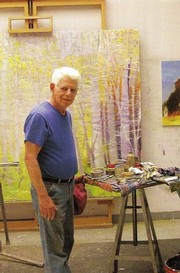 Wolf Kahn. Kahn is widely regarded as one of the most prominent and influential landscape painters in America today, although his work reveals the early influence of modernist Hans Hofmann, for whom he served as an assistant during his formative years. He produces chromatic works that glow from within with luminescence as a result of the painstaking application of as many as 20 layers of undercoating and glazes. His paintings are known for contrast, drama and austerity, and although now 83, he continues to impress viewers with originality and creativity based on his choice of natural subjects.
Jules Olitski. A central figure in the development of abstract and color field painting (a type of abstraction that focuses on the subtlety and expressiveness of pure color), Olitski is considered by many as one of the greatest living painters in the world today. A fellow of the American Academy of Arts and Sciences and an Associate National Academician, the Russian-born artist's works are an orchestrated visual experience that blur the line that normally distinguishes representational from abstract art. Much of his work since the 1990s has been inspired by the landscapes and seascapes that surround his homes in New Hampshire and the Florida Keys.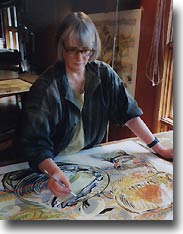 Janet Fish. A realist, Fish is known for her richly executed oils and pastels of fruit, flowers and glass objects, and is considered by many as one of America's foremost contemporary still life painters. She is primarily interested in light, atmosphere and lush, saturated color. Motion and energy pervade her compositions. "What matters," says the artist, "is the relationship of color and form from one area of the painting to another." Her work can be found in the Metropolitan Museum of Art, the Whitney Museum of American Art, The Art Institute of Chicago, The Cleveland Museum of Art, Dallas Museum of Art, and Pennsylvania Museum of Fine Arts as well as corporate collections that include AT&T, American Airlines, Amstar Corporation, Chase Manhattan Bank and IBM.
Hours. During the summer the gallery has no set hours and viewings are available by appointment only. Between October 1 and March 31, the gallery is open between 10 a.m. and 5 p.m. Monday through Saturday.
Telephone Number and Website. You can reach the gallery by telephone at 239-262-3484 or online at http://www.mariannefriedlandglry.com. You can also follow the gallery on Facebook at http://www.facebook/pages/Marianne-Friedland-Gallery/101419453257539.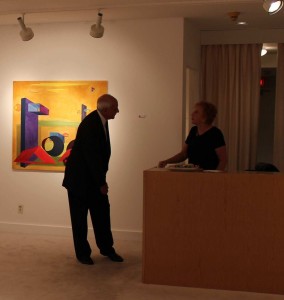 Owner. The gallery is owned by Broad Street Galleries, Inc., which was founded by  Marianne Friedland (left) on April 11, 1990 (although she registered the gallery's name as a dba with the State of Florida on August 12, 1998). Friedland has more than 35 years of experience as an art collector, dealer and gallery owner.
Friedland opened her first gallery in Toronto in 1975, where she ultimately became a member of the Professional Art Dealers Association of Canada. In 1990, she decided to take advantage of southwest Florida's balmy winter clime and burgeoning art market and opened a sister gallery in her current location on Gallery Row. For the next ten years, she operated both galleries, but decided to make Naples her exclusive home some ten years ago.
Drawing on her degree in economics and passion for art history, during the course of her career, Friedland has penned both art criticism and a plethora of articles about business trends in the art market.
Directors. The gallery's director is Morley Greenberg, Ph.D. (above, far left). He joined the Naples gallery soon after it opened in 1990. A collector of long standing with a keen interest in art, he previously co-founded a high-tech company whose clients included oil, telecommunications and financial corporations.
Exhibitions. On exhibit now are abstracts of Al Held. From March 3-31, 2012, the gallery will exhibit Master American and European Printmakers. (For more detail, please refer to the below articles.)
Fast Facts.
For the Kahn exhibition in February, 2011, Marianne Friedland and Morley Greenberg produced a 30-page illustrated catalog that is itself a collector's item.
Friedland was borne in Hesse in east central Germany.
Articles and Links.