A look at All Florida Exhibition Best in Show 'Into the Maze'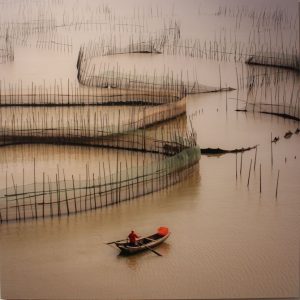 Of the 62 pieces selected from the 600 submissions received by the Alliance for the Arts' for the 36th Annual All Florida Juried Exhibition, German/American fine art photographer Hilda Champion's image Into the Maze was chosen as Best in Show. The juror, Dr. K.C. Williams, selected this piece because of its composition.
"The gorgeous composition and the use of color photography with a stark field of water," was instrumental in Dr. Williams' estimation.
"Plus it was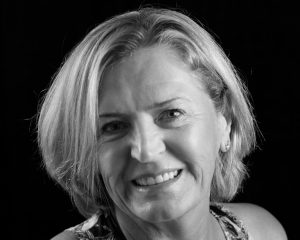 super smart to print it large scale. It heightens the experience of the small boater versus  the huge field of water. The artist was really thinking about how to make it not just another photograph but truly a composed work of art."
The image has received a number of other awards, including a Blue Ribbon at the Florida Camera Club Council in 2019, a Yellow Ribbon from the Naples Camera Club in 2019 and Third Place from The Independent Photographer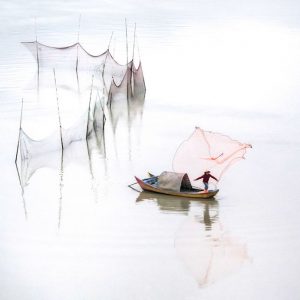 2019 Travel, as well as honorable mentions in 2020 from ND Awards, Chromatic Awards and Budapest International Foto Awards. Into the Maze was also a nominee for the 2020 International Color Awards.
Into the Maze is from Champion's China Series, which features images from the fishing village of Xiapu in the southern province of Fujian, which produces two-thirds of the world's seafood. "[C]rab pots, seaweed drying poles and other pieces of equipment make great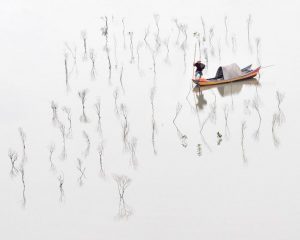 photography subjects due to the large scale and seemingly endless repetition," says Champion on her website.
Champion uses the camera as a tool by which to express ideas and emotions. "Sometime I record 'reality,' but mostly perceived reality," Champion explains in her Artist Statement that accompanies the photograph. "My aspiration in photography is less about showing the world as it is, but rather to release the poetry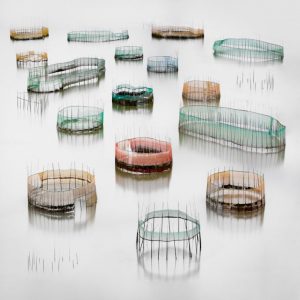 of the ordinary and help people see the un-seen. I try to show an abstraction of what I see, free of distractions. My images are 'based on a true fantasy.'"
Born near Munich, Germany, Champion has made Naples her home since 2001. Although she was brought up in Germany, she spent a big part of her adult life in South then North America, exposing her to regional aesthetics.
Ms. Champion prefers to photograph in nature.
"While I also do
studio work with elaborate lighting setups, natural light still has the most flattering qualities," Champion expounds. "In addition, being out in nature is my elixir, my source of energy and replenishment."
Champion's work has been shown in national and international competitions and exhibitions. Not surprisingly, her images have won numerous awards and garnered many accolades. Along with the bragging rights, Champion will receive $1,000 in cash for her Best of Show award.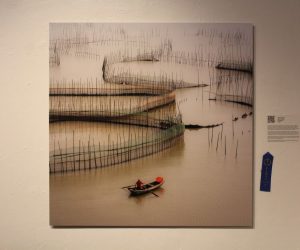 The 36th Annual All Florida Exhibition will be on display in the main gallery of the Alliance for the Arts through March 26.
March 7, 2022.