Stacey Brown's 'Watching Ian: A Sudden Realization'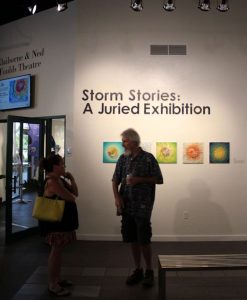 On view in the main gallery of the Alliance for the Arts through September 30 is Storm Stories, a visual art exhibit that features 53 works of art by Florida artists in reaction to Hurricane Ian. Stacey Brown's mixed media work, Watching Ian: A Sudden Realization, is one of the artworks juried into the show. Besides a gifted artist and Union Artists Studio member, Brown is a Clinical Psychotherapist specializing in trauma.
"Watching Ian: A Sudden Realization is a self-portrait," Stacey notes. "I rode out the storm alone with my dog and two cats, watching it all happen through the bedroom window. My Tallahassee-based daughter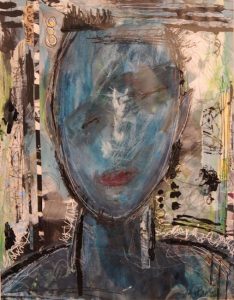 kept me updated about the devastating destruction in our community throughout the storm. Shock, grief, disbelief, fear, helplessness, disassociation, horror and trauma are just a few of the emotions I experienced … and we all likely experienced … on September 28, 2022."
Stacey works I am an Artist working in mixed media and collage, paint, drawing media, photography, jewelry design, furniture painting, raku pottery and encaustic. Watching Ian: A Sudden Realization was created with a companionable blend of acrylic paint, crayon, pencil, charcoal and collage on paper … with rainwater from Hurricane Ian thrown in for good measure.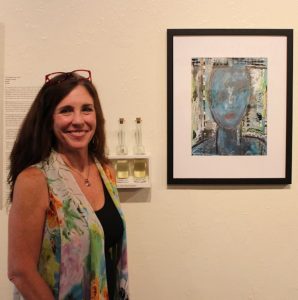 After moving to Fort Myers from Atlanta in the late 1980's, Stacey and her partner created a successful wearable art jewelry design business.  Using handmade papers, metals and pottery, they sold locally as well as nationally.  Sales representatives and wholesale apparel markets helped the jewelry to appear in boutiques and galleries from Canada to Guam.  Stacey and her partner were guest artists at the Dallas Apparel Market and in a Miami Macy's Trunk Show.  The crowning achievement of their jewelry business was to sell jewelry to 35 Macy's South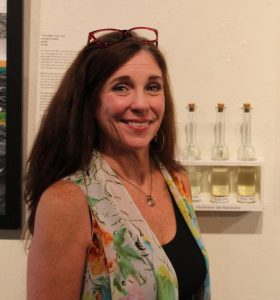 stores (three times!) …  all before the internet!
A steady stream of handmade jewelry, vintage reassembled jewelry, painted furniture and home decor continued to be produced and appear in local galleries despite having a career as a counselor and professor, renovating an old house and raising three daughters.
Today, Stacey is paying more attention to painting and collage works.   With workshops, online classes and other projects in the works, Stacey's creative spark continues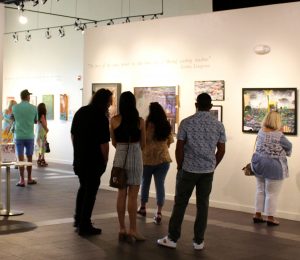 to evolve and change based on new interests and curiosities.
For more, visit https://www.staceybrownarts.com.
September 3, 2023.